Minirator MR-PRO / MR2
Minirator MR-PRO / MR2
---
Compact. Indispensable. Portable.
Digital Audio Analyzer
AES3, S/PDIF, TOSLINK and ADAT
Channel Status Analysis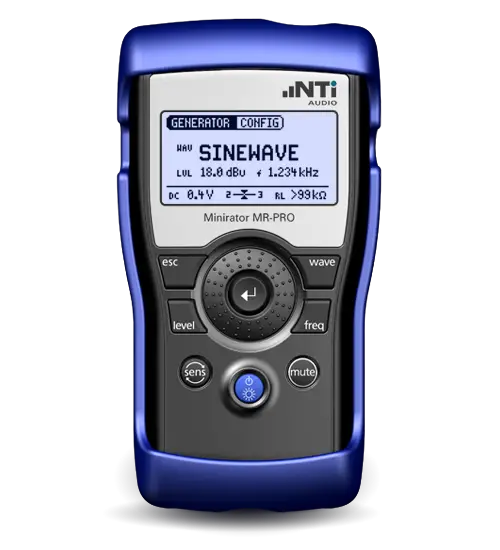 The Minirator MR-PRO provides a full set of analog audio signals including sine wave, pink noise, white noise, delay test signal, polarity test signal, stepped sweep and continuous sine sweep. Further, a set of wav-files, useful for system optimization, is stored in the internal flash memory. Add your own personal favorites to this set.
Overview
Besides the broad range of generated audio signals, the Minirator MR-PRO monitors the signal balance, phantom power and impedance of the connected load. An integrated XLR cable tester simplifies trouble shooting tasks.
The workhorse MR2 provides all the basic standard signals at an attractive price point. Both generators are indispensable and proven tools for set-up, maintenance and monitoring of all types of audio equipment.