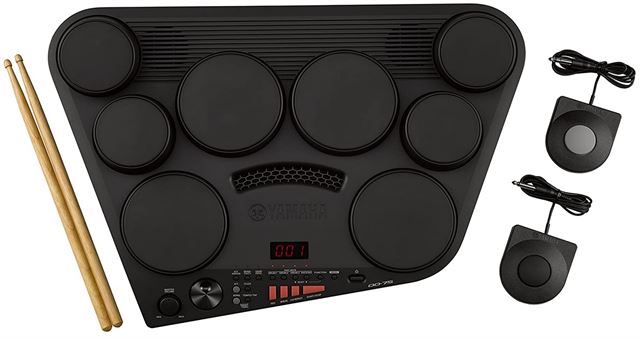 9 Best Electronic Drum Kits For Kids
---
Learning a musical instrument is one of the most rewarding things a child can learn. Starting young is ideal, as it's often easier to pick up such tasks at a younger age. Drumming also has many mental benefits, such as improving motor brain areas.
If you've been looking into purchasing an electronic drum for a child to start learning, we're here to help. Keep reading for the ten best electronic drum kits available.
Which Brands Make the Best E-Kits for Children?
One of the best things about looking for an e-kit for children is that you have a wide variety of options. There are many reputable brands in the market that you can trust to deliver a quality product. Some of the top brands include the following.
1. Alesis
Alesis is one of the leading brands in electric drum kits for children. You'll see them several times on this list with different products that are worth checking out. Alesis is a reputable, excellent brand that you'll see on the market repeatedly
2. Yamaha
Yamaha (and their drums) is one of the most recognizable brands in music for countless instruments. You can find a Yamaha instrument at the expert level or a child's beginner level. Expect these instruments to often be a bit more pricey than others but have excellent build quality. These instruments will likely follow your student through their entire musical career.
3. TourTech
TourTech makes unique and compact electric sets that your student will adore learning on. Their compact size makes them great for size constraints or smaller, younger students.
4. Paxcess
Paxcess makes a wide variety of instruments, but what we have here is their line of roll-up drum kits. These kits are unbeatable in portability and still provide a high-quality build. Paxcess is great for beginners or supplemental learning when your student can't get to their electric kit.
Best Drum Sets for Kids
If you're in a hurry, here's a quick list of our top ten picks for the best drum sets for kids. Each of these kits is a great starter set for your kid to get learning as quickly as possible.
Alesis Turbo Mesh
Roland TD-1K
Alesis Debut
Digital Drums 400 E-Kit
Yamaha DD-75
TourTech TT12S
Alesis Compact Kit 7
Paxcess Electronic Drum Roll-Up Kit
RockJam Mesh Electronic Drum Set
Avatar Electronic Drum Set For Kids
| | |
| --- | --- |
| Product | Overall Rating |
| Best Overall: Alesis Compact Kit 7 | 4.9/5 |
| Best Transitioning Set: Alesis Turbo Mesh | 4.7/5 |
| Best for Learning: Roland TD-1K | 4.8/5 |
| Best for First Time Users: Alesis Debut | 4.8/5 |
| Best Kit for Small Spaces: Digital Drums 400 E-Kit | 4.7/5 |
| Best Portable Kit: Yamaha DD-75 | 4.7/5 |
| Best for Ease of Set-Up: TourTech TT12S | 4.8/5 |
| Best Rechargeable Kit: Paxcess Electronic Drum Roll-Up Kit | 4.6/5 |
| Best for Indoor Practice: RockJam Mesh Electronic Drum Set | 4.7/5 |
| Best for Long-Term Use: Avatar Electronic Drum Set For Kids | 4.8/5 |
Our ratings were based on a combination of price, features, and overall quality.
Let's take a closer look at our top picks for the best electronic drum sets for kids below.
Best Electronic Drum Sets for Kids: Our Top Picks
Picking the best drum set depends heavily on your needs and preferences. Because of that, choosing the single best drum set is tough since everyone's needs will differ. What's one person's best might be the worst possible option for someone else!
With that in mind, here are our top ten picks for the best electronic drum sets for kids.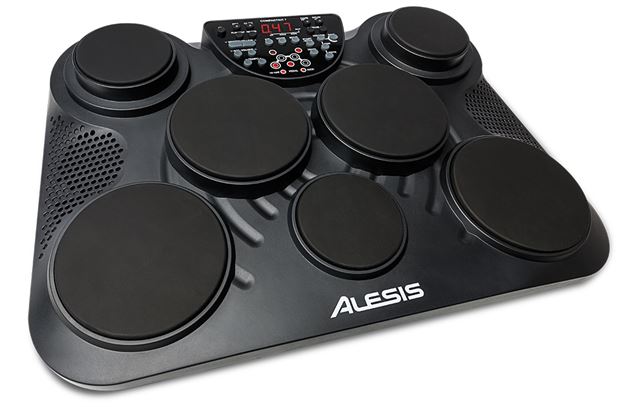 Rating: 4.9/5
Our first Alesis kit is the Compact Kit 7, a fantastic kit for portability. Like the Yamaha DD-75 mentioned below, the Alesis Compact Kit 7 is a smaller lap-friendly kit. With a similar layout as a traditional drum kit, this pad is easy to use and transport while still providing the same experience as a complete electronic kit.
Hundreds of built-in percussion voices and play-along songs will help you get going and customize your sounds. The 3-digit LED display will help you know what settings are active and which ones are waiting.
Self-recording functions will retain the recording well after the system powers down so that you can always listen back and grow your abilities. While an AC power supply comes with the kit, you also can run the Alesis Compact Kit 7 off of six C batteries for maximum portability.
Pros:
Heavily portable
Highly customizable
Comes with pedals despite lap form factor
Cons:
May be too small for some preferences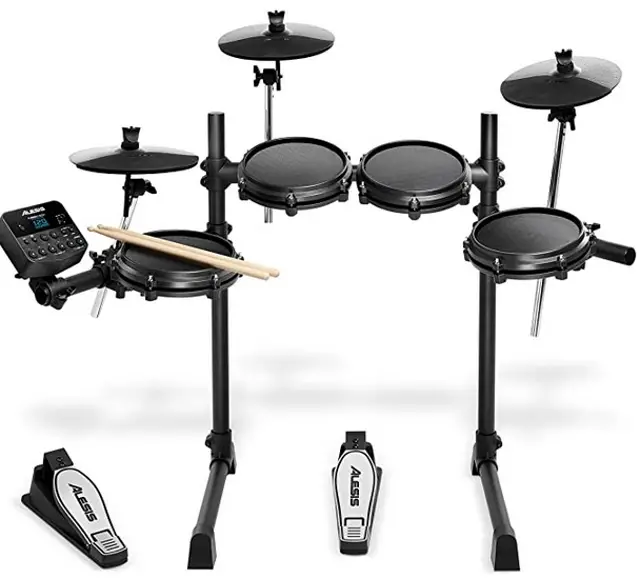 Rating: 4.7/5
The Alesis Turbo Mesh Kit is one of the leading products in beginner drum kits. Made especially for children, this electronic kit comes with seven pieces – an 8" mesh snare drum, three 8" mesh toms, and three 10" cymbals. The kit also includes cabling, drum sticks, a drum key, and a power supply for a quick and easy setup.
The drum module features ten classic and modern-sounding presets. There are 120 individual drum sounds as well as Intelligent Dynamic Articulation technology. Alesis provides a realistic playing experience for beginners as they learn as much as possible before transitioning to a more extensive and complex set.
Pros:
Beginner-friendly
Easy to set up and customize
Comes with a variety of sounds to help practiceCons:
Mesh heads can tear if struck too hard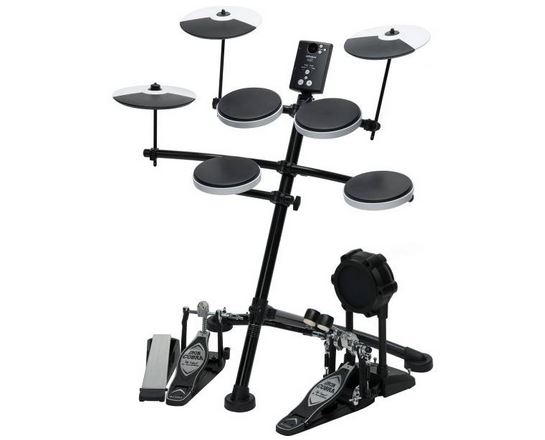 Rating: 4.8/5
The Roland TD-1K is another seven-piece drum kit that makes a great children's drum set. Here, electronic drums have rugged construction to ensure that the equipment can hold up to your practice. You'll have the same setup as the Alesis Turbo Mesh with one snare, three toms, a crash, a ride, and a hi-hat – the standard in beginner kits.
Roland's TD-1K kit comes with ten different coach functions as well, making this a great kit during lessons. These include tempo and time checks of varying difficulties, timers, stroke balancing, and several more. Other features include the ability to record your practice and play it back to you to see where you need to improve.
It's a fantastic drum kit for kids working on improving their play, making it one of the best kids' drum kits for learning.
Pros:
Beginner-friendly
Numerous features to help learn
Multiple additional options during purchase
Cons:
Some essentials are optional
Best for First Time Users: Alesis Debut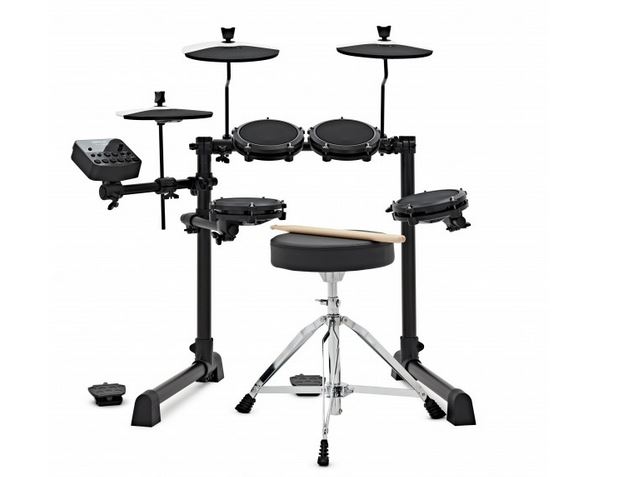 Rating: 4.8/5
Our third Alesis kit is the Alesis Debut, another great electric drum set for kids. The Alesis Debut comes with the same setup of four adjustable mesh-head drums and three cymbals. These cymbals are 10" to help practicing children hit the cymbals easier, making it great for young children or those with no experience drumming whatsoever.
Like the Turbo Mesh, this kit utilizes 120 individual drum sounds and Intelligent Dynamic Articulation technology. A partnership with Melodics also gives students up to sixty free lessons via the Melodics app. It's a great way to improve your playing as a beginner, though it's worth saying that a student would likely want to upgrade once they've gotten the basics down.
Pros:
Beginner-friendly
Mesh heads for softer practice
Free lessons with Melodics
Cons:
Not much room for growth
Basic usage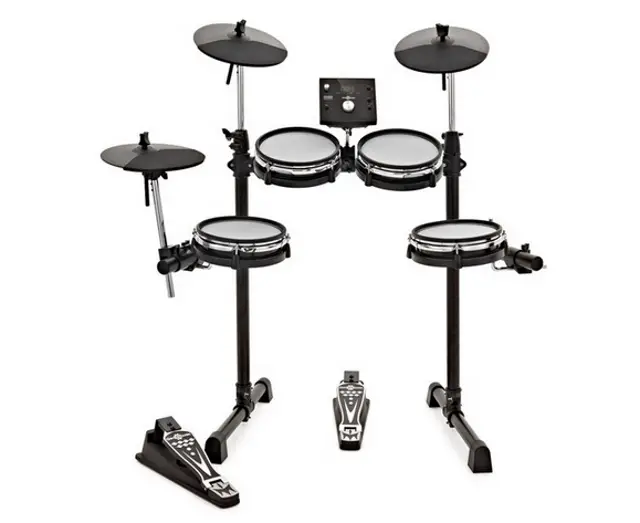 Rating: 4.7/5
The Digital Drums 400 E-Kit comes with the standard seven pieces like most kits. One of the best selling points of this particular set is its exceptionally compact structure. That means that the student won't need much room to use the kit. Headphones come with the drums to make practice as quiet as possible.
The DD400 also includes 108 unique drum sounds and ten pre-programmed kits. Plus, the USB and MIDI connectivity lets you connect this kit up to a computer. Its compact, foldable, and easy-to-transport design makes this an incredibly portable and convenient piece of equipment to own.
It's perfect for transporting yourself to lessons or practicing on the go, complete with everything needed to start rehearsing today.
Pros:
Highly compact
Variety of options in sounds
Cons:
Possibly too small for bigger players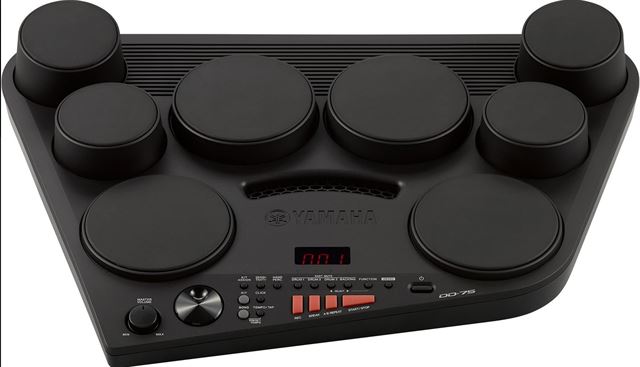 Rating: 4.7/5
The Yamaha DD-75 is a compact set with a different design from the standard kits. Rather than looking like a traditional drum kit, the DD-75 is a much smaller set. It's the size of a large laptop, more than able to fit in your lap. While it has the same style and layout as an acoustic kit, the heads are smaller, and the entire experience is much more travel-friendly.
Yamaha's DD-75 kit also has eight touch-sensitive drum pads rather than the standard seven, including an extra cymbal. Using battery power, you can play this kit anywhere with ease. It's a great drum pad to learn how to drum, but it's also friendly to players with much more experience.
Still, a beginning player may find this kit a bit more complex than anticipated. Overall, it's an excellent beginner kit that can help lead to advanced play well beyond most beginner kits' capabilities.
Pros:
Great for long-term learning
More pieces than average
Highly portable
Runs on a battery for mobility
Volume control and headphone friendly
Cons:
Could seem too complex for beginning players
May be too small for some preferences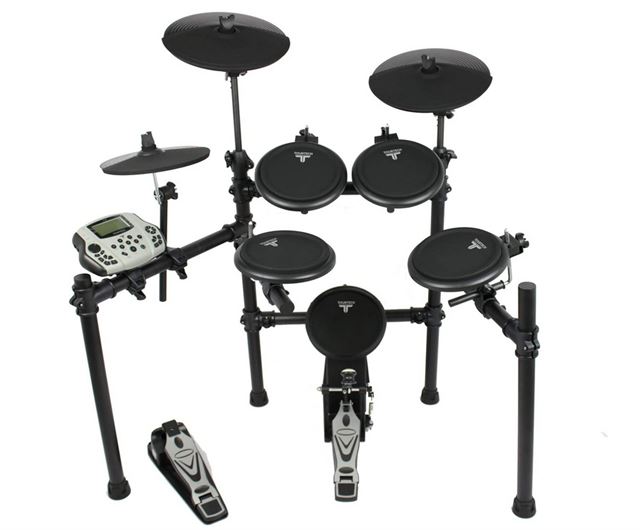 Rating: 4.8/5
The TourTech TT12S is a perfect experience for a beginning drum kit. This setup is also a compact kit compatible with practically any space requirement while still resembling a traditional drum kit. It also comes partially built in the box, making the assembly an easy experience.
The easy-to-use stand is much sturdier than other models, helping the pads feel dynamic and satisfying. USB and MIDI functionality allows your TourTech kit to connect to any computer as well.
Headphones are compatible with this kit to keep things quiet. Snare on this kit includes a "dual-zone," which provides a different sound depending on where the drum stick strikes the pad. Using this feature can help beginners practice learning where to hit a drum to produce different sounds.
Pros:
Computer accessible
Dual-zone technology
One of the best in its low price range
Cons:
May be too small for some players
A high number of features can overwhelm users when starting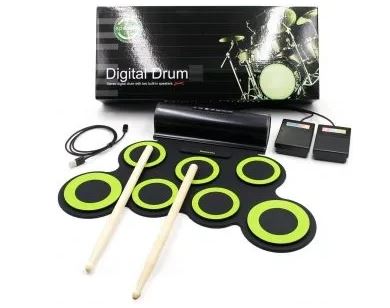 Rating: 4.6/5
When it comes to portability, it's practically impossible to beat the Paxcess Roll Up Drum Kit. As the name suggests, this kit can fold up for easy travel. There are also no batteries to worry about as the kit comes with a built-in rechargeable battery and a charging USB cable. It's small and highly portable, yet also sturdy.
Made with seven pads, the Paxcess kit can last for 10 hours of playtime on each charge – much longer than the average drumming session. Feature-wise, this kit is a bit barebones – a few demo songs, rhythms, and timbers, the selling point is undoubtedly the portability.
An earphone jack makes the sound silent, and the kit's build makes the strike of the drumstick quiet as well. These are great drums for toddlers or kids while they work on moving up to a more advanced kit.
Pros:
Extremely portable
Rechargeable
Sturdy and quiet
Cons:
Smaller than some may want
Barebones in features
Rating: 4.7/5
The next on our list is the RockJam Mesh Electronic Drum Kit, which brings the same mesh heads as two of the Alesis options given here.
RockJam's Mesh Electronic Drum Kit compact kit comes partially built so that even the most inexperienced user can easily set it up without much hassle. Coming with eight pieces, the RockJam Mesh is also extremely quiet due to the mesh heads, making it great for indoor practice.
There are 30 separate drum voices you can choose from, stemming from a wide variety of genres and styles. We applaud how easily it is to use the drum module to switch between drum kits. Connectivity allows computer compatibility as well. With a light, sturdy build and various learning tools, the RockJam Mesh kit is a wonderful place to start.
Pros:
Lightweight, compact, and quiet
Easy to assemble
Variety of sounds
Cons:
Dynamic range leaves something wanting
Kick pedal isn't sensitive enough for some users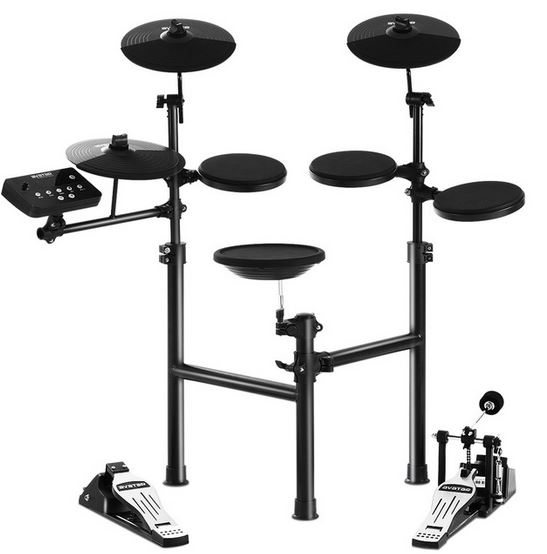 Rating: 4.8/5
Our final item is the Avatar Electronic Drum Set. In terms of beginner-friendliness, this is one of the more complex pieces on our list, which is why we've placed it here. It's a stellar kit, but it could turn out to be a bit more advanced than some beginners are hoping for. Still, that means it will be useful for a long time and through a lengthy amount of training.
The Avatar Electronic Drum Set comes with mesh drum heads, 5000-note recording capacity, and a wide variety of other features. While it's pricier than some expect a kit to be for such a purpose, the longevity of the practice it provides is more than worth it.
The module also comes with a massive variety of sounds to help your child learn. For kids, this is excellent as a beginner or intermediate kit and can lead to a lifetime of drumming prowess. Many reviews state that some pieces rival even expert-level electronic drum kits.
Pros:
High-quality build
Complex but easy to learn
Wide variety of included sounds
Cons:
Pricier than most beginner kits
Can seem too complex for beginners
Frequently Asked Questions
We've gone through some of the best beginner kits on the market, but there are still many questions floating around. If you're still struggling to choose, we're here to help. Consider the following information to help you determine the best kit for your child.
How do kids' electronic drum sets work?
Electronic drum sets use with pads and drum heads that sense a strike against them. When hit with anything – preferably a drumstick – it activates the sensor, triggering the drum itself. Most kits come with different presets to make an electronic drum sound similar to a real drum in different styles.
These kits are typically seven pieces and will include a kick pedal. The kick pedal mimics the sound of a bass drum – often called a kick drum, for obvious reasons. Having this piece as a pedal instead of the entire drum makes it significantly smaller and more portable.
The sound of an electronic drum kit will usually come out from built-in speakers. Some kits have the functionality to hook up to bigger speakers or even amplifiers, though those are usually more advanced.
The vast majority of electronic kits also have headphone capabilities. Using headphones makes the sound only audible in the earpieces, making it a much quieter experience for those around while giving the user the full effect. Picking the best kid's drum set is tough, but search for features that you'll find useful to narrow down the options.
What comes with a kid's electronic drum set?
The answer depends entirely on what the kit is, and there's no standard. However, most kits are seven pieces, including two pedals for a kick drum and a hi-hat cymbal. Many will also include the needed accessories like drumsticks. Some will come with headphones, but typically these headphones aren't the highest quality.
Overall, a drum set will come with everything your child needs to start practicing. A kid electric drum set will likely have fewer features than drum sets for older students. More expensive sets will often come with more features and additional items. Many also have optional add-ons at purchase, such as the Roland TD-1K on this list.
Do these kits come with educational tools?
The majority of the kits we've provided on this list come with educational tools. The best example of this is undoubtedly the sixty free lessons with Melodics that the Alesis Debut offers.
However, not all kits will come with educational tools. For example, electronic drums in lower price ranges will often have fewer features and offer fewer tools of this nature. A drum machine for kids can also help to teach skills that can translate to a drum kit.
However, nearly every electronic drum kit will come with some sort of learning tool, such as metronomes. The aforementioned Paxcess roll-up drum kit even includes games for kids to enjoy while playing.
The good news is that if you have a drum kit that doesn't provide the tools you need, you can still often find something to use. Consider going to your local music store to pick up a music book for beginner drummers. Online tutorials and play-along songs are also excellent learning tools.
Does my child need a full-size electronic drum kit?
Such a decision is entirely up to you and your child. Full-size electronic drum kits are great to learn on for many reasons. It's great for students moving up to a larger drum set or an acoustic drum set. Using a full-size kit will get them used to the movements and motions needed to play these more complex kits.
It also provides a great workout and expends more energy, which is equally important for children. Needing to reach farther, hit higher, and move faster will improve your child's motion skills and keep them healthy as well. Age is vital as well, since the best drum sets for ten-year-olds may be different for younger or older children.
That said, there's absolutely nothing wrong with using smaller kits. Portable, compact kits that fit in your lap will teach your student drums just as well, though transitioning to an acoustic kit may be more difficult. Compact kits can also be helpful for space reasons, and they could even end up your only choice depending on the available room.
What is a good age for kids to start learning the drums?
Generally speaking, it's a good idea for a child to start learning an instrument around the age of five because most kids struggle to pay attention before this age – and likely still will at such a young age. There are also physical reasons, as younger children may not have the needed agility to practice such a skill set.
It also depends on the instrument in question, however. Something that requires a great deal of precision and dexterity, like piano or guitar, may require starting at an older age. Drums, however, actually suit children of an even younger age. What kid doesn't like hitting something with a stick and making a loud sound?
Make sure that your student is being given proper supervision no matter what their age! A little kid's drum set can quickly break if they don't apply proper safety and restraint. Even the best drum kits can damage the young musician if misused.
Where should kids start when learning the drums?
There are many good resources for kids in plenty of places. The most obvious place to start is at home if you can teach your child. At-home resources like online tutorials, television shows, books, and your teaching ability can make this easy.
If you're looking for an instructor, consider looking into nearby music stores. There may even be a music school near you that's looking for students. Children often learn better with an instructor, and an experienced teacher can make your student's skills genuinely blossom.
It's also a good idea is to mix both. Consider having formal lessons for your child while also encouraging extracurricular practice at home.
How much should I spend on an electronic drum set for my child?
The price depends on the electronic drum set you're getting. More advanced drums will be more expensive but may make learning more accessible and enjoyable. More stripped-back sets will be cheaper but may not have the features your student would benefit from.
A decent range for an electronic drum set is $150-$400, though there will undoubtedly be options outside of this range. It's a good idea to start on the lower end to ensure that your child is genuinely interested in learning the drums.
Tips for Teaching and Encouraging Your Child to Play Drums
Now that you've picked a drum kit, how do you go about teaching? It's not an easy task, but helping your child learn an instrument can lead to a lifetime hobby and passion. Consider these tips as great ways to help your kid learn the drums – or any instrument!
Practice a Schedule
One of the most important things about learning music is to keep to a schedule. Not using a schedule will feel disorganized and disorienting, especially for your child. Learning on an irregular schedule can make it challenging to retain the information, especially if there's too much gap between individual lessons.
Scheduling also makes students less motivated, as they don't know when the next lesson will be. With adequate scheduling, your student will look forward to specific days. It also will help with deadlines of when a particular lesson should be complete.
Ensure Discipline
Music is a fun and enjoyable hobby, but slacking off can make learning nearly impossible. During a music lesson, it's crucial to remain on topic and maintain focus.
One good idea is to set a no-phone rule so that your child isn't distracted scrolling through their phone or contacting friends. When it's time to learn the drums, the focus needs to stay on learning the drums. That said, make sure that you're following the no-phone rule as well! Both you and your student will need proper discipline to learn to their full potential.
Discipline should carry on outside of a lesson as well. For example, if a student needs to master a lesson's information before moving on, they will need practice outside of class. Ensure that your student gives the drums the proper attention to thoroughly learn the new skillset.
Start Soft, Build Power
Many students want to be as loud as possible when playing the drums. Typically, this is a bad practice and can lead to poor drumming habits. Additionally, slamming on an electronic drum kit can cause damage to the electronics.
It's a good idea to start by learning to play softly because it will help control the power of a hit and improve accuracy. Starting slow and building up speed is an excellent accompaniment to this tactic.
Once your student seems to understand how to play, continue the lessons on building power. Doing this is also allows them to adjust to an acoustic kit, which will be much louder than an electronic kit. By starting soft, your student learns control, accuracy, and power instead of simply slamming away.
Be Patient!
It's vital for you and your student to be patient, especially for you as an instructor. Students will often mimic what their instructor is feeling, especially at a young age. Losing your temper or expressing frustration can upset and dishearten your child, making the entire experience much less effective and enjoyable for everyone.
If you feel that a lesson is being unproductive, it may be best to go ahead and cancel the remainder of the lesson. There's no time limit on learning – your student will be learning for the rest of their life. Don't rush things or move past a lesson before it's time, and ensure that your student is also patient.
Encourage Fun
One part of practicing patience is to encourage fun. Yes, learning drums requires discipline, but that doesn't mean it should be unenjoyable and stressful. Making it too stressful will make your lessons less effective, as stress makes retaining information more difficult.
It's a great idea to add small games and tasks into drumming—set rules and goals for your student to strive towards with rewards at the end. Check if your child's drum kit provides games like the Paxcess roll-up kit. These games are massively helpful for encouraging fun and ensuring that your child enjoys their time spent learning the drums.
Practice Proper Safety
The final hint is simple and goes with all things musical and non-musical: practice safely. Drums are a very physical instrument, and it's not uncommon for a child to hurt themselves. Hitting too hard can cause damage to the hand, as can leaning too far and striking the drum with the hand.
Practicing good posture can help curtail soreness and injury as well. Ensure that your child is also wearing proper ear protection, though this usually isn't necessary for an electronic kit. Still, make sure that their headset isn't too loud if they're using headphones, as this can cause damage and frequent headaches.
Drumming On
Learning the drums is an enriching experience for your child. Not only can it turn into a lifelong passion, but it can also help your student master other things in life. Early adoption of musical instruments can help improve the development of their mind and motor skills and provides benefits that translate into their life and yours as a whole.
Feel free to contact us if you have more questions about the best electronic drum set for kids. You can also browse our website for more information.
Latest posts by Sakari Oramo
(see all)