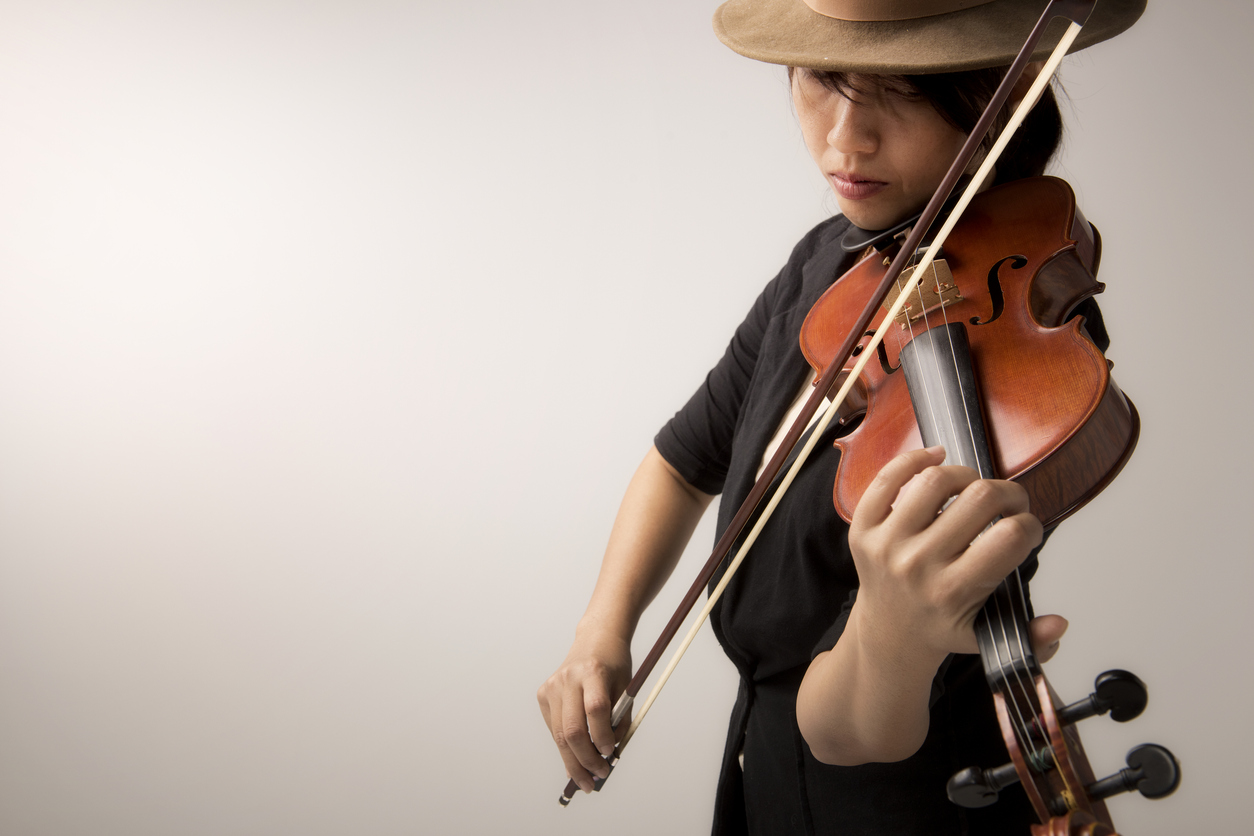 10+10 Best Student Violin for Beginners & Intermediates [Buying Guide] 
---
Investing in instruments isn't all about the money. Violins can be a significant financial investment but the one you buy can seriously influence your enjoyment of it, which in turn influences how much you practice and how good you get. Buying a violin isn't just about buying the one you can afford. There is so much more to it than that. That's why we put together this list of the 10 best violins for beginners and intermediate students.
Violins area niche subject but it is also a deep and interesting one. We need to consider type, brand, material, form, sound, tone, the body, bow, string and so much more. This guide really is an 'all you need to know' guide as we are going to spend the next few pages covering literally everything you need to know about buying a violin as a beginner and intermediate student.
Best Violin Brands
There is a fairly restricted range of brands that manufacture good violins.
Each of these brands have their own specializations, whilst some are great all-rounders.
Some are more suitable for beginners while others offer higher quality violins more suitable for more experienced musicians. We have selected some of the more reliable and reputable violin brands here to give you an idea of what's out there.
If you choose an instrument from any one of these, you've probably made a great choice.
The best violin brands include:
Stentor
Mendini by Cecilio
Cecilio
Cremona
Kennedy Violins
DZ Strad
ADM
Merano
Fiddlerman
Franz Hoffman
Carlo Lamberti
Knilling
Bunnel
Scott Cao
Kinglos
You may notice some significant absences from this list and that's fine. This article is in-depth enough as it is and it would be impossible to provide an exhaustive list of violin brands and keep this article to a sensible length. Instead, we chose 15 brands that we know personally and have experience with.
If you would prefer to apply the other lessons you will learn on this page to a different brand, you are of course welcome to do so!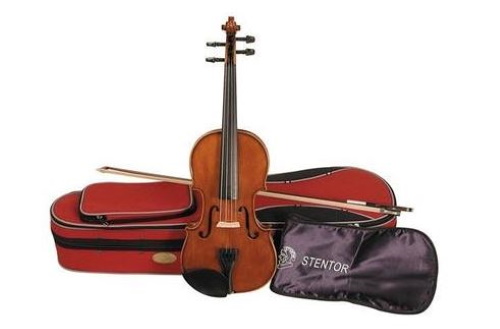 Stentor
Stentor have a reputation for delivering some of the highest quality violins for the price. They offer great value for beginners and fantastic quality for both beginner and intermediate violinist. With some excellent design flourishes, good quality manufacture and materials, A Stentor violin is a very credible option.
Stentor are manufactured in China and imported into Europe. They are all inspected before being released and have to meet stringent quality standards. Any that don't meet those standards are returned to the manufacturer before you get to see them.
Stentor uses traditional design and quality wood to create a top class look. That includes an ebony fingerboard, pegs and fittings with a spruce top and maple side and back to the body. The bow will also use real horse hair.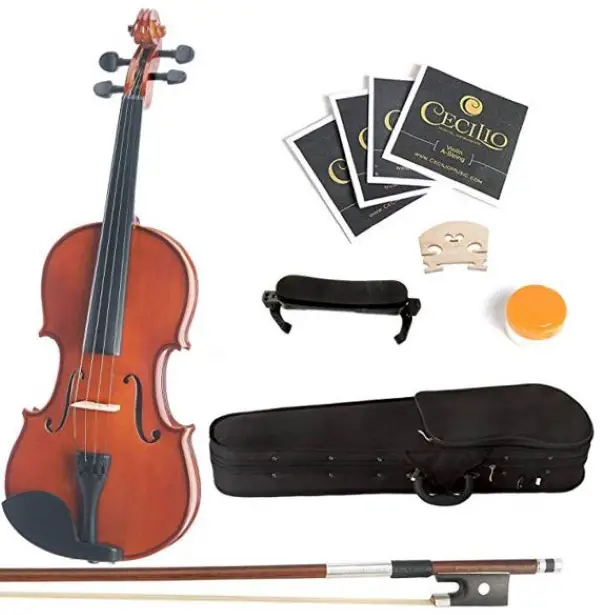 Mendini by Cecilio
Mendini are a standalone brand owned by Cecilio. They specialise in beginner violins that offer great value.
They are not designed for performance or live play but are specifically for those early steps into your journey as a violinist. They do not reflect the same build or materials quality as some of the higher tier violins. Instead they concentrate on delivering an accessible violin that is ideal for seeing if you like the instrument or not.
There is a fine balance between buying a good cheap violin and a 'cheap violin. The latter is pointless for anyone wanting to take up the instrument as it is of insufficient quality to reflect what this amazing instrument is all about. Mendini manufactures good cheap violins. That means of a sufficient quality to provide an authentic experience even if it does not match some of the more expensive instruments out there.
Cecilio
Cecilio is one of the most recognised names in violins. They are a well-established manufacturer that produces some excellent instruments at all levels including some good beginner models and some excellent intermediate ones too. Their CVN range is one of the best-selling instruments available at a very accessible price.
Cecilio violins mimic the traditional feel and shape but depart slightly in terms of materials. The body is still made of maple and spruce but where you would normally see the very hard wearing ebony on the fingerboard, you will see maple instead. This is fine for beginners but will have longevity issues eventually. The fingerboard can be replaced if you keep your violin that long but it is something to be aware of.
To make up for lack of ebony, Cecilio uses D'Addario strings. This is usually an upgrade option for anything less than a professional violin but many Cecilio instruments come with them as standard.
Cecilio are also known for creating top quality, but affordable electric violins. Check out our round-up of the top 10 Best Cecilio Electric Violin options.
Cremona
Cremona are a newcomer to instrument manufacture and have been around 'only' 30 years. In violin terms, that's a new business! Cremona is a small company that dedicates all of its resources to delivering the highest quality instruments at a very accessible price. They also dedicate a surprising amount of their workforce purely to quality control. This is great news for consumers as it ensures every Cremona violin delivers the goods.
Cremona has won awards for build quality and tone. Tone is an important aspect of playing violin as we will discuss later so it's good that a company concentrates on delivering that even at entry level.
The company uses the traditional design and materials for most of its instruments. An ebony fingerboard, maple body with a spruce top. The inclusion of good quality rosin keeps everything in excellent condition.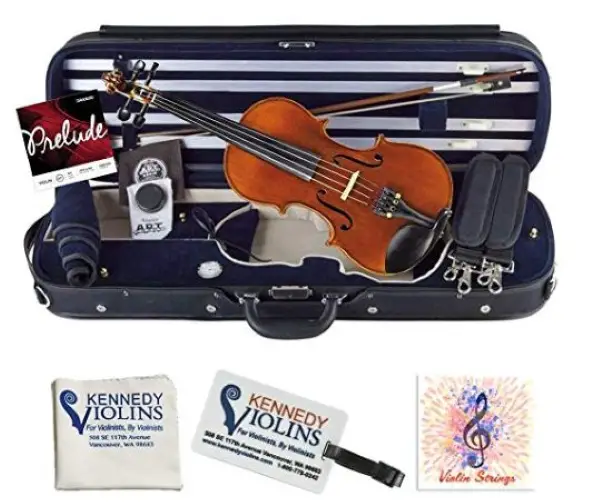 Kennedy Violins
Kennedy Violins is an American manufacturer based in Washington State. It's another newcomer to the scene that has made a significant impact on the industry. It retains the traditional look and feel of the violin but uses modern manufacturing to make the instruments accessible.
Kennedy Violins are not the cheapest you can buy but they combine quality materials and manufacturing with good after-sales service and excellent tone. Each instrument delivers an excellent quality product that is still accessible to most beginners and intermediate players.
Construction uses the traditional maple, spruce and ebony mix while delivering some very warm tones. Some of the models can be customised with chin rests to ensure the perfect fit. Bows use horse hair and packages come with good quality rosin to keep everything looking and playing at its best.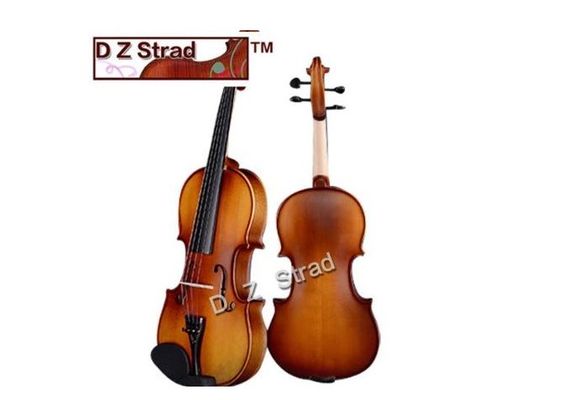 DZ Strad
There are two D.Z. Strad brands. The D Z Strad Violin Shop in White Plains, New York is a violin manufacturer that sells out of its store. DZ Strad is a separate brand that sells online and through Amazon. We concern ourselves with the latter as they are more accessible to more people being available online.
DZ Strad is another manufacturer that expends a lot of effort on quality control and manufacturing. They are renowned for delivering great quality instruments at accessible prices and for not needing upgrading for the longest time thanks to warm tones and good quality strings and build. These make them ideal for the intermediate player and for the beginner who doesn't mind investing a little more.
DZ Strad are not the cheapest but they offer a true turnkey violin that delivers an authentic experience from the off. You do pay for that but if you're looking for an instrument that could take you through your initial steps and then on into more developed play, this could be the one.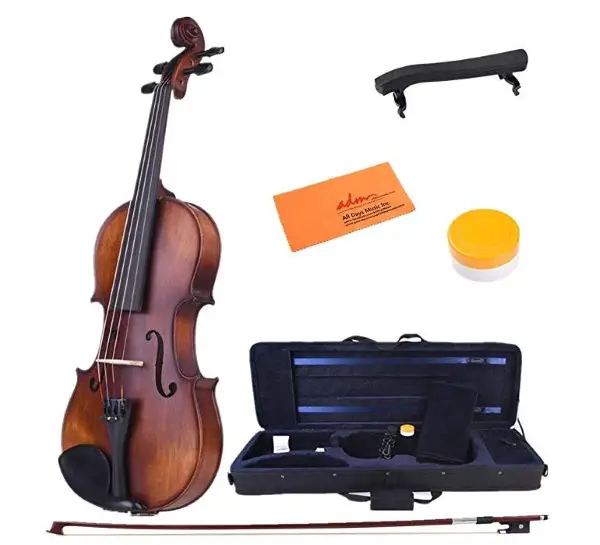 ADM
ADM, All Days Music Violins, are an international brand that manufactures in Asia and is based in Michigan, USA. Known for offering good quality beginner violins at reasonable prices, ADM is definitely a brand to bear in mind if you're thinking of taking up the violin.
The company manufactures traditional looking violins in a range of sizes that can include hand carved elements, seasoned wood, spruce and maple construction and Brazilwood bows. Not all models come with ebony fingerboards and pegs though. This should be fine for beginners but something to bear in mind if you're a little further along.
ADM violins make a solid bet for newcomers to the instrument. They are low cost, look fantastic, sound very good and hit all the right notes. They may need early upgrades so that low initial cost may not always be the bargain you're looking for.
Merano
Merano Musical Instruments is another relative newcomer having been founded in 2000. It is already notable for combining top class materials, hand building and decent quality strings at an easily accessible price. This combination is why this new company makes it into our top 15 violin brands.
Hand building isn't something you would usually expect at the lower end of the market but you get it here. The traditional look uses real wood, maple, ebony and spruce, good strings, nice bow and good quality rosin. All you need to begin playing right away.
Merano are noted for needing a little tuning and setup before you can play them. This isn't such a downside as setting up is something you're going to need to know but is unusual on a beginner violin. It should not detract from the overall experience though.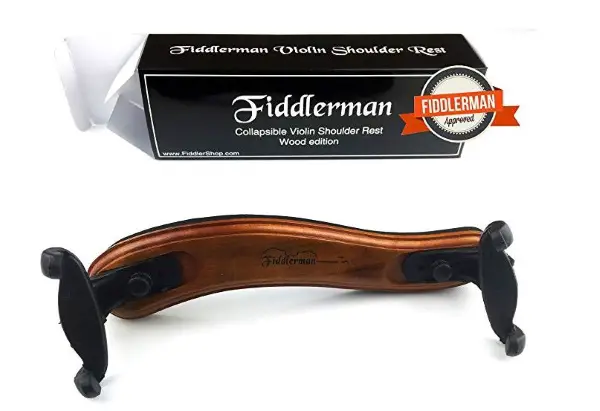 Fiddlerman
Fiddlerman is a real life music shop with an online presence and a hand in manufacturing. The Fiddlerman is Pierre Holstein who runs the business with his son. They are musicians and play themselves so should have a pretty good idea of what makes a good violin.
The company uses traditional woods and manufacturing techniques to deliver great looking and sounding violins at a range of accessible price points. Each one is exhaustively tested before leaving the store and review after review praises the quality and attention to detail of the range. Those reviews also note that every violin that arrives is in tune and ready to go.
Fiddlerman are not the cheapest violins you can buy but they are some of the best value. The combination of quality and price means these would be ideal for a beginner who has a few months under their belt and want to commit or the intermediate who wants to leave their beginner violin behind.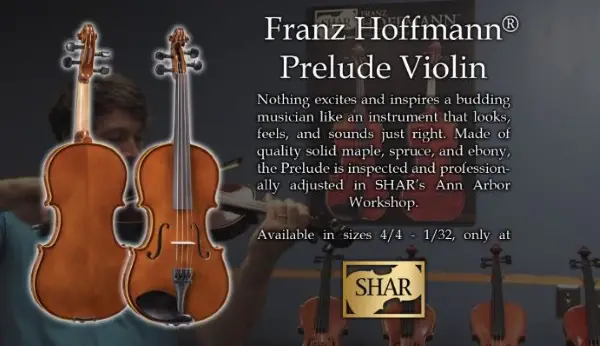 Franz Hoffman
Franz Hoffman violins are middle of the road in terms of quality and price and that makes them ideal for beginners. Manufactured in China to a very high standard, these instruments combine low price with quality materials and build to deliver something that could last you many years.
The range comes in a selection of sizes from 1/16 up to full size 4/4. Each is constructed of quality maple, spruce and ebony and can come equipped with Overture Premium strings. The bow is Brazilwood with horse hair bow and the instruments often come as an outfit with case and rosin although some are provided as violin only.
Franz Hoffman is another example of Asian manufacturing and western quality control delivering a viable instrument for a relatively low cost. This combination will ensure we continue to see the Franz Hoffman name for a long time yet.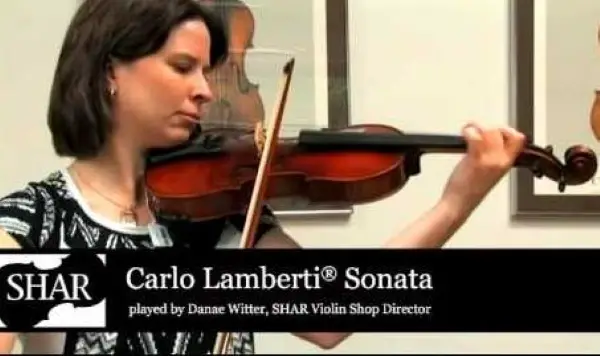 Carlo Lamberti
Carlo Lamberti violins are manufactured in the same SHAR factory as Franz Hoffman. That's a good thing as they also offer similar build and materials quality and attention to detail. These are hand made though, pricing them a little higher than Franz Hoffman.
The materials quality is very good with a rich tone and warm overall sound. They are not pitched at beginners, more intermediate players who know what they like and what is comfortable. The higher pricing due to hand building pays dividends in that tone and many intermediates like their Carlo Lamberti violins.
One other benefit of Carlo Lamberti violins is that they seem to retain their value better than many other intermediate instruments. When it comes time to trade up to a Yamaha or Stradivarius, you'll get a much better price with a Carlo Lamberti than many other names.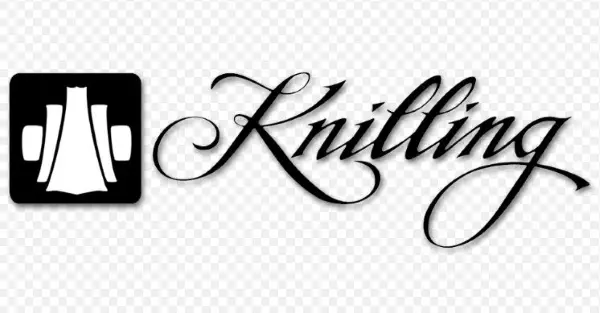 Knilling
Knilling violins are some of the best around for the money. They are also some of the most recognisable. Knilling is an American company founded in 1922 and has been in business ever since. Knilling violins use a signature peg system known as planetary gear pegs. They look and feel very similar but are able to maintain tune for much longer.
Materials and manufacturing is tightly controlled by the company ending in a final inspection before dispatch. This contributes to the excellent reputation the company has for delivering great quality instruments at accessible prices. They are also available everywhere. Most music shops, online and offline will have Knilling violins and many schools recommend them. That's quite the accolade!
These are not the cheapest option so are more for intermediate players but if your pockets are deep enough, they will serve exceptionally well for the beginner too.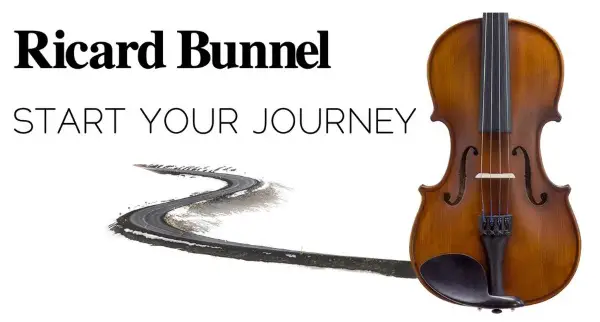 Bunnel
Bunnel are another well-established manufacturer of quality instruments. They are also on the more expensive side of the market but deliver exceptional materials and build quality for the money. There are some value-oriented violins too, ideal for beginners.
Most Bunnel violins use the three main woods, maple, spruce and ebony with a Brazilwood bow. Strings are usually of a good quality and the bow has horsehair strings. The outfits will contain a case, rosin and bow, everything you need to play. Bunnel are also known for their rich, warm tone. It's difficult to quantify but when you hear one played next to another brand, you soon learn to recognise it.
If your Bunnel violin comes with the offer of free setup, take it as many online shoppers find they need to tune it before playing. This is fine if you're in a musical family but adds a small delay between delivery and play.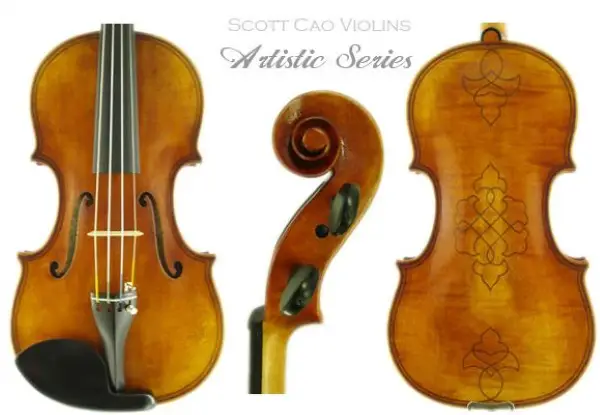 Scott Cao
Scott Cao's violin range spans the entire spectrum, from beginner all the way to professional. The violins have won awards and accolades thanks to their lovely tone and excellent quality materials and workmanship. They are priced slightly higher than some on there but you really do get what you pay for!
Scott Cao hand builds violins for professionals but also has a factory for more affordable instruments. It is here that you will find the more affordable violins. There are a wide range of models covering every price point that all use quality materials, excellent finishing and good quality strings.
This brand is one of the more famous here but has created a range of violins that delivers for everyone. True beginners may not need a Scott Cao to begin with but as soon as you're committed, there are few better investments you could make.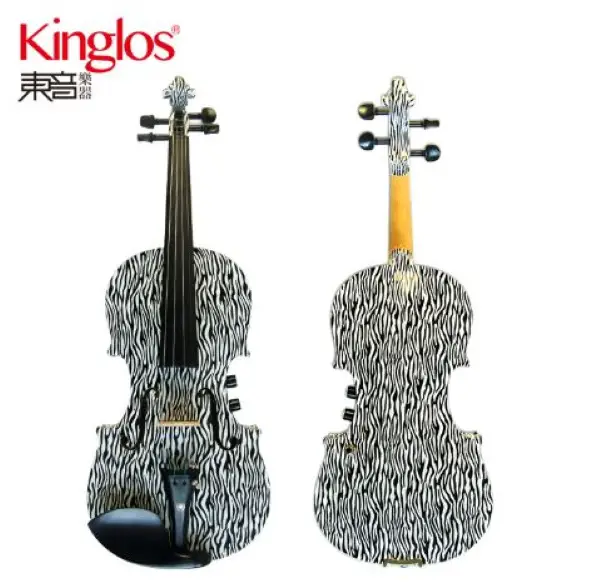 Kinglos
Kinglos violins is a Chinese company based in Shanghai that makes acoustic and electric stringed instruments. Kinglos are one of the few manufacturers in this list that provide unique designs and finishes to their violins, offering something quite different if you like to express yourself.
Build quality is excellent, with the usual mix of spruce, maple and ebony. Strings are usually of a good quality and most violins arrive in tune. These are mass produced but it won't matter so early in your career. Higher tier violins will be hand carved and provide some very lustrous finishes.
Kinglos violins have a great tone but that can be compromised by any special paint jobs you might have. If you're a beginner, your ear won't notice but if you're more experienced, it might. It doesn't detract too much from the experience but is something to be aware of if you plan to perform. Otherwise, Kinglos offer a range of top class violins at sensible prices.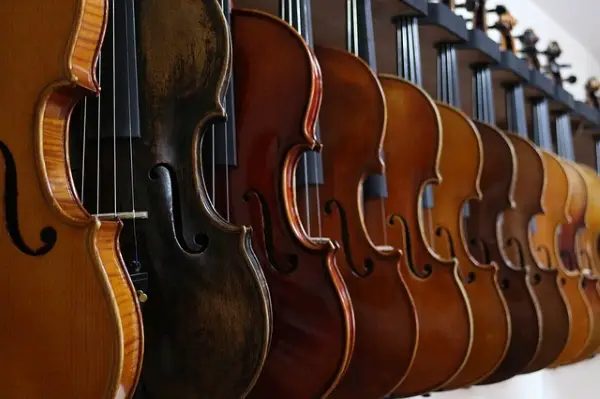 Things to consider when buying a new violin
A violin, like any instrument, is a personal purchase. There is a lot of subjectivity that goes into your choice and much will depend on the fit, finish and feel of the violin. Different makes and models will also have a different tone which can be influenced by the size, shape and materials. Some tones will resonate well with your ear while others won't.
There is a lot that makes up a violin and it doesn't matter how much it costs, who made it or who else plays it, some makes and models will call to you while others won't.
What makes a violin sound so good?
All musical instruments are a partnership between the instrument and the musician. Each complements the other and enables the other to produce lovely music. A beginner could buy a Stradivarius and make it sound terrible while a master could take the cheapest violin and make it sound like perfection. It's partnership at work.
The violin's physical attributes can influence who good it sounds though. Let's take a look at each of them – all the violin parts which make a difference in the anatomy of the violin.
Body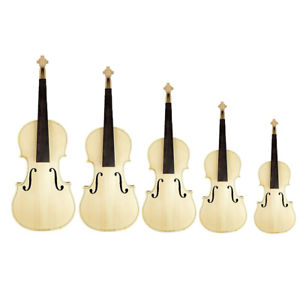 The body of most violins will be made up of two wood types, maple and spruce. The sides will often be made of maple and the top and bottom of spruce. Both combine to deliver the warmth and character of the body and the tone the instrument produces.
The violin body should have good quality wood with consistent graining and be a single piece on each side. The wood should be expertly varnished with no brush marks, lumps or drips and should be of a consistent thickness across the entire body of the violin. Any cracks in the wood or changes in wood or lacquer finish can negatively influence the tone it produces.
It will take experience to identify what thickness of varnish is best but the thinner the varnish, the richer the tone can be. This is no hard and fast rule though as so many things can influence the sound. It just comes down to trial and error and then identifying which tones work for your ear.
As you go up the price range, you will begin to see the use of more seasoned woods and hand crafting. These can enhance the tone of the violin and provide the ultimate in feel and comfort. They do cost a lot more so it's a good ideal to invest in something like that much later in your career.
Bow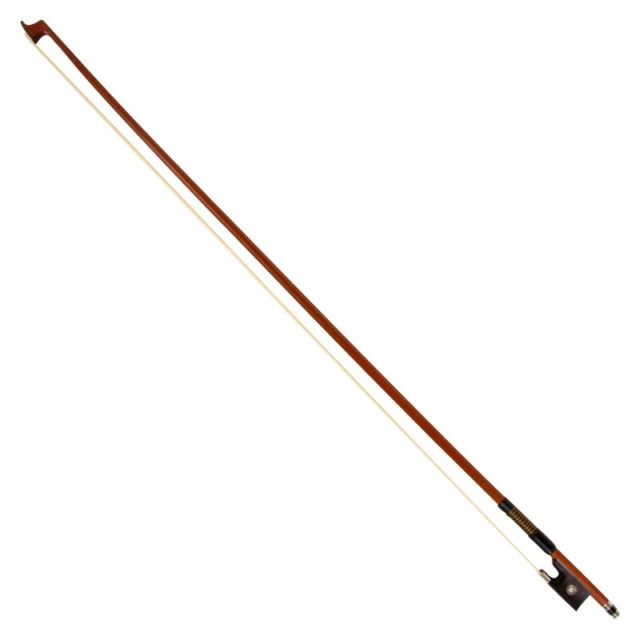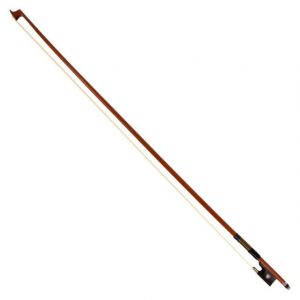 Not all violins come with a bow but most do. The bow is a pivotal part of the instrument and should be given as much thought as anything else. Most good quality bows are made of Brazilwood with horse hair strings. Some violin bows are made from carbon fibre or composites and that is something you will have to experiment with once you have a few hundred hours of practice under your belt. You will find one material more comfortable than another and there is no wrong answer here.
Bow material is less of a consideration for beginners. As long as it has enough rosin on the string and draws a consistent tone, it's all good. Once you have your ear and know what you like, you can experiment a little more with bows.
You don't have to use the bow that comes with the violin. After you gain experience, you will find you will favour one type of bow to another and can take it with you even as you upgrade your violin. Many outfits come with bows but they work just as well as spares than as your main bow.
Strings
Violin strings have a huge influence over the sound the instrument produces. Strings included within cheaper violins will often be stock strings. Fine for a beginner but more advanced beginners or intermediate musicians will want to upgrade to D'Addario or something similar.
Typically you would change your violin strings between 3 and 6 months of play depending on how many hours you put in. The more you play, the shorter the change interval. You will begin to notice when strings wear out as they will find it harder to hold a note. It also makes sense to have a few spare sets of strings around so you can always play when you need to.
Good quality string manufacturers include Thomastik Dominant, Pirastro Evah Pirazzi,  Jargar, Thomastik-Infeld – Vision, Prelude, Pirastro Gold, Helicore, Fiddlerman, Obligato and Super Sensitive. All these manufacturers make strings suitable for beginners and intermediate at a range of prices.
You don't have to use the same string manufacturer across the board. Some violinists mix and match depending on the quality of sound you're looking for.
Violin strings have different gauges which will produce different sounds. As you gain experience, you will find a particular gauge works best for your ear and stick with it. Most violinists of intermediate level and above have favourite string manufacturers or gauge combinations they will stick to throughout their career.
Cases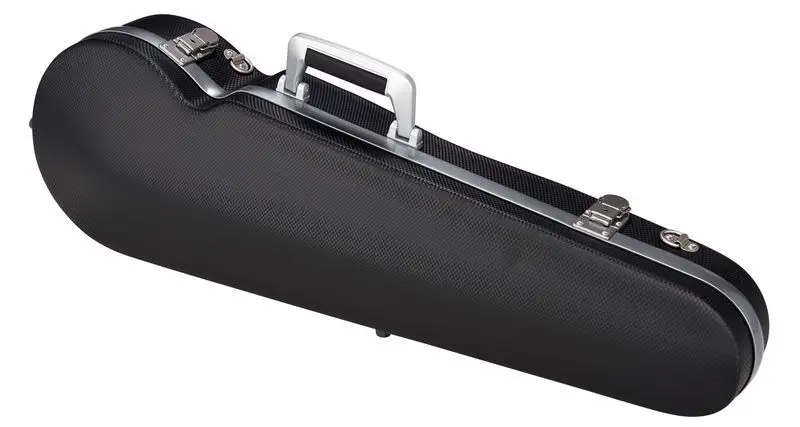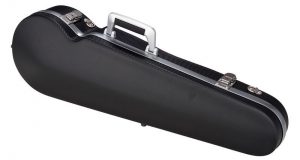 Violin cases are another subjective choice. Some will like the lightness and convenience of a soft case while others will prefer the reassurance of a hard case. Either way, some violins come with a case as part of the outfit so no further thought needs to be applied. However, once you begin performing and travelling with your violin, you will likely veer towards hard cases.
Hard violin cases may be heavier and slightly more unwieldy but they offer excellent protection for your violin. As long as the violin fits comfortably into the recesses, it should be able to survive almost anything.
Chin rest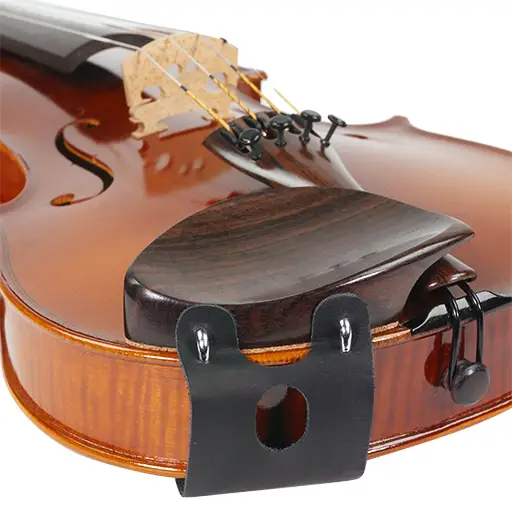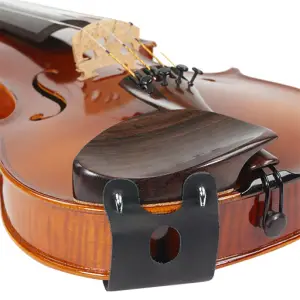 The violin chin rest is key in finding a comfortable position. Usually constructed of ebony, rosewood or boxwood, rests come in different shapes and sizes. Your beginner violin will likely come with a stock rest that may or may not be changeable or adjustable. Once you begin investing more in your violin, you will come across models that let you change your rest as you see fit.
The rest is a very personal part of the violin and fit will depend entirely on comfort and how you use your instrument. This is one of those elements that will need trial and error to find the perfect fit.
Shoulder Rest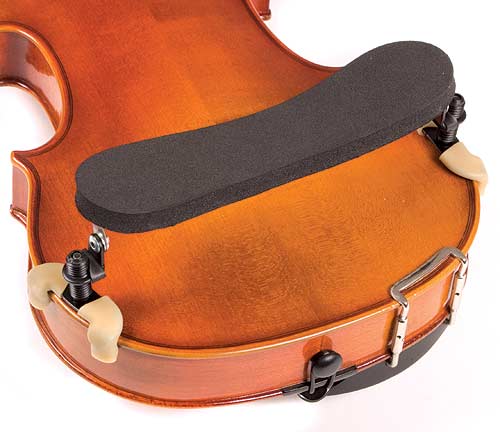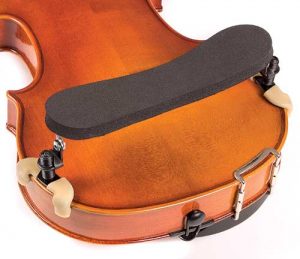 The violin shoulder rest is another often overlooked element of the instrument. While less of a differentiator than body material and strings, the shoulder rest will influence how comfortable the violin is when placed on your shoulder.
Some violins come with interchangeable shoulder rests which means you can find a comfortable rest and use it across your instruments. Some don't have that option so it's a matter of finding a comfortable one and using that. There are dozens of different types on the market at very different price points. You will eventually find one you favour and stick with that. If it's comfortable, it doesn't matter if that's the cheapest or most expensive.
Rosin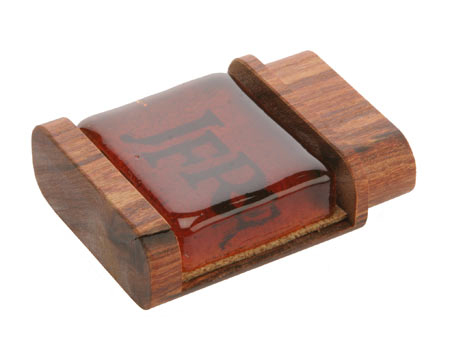 Rosin is a mixture of pine and conifer resin and has a huge influence over how the bow strings react with the violin strings. Used without rosin, the note will be quiet and not consistent. Used with rosin and the character and note changes considerably. You should never use a violin without having rosin on the bow string as it will not sound the same.
Rosin comes in different mixtures but will all have the same thing in common, they increase the friction between the bow string and violin strings. This friction is what helps the violin create its sound. Horse hair bow strings have tiny barbs that make them ideal for play and the rosin adds extra friction to those barbs to help them drag across the string.
The type of rosin you use depends on the strings you use. Steel strings work best with hard rosin while gut strings are better with soft rosin.
Rosin is applied to the bow string while the bow is strung. You rub the rosin up and down the bow string steadily until it is fully covered. Scrape a thumbnail down the string and if a little comes off under your nail, you have applied enough. Bow strings should be treated with rosin every time you use them.
Feel
The feel of a violin is the ultimate intangible but it is still vital to your enjoyment of the instrument. If you're not comfortable with your violin, you won't be as keen to play or practice and your skill will suffer. Find the perfect fit and you will find any excuse to play and your skill will progress accordingly.
There is no 'best' feel for a violin. It comes down to your physiology and your taste. Feel is the one element of a violin that surpasses cost and brand. There really is no point spending thousands on a top quality violin if it isn't comfortable. You would be much better served spending a couple of hundred on something you feel at home with.
You can adapt some elements of feel by changing the chin and shoulder rest. The neck isn't so adaptable and weight is set so it is a matter of trial and error to find the one you like best. Even beginners will find one make or model of violin more comfortable than others. It is that one you should buy if you can afford it.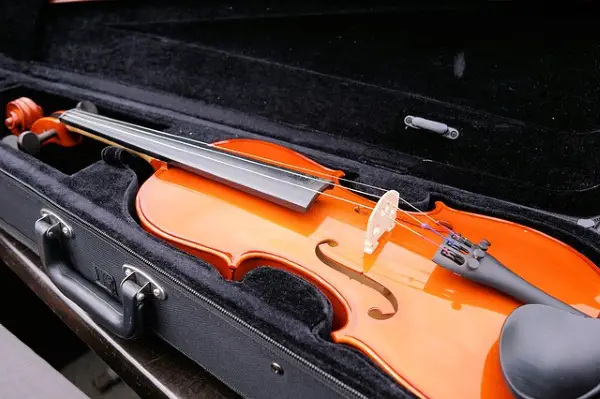 New vs Used
The question of whether to buy a new violin or a used one is almost as old as the instrument itself. There is no right answer here as both offer something different.
A new violin will have that new model smell, offer the opportunity to improve with practice alongside you the musician and the opportunity to customise it to your exact requirements. A violin outfit will include everything the beginner needs to learn the instrument in one neat package so can be very convenient for brand new violinists.
A used violin, in good condition can be just as good, if not better. If budget is an issue, you can usually buy a much better quality used violin for the same money as an average quality new one. It will be broken in and be suitably aged which can improve the tone. You may not get a complete used outfit but if you're buying a second or third violin, buying the best used model you can buy can provide the opportunity to play something truly special.
Differences between student, intermediate and professional violins
The main difference between student, intermediate and professional violins is cost and build quality.
Student violins are usually cheap and mass produced to make them accessible and lower the risk of paying a lot and then not liking the instrument. They will use cheaper materials, cheaper strings and will be mainly factory built. This isn't necessarily a bad thing as good quality beginner violins can still deliver the full experience, just at a lower price.
Intermediate violins will cost more. They will be a mix of mass produced and hand made. It may include a hand made body but factory-made components for example. Intermediate models will include better strings and build quality and more variation in tone and finish.
Professional level violins are also a mix of manufactured and hand made. Top end manufactured violins will use seasoned woods, top level finishing and expert varnishing. Hand crafted violins will be the absolute best you can buy and will cost accordingly. They will also be made to last for decades rather than a few years. You pay a lot more for these instruments but by now, you're totally committed to it so is more an investment than risk.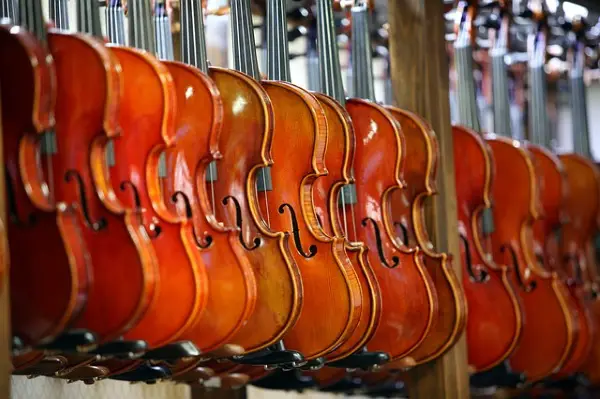 Buying a violin online vs in store
There is no right answer to this question. Buying a violin online will likely be cheaper, but not always. Buying one in store may cost a little more but you get a lot more service for your money. You can work with an experienced shop assistant who can make sure you get the right violin for you, can make it fit, can ensure it's in tune and offer advice and guidance along the way.
We think your first violin should ideally come from a music shop. You should get the advice you need, be able to test multiple violins for fit and feel and find a tone you are initially happy with.
The flip side to that is not everyone has access to a good music shop. Quality stores are few and far between and unless you live in the city, you may not have that resource within reach. That's where articles like ours and online shopping come into their own. You can read reviews, check out what other violinists are playing and scour the internet for the lowest prices.
Violin Care
Looking after your violin can be an involved process but there are some simple rules for getting the most out of your instrument. The more you look after it, the more you'll get out of it. It should last longer too.
Always clean rosin off the bow string after use.
Invest in a violin case and use it.
Learn how much rosin is too much.
Never use solvents to clean your violin.
Check your bridge alignment regularly.
Clean strings regularly.
Always loosen the bow when not being used.
Change your strings regularly.
Keep your sound post in the correct position.
Wipe your violin gently before play.
Avoid storing your violin at extremes of temperature or humidity.
Maintain your pegs to maintain tune.
Always clean your hands before play.
If your violin shows signs of damage or wear, don't ignore it. Even the slightest damage can change the tone of your play and provide a weakness to the construction of the body or neck. If you're using a beginner violin, consider replacing a damaged one. If you're playing a more expensive intermediate instrument, visit a music shop or luthier to have it professionally assessed.
Never repair a violin with glue or other adhesive as it can completely change the sound. These instruments are carefully crafted so nothing interferes with the sound at all. Even a slight repair using household glue can change the sound forever. It is much better to have it repaired professionally or replace if more economically viable.
10 Best Beginner Violins for Students
There are hundreds of beginner violins to choose from that span the entire range of cost and features. This list contains ten of the best beginner violins you can buy right now. You won't be sorry if you buy one of these!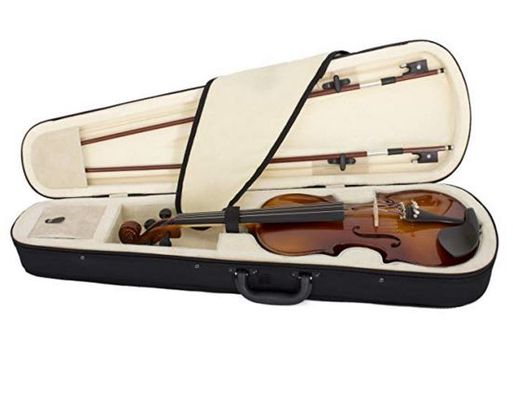 1. Cecilio CVN-300
The Cecilio CVN-300 is an excellent value violin that should really cost more than it does. For a relatively small investment, you get a full-size violin with traditional detailing, D'Addario Prelude strings, two bows, a case, rosin, shoulder rest and other accessories. It's a fantastic investment.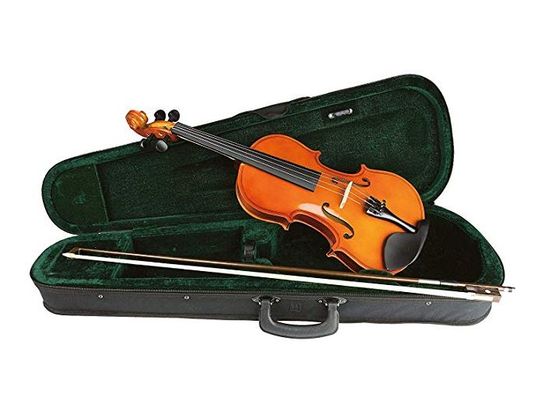 2. Windsor 4
The Windsor 4 is a full size violin with a traditional design, case, bow, rosin and two bridges. It also comes with a hard case to keep everything safe. This is an excellent quality violin that delivers a consistent sound with nice tone and good quality strings. It is well reviewed too with many echoing our own opinion that this is an excellent violin for beginners.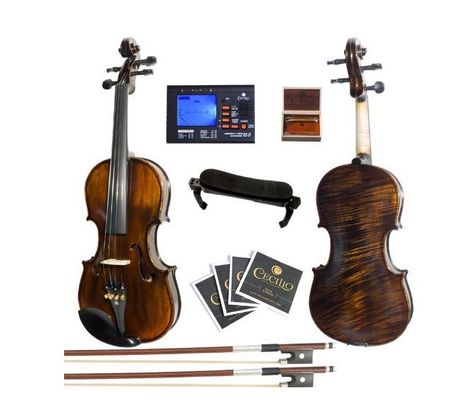 3. Mendini 4/4 MV500
The Mendini 4/4 MV500 is another violin ideal for beginners. It has a unique design that makes it stand out from the crowd yet still looks classical. It is constructed of maple and spruce and varnished to a high sheen. The strings are decent quality too. The package comes with violin, 2 Brazilwood bows, two bridges, rosin, spare strings and a tuner. The quality is excellent, making this a worthy instrument to check out.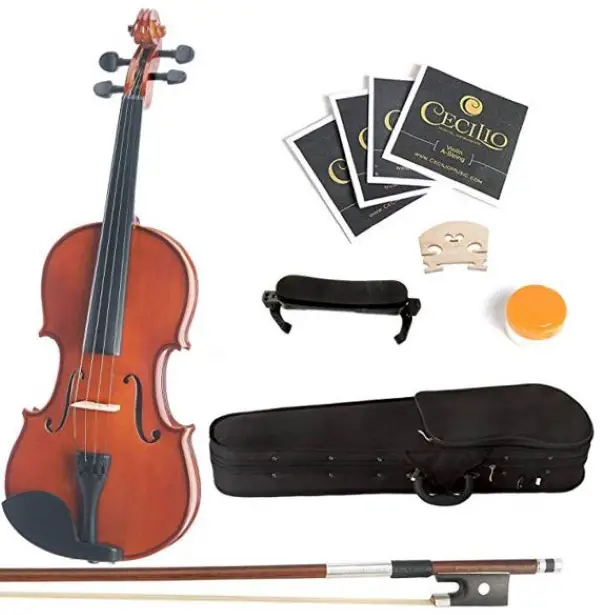 4. Mendini 4/4 MV200
The Mendini 4/4 MV200 is the lower priced sibling of the MV500 yet doesn't compromise on build quality or playability. It's a more traditional finish with light varnishing and rich colour. It has a spruce and maple body with a maple fingerboard and pegs rather than ebony. The kit comes with a hard case, bow, rosin, shoulder rest, a pair of bridges and some rosin.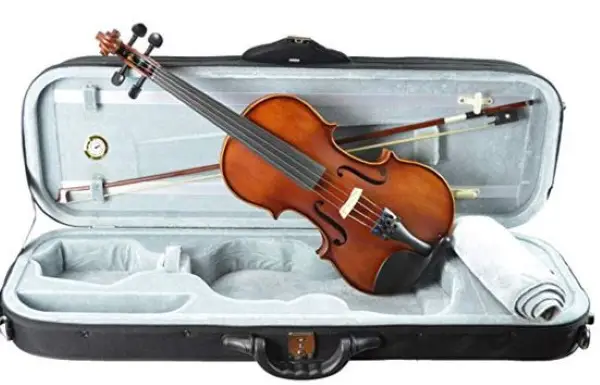 5. Bunnel Pupil Violin Outfit 4/4
The Bunnel Pupil Violin Outfit 4/4 is an excellent option for beginners that won't leave you feeling underwhelmed. It's a well made violin that comes with a lifetime warranty and is checked for quality before being sold. It has maple and spruce body and ebony fittings with decent strings, Brazilwood bow, rosin and spare strings. This is at the more expensive end of the scale but is well worth the investment if you can find one.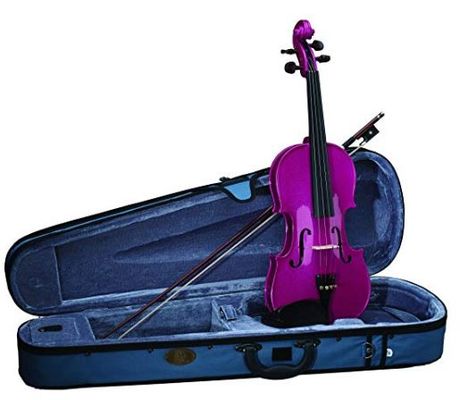 6. Stentor 1401PK Harlequin
The Stentor 1401PK Harlequin is not for traditionalists but is definitely a violin that stands out. With a traditional shape, this violin is available in a range of rich colours including purple. While not for the purist, this is ideal for showing personality or for making music practice a little more fun. With good quality construction, light paint, good strings a bow and a hard case, this is a good investment for any beginner.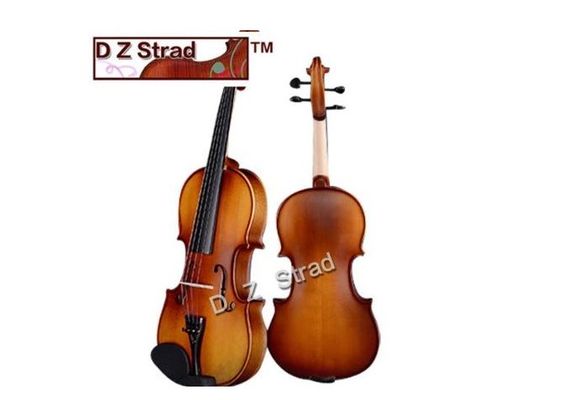 7. D Z Strad Violin Model 100
Again at the higher end of the beginner violin range we have the D Z Strad Violin Model 100. It's a traditional instrument with a hand-carved body, great quality finishing, good strings and a warm sound. This outfit comes with a case, Brazilwood bow, shoulder rest, strings and rosin. It is also set up, tuned and ready to go out of the box. Build quality is excellent and there are some excellent reviews of this violin online which is always reassuring.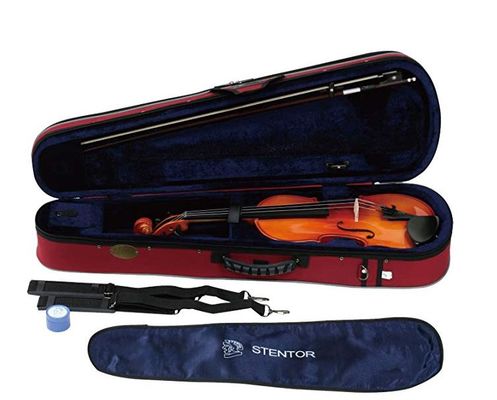 8. Stentor, 4-String Violin
The Stentor, 4-String Violin is a good example of a beginner violin done well. It looks the part with high-quality materials, a lovely warm finish, nice varnish layer, hard case and good strings. It uses the maple, spruce and ebony combination we look for and has decent strings too. This will need tuning before play but is otherwise complete and ready to go.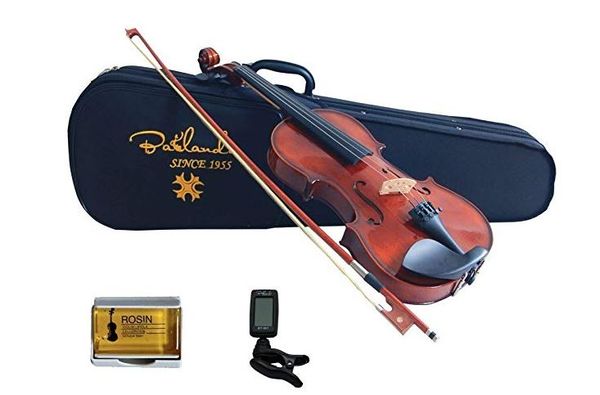 9. Bailando 1/2 Size Handmade Solid Wooden Violin Starter Kit
The Bailando 1/2 Size Handmade Solid Wooden Violin Starter Kit is ideal for smaller musicians. It's a half-size instrument suitable for younger beginners and is light and easy to hold. Build quality is good with solid finishing, a hand-carved top, spruce and maple body and decent strings. It comes with a soft case, bow, rosin, bridge, tuner and space strings. Don't be fooled by the low price as this is a solid beginner instrument.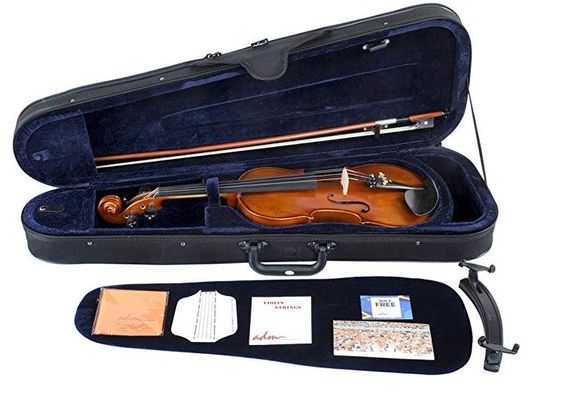 10. ADM Violin 4/4
This ADM Violin is a full size model that has a rich colour thanks to high quality finishing and materials. It uses maple, spruce and ebony and a Brazilwood bow with horse hair. The outfit comes with case, bow, rosin, cloth, shoulder rest and spare strings. It's a very competent beginner violin with everything necessary to begin playing right away.
Now that we've seen the best student violins, we're going to move on to the best intermediate violins. If your child plans to play the fiddle for a long-time, we'd recommend that you pick up one of the below which will take them a long way before they would need to upgrade their instrument.
10 Best Intermediate Violins
Buying an intermediate violin is the most exciting in our opinion. You have some experience with the instrument, you will have begun developing your ear, you will have an idea of the form, weight and shape you're most comfortable with and will know the kind of tone you're looking for.
You can now use all your new knowledge to spend a little more on a violin. If you're an intermediate student, you're already dedicated and know the instrument isn't just a passing phase. That should allow you the confidence to invest in the highest quality instrument you can afford so you can be the best violinist you can be.
Here are what we think are the ten best intermediate violins you can buy right now.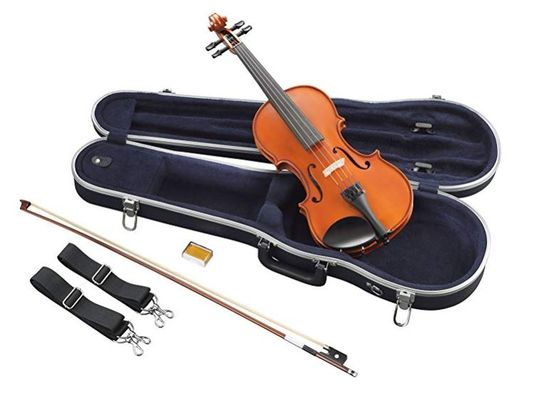 1. Yamaha V3 Series Student Violin Outfit
The Yamaha V3 Series Student Violin Outfit is a real step up in terms of quality and sound. Yamaha has one of the best reputations of the 'new' instrument manufacturers and many professionals use them. This is a full size violin made of high quality wood, high quality strings and comes with bow, hard case and rosin.
2. Cremona SV-500 Premier Artist Violin Outfit
The Cremona SV-500 Premier Artist Violin Outfit is another very highly rated intermediate violin. It is an award-winning piece with excellent tone, rich wood construction, quality varnishing, maple and ebony fittings and decent strings. This outfit comes with hard case, Brazilwood bow and rosin.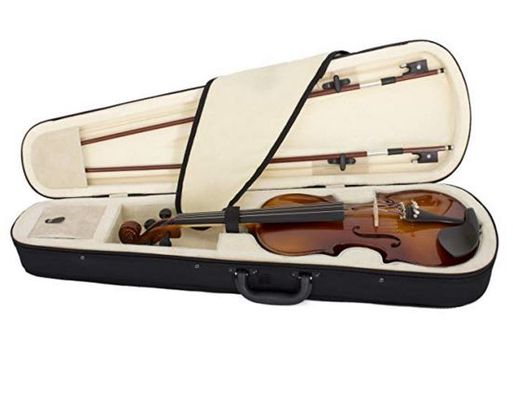 3. Cecilio CVN-300
You may recognise the Cecilio CVN-300 from our best beginner violin list. That's because it is easily good enough to take you into intermediate practice and beyond. This is a full size violin constructed of maple, spruce and ebony with deep varnishing and D'Addario Prelude strings. It comes with case, two bows, rosin, tuner and a shoulder rest.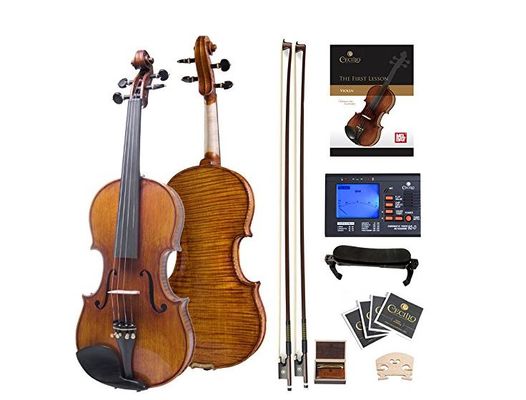 4. Cecilio CVN-700
Another Cecilio piece making our top ten list is the CVN-700. It's a step up from the CVN-300 in terms of materials and finish and has the same lovely tone. It's comfortable, comprised of maple, spruce and ebony that has been aged for 7 years, comes with two Brazilwood bows, shoulder rest, rosin, two bridges and spare strings. It's a top quality instrument that could last for a generation or more.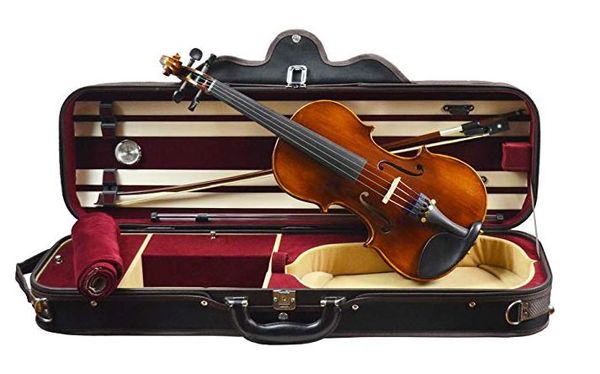 5. Louis Carpini G2
The Louis Carpini G2 is a top class violin for middle of the road money. It is one of the highest rated early-stage violins around and comes with a lifetime warranty and professional setup. It is constructed of maple, spruce and ebony and comes complete with quality strings, bow, hard case, rosin, spare strings and is fully tuned and ready to go. It's an excellent choice if you can find one for sale!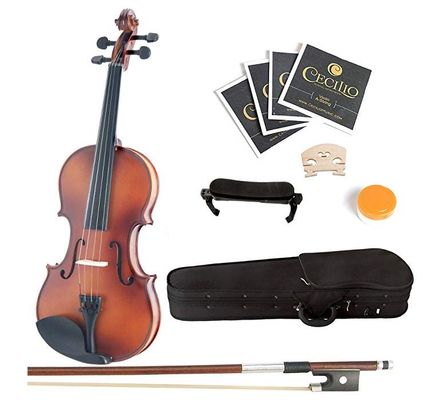 6. Mendini MV300
The Mendini MV300 is another top class violin. It's one of the best-selling violins on Amazon and for good reason. It has a quality construction with spruce and maple, a rich antique satin finish, quality strings and a lovely warm tone. The outfit comes with case, Brazilwood bow, rosin, shoulder rest, two bridges and a set of spare strings.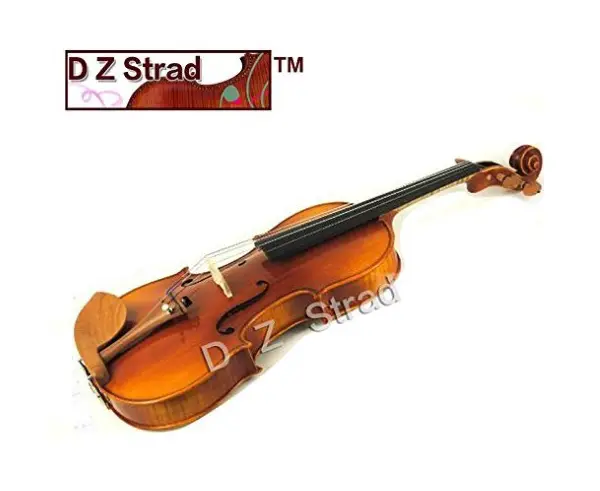 7. D Z Strad Model 220
The D Z Strad Model 220 displays all the qualities you want from a violin at an accessible price. It's a traditionally designed piece with a mix of ebony, maple and spruce and a rich antique finish. It has a warm tone which is very pleasing to the ear and makes an excellent investment. The outfit comes with a case, Brazilwood bow, shoulder rest and rosin.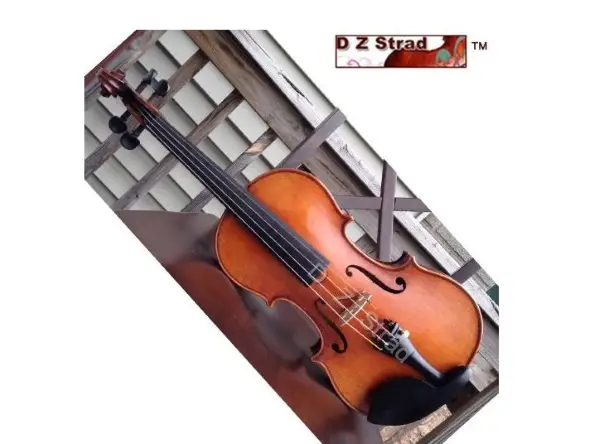 8. Maestro Old Spruce Stradi
The Maestro Old Spruce Stradi is at the higher end of the price scale but is an investment in a lifetime instrument. It uses high quality seasoned maple, spruce and ebony, uses top quality strings and provides a lovely sound. It looks like a professional level instrument but at intermediate prices. The outfit includes case, bow, shoulder rest and rosin.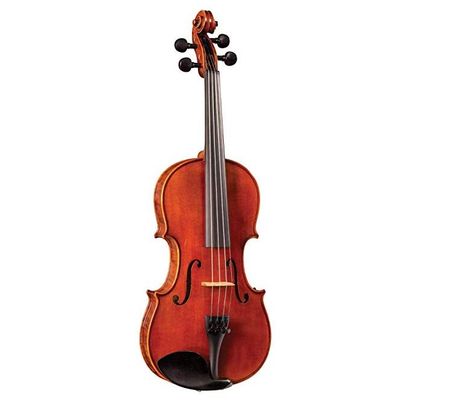 9. Carlo Lamberti Sonata
The Carlo Lamberti Sonata violin is another intermediate model that punches above its weight. It has a traditional fit and finish, rich warm colour, maple, spruce and ebony construction and excellent varnishing across the body. It also comes with good strings too. This violin does not come as an outfit but as a standalone violin.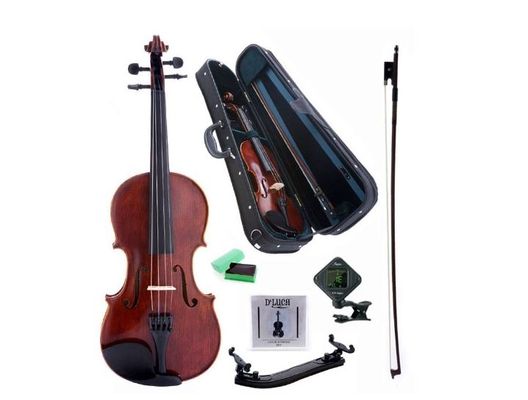 10. D'Luca PD01 Orchestral Series Intermediate Violin Outfit
The D'Luca PD01 Orchestral Series Intermediate Violin Outfit is another top class violin that delivers in terms of sound, build quality and feel. It's a little darker than many of these in this list and looks all the better for it. It is made from spruce, ebony and maple and has four tuners, good strings and a rich sound. The outfit comes complete with case, bow, Brazilwood bow, shoulder rest and spare strings.
How much money should you spend?
This is a deceptively simple question. There is no right answer to it either. Typically, if you're just starting out and have yet to decide if the violin is for you, it makes sense to spend as little as you can. That should be balanced with not buying the cheapest possible but by buying the cheapest model that gives you a real idea of what the violin is like in terms of sound, comfort and feel.
Our 10 best beginner violins is a great place to start your journey of discovery!
Intermediate violins are usually a more informed investment. You have an idea of feel, tone and quality and will have an ideal of the kind of tone you like. Whether that's clean and crisp or warm and welcoming, you will begin to know exactly what you want from a violin. You should also know whether the instrument is for you or not. If you're at the intermediate stage, it is likely that it is and you should be comfortable investing a little more.
You don't have to invest more though, a few of the beginner violins listed on this page would work perfectly well at intermediate stage too.
When you step up to professional, you could spend a few hundred or a few thousand on a violin. Manufactured violins will be at the lower end of the scale but a fully hand-crafted piece can run to many thousands. That's a long way down the line though and not something you will have to worry about for many years yet.
Buying a violin is not about cost. It is all about feel. As we have alluded to numerous times throughout this article, feel is an incredibly important part of buying a violin. If you're not comfortable using it, you won't be so keen to practice and play. If you find the 'Goldilocks' violin that sits just right and ticks all your boxes, you will be much more likely to play and your skill and enjoyment will reflect that.
Some professionals use violins that cost hundreds of thousands. But some play instruments costing less than a thousand. It's that feel again. When you're comfortable with something, you stick to it and nothing will make you change. That's where we want you to eventually be.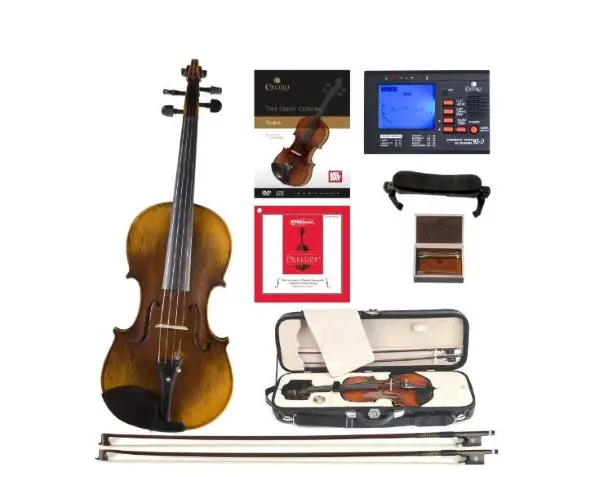 Buy an outfit or standalone violin?
Should you invest in a violin outfit or just a violin? That is entirely up to you. If you're a brand new violinist taking their first steps, it makes sense to buy an outfit. It will have most, if not all, the components you need included in the price which will save having to buy all the extras separately.
When you graduate to intermediate play, you will likely have a favourite bow, lots of rosin, several sets of strings and a tuner. Now the decision becomes a little easier. If your violin of choice comes as an outfit, great as you will have spares of everything. If it comes as a standalone instrument, that's great too as you already have everything else you need.
Can I switch from acoustic violin to electric?
This piece has covered most of what we know about acoustic violins but that's only one half of the story. There are also electric violins. We have created a piece around electric violins that explains everything you need to know.
Essentially, you are much better off learning the acoustic violin first and then switching to electric later if you want to. The electric violin is much more forgiving and does not require the same level of expertise. While that may sound beneficial to a beginner, it is widely believed that violinists should learn proper form as early as possible and then move on once they have been mastered.
There is no hard and fast rule though. If you want to start with an electric violin, go for it. You may hit a hurdle later in your career as you have to work on those early forms but you can play however you want to.
Summing up
I'm sure you would like us just to tell you what the best violin is to buy and show you the best possible price. Unfortunately, selecting a violin is a very personal experience. As we explained earlier, you will have a different ear and find different violins comfortable than another musician. You may prefer a completely different tone or style or want to branch out into electric violins.
We have done everything we can to give you the information you need to make an informed decision. We have listed the 10 best beginner violins and the 10 best intermediate violins. Each instrument within those lists will suit the vast majority of new violinists while not costing the earth. It's now up to you to decide which you want to invest your hard-earned money on.
We wouldn't expect you to make a decision from this article alone. Ask your teacher, friends who play, musicians you know, look at violin forums and read the many reviews for the more popular makes and model of violin. Build a picture of the instrument you favour and only make a decision once you're sure.
Latest posts by Sakari Oramo
(see all)