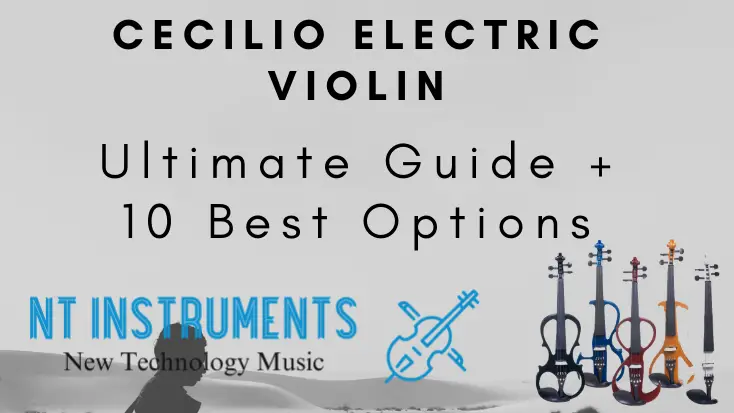 10 Best Cecilio Electric Violin Models – Buying Guide + Best Prices
---
Cecilio is a well-established violin brand known for manufacturing good quality violins at accessible prices. The company is always in the top ten lists for beginners and students thanks to the combination of build quality, materials and sound reproduction.
While known predominantly for their traditional violins, Cecilio electric violins are also highly regarded.
It is these that we will be discussing today. We are going to outline ten of the most popular Cecilio electric violin choices available right now. If you're in the market for the best electric violin and like the look of Cecilio models, you won't be disappointed with any in this list.
10 Best Cecilio Electric Violins
The ten Cecilio electric violin options that made it here are a great representation of what's available across the range. They cover all levels and all prices so there's bound to be something here you'll like!
Our list of the 10 best Cecilio electric violins includes:
Cecilio CEVN-1BK
Cecilio CEVN-2BL
Cecilio CEVN-3BK
Cecilio CEVN-4BK
Cecilio CEVN-L2NA
Cecilio CEVN-L1Y
Cecilio CEVN-1Y
Cecilio CEVN-2BK
Cecilio CEVN-4W
Cecilio CEVN-2Y
Each of these Cecilio electric violins is powered by a 9v battery so can be played anywhere. Many also come as a full outfit, with bow, case, rosin cake, bridge, auxiliary cable and headphones.
Everything you need to begin playing right away!
1. Cecilio CEVN-1BK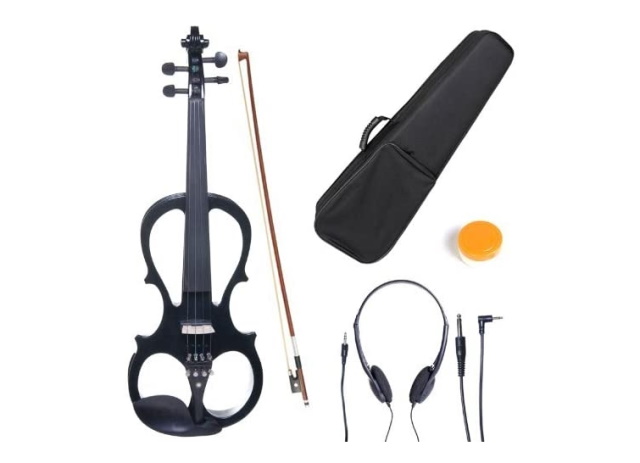 The Cecilio CEVN-1BK is a black model made from maple and ebony with a metal finish. It's a very modern violin that looks amazing as well as sounding rich and vibrant.
The body is made from maple and finished with a black metallic sheen. The fingerboard, chin rest, tailpiece and pegs are all ebony. The tailpiece is finished in mother of pearl to give it a lovely finish.
The violin looks great but also sounds amazing. Especially considering its price!
2. Cecilio CEVN-2BL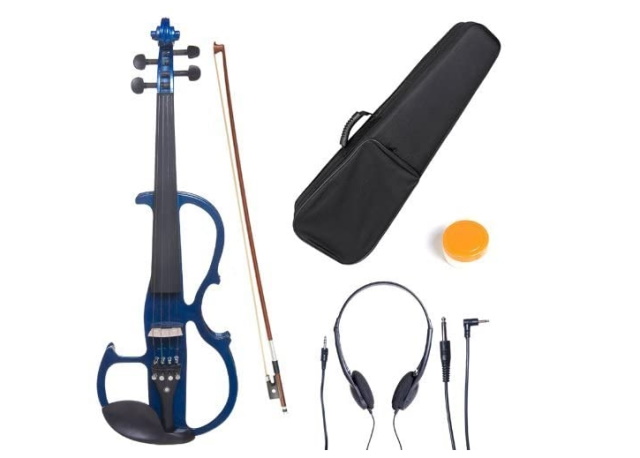 The Cecilio CEVN-2BL Electric Violin looks a little different to the 1BK with one side of the body cut out. It still has that lustrous black finish with mother of pearl inlay though.
The CEVN-2BL is also made from a maple body and ebony fingerboard, chin rest, tailpiece and pegs. It also has the mother of pearl inlay in the tailpiece. The violin is available in other colours but we think black or blue are definitely the colours of choice here.
The Cecilio CEVN-2BL is another superb violin with a high quality aesthetic made to an accessible price. It's hard to criticize a product as good as this.
3. CEVN-3BK Cecilio Electric Violin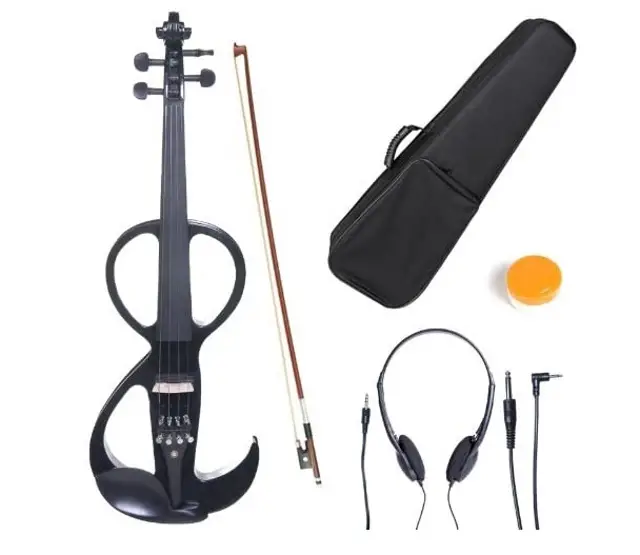 The Cecilio CEVN-3BK has a similar design to the 2BL but the cut out is at the lower body rather than upper body. It's another high quality product with a black finish and rich sound.
Like many of these other Cecilio electric violins, the CEVN-3BK has a maple body and ebony fingerboard, chin rest, tailpiece and pegs. The mother of pearl inlay is also present. The violin has a thoroughly modern feel that backs up its looks with amazing sound.
The Cecilio CEVN-3BK electric violin looks and sounds composed and rich but you don't have to be rich to buy one.
4. Cecilio CEVN-4BK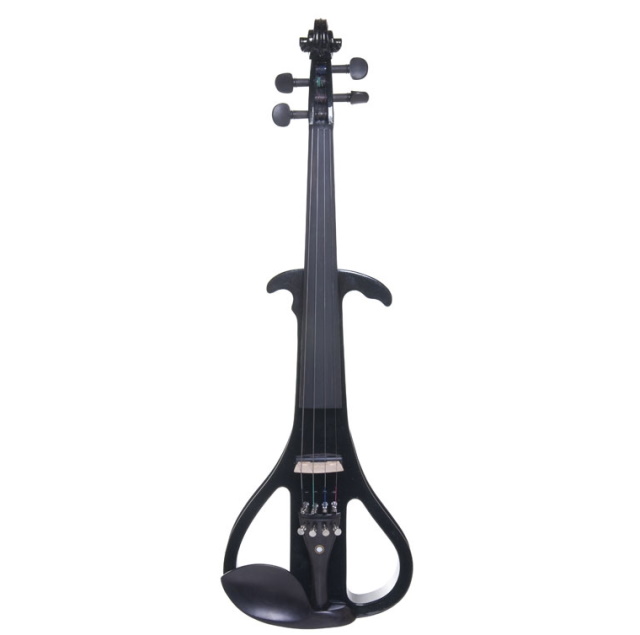 The Cecilio CEVN-4BK electric violin has a different shape to the first three violins in this list. It's a more pear shaped design with lower body in place with the shoulders of the violin kept to a minimum.
The same high quality maple wood construction with ebony finishings is present, as are the same mother of peal inlay, high quality pickups and strings. The violin sounds the same too, just has a different appeal.
The Cecilio CEVN-4BK departs further from the traditional shape but has a remarkable appeal. Ideal for students who want to stand out from the crowd.
5. Cecilio CEVN-L2NA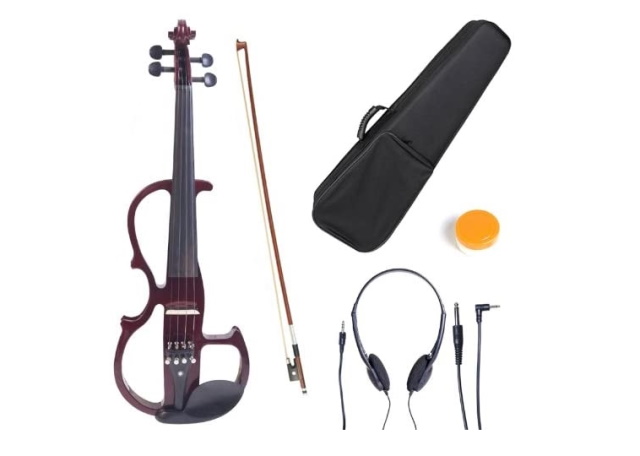 The Cecilio CEVN-L2NA electric violin looks a lot like the CEVN-1NA but with two key differences. One is the colour, the 1NA is black while this is a rich mahogany colour. The other is the shape. This is an electric violin for left handed players.
The same build quality with maple body and ebony fingerboard, chin rest, tailpiece and pegs is still present but the configuration is switched. The violin still has high quality strings, bridge and bow and is otherwise equal to the 1NA.
The Cecilio CEVN-L2NA has a deep, rich colour that reflects the sound. The build quality is superb and the sound reproduction you experience belies its accessible price.
6. Cecilio CEVN-L1Y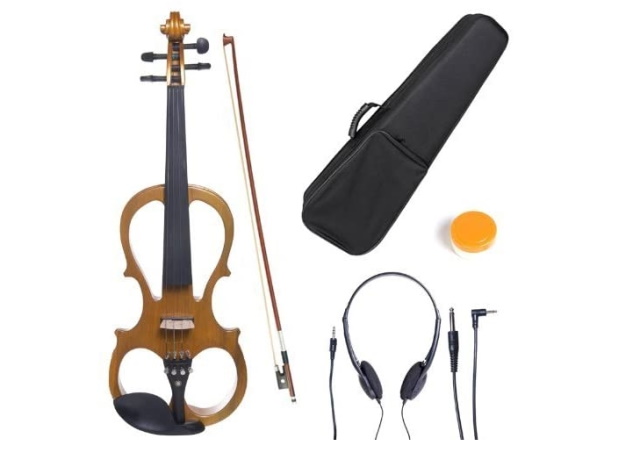 Staying with left handers for a moment, the Cecilio CEVN-L1Y electric violin is another solid option for those violinists who want a first-class violin configured for their needs.
This violin has a hand carved maple body with ebony fingerboard, chin rest, tailpiece and pegs. Rather than a black or mahogany finish, this violin has a more natural finish called yellow maple.
It's a characterful violin that shows more of the wood than these others and has a closer link to the traditional instrument. That will work well for some violinists.
7. Cecilio CEVN-1Y
The Cecilio CEVN-1Y electric violin is exactly the same as the L1Y, only it has a right handed configuration. It exhibits the same build and looks and offers the same sonorous sound.
The Cecilio CEVN-1Y violin has a hand carved maple body with ebony fingerboard, chin rest, tailpiece and pegs. Mother of pearl is present on the tailpiece and a traditional full body design. While available in black, we actually really like the metallic blue finish.
The Cecilio CEVN-1Y is a superb electric violin that keeps the traditional outline of the violin while delivering the benefits of an electric. An excellent option if the design appeals.
8. Cecilio CEVN-2BK Electric Violin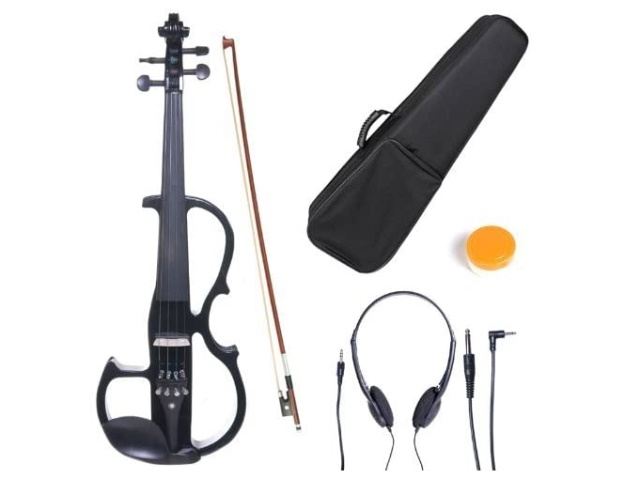 The Cecilio CEVN-2BK has a similar shape to the CEVN-2BL, a traditional lower body with one shoulder removed as part of the design. It's another well-priced electric violin whose build quality and sound far exceeds its price.
As with these other Cecilio electric violins, it has a hand carved maple body and ebony fingerboard, chin rest, pegs and tailpiece with inlaid mother of pearl. It has a black metal finish with very modern styling.
The Cecilio CEVN-2BK is priced at the lower end of the electric violin scale yet delivers a superior sound in a very attractive package!
9. Cecilio CEVN-4W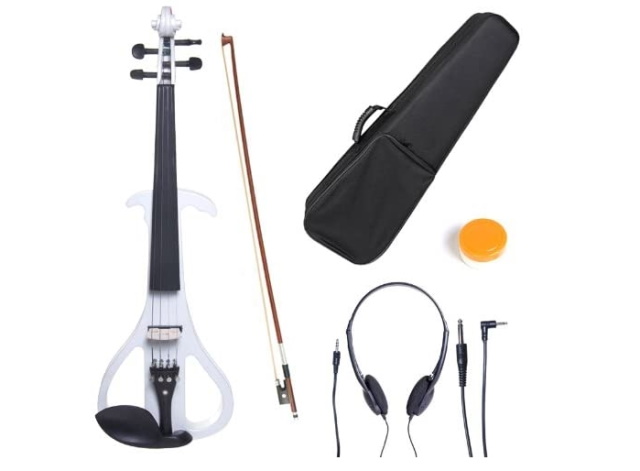 The Cecilio CEVN-4W electric violin departs from the black theme with a lovely white finish. This is another pear shaped design with a very modern but approachable aesthetic.
The Cecilio CEVN-4W has the same maple body and ebony fingerboard, chin rest, pegs and tailpiece with inlaid mother of pearl construction but has been finished in pearl white. It's an attractive electric violin that combines the best of modern design with a softer appeal.
If you think black is a little too masculine, this white violin could be the perfect alternative. It looks, feels and sounds the same but has a completely different appeal.
10. Cecilio CEVN-2Y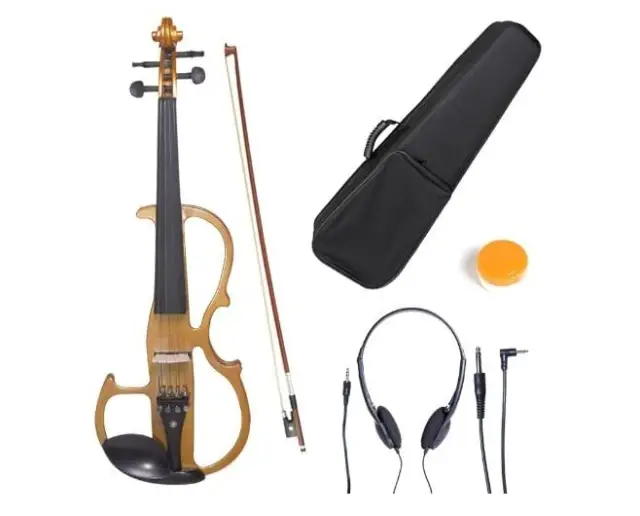 The final Cecilio electric violin in our list is the CEVN-2Y. This is another wood coloured violin in yellow maple that allows the character of the wood to shine through and elevate the entire instrument.
As with these other electric violins, the Cecilio CEVN-2Y has a maple body and ebony fingerboard, chin rest, pegs and tailpiece with inlaid mother of pearl. The design has a shoulder missing to create the unique look.
The wood finish allows the CEVN-2Y to sound and play like an electric violin while inhabiting that middle ground between contemporary and traditional.
About Cecilio
Cecilio is an American brand of violins named after St Cecilia, the patron saint of musicians. They are based in Los Angeles, California with production being centred in China.
The violins are designed and quality checked in the U.S. All manufacturing is in China, like many other brands.
Cecilio is known for being able to keep violins affordable while still using aged wood and genuine luthiers in their production. The electronics that support their electric violins is also of a good quality which is why we recommend the brand.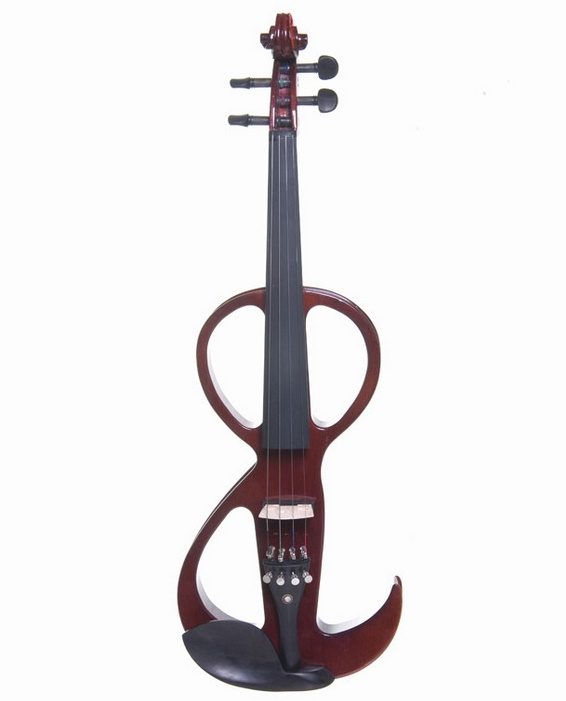 The benefits of an electric violin
Aside from looking very cool and contemporary, the electric violin has a lot going for it. It has a completely different aesthetic to the traditional violin which will automatically make it appeal to some audiences. There are other benefits too.
Silent violin
You will often hear electric violins referred to as silent violins. While not technically silent, they are very quiet when not connected to an amplifier. This has an obvious benefit during practice.
You can play your violin anywhere, at any time without annoying your neighbours or other people in your household. You can also connect headphones for the full experience too.
They can be amplified without feedback
Some stage performers like electric violins because they can be amplified with minimal sound engineering. Traditional violins tend to have feedback when amplified which requires some attention to address.
Electric violins can be amplified to almost any volume with minimal equipment and setup.
They look cool
The modern design of an electric violin widens the appeal of this amazing instrument to a much wider audience. While the traditional violin is lovely, it is also traditional. That can work as much against it as for it.
That's where the electric violin comes in. It's modern, looks fantastic and can still deliver the signature sound we expect from this instrument.
What to look for in an electric violin
Buying an instrument is largely a subjective decision based on our own tastes and ear. There are some universal qualities an electric violin should have if it is to deliver the experience you're looking for.
Those qualities include:
Build quality
Ergonomics
Electronics
Build quality
The build quality of an electric violin has less of an impact than a traditional violin but is still important. A traditional violin relies on the quality of the wood and construction to be able to deliver the signature sound we look for.
An electric violin doesn't. It uses electronics to deliver a very similar sound. However, we still want our electric violin to be comfortable and easy to use.
Weight is a key element of an electric violin. They are a little heavier than traditional violins, which will take some getting used to. Otherwise, you should be able to maintain the same basic position as with a traditional violin and still have the same satisfaction when holding and playing it.
Ergonomics
Building on that final point, the fit and feel of the violin should be very similar to a traditional violin. The extra weight may take a little getting used to for new electronic violinists but otherwise, the switch should be seamless.
If you notice, all electric violins have the same contact points in the same place. The design and overall shape may be different but those positions where you actually touch the violin are exactly the same.
This makes switching easy and should mean that it should be an effortless transition from traditional to electric violin.
Electronics
An electric violin creates sound using a pickup placed under the bridge and a preamp that connects to the pickup. The preamp is usually powered by a 9v battery so you can play without an amplifier should you wish to.
The quality of the pickup and preamp has a huge influence over the sound quality of the violin but also how well it performs on stage. Lower quality electronics can show themselves when amplified on stage as the sound will distort and crackle as volume increases.
Higher quality electronics can be amplified to almost any level without any negative effects.
FAQs around Cecilio electric violins
Is Cecilio a good brand?
Cecilio is a good brand for all but the most experienced violinists. The manufacturer has deliberately placed themselves at the accessible end of the scale and delivers great quality for not a lot of money.
Where is Mendini by Cecilio made?
Mendini by Cecilio is made in China. Mendini is a brand name belonging to Cecilio and is known for offering beginner and student violins and woodwind instruments. Cecilio is based in Los Angeles, California and designs the instruments. They are manufactured in China and shipped back to the US for testing and distribution.
How much is an electric violin?
The cost of electric violins varies according to their quality. You can buy a Cecilio CEVN-1BK electric violin for as little as $159. Other manufacturers may be cheaper but few can offer the same levels of quality and sound at such an accessible price point.
Can an electric violin be played acoustically?
Electric violins can be played acoustically during practice but not during performance. Electric violins are also known as silent violins. While not technically silent, they can be extremely quiet. This allows you to practice anywhere without disturbing anyone, but you couldn't perform with an electric violin without amplification.
What else will I need to play my electric violin?
To play an electric violin you will need the violin and a bow, an amplifier or headphones and some rosin to maintain the strings. You can play the electric violin without amplification when practicing but you will require an amplifier for performances or if you want to practice at full volume.
Summary of Cecilio Electric Violin Roundup
Cecilio electric violins strike the perfect balance between build quality, sound quality and price. They aren't the cheapest electric violins around but they are some of the best for the price.
If you like the modern design and the ability to practice anywhere you want without annoying anybody then an electric violin could be the answer. If you like the design with the mixture of metal-style finished or natural wood, the Cecilio range delivers on every count.
Latest posts by Sakari Oramo
(see all)