Which Soprano Saxophone to Choose? 9 Best Options
---
If you want to expand your saxophone playing, you may want to try the soprano saxophone (sometimes misspelled as "saprano sax"). But you may wonder things like, what key is a soprano sax in?
The soprano sax is a member of the saxophone family, and it plays higher than the other common saxophones: alto, tenor, and baritone. It's common in jazz and saxophone ensemble music.
If you're looking into playing the soprano saxophone, you should know about the best models. Then, you can get one that meets your needs.
9 of the Best Soprano Saxophones to Buy New
When you're looking for the best soprano saxophone, you may want to start with new models. Then, you can get the most use out of the instrument and don't have to worry about how well a prior owner took care of the sax.
Here are some of the soprano saxophones to buy new.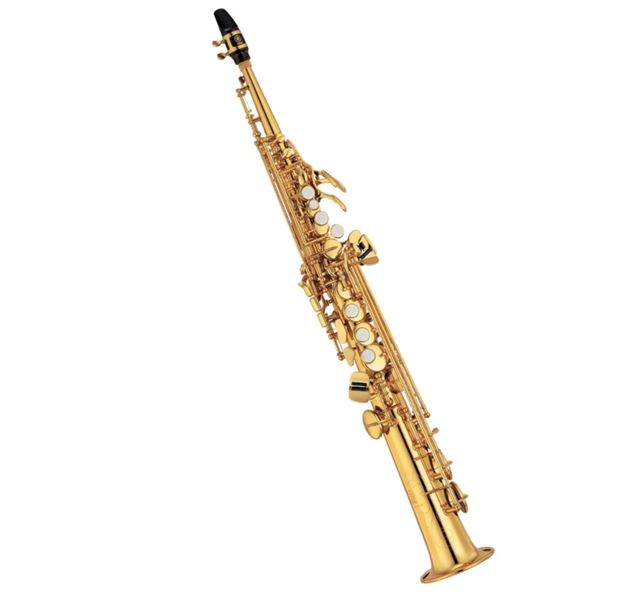 Rating: 4.9/5
The Yamaha YSS-475II is an excellent soprano saxophone for intermediate players. It features leather pads with plastic tone boosters to help the keys seal. You can use the high F# key to make playing that note much easier than if you had to use an altissimo fingering.
This model is also lighter than some soprano saxophones, so it's good for playing for long periods. There's also a lower vent tube that keeps the keys from making too much noise. The front F key also makes playing high F easy.
It comes with a Yamaha mouthpiece and ligature, so you just need a reed to play. Whether you want to specialize in the soprano sax or play it along with other instruments, you can get a good sound out of it. The lacquer helps you get a good sound as well.
Pros
Useful extra keys

Comes with a mouthpiece and ligature

Lower vent tube

Great sound

Lightweight and easy to hold
Cons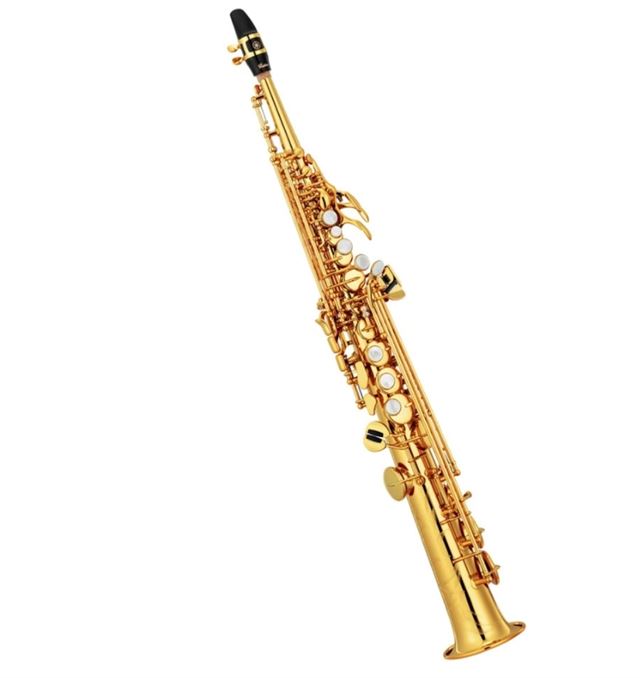 Rating: 4.8/5
Another fantastic model from Yamaha is the YSS-82Z, which is for professionals. It uses lightweight materials to keep it from being too heavy, so you can use it without a neck strap. Those materials also help you get a broad tone, so you can perform as a soloist or part of a group.
The 82Z is similar to the 62 alto and tenor models, so it's a good option for players who like those models. You get a high F# key that provides more options for playing that note. The ergonomic key design also helps you play notes within the full soprano sax range.
Mother of pearl key buttons are comfortable and smooth to play. You can get a lot of different tonal colors from this model. You'll even receive a mouthpiece with it, and that mouthpiece works well with the body to give you a clear tone.
Pros
Perfect for professionals

Ergonomic keys

Smooth feel

Variety of tone colors

Clear sound
Cons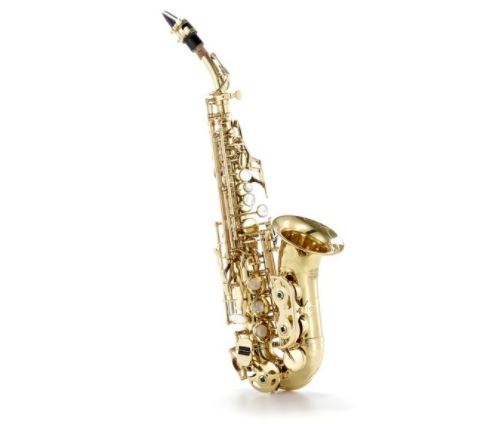 Rating: 4.7/5
The Thomann TSS-350 is a popular model, but it's not easy to find. Luckily, the TCS-350 has many of the same features, such as a lacquered brass body and Pisoni pads. However, it features a curve like larger saxophones instead of a straight design like most sopranos.
Either way, this model is an excellent option if you're on a tight budget. You can get a good sound with a fantastic response from this instrument. Its design makes it the best soprano saxophone for players who want a more compact instrument with a better center of gravity.
You'll also get a mouthpiece and a case to protect your instrument. That way, you can take it to rehearsals or concerts safely. Plus, you can enjoy a similar feel to an alto or tenor sax due to the curve.
Pros
Compact design

Good sound

Easy to play

Affordable

Fantastic response
Cons
Not a straight model

Requires some playing experience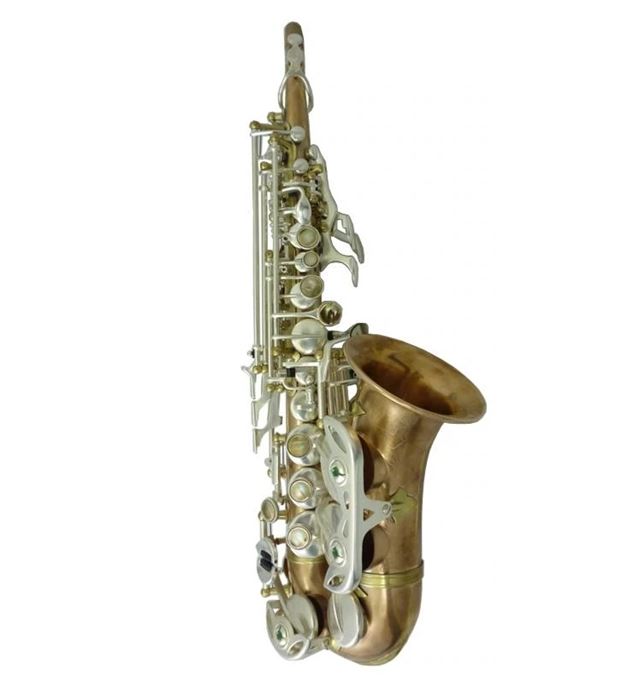 Rating: 4.8/5
If you like playing jazz music, you'll love the Rampone & Cazzani R1 Jazz Soprano. This saxophone has a slight curve but is still primarily straight and so plays like most saxophones in the soprano lineup. Meanwhile, the large bore helps you get a large, round sound.
This model is handmade, so it's good for advanced players. It has a hand-hammered bell and body, and those parts feature silver plating to help you sound bright. You'll also get a mouthpiece to use with the body to perform it right out of the box.
The vintage design is a bit different from other models, but that makes it a unique choice. Plus, the slight curve helps project your sound to the audience without you having to hold the instrument up high. But you can still get the look and feel of a straight model.
Pros
Good for jazz

Nice materials

Slight curve to help with projection

Vintage design

Suitable for advanced players
Cons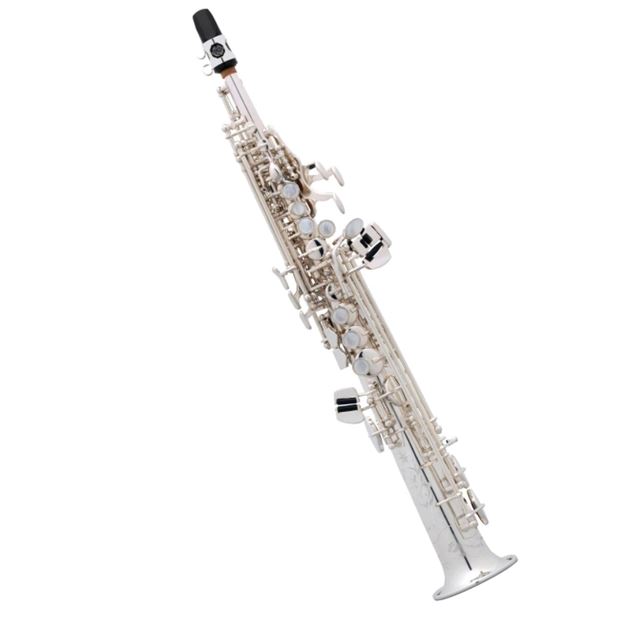 Rating: 4.7/5
Selmer Paris is a popular brand to choose when shopping for a saxophone, soprano or otherwise. Like most soprano saxophones, it has a brass body, but the lacquer is matte rather than shiny. That lacquer still looks good and can help you get a nice tone.
It's suitable for use in classical or jazz music, and professionals and advanced students can make the most of this model. You can play smoothly and expressively throughout the instrument range, so you can play a lot of music.
This model uses the traditional Selmer Paris design but is a bit laid back. You'll get a good mouthpiece to use with it, so you only need to buy some reeds to make the instrument work. And you get to choose the right reeds for you and your playing.
Pros
Good quality

Traditional yet modern design

Comes with a suitable mouthpiece

Works well in jazz and classical

Perfect for advanced players
Cons
Not super easy to find

A bit expensive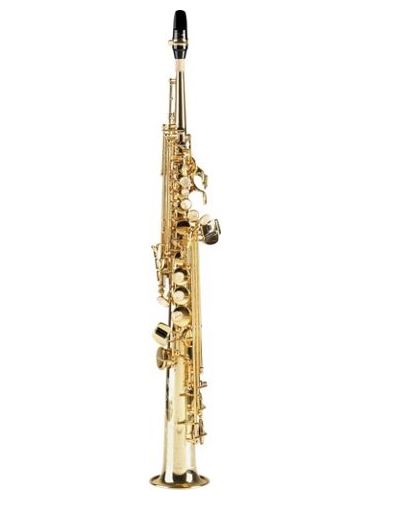 Rating: 4.8/5
If you like Selmer Paris and want something easier to find, consider the Series II Model 51J. It sounds clear in the top register, and you can play evenly down to the low Bb. You can also get a flexible tone to make this saxophone work no matter what music you need to play.
The yellow brass helps the instrument vibrate well to help you get a round sound. Meanwhile, the full-ribbed construction helps keep the soprano saxophone in good shape. If you don't want to have to constantly repair the saxophone, this model is great.
Key positions are compact and natural for most players. However, they could be uncomfortable to someone with significantly small or large hands. You can choose from lacquer, black lacquer, or silver plating for the finish.
Pros
Round tone

Flexible and versatile

Compact key positions

Vibrates well

Even sound throughout the register
Cons
Not for players with large hands

Not for beginners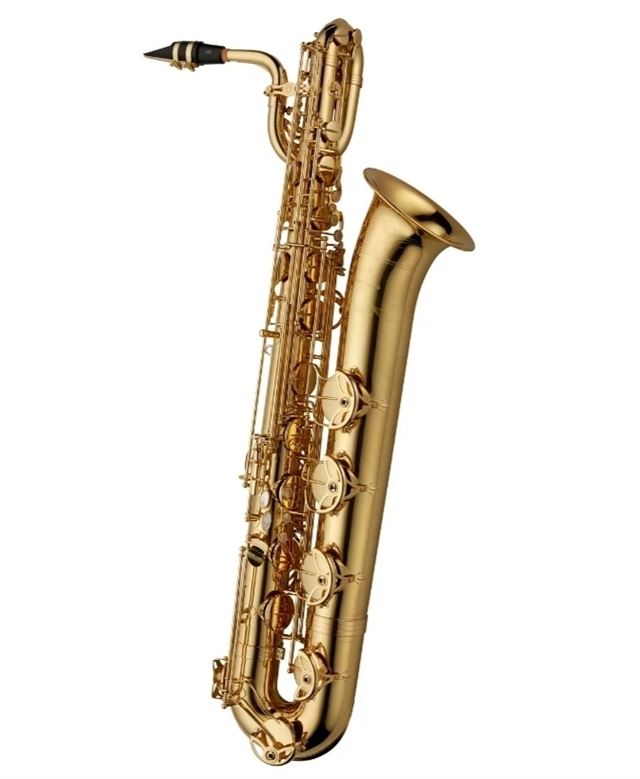 Rating: 4.8/5
Yanagisawa is one of the best professional saxophone brands. The Yanagisawa S-WO10 Elite is one of the company's best instruments. It features both a high F# and a high G key, so you can play up to the altissimo register with ease.
Meanwhile, the ribbed body helps keep the instrument in playing condition. This model also features a tilt between low C# and B and Bb to make those notes easier to play. That way, you don't have to reach so far and strain your left hand.
Plastic resonators help the keys seal well, so you can get a clear tone. That feature also helps the saxophone respond quickly. You'll get a good mouthpiece to use as you play the soprano saxophone, or you can swap it out for something else.
Pros
Easy to play low and high notes

Good mouthpiece included

Nice seal on the keys

Perfect for advanced players

Quick response
Cons
Not the best for beginners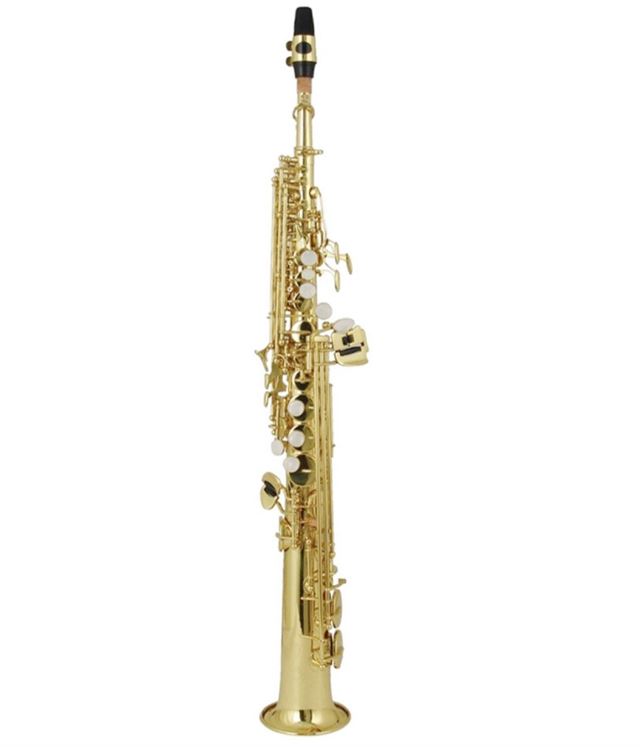 Rating: 4.6/5
A lot of soprano saxophones are for intermediate or advanced players. However, the Elkhart 100SS is one soprano instrument for students and beginners. Now, soprano saxophone isn't the best size to start on, but it's good if a beginner wants to play both the soprano and alto.
Its one-piece body provides nice intonation and resonance to help you get a good sound. The yellow brass is durable and so can help you as you start playing the soprano sax. It's also nice to use as you advance, so you don't have to upgrade as quickly.
You'll get a mouthpiece and ligature, so you just need to pair it with a good reed. This model even comes with adjustable straps to make the body easy to hold as you play. The design helps make the saxophone comfortable.
Pros
Best for students

Affordable

Good design

Sounds great

Responds well
Cons
A little basic for professionals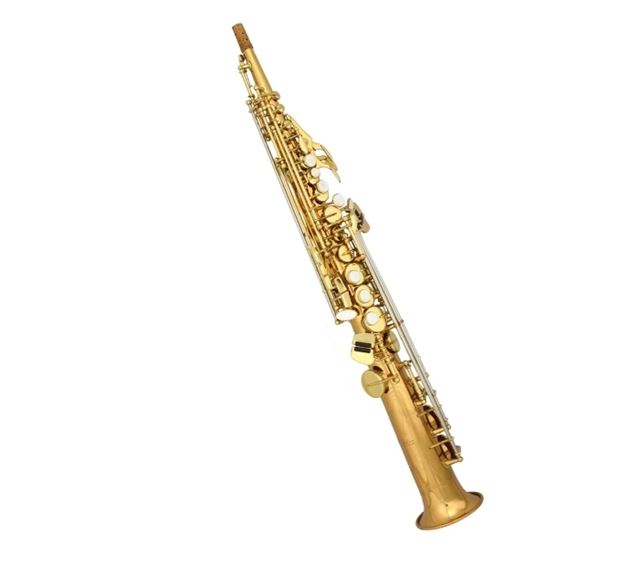 Rating: 4.7/5
The Conn-Selmer Avant DSS200 is an excellent model for serious players. It can go up to a high G, but you can also sound good in the low register with the big bell. The bell keys feature double arms to help get a good seal for those low notes.
Gold lacquer looks good and makes the saxophone sound great. It's an amazing choice for students as well as professionals who need a durable instrument. If you want a better sax, you can keep this on hand to use as a backup.
You'll get a mouthpiece, neck strap, and other accessories to help you play. Everything comes in a convenient case to use for storage and travel. This model isn't too expensive, so it's a great option for players wanting to test out the soprano.
Pros
Includes plenty of accessories

Good for most players

Nice key seal

Sounds great throughout the register

Easy to play
Cons
Not the best for any specific group of players
Where to Buy a Used Soprano Saxophone
You shouldn't ignore used soprano saxophones for sale when shopping for an instrument. If you look at Facebook Market, eBay, and Craigslist, you may find the best soprano saxophone for your needs. Other marketplaces may have used soprano saxophones available.
Another option is to ask players you know if they or someone they know is selling. If you live near a college, ask their music department if they or any of their students are selling. You may be able to find and try a soprano sax and save a bit of money.
Famous Soprano Saxophone Players
As you learn to play the soprano saxophone, you should listen to others. That way, you can get an idea of how the instrument can sound.
Here are some musicians to use as inspiration whether you like jazz, classical, or other genres.
Sidney Bechet
While mainly known as a clarinetist, Sidney Bechet also played the soprano sax. He frequently performed with his family, and he performed internationally. Bechet even recorded music with Louis Armstrong.
Classical music fans took to Bechet even though he played jazz. That makes him a great source of inspiration if you love both genres.
Steve Lacy
Steve Lacy was the second musician to focus on the soprano sax, after Bechet. He also switched between the saxophone and clarinet during his career. Lacy performed with many greats, from Cecil Taylor to Gil Evans.
After a long career of performing, he eventually taught at the New England Conservatory. You can listen to his recording today to learn from his playing style.
John Coltrane
Most saxophone players know who John Coltrane was. While he often played alto or tenor sax, he did dabble in the soprano saxophone. Coltrane recorded "My Favorite Things" on the soprano, and it remains a popular recording to this day.
He performed bebop music as well as other jazz styles. If you want one source of inspiration for various saxophones, you can go wrong with listening to Coltrane.
Jan Garbarek
Jan Garbarek is a living saxophonist and composer, and he primarily plays the soprano and tenor saxophones. Not only does he play jazz, but he also plays classical music as well as certain styles of world music.
You can listen to his many recordings to get an idea of how to use the soprano sax in different settings. He's also a great musician to listen to if you want to write your own music.
Grover Washington, Jr.
Grover Washington, Jr. recorded quite a lot of tracks during his life. While he's famous for playing the soprano sax, he could also play the alto, tenor, and baritone. That makes him a great musician to listen to if you want to play various saxophones.
He played alone and in groups, so you can listen to a variety of styles. Then, you can use those recordings to inform your own jazz playing.
Kenny G
A lot of people know of Kenny G, even if they don't play the saxophone. He has played other saxophones, such as the tenor. However, the musician has done a lot of work on the soprano, so he's worth listening to if you want to play the smaller instrument.
If you want to listen to someone currently active as a soprano saxophonist, Kenny G is your guy. You can listen to his recordings or attend a live concert.
Soprano Saxophone FAQs
When deciding which soprano saxophone is best, you may have more questions. Here are a few things you should know when shopping for the instrument.
What Is a Soprano Saxophone?
A soprano saxophone is the smallest of the four most popular saxophones. You may also wonder, what key is the soprano sax in? The soprano sax key is Bb, so it sounds a whole step lower than written.
How Much Is a Soprano Saxophone?
A soprano saxophone can cost as little as $500 or less, which can get you a basic student model. However, you can spend up to around $6,000 for a professional model with a ton of features or a special lacquer.
How Do You Play Soprano Saxophone?
When it comes to the embouchure and written notes, you play the soprano saxophone like any other sax. However, you hold it similarly to a Bb clarinet in front of your body. You can use a neck strap to support the instrument or just use your hands.
What Does a Soprano Saxophone Sound Like?
A soprano saxophone sounds like an alto or tenor sax would in their high ranges. The soprano sax can also sound similar to an oboe or even a clarinet. Specific sound qualities depend on the mouthpiece and reed you use.
Wrapping Up
Whether you've played the alto or tenor sax for years or a few months, you may want to also learn the soprano saxophone. That way, you can play more parts in a band or enjoy the higher notes in the saxophone family.
You can find soprano saxophones for beginners, professionals, and everyone in between. But what works for someone else may not work for you, so give a few models a try yourself to determine which one you should play.
Latest posts by Sakari Oramo
(see all)