9 Best Yamaha Electronic Drums (Beginners To Pro)
---
When it comes to buying Yamaha electronic drums, there are so many considerations that you have to keep in mind. But Yamaha has quite a history when it comes to creating musical instruments. In fact, Torakusu Yamaha built his first reed organ in 1887! So this company has literally more than a century of experience under its belt!
When it comes to buying a Yamaha electronic drum kit, price, sound quality, and feel are the main factors, but other features such as the modules or interface capabilities might also factor in.
If you can, you should try to sample some of these models in person before purchasing. For example, if you think the feel of the drum will be most important, you might go to a music store to try a specific Yamaha electronic drum pad first to feel the difference between rubber, silicone, and mesh heads.
However, if features like recording and layering capabilities are what you want, then you might be ready to purchase right after reading this. If those terms sound confusing, don't worry because you will understand almost everything you need to choose the correct Yamaha electronic drum set by the end of this article.
Best Yamaha Electronic Drums 2023
Before getting into the more intricate details of the best Yamaha electronic drums, let's first list out all of the kits that you will read about later in the article:
Yamaha DTX402K
Yamaha DTX482K
Yamaha DTX522K
Yamaha DTX562K
Yamaha DTX720K
Yamaha DTX760K
Yamaha DTX920K
Yamaha DTX6K3-X Electronic Drum Set
Yamaha DTX6K2-X Electronic Drum Set
Yamaha DTX8K Electronic Drum Kit with Mesh Heads
| | |
| --- | --- |
| Product | Overall Product Rating |
| Best Overall: Yamaha DTX402K | 4.9/5 |
| Best for Basic Use: Yamaha DTX482K | 4.6/5 |
| Best Customizable Kit: Yamaha DTX522K | 4.7/5 |
| Best for a Natural Feel: Yamaha DTX562K | 4.8/5 |
| Best for Double Petal Use: Yamaha DTX720K | 4.7/5 |
| Best Customizable Sound: Yamaha DTX760K | 4.7/5 |
| Best for Professionals: Yamaha DTX920K | 4.8/5 |
| Best for Performing: Yamaha DTX6K3-X Electronic Drum Set | 4.8/5 |
| Best Value: Yamaha DTX6K2-X Electronic Drum Set | 4.7/5 |
| Best for Studio Recording: Yamaha DTX8K Electronic Drum Kit with Mesh Heads | 4.8/5 |
Our ratings were determined based on a combination of price, features, and quality. With the overall list in your mind, let's explore the best overall Yamaha drum kit.
What's The Best Overall Yamaha E Kit?
The best Yamaha electronic drum kit would have to be the DTX402K. To be clear, putting this in the best overall drum kit category does not mean that it is the highest quality set or that it has the most features.
The DTX402K is not a professional-level kit, and it is similar in price and features to the Yamaha DTXPLORER electronic drum kit.
But for its remarkably affordable price, this kit is sturdy, comfortable, and has plenty of features to get you started.
The module that comes with this drum set includes ten different kits that cover the various styles you'll need. And its educational resources—including the app that integrates into the module—make it the perfect electronic drum kit for beginners.
Where to Order a Yamaha Electronic Drum Set?
There are several places where you can order a Yamaha electronic drum set, ranging from the more significant and widespread dealers like Guitar Center to your local neighborhood music shop.
You can also find Yamaha E-kits on Amazon through various sellers, or you can shop for used sets on a website like eBay.
Some of the top places to buy electronic drum kits include:
Guitar Center
Sweetwater
Amazon
B&H Photo Video Audio
eBay
List of Top 10
Now, let's take a look at the top 10 Yamaha electronic drums in 2023.
Best Overall: Yamaha DTX402K
Rating: 4.9/5
The Yamaha DTX402K electronic drum set is one of the best ways to get started with electronic drums. It comes with four rubber snare/tom pads, three cymbals, a bass drum pedal, and a hi-hat pedal.
The module has ten kits and 287 sounds. This model also has ten training functions to help beginners get better with timing and precision.
Pros
Affordable price
Education resources for beginners
Quiet pedals
Has USB MIDI, Aux-in, and headphone out ports
Cons
No bass drum pad
Lacking the higher-quality silicone pads
Only three cymbals
Best for Basic Use: Yamaha DTX482K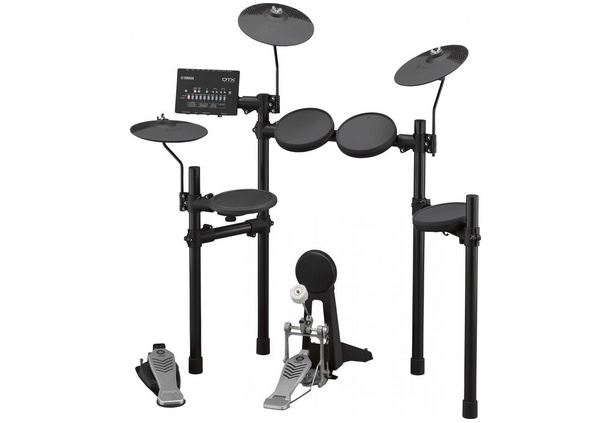 Rating: 4.6/5
Moving a step up from the entry-level DTX402K is the DTX482K, which is at least twice as expensive as the previous set but comes with many more features.
This drum kit includes a silicone snare pad to give that natural bounce and feel. It also comes with a pad for the bass drum, which is an upgrade from the simple pedal on the previous option.
The other tom drum pads are rubber, and the kit includes four cymbal pads. Lastly, the included module, like the DTX402K, has ten kits and a total of 287 sounds.
Pros
Silicone snare pad (great feel!)
Four crash cymbals
Bass drum pad
USB MIDI, Aux-in, and headphone out ports
Cons
Not as affordable
Only one silicone pad for snare
Limited kits/sounds
Overall, this set is an excellent way to upgrade at least the snare pad to a more realistic silicone feel. But if you want more kits and sounds, you will probably want to consider one of the better drum sets with a more advanced module, some of which are mentioned below.
Best Customizable Kit: Yamaha DTX522K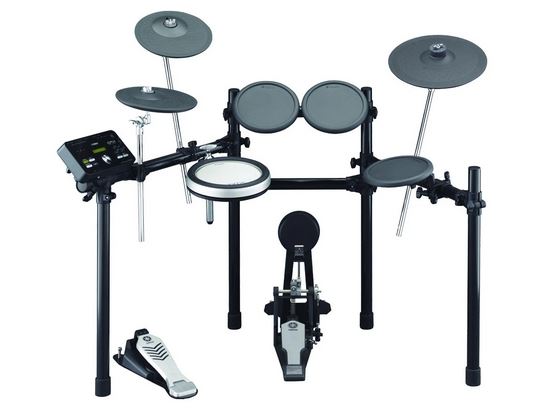 Rating: 4.7/5
The DTX522K is slightly more expensive than the previous DTX482K, but it is an upgrade that makes it possible to use this set both on stage and in the practice room.
This set also has three rubber tom pads and the triple-zone silicone snare pad, but the cymbal pads are upgraded to be triple-zone and chokable.
The module that comes with this set gives you way more sounds to work with. It comes with fifty kits and a total of 691 sounds. It also allows you to add on personal kits, including a range of third-party libraries. This E-drum kit is by no means top-of-the-line, but it is rich enough in features to give you a solid performance on stage.
Pros
Pads and cymbals are multi-zone
You can load in personal samples
50 kits and 691 sounds
Training tools
Cons
Only three cymbals
Limited to one silicone pad
Best for a Natural Feel: Yamaha DTX562K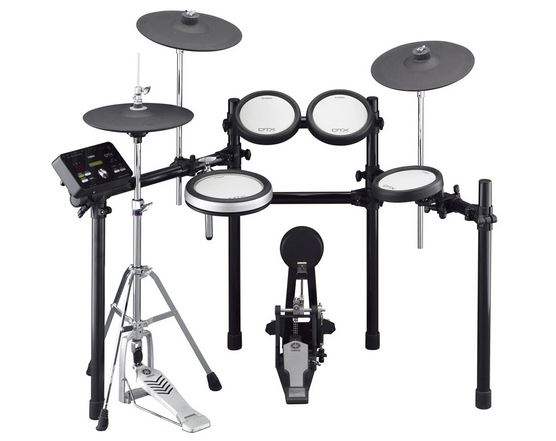 Rating: 4.8/5
With the DTX562K, you are opting for a significant increase in the price when compared with the first few models. But with that increase comes a professional feel and sound that will be worth it for many people.
Unlike the previous sets that only have one silicone snare pad, all tom/snare pads on this E-kit are silicone, giving you that realistic feel of an acoustic set.
With this model, you also get an upgrade of the stand-mounted hi-hat cymbal, which provides you with much more control and a natural feel compared to the hi-hat controller pedal on the previous sets.
The other important upgrade with this kit is the resin-ball snare mounting system which gives you the freedom to find the perfect position for your snare pad.
Pros
All tom/snare pads are silicone
502 module with fifty kits and 691 sounds
Stand-mounted hi-hat
Resin-ball snare mount
Cons
Only two cymbals
The module is not upgraded when compared to the previous kit
Best for Double Pedal Use: Yamaha DTX720K
Rating: 4.7/5
Going up another step in both price and quality is the DTX720K. This kit has four silicone snare/tom pads, two cymbals, and like the previous kit, a stand-mounted hi-hat cymbal.
The significant upgrade here is the change from the rubber bass drum pad to a mesh bass drum pad. This new head is big enough to handle a double pedal.
Yamaha also upgraded the module in this kit, which has sixty kits and 1268 sounds. These kits include samples of Yamaha acoustic drum sets like the Oak Custom.
Pros
Four silicone tom/snare pads
The module has sixty kits and 1268 sounds
USB to host as well as MIDI in/out
Mesh bass drum pad
Cons
Expensive
Only two cymbals
A limited number of kits for the price point
Best Customizable Sound: Yamaha DTX760K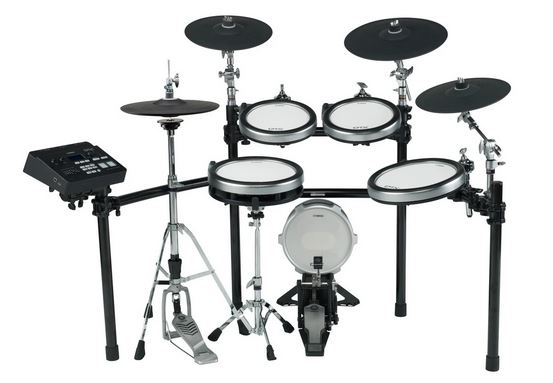 Rating: 4.7/5
With the DTX760K, you are entering the territory of electronic drum kits that play and feel like a real acoustic set. This set doesn't upgrade the module, which still has sixty kits and 1268 sounds, but it has an adjustable 12-inch snare pad and an additional crash cymbal.
The snare pad also has a control knob that allows you to tune the drum up/down. The knob lets you turn the snare sound on and off like a real snare drum.
Pros
Four silicone tom/snare pads
The snare pad is 12 inches and features a control knob
Mesh bass drum pad
Great for recording
Cons
Expensive
Has the same DTX700 module as the previous DTX720K drum set
Best for Professionals: Yamaha DTX920K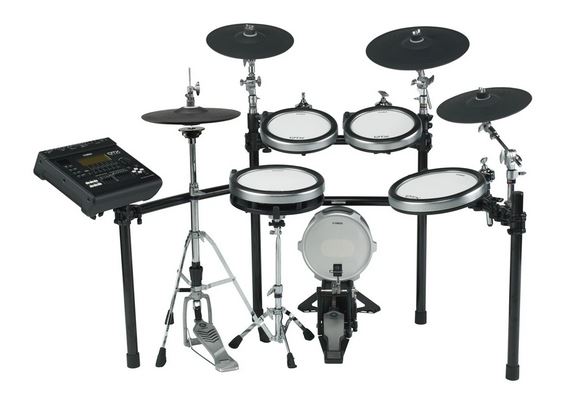 Rating: 4.8/5
Upgrading from the DTX760K to this DTX920K comes with a significant price change. However, with that price change comes a massive upgrade both in feel and in sophistication. This set comes with premium silicone pads for the tom and snare drums and three dual-zone cymbals.
This E-kit also comes with an upgrade to the sophisticated DTX900MM module, which allows recording of separate tracks and layering them onto a single pad. The hardware is reliable enough to feel confidence using this kit on stage.
Pros
Premium silicone for all pads
Highly customizable
DTX900MM module
Sampling and voice-stacking capabilities
Cons
High price point
Complicated set with a huge learning curve
Best for Performing: Yamaha DTX6K3-X Electronic Drum Set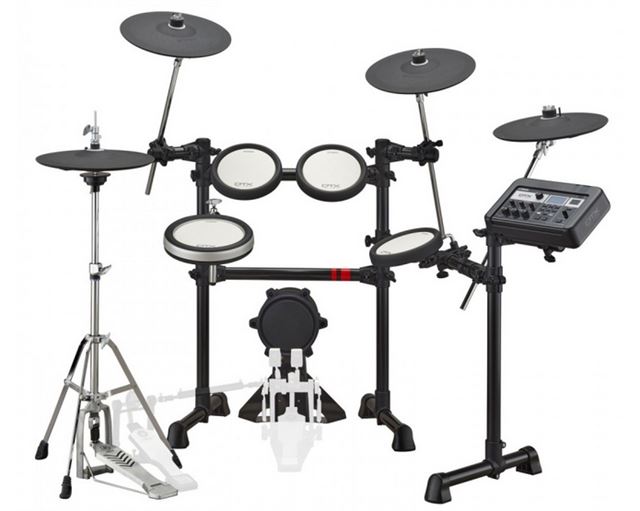 Rating: 4.8/5
If you are a professional musician, the DTX920K set listed above is probably worth it for you. But for some more affordable options with distinct features, you might explore the DTX6K series of Yamaha drum sets.
The DTX6K3-X has three-zone silicone pads that you can choke and mute. It includes a hi-hat stand and snare clamp, and the ride cymbal has a function that detects the hit point. The included module also allows you to make unique sounds and modify them with knobs.
Pros
Create unique sounds and modify them
Hit-point detection on the ride cymbal
Textured cellular silicone pad heads
Affordable
Cons
Only 8-inch snare
Rubber bass drum pad
Best Value: Yamaha DTX6K2-X Electronic Drum Set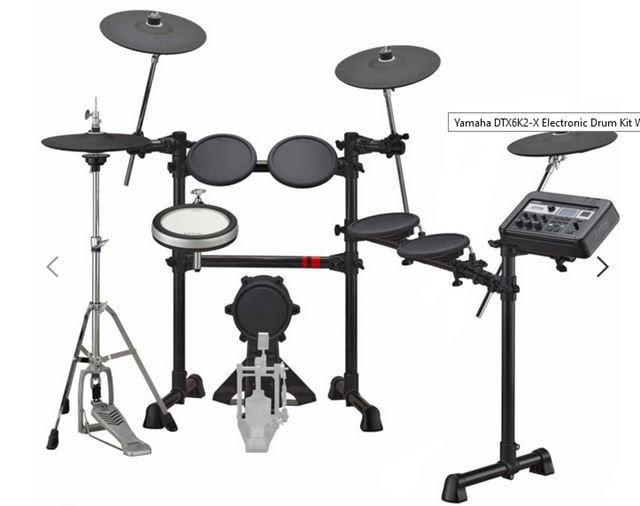 Rating: 4.7/5
The DTX6K2-X is a slightly downgraded version of the previous 6K3 set. The snare is still a three-zone textured cellular silicone pad, but the tom pads are all one-zone rubber head pads.
But besides those small differences in the tom pads, the DTX6K2-X is essentially the same set as the previous 6K3. Choosing between those two depends on how vital having TCS tom pads is to you.
Pros
Affordable
Make unique sounds and modify them with knobs
Hit-point detection on the ride cymbal
TCS snare drum pad
Cons
Rubber heads on the tom pads
Rubber bass drum pad
Best for Studio Recording: Yamaha DTX8K-M Electronic Drum Kit With Mesh Heads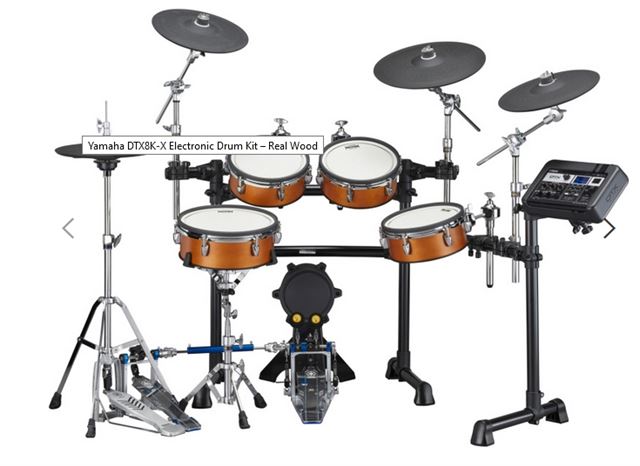 Rating: 4.8/5
The DTX8 series of E-kits from Yamaha is a new product lineup with some fantastic features, including the DTX PRO module that uses authentic sounds recorded in professional studios worldwide.
The notable feature of the DTX8K-M is the REMO 2-ply mesh heads on the snare and tom pads. These mesh heads are great for noise reduction and have a fantastic rebound effect. This E-kit is also beautiful to look at because it is finished with wood shells at the Yamaha acoustic factories.
Pros
DTX PRO module (real drum sounds)
REMO 2-ply mesh heads
Wood shells
Cons
Expensive
Rubber bass drum head
What Are the Features You Need?
As you can see, there are many options for Yamaha electronic drums with various features and a vast range in prices. So to help you decide which drum kit is a good investment for you, let's break down the parts of an E-drum kit so that you can decide on what features you will need.
E-Drum Kits Parts
Whether you are talking about an acoustic or electronic drum set, the instrument breaks down into the various drum types that make up the set. A standard drum set includes pads for the snare and tom drums, a bass drum, and cymbals.
For e-drum kits, you also need the module that converts your touches into an electronic signal. These modules are more complex and feature-rich as you go up in price. Cheaper Yamaha drum kits will have a bass drum pedal, but the more expensive ones have a bass drum tower/pad and the pedal to give it more of the traditional acoustic feel.
Electronic Drum Head Types
Besides the distinction between cymbals and snare/tom drums, there is also a considerable difference in the feel that different materials impart on the drum head. And the main distinction to look out for in terms of drum head types is silicone versus rubber.
Rubber pads are cheaper, and you will find that the entry-level kits use rubber for all their drum heads. These will sound just fine, but the rubber does not feel quite like the bounce and response of an acoustic drum head.
So the more expensive models come with silicone pads that will give you that excellent rebound of acoustic drum heads. You will be able to master fast playing and double strokes.
The most critical pad to use silicone on is the snare drum, but ideally, you want silicone on all snare/tom pads in your kit.
Electronic Drum Accessories
Like most expensive investments, your E-drum set can benefit from some additional features and accessories. These additions range from pedals and additional pads/cymbals to things like speakers and "drum thrones" for you to sit on. To most of the Yamaha drum machines, you can add:
Additional pads/cymbals
Upgrade your pad(s) to the higher quality silicone
Upgrade your bass drum/hi-hat pedals
Buy a new seat
Buy monitor speakers
Another accessory that is worth considering is an acoustic-electronic drum module. These modules can make an acoustic Yamaha drum set electronic by placing a mic on the drums to convert the sound to a digital signal. Once digital, you can add studio effects to the sound as well as play along with your music library.
What Are Your Yamaha E-Drums Needs?
Understanding your E-drum needs is essential if you want to make the most intelligent investment in a new drum set.
Needless to say, spending thousands of dollars on the higher models is not necessary if you are a beginner and want to learn the drums as a hobby. Likewise, buying the base model is also unwise if you are a professional.
Some questions to consider before you invest in electronic drums include:
How many samples/keyboard voices will you need?
How many cymbals will you need?
How important is the feel of the drums?
How important is noise reduction for you?
If money is not an issue, there's no question that the rich features and incredible feel of the more expensive models, like the fantastic feel of the silicone snare pad, are worth it. However, if you are on a budget, carefully consider these questions before committing to your new drum kit.
Read More: Best Electronic Drum Set For Kids
Where to Buy Used Electronic Drum Kit
When it comes to finding used Yamaha drum sets for sale, your options range from some of the popular dealers listed above (like Guitar Center or Sweetwater) to websites like eBay, where you can buy directly from other people.
Not all big sellers will offer used products, but if they have used electronic drum kits, that can be a great way to get one of the higher quality kits without damaging your wallet.
On peer-to-peer websites like eBay, you can either buy complete drum sets or individual parts—pads, modules, and other accessories—to put together a drum set in a more customizable way.
Yamaha Electronic Drums FAQs
Now that you have a solid overview of the best Yamaha electronic drums, let's clear up any remaining confusion you might have by going through some of the most frequently asked questions.
Is It Better to Learn Drums on an Electronic Kit?
If you have ever played on an acoustic Yamaha drum set, you probably know the answer to this question. The truth is that the feel and sound of acoustic drums will probably always be preferable to Yamaha edrums, despite how impressive the Yamaha drum module is.
Part of learning the drums is having enough practice time to get better, and most people can't practice enough at home with acoustic drums. It is not that Yamaha drum kits are entirely silent—you might still annoy the people you live with if you practice in the middle of the night.
However, when it comes to neighbors, you will be able to practice hours a day on Yamaha drum machines without causing any problems.
Are Yamaha E Drums Any Good?
Yamaha entered into the electronic drum kit scene way back in 1986, and because of that, they have had plenty of time to develop and perfect their technology. Now DTX drums are one of the most famous lines in the Yamaha electric drum set offerings. Yamaha electric drums are known to be reliable, and their long history with acoustic drums makes the Yamaha DTX drums particularly great sounding.
Where Are Yamaha Electronic Drums Made?
If you're wondering where the company makes their drums, the answer would be most likely Japan. The Yamaha headquarters is located in Hamamatsu, Japan, and they also have significant locations in Indonesia and China.
Wrapping Up
As you can see, there are many factors worth considering before you decide on which Yamaha electronic drum kit is suitable for you. If you are an experienced drummer that needs the feel and sound of professional quality drums, one of the more expensive Yamaha DTX drums could be worth it for you.
For those looking to get started on electronic drums without spending too much money, the DTX402K kit is the perfect blend of affordability and quality. Hopefully, whatever you decide, you are now much more educated on the best Yamaha electronic drums!
Latest posts by Sakari Oramo
(see all)