9 Best Electronic Drum Pads – Which One Is Right For YOU?
---
Electronic drum pads are a revolutionary musical instrument for drummers, stage performers, music producers, DJs, and general music lovers alike. These drums are so notable compared to standard drum sets because of their portability, versatility, and ease of use.
But did you know that the first electronic drum set was created by Graeme Edge in the early 1970s, the drummer of The Moody Blues. The new instrument was designed in collaboration with Sussex University Professor Brian Groves and was used in the song "Procession" from the 1971 album Every Good Boy Deserves Favour.
With electronic drum pad sets, you can mix an array of preset sounds, pre-recorded audio, sample sounds and voices, a range of notes, and various background tracks to create music for almost any genre, mood, and setting.
Notably, rock, hip hop, alternative, and EDM musicians can benefit significantly from electronic drum pads.
They are also relatively easy to start using, compared with other instruments — especially if you select a beginner-friendly drum pad set.
In terms of professional ability, there is a range of drum pad users. Due to their portability and general ease of use, both chart-topping professionals and beginner producers have used electronic pads.
Ultimately, they are well-suited for various environments, from the bedroom to the park to the stage.
But depending on when, how, and why you want to use your electronic drum pads, you should select the appropriate brand and style to best those preferences.
In this article, we'll highlight the best electronic drum pads in 2023 and describe how to make the most optimal choice for your specific needs.
Best Electronic Drum Pad Brands of 2023
There is a wide array of high-quality electronic drum pads from different brands, suitable for different playing levels, styles, sounds, and budgets.
Ultimately, for a high-quality, high-value electric drum pad, you will want to purchase one from a well-reviewed musical instrument brand.
Top electronic drum pad brands to look at include:
What's the Best Overall Electronic Drum Pad?
With its easy-to-use design straight from the box, durable manufacturing that makes it all the more portable and road-ready, and its high-quality sound and playback, the best drum machine with pads has to be the Roland SPD-SX Special Edition.
But what makes the "Special Edition" so special? It includes 16 GB of storage space, which is an additional 12 GB of space compared to the standard version.
This additional storage space for pre-recorded audio and sounds is a crucial feature for musicians looking to play a range of instrumental sounds outside of just percussion sounds.
However, if you are just looking for a drum pad to play percussion sounds, the Roland SPD-30 Octapad might be better for you.
It is our pick for the best percussion pad due to its state-of-the-art pad sensing technology, which creates exceptional authentic, realistic sounds and notable isolation between the pads.
Where to Order an Electronic Drum Pad
You can easily select and order an electronic drum pad online.
Amazon is a popular online store to purchase electronic drum pads.
However, Musician's Friend and Guitar Center are online stores that specifically focus on musical instruments.
These two stores are alternative options that may have the electronic drum pad you like at a slightly lower price than Amazon.
However, you might not receive your drum machine pad as quickly as you would when purchasing through Amazon, especially if you are a Prime member.
9 Best Electronic Drum Pads in 2023
Here is our list of the top 9 electronic drum pads in 2023. We'll detail their specifications, pros, and cons to help you make the right choice for your specific needs.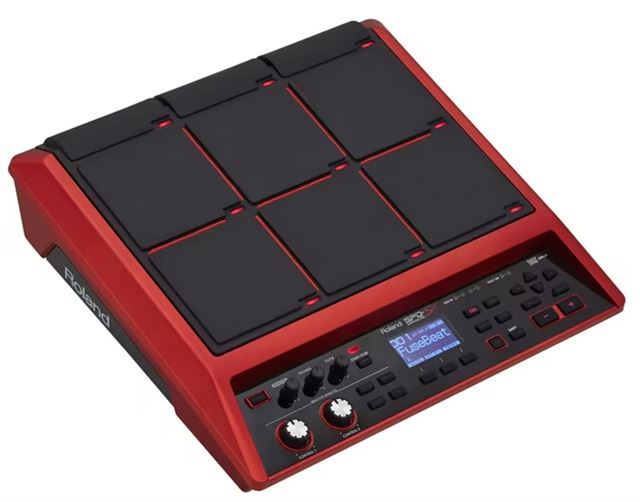 The Roland SPD-SX Special Edition is a winner in our book due to its multi-functionality, high-quality sound, large storage space of 16 GB, and high-value price for everything you get.
It comes with a trigger module to trigger loops, a sampler to sample tracks, and a drum machine for standard drum pad usage.
With this Roland electronic drum pad, you can do a lot, including recording and uploading audio for unique instrumentals. Its 16 GB of memory can support up to 50 hours of mono sample storage (or 25 hours of stereo).
However, if you want to use it straight out of the box, you can do that too, as the Roland SPD=SX comes with 100 on-board drum kits.
The rubber pads on these electro drum pads are velocity-sensitive, have LED lights that shine bright on a dark stage, and have three on-board multi-effect processors giving you the ability to process real-time sound while performing,
Pros
Ample storage space of 16GB
Multi-functionality (trigger module, sampler, drum machine, 100 on-board kits, etc.)
High sound quality
Intuitive, easy-to-use design
Cons
It May have more functionality than necessary for the average drum pad user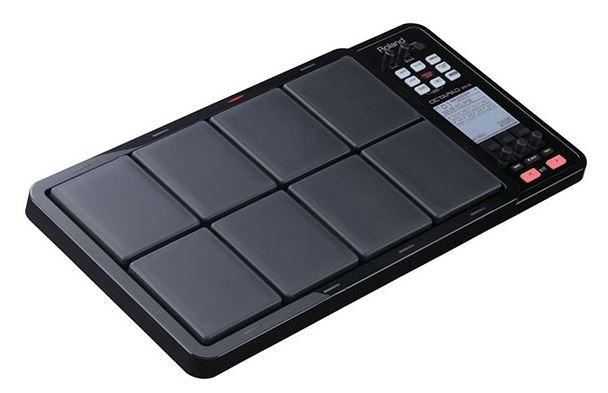 The Roland SPD-30 Octapad is the best electronic drum pad for percussion players who are looking for a wide variety of percussion-based sounds.
This 8-pad drum pad machine comes with 99 kits and 670 instruments, providing a seemingly endless array of percussion and effect options for your electric drumming needs.
Additionally, the Roland SPD-30 has V-Drum technology that enables a high-quality sound and a high-quality pad feel and isolation. This technology is essential for hand drummers.
This pad machine has four dual-trigger inputs and a hi-hat controller, making it a great option for a mini kit.
Finally, the phrase looper functionality stands out with this drum pad machine, as it provides 50 phrases, three layers, and a large maximum of 10,000 notes.
Pros
High-quality sound
A large selection of percussion sounds
V-Drum technology for nice pad feel and isolation
It can easily be used as a mini kit
High-functioning phrase looper
Cons
Could use an updated design for more modern players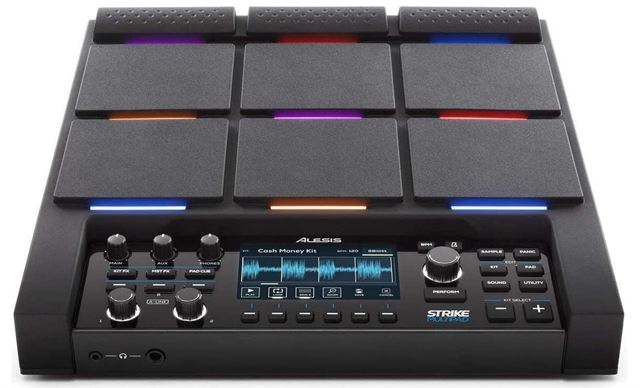 The Alesis Strike MuliPad is the perfect electric pad for musicians who want it all – a drum sample pad, a percussion pad, and a built-in looper all in one.
This pad machine comes with nine velocity-sensitive trigger percussion pads equipped with rapid processing and editing ability for intuited recording and performance.
Artists who wish to record and upload sounds and audio for sampling purposes will particularly appreciate this multipad, as it offers a whopping 32 GB of storage space.
If you want to work with what it provides before uploading your own audio, you have a wide selection of 8,000 sounds to play, sample, and loop for your instrumental creations.
And the looper is of high quality, too, allowing you to loop for phrases up to 16 bars.
Additionally, this Alesis Strike MultiPad has beautiful backlighting for a unique, colorful, and aesthetically-enhanced performance.
Pros
Ample storage of 32 GB
RGB lights are customizable
8,000 samples and loops included
Cons
It May have some slow loading issues, making it not as suitable for on-stage performers as some of its competitors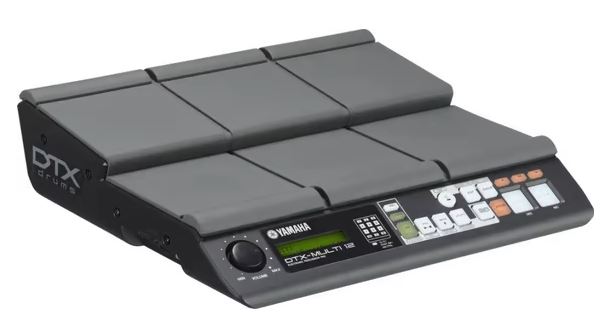 Yamaha is a well-known brand name in the musical instrument space, so it's no surprise that they have one of the best drum pads on the market.
As the name suggests, the DTX Multi-12 has 12 playable pads, giving you the most authentic percussion sound of any electronic drum pad.
These pads are also compatible with hand and finger-drumming, which is optimal for certain percussionists that enjoy a realistic playing feel.
1,277 sounds come on board, which is not the most compared to its competitors, but they are all of high quality and still leave you with a ton of options to choose from when creating instrumentals.
However, this is not a suitable electronic drum pad set for musicians who wish to sample a lot of music, as the storage space is relatively low, at 4 MB for stereo, 2 MB for audio. Therefore, you cannot feasibly use it to trigger loops or long samples.
This is undoubtedly more of a percussion pad than a multi-pad, but it is indeed an excellent option for percussion aficionados.
Pros
1,277 sounds available on-board
High-quality percussion sounds
12 playable pads for realistic playing feel
Cons
Minimal storage space, which is not suitable for samples and loops
5. Best Synthesizer Drum Pad: Nord Drum 3P
Rating: 4.8/5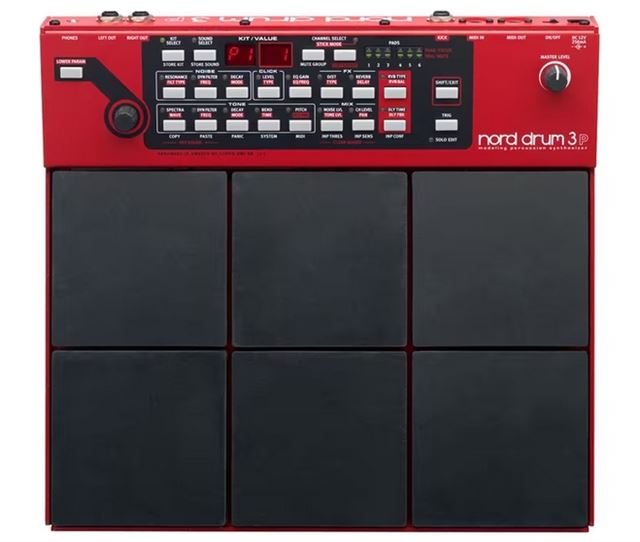 The Nord Drum 3P is the best drum pad for people looking to play synthesized drums
This 6-pad machine has four banks of 50 sounds, totaling 200 sounds altogether, and an attractive array of synthesized abilities such as FM synthesis, subtractive wave, ring modulation, and resonant synthesis.
More specifically, with the Nord Drum 3P you can access a wide variety of modulators, reverbs, oscillators, filters, and various other synthesizing features right on the board. Additionally, there is an iOS app to complement these features.
The Nord Drum 3P is more of a synthesizer than a standard electronic drum pad due to its lack of sound selection and storage space.
The design of the Nord Drum 3P is notable as well. It is a durable, road-ready, lightweight pad machine with rubber pads that are very responsive and smooth.
Pros
Multi-functionality when it comes to synthesizing features
High build quality and durable design
Portable and lightweight
Cons
Expensive for its limited features
6. Best Beginner Drum Pad: Alesis SamplePad Pro
Rating: 4.6/5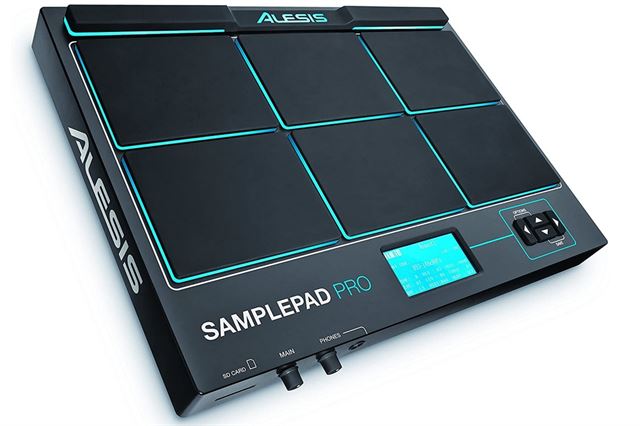 The Alesis SamplePad Pro is, as its name suggests, optimal for sampling purposes. It comes with a trigger module and drum machine functionality and the ability to store up to 32 GB of storage.
However, to store 32 GB storage, you will need an additional SD card, which is not included.
The eight pads are backed with a sleek design and blue LED lights for bright and easy performances.
Additionally, with its lower price point than its competitors, this Alesis SamplePad is an excellent option for beginners looking to get their feet wet with electronic drum pads.
It will give beginners a good feel for using a drum pad machine and decide which features they like and which ones they could go without.
Pros
Intuitive, simple design
Competitive price
A good option for beginners
Can purchase it with a mounting clamp or a mounting plate
Cons
Pads may not be as durable as more expensive options
7. Best for Live Performances: Roland SPD::One Series
Rating: 4.7/5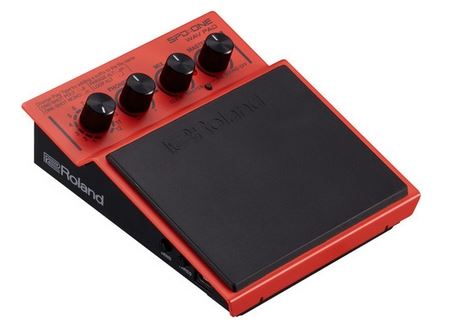 The Roland SPD:: One Series includes samples, backings, and click tracks and allows you to import audio tracks quite easily, making the Roland SPD a great choice for live performances.
The Roland SPD is a simple percussion pad with 12 percussion-only sounds, the ability to sample a minimal number of tracks, and individual units with specific purposes.
This is for expert musicians who know exactly what they want out of an electronic drum pad and need nothing more.
The Roland provides high-quality sounds, including but not limited to snares, claps, rim shots, and cymbals, and the pads support hand, fingers, and foot drumming.
Pros
High-quality sound and playback
Range of percussion effects
Portable
Cons
Pricey for limited features
Rating: 4.6/5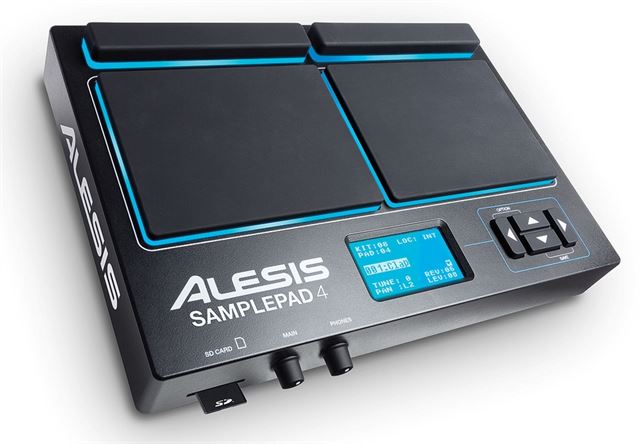 Alesis SamplePad 4 has a simple, straightforward, four-pad design and is great for at-home drummers and producers.
With a percussion pad, drum machine, and trigger module, it has all the basics you need for creating a great instrumental or background beat.
It comes with 25 on-board sounds and ten kits, allowing for versatility without an overwhelming amount of choice, which is ideal for beginners and casual users.
Similar to the Alesis SamplePad Pro, you can upload 32 GB of storage with the help of an SD card, which is not included.
The potential downsides of the Alesis SamplePad 4 are long load times and some crosstalk between pads. Therefore, these pads are not the best electronic drum pads for professional or stage use.
Pros
Intuitive, simple design
Good for casual, creative, or recreational use
Competitive price
Cons
Not ideal for professional use
Crosstalk and load time issues
Rating: 4.8/5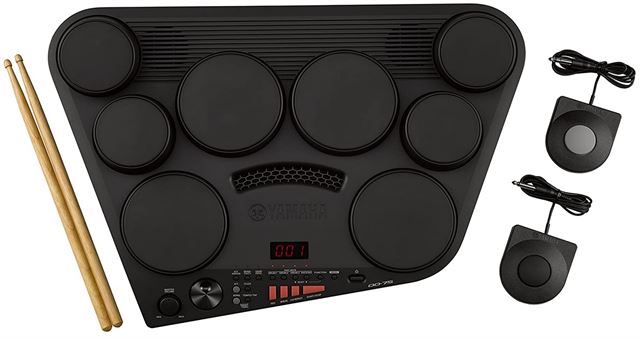 Last but not least, the Yamaha DD75AD Portable Digital Drums has eight pads, 570 drum sounds, 30 phrase voices, 75 preset drum kits, 105 preset songs, and ten use kits.
Essentially, this drum pad machine is perfect for drummers who like to drum to songs and practice playing without banging on an actual, live drum set.
You can connect headphones, an Mp3 player, a computer, or another internment and hear the music through internal speakers.
It includes a power supply, two drumsticks, as well as two-foot pedals, which is great for gig drummers.
The only potential downside is that the pads might not be sensitive enough for hand drumming.
Pros
Multi-functionality with a large selection of sounds
Efficient connectivity to different devices
Includes sticks, foot pedals, and power supply
Cons
Pads may not be sensitive enough for hand drumming
What Are the Features You Need?
The features you need for your electronic drum pad will ultimately depend on which type of drum pad you're looking for, which depends on what type of music you'd like to play, your specific sound preferences, and how you would like to interact with your music before, during, and after creating it.
But first, we will discuss some common features. Then, in the next section, we will break down some of the differences in characteristics between different types of drum pads.
All electronic drum pads consist of condensed, playable rubber pads that emit a specific sound, loop, or sample depending on how the computer within them is coded and manipulated (by the manufacturer and the musician).
They can all typically connect with USB, MIDI, and audio devices to download, store, and enhance sounds.
Other standard features in electronic drum pads include sound-altering features like reverb, delay, looping, layering, click tracks, and speed alterations.
Best Electronic Drum Pads: Buying Advice
As mentioned, there are different types of electronic drum pads, and it's essential to understand their differences before making your purchasing decision.
Beyond the common similarities electronic drum pads have more specific features depending on their category and intended use.
Here is a brief breakdown of the three main types of electronic drum pads:
Sample Pads
Sample pads will include sample audio that you can trigger by striking each pad. With sample pads, you can also record or upload sounds that you would like to sample through these pads.
For example, say there is a sound you like in your immediate environment — perhaps a car horn, or the sound of your water boiling on the stove, or even a beatbox you can create with your mouth.
You can simply record this sound and program it to one of the pads in your drum pads. Then, you will be able to replay that sampled sound by striking on that particular pad.
Sample pads allow you to get extremely creative and innovative with your music, as the whole world can be a part of your instrumental work.
Sample pads are versatile, too, since you can still use them to produce more standard drum sounds, and they can also set a backtrack to your live music.
Percussion Pads
Percussion pads are different from sample pads in that you cannot upload or record your audio files.
These pads are specifically meant to produce a range of percussion sounds as well as sound effects to manipulate and enhance these percussion instrumentals.
It may sound like percussion pads are not as versatile, but there are hundreds of percussion sounds to choose from, from base to snare to cymbals and more.
Musicians who love the sound of drums and want to add drumming to their music without being or hiring a professional drummer may appreciate purchasing percussion pads.
Multipads
Multipads are, as their name suggests, the most versatile of electronic drum pads, as they have multiple pads that each can hold a variety of functions, features, sounds, and space for uploads and recording.
Multipads essentially allow you to have it all in one package, with percussion sounds, audio recording ability, hand drumming ability, synthesizers, and more.
If you are interested in a well-versed electronic drum set that you can use for various settings and genres, a multipad might be the best bet.
However, it will still be important to investigate its specific qualities (storage space, number of pads, pad feel, etc.) before making your final selection.
Wrapping Up
There are many different purposes for using electronic drum pads, from in-bedroom jam sessions, bursts of creativity, on-stage performance, unique DJ sets, and everything in between.
Depending on how you wish to use them, you can find just the right electronic drum pads for your specific needs, interests, preferences, and playing level.
FAQ About Electronic Drum Pads
We'll address some common questions about electronic drum pads to wrap things up.
Do I Need To Use an Amplifier?
You only need an amplifier if you plan on using your electronic drum pads for performance purposes to increase the volume of your drum pads. Otherwise, most drum pads include a headphone input, which can be used to create an instrumental privately, practice, or other individual purposes.
What's The Difference Between Low-end and High-end Pads?
Higher-end quality pads offer more durability, sturdiness, and touch sensitivity in their pads. Durability is crucial for players who plan to use their drum pads regularly and consistently. In addition to having lower quality for the aspects mentioned above, lower-end pads also have more crosstalk and less isolation quality between different pads, creating messier, lower-quality sound overall.
How Do I Load My Own Samples?
Many of the electronic drum pads on this list allow you to upload your own samples and provide enough storage to do so. Depending on the specific drum pads you select, you can load your own samples through a USB drive or with an SD card.
It would be best if you also were sure to check the specifications of your selection drum pads' specifications because some require a specific file format for loading your own samples.
Can I Connect My Sample Pad to Other E-Drum Pads?
It depends on the drum pads you select. Some of them offer additional pad connectivity, while others don't. If you don't already own drum pads and wish to have this ability, check the specifications before our aching. If you already own drum pads, check their external outputs. Most commonly, cymbal pads, hi-hat pads, and kick pads can connect with electronic drum pads.
How Do I Create Recordings From My Electronic Drum Pad?
Use an audio interface to connect your electronic drum pad to your computer for recording purposes through a USB or MIDI.
Latest posts by Sakari Oramo
(see all)