Best 10 Saxophone Brands
---
Saxophones are a fantastic instrument. Whether you're looking to get into the blues or rock the house with friends, the saxophone is a blast to play and to learn for all ages.
Since its invention in 1840, the saxophone design has continued to evolve, and more companies are coming out with their variations.
With so many options out there, how do you know what's right for you? Fortunately, learning the differences is part of the fun! So here are the best saxophone brands available.
Top Brands for Saxophones
Name brand isn't everything when buying a musical instrument, but it gives you some peace of mind knowing that you're buying from a well-trusted brand. We'll discuss all of these brands and what you can expect:
Selmer Paris

Yamaha

Yanagisawa

Elkhart

P. Mauriat

Keilwerth

Conn-Selmer

Cannonball Saxophones

Borgani

Trevor James
| | | |
| --- | --- | --- |
| Brand | Overall Rating | Category |
| | 4.9/5 | Best Overall |
| | 4.8/5 | Best Playability |
| | 4.7/5 | Best for Jazz |
| | 4.6/5 | Best Priced Professional Models |
| | 4.9/5 | Best Selection |
| | 4.7/5 | Best Retro Look and Feel |
| | 4.8/5 | Best Customizability |
| Elkhart | 4.7/5 | Best For Beginners |
| | 4.7/5 | Best For Intermediate Players |
| | 4.6/5 | Most Versatile |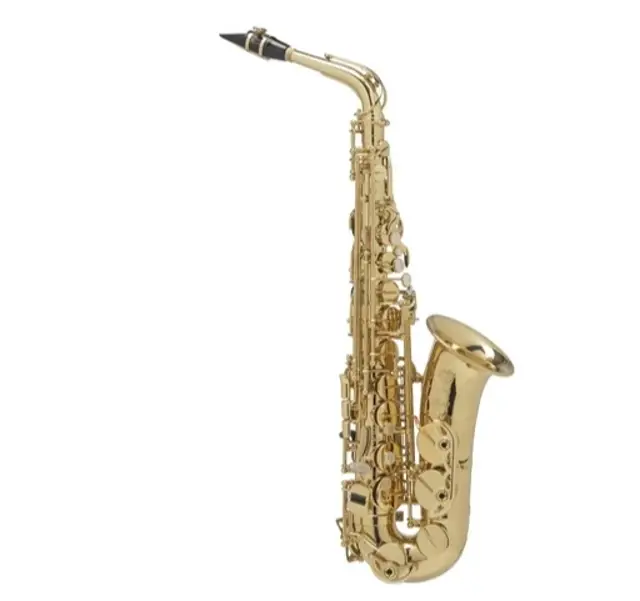 Overall score: 4.9/5
Selmer Paris is a French company that's been making spectacular musical instruments, including saxophones, for over 100 years. Selmer saxophones are the standard that all saxophones measure themselves by in many circles.
Many renowned musicians use Selmer models, including Branford Marsalis and Kenny G. The Selmer Mark VI is often considered the best saxophone available.
Their sound and register are the best in the business, which can be a big help when you're just starting and out and need some confidence.
As their name suggests, Selmer Paris crafts their top-of-the-line offerings in their French factory, but they have an American arm that makes some relatively cheaper saxophones.
Be aware, though, that with this quality comes a high price. Even Selmer's beginner saxophones start around $2,000, with the professional-grade often coming in at $10,000. If you can afford them, though, they'll last you a lifetime.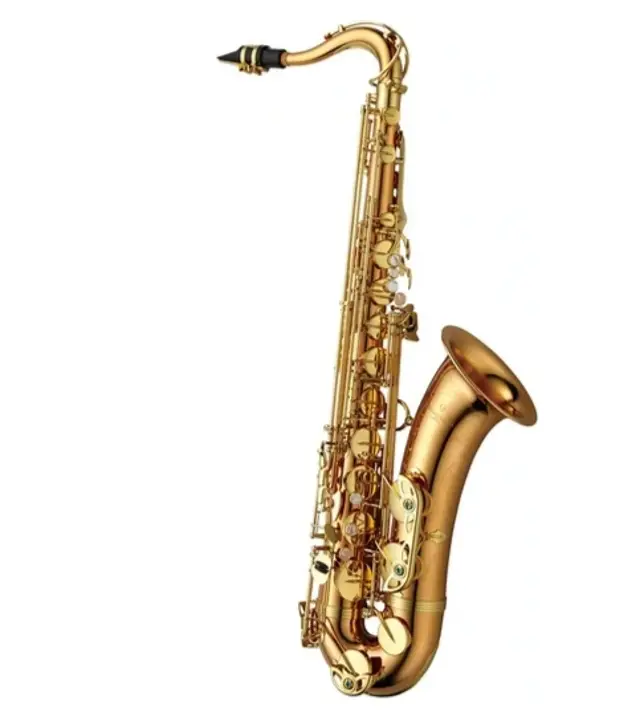 Overall score: 4.8/5
Yanagisawa is a Japanese company focused solely on saxophones. Their website states that "each and every Yanagisawa saxophone part and technology embodies a spirit of craftsmanship driven by an endless quest for the ideal in tone and the ultimate in playability." That devotion shows through in each and every instrument that they produce.
Since starting in 1954, Yanagisawa has been synonymous with quality. The organization is notable for making saxophones in materials other than brass, including solid silver.
These outstanding instruments are geared more toward the professional, so be prepared to pay accordingly, with even the standard-grade models coming in well over $3,000. If you have a chance to play a Yanagisawa, though, take it!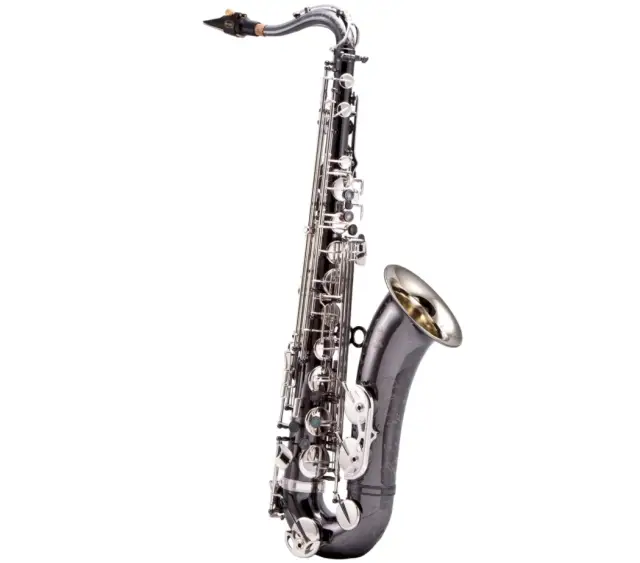 Overall score: 4.7/5
The name Keilwerth is well-known in the world of music, especially jazz. The company prides itself on providing stellar instruments throughout the years, providing durable saxophones to musicians across various music styles. These Keilwerth instruments have a distinctive bold sound and consistently stellar performance.
This German brand makes saxophones that play spectacularly and look even better. Their SX90R comprises black nickel with black mother-of-pearl key inlays. It's a perfect instrument for jazz and is simply a showstopper when you see it in person.
As with some other premium brands, you can expect to spend a lot of money on Keilwerth saxophones, with almost all offerings coming in over $5,000. On top of that, you may need to go on a waiting list for a while.
If you have the time, patience, and funding, a Keilwerth instrument isn't just a saxophone. It's a showpiece.
Best Priced Professional Models:

Borgani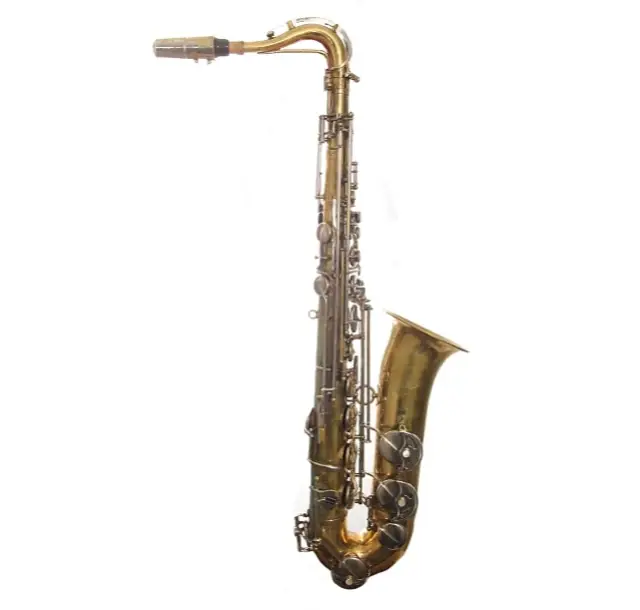 Overall Score: 4.6/5
Borgani, an Italian manufacturer, focuses its business entirely on the saxophone. Borgani creates every straight soprano sax, half curved soprano sax, alto sax, and tenor sax in the heart of Italy. In addition, they pride themselves on creating a saxophone for every style of player.
Every Borgani saxophone is available in several alloys, including 24 karat gold, silver, pearl gold, pearl silver, and vintage. They also offer several special editions that are limited-time offerings.
Players of Borgani instruments rave about their build quality and play. On top of that, because Borgani builds so many models, you can pay a little bit less than you might expect for such a quality product. For example, Borgani's starter alto saxophone can be found for $2,500-3,000, with higher-end models trending more toward $5,000 and above.
Best Selection:

Yamaha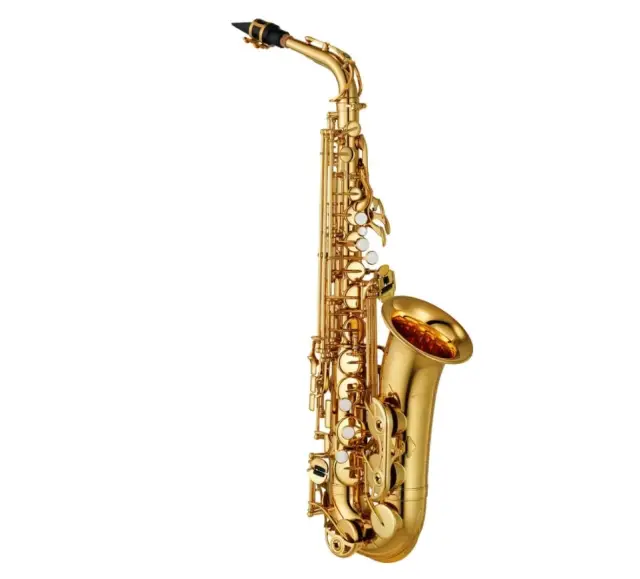 Overall Score: 4.9/5
Relative to other competitors, Yamaha hasn't been making saxophones for too long, only producing them since 1967. However, Yamaha has been around long past that making musical instruments and equipment. It's a leader in the saxophone space, offering fantastic saxophones for beginners, learners, and professionals.
Yamaha's YAS-280 is a gold standard in the student space, offering a superb alto option at a more affordable saxophone price of around $1,400. It's easy to hold and play with great sustain and great sound. Produced in Indonesia, the YAS-280 is an amazing instrument to play and will last a long time.
Past that, the YAS-62III is another great model, offering a more refined experience for the professional player. The YAS-62 results from a years-long development program with pro musicians, meaning you're getting a Yamaha saxophone that's incredibly fun to play and extremely well-thought-out.
Best Retro Look and Feel:

P. Mauriat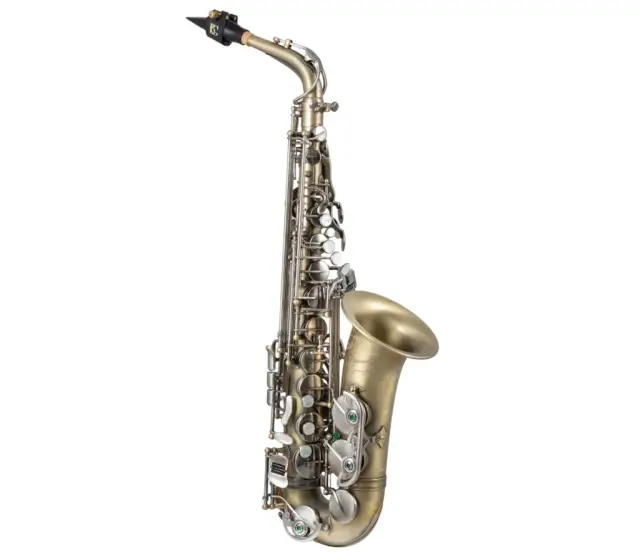 Overall Score: 4.7/5
Mauriat is a brand of Albest Musical Instruments. Their saxophones are notable because every single one is entirely handmade in Taiwan. 
One of the calling cards of P. Mauriat saxophones is their retro look. P. Mauriat builds with some of today's finest materials, but the look and feel are very much old-school. They're also one of the few manufacturers to use rolled tones holes in their saxophone construction, giving your instrument better tone and sustain.
Mauriat aims firmly toward the higher-end professional player, and their saxophones have the prices to match, with the average model coming in around $3,500. 
For a great sound and a retro feel, you can't go wrong with P. Mauriat.
Overall Score: 4.8/5
Cannonball is a newer player in the game. They established themselves in 1996 in Salt Lake City, Utah. They've expanded their operations some in their 25 years, but Cannonball remains in Utah, and their focus remains on quality and customizability.
The team at Cannonball includes acoustical adjusters, whose entire jobs are making sure that every saxophone sounds impressive. So from rich lows and full sound to the highest highs, every Cannonball sax comes to you tuned to perfection.
From there, you can customize your Cannonball saxophone to make it even better. You can get one of more than 70 custom engravings and several different finishes. Cannonball also offers a variety of semi-precious stones for key touches, necks, and bell keyguards. These look great but also change the resonance of your instrument. It's truly unique to you.
Pricing for the standard Big Bell series starts at around $3,000. If you want to make something your own and not just try a brand off the shelf, Cannonball might be a great fit.
Best For Beginners: Elkhart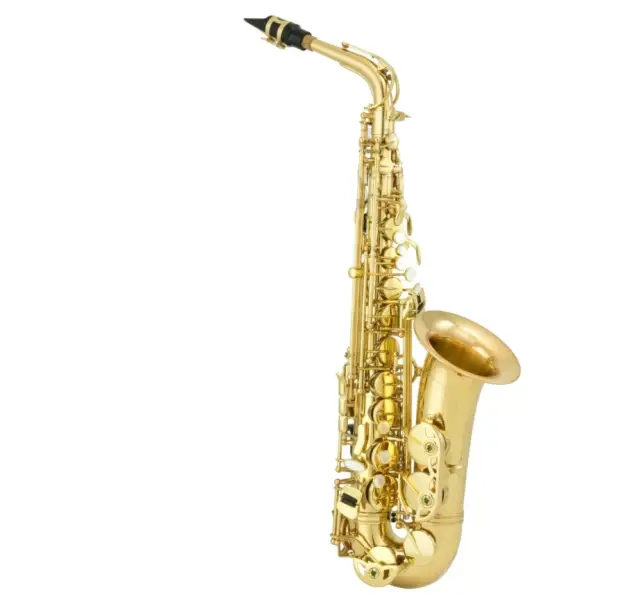 Overall Score: 4.7/5
If you're looking for a very playable but value-driven saxophone, Elkhart is a tough brand to beat. Starting as a United States-based company, Elkhart is now a brand of the Conn-Selmer Corporation, which is a massive player in the woodwind space.
Elkhart saxophones are considered workhorse instruments, so great for players just starting out as well as more seasoned players looking to log some practice time.
The 100AS is Elkhart's student alto saxophone. It's made from yellow brass (although you can get other colors if you like!) and built to last and provide a great sound. And with a whole package that comes in around $500, the value is fantastic.
You can also get similar tenor, soprano, and curved soprano models from Elkhart. So that makes it a great choice to get going on the saxophone without investing thousands of dollars.
Best For Intermediate Players:

Conn-Selmer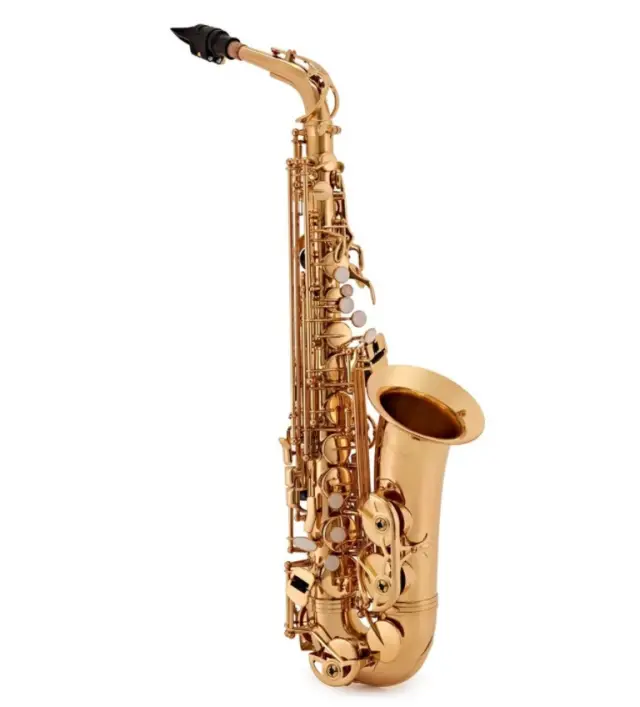 Overall Score: 4.7/5
The name Conn-Selmer means a couple of different things in the music industry. On the one hand, they're the parent company of many popular brands. On the other, they still make their own saxophones. The great news is that Conn-Selmer saxophones are well-made, quality items that you can get for a fraction of the price of some other brands.
Conn-Selmer offers some cheap saxophones because they manufacture in Taiwan. However, Conn-Selmer players still rave over the quality of the saxophone builds and their sounds. The tone holes are incredibly high quality, giving these saxophones a fantastic sound and feel. In addition, they're a lot of fun to play.
The AS711 is Conn-Selmer's student-level model. It gives a good imitation of some much more expensive models at a fraction of the price, coming in at around $1,000. Like many of Conn-Selmer's models, it's a great starter saxophone.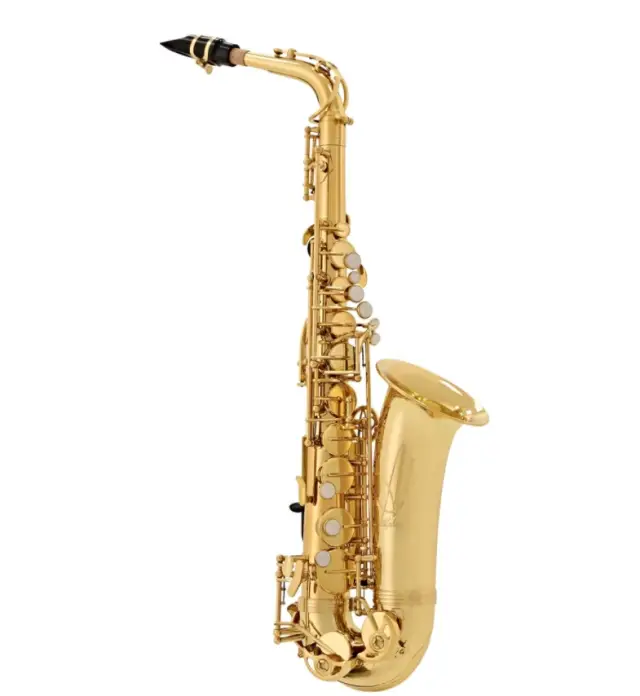 Overall Score: 4.6/5
Trevor James is a saxophone brand that started in the United Kingdom. With distribution now happening in the United States and Canada, musicians worldwide now have the opportunity to get their hands on these fantastic saxophones.
Trevor James offers alto and tenor saxophones in various finishes, including gold lacquer, phosphor bronze, and silver plated.
Their flagship models, though, are the RAW and RAW XS. These offer a vintage look and a modern playing feel that players absolutely love.
These saxophones are famed for their versatility and playability. Trevor Jones started focusing on more starter student-level models, but they have recently expanded to high-end professional models. That means that you can find an excellent starter saxophone under $1,000 and progress to their higher-priced models if you're enjoying your experience with the brand!
Trevor James doesn't offer some of the fancy bells and whistles of other manufacturers, but they're crafting fantastic saxophones because of their focus on durability and playability.
How to Choose a Saxophone Brand
As you can see, there are many, many saxophone brands available for purchase, with each of those brands offering something just a little bit different. The variety is excellent, but how can consumers choose the right brand for them?
The first thing to think about is your level of experience (or the experience level of whoever you're buying for). If you're just starting, jumping right into a Selmer Paris might not be in your best interests. Instead, pick up something like a Yamaha and make sure that you're in love with playing the saxophone before investing in a higher-end model.
What kind of music do you want to play? Some brands are better for blues or jazz, and some are more generalized.
The best thing you can do for yourself, though, is to visit your local music store. Have a conversation with an expert about where you are and what you want. Even if you don't know, that's totally okay. Your music store can help you along your journey.
Visiting a music store will also give you the opportunity to touch, hold, and try out various saxophones. If you have the chance to rent a saxophone or a few, take it! It's better to find out something's not the right fit at home before you've committed thousands of dollars.
What to Look for in a Saxophone
If you look at pictures of saxophones, it can be tough to tell the difference between models.
Again, your best bet is to speak with an expert in a music store. They can show you different instruments and explain some of the differences.
The first thing you're looking for is feeling. Does the saxophone feel good in your hands? Are the keys comfortable and responding? If you're looking at a used instrument, are they any significant dents or scratches that are impacting playability?
If you have the opportunity to test play, you should do that as well! Playing is the only way to know what your saxophone will sound like. Every saxophone sounds just a little bit different, so making sure yours sounds like what you want is critical.
Frequently Asked Questions
Saxophones are complicated, so buying them can raise some questions. Here are a few that come up all the time.
Should I rent first before I buy?
If you're new to the saxophone instrument, renting for a bit is a great way to make sure the instrument is for you. Depending on your local music store's selection, it's also a great way to try out different brands.
Does metal matter?
Absolutely! Aside from different materials looking really cool, a saxophone made out of standard brass will sound very different from one made of silver or gold.
Are there different kinds of saxophones?
There are indeed. The two most standard are alto or tenor. If you've seen any famous saxophone players, they're likely playing one of those. Saxophones can also come in straight varieties. Each sounds a bit different and has a bit of a different purpose.
How much is a saxophone? Why is there such a vast difference in prices in saxophones?
There are a few reasons for this!
The first has to do with manufacturing. A saxophone made with brass will cost less than one made predominantly gold or silver. On top of that, some of the more boutique manufacturers are hand-crafting their instruments in small factories. That's much more expensive than something produced in larger factories in other countries. There's no one right way to do it. For the most part, all the big players are making great instruments.
The other difference is name value. A brand like Yanigasawa charges more for saxophones because they have an excellent reputation, and consumers will pay for it.
Is it okay to buy a used saxophone instead of a new one?
This is a great way to start with the saxophone? Your local music store might have a selection of used saxophones near you. If they do, ask them if they refurbish instruments or offer a warranty to help cover you if there are issues.
You could also visit a site like Reverb, which sells new and used instruments. In that case, though, you likely won't have the opportunity to test play the instrument. So, if you go down that road, be very cautious.
Conclusion
If you're ready to learn saxophone, get ready for a rewarding and fun experience. But to get there, you need a saxophone to play! So if you keep these tips in mind and invest in any of these brands, you are going to have an instrument that you love and will treat you well for years to come.
Latest posts by Sakari Oramo
(see all)