Yamaha Electric Cello Range Explained – SVC110, SVC220 and SVC-50
---
Yamaha are one of the most respected names in instruments. If you're more into new than old, Yamaha is a brand that should definitely be on your list.
That's especially true if you're in the market for an electric cello. The Yamaha range of electric cello are some of the best in the world for the price!
There are three very distinct models of Yamaha electric cello. The SVC110, SVC210 and SVC-50. Each offers a different experience with a variety of designs and materials. Each represents excellent value for money and sound pretty good too!
The three models form part of Yamaha's Silent Series of instruments. They are mostly silent until connected to an amplifier which has obvious benefits for practice!
Connect to an amplifier and these produce that rich, sonorous sound we all know and love.
The Yamaha electric cello range includes the following:
Yamaha Electric Cello Models
SVC110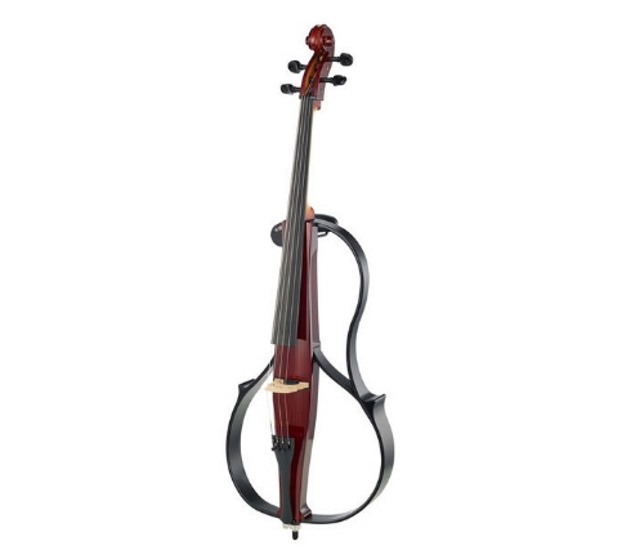 The Yamaha SVC110 was designed in conjunction with some of the world's leading cellists. The result is a completely modern design that feels and plays just like a traditional cello.
The SVC110 is renowned for its warm tone which is reflected in the aesthetics. That warm tone is assisted by a new type of resonance chamber. It produces the same quality of sound as acoustic but also provides the ability to practice quietly.
Construction is a mixture of maple body and neck and ebony fingerboard and tuning pegs. High quality Daddario Helicore strings and four fine tuners ensures the sound is as predictable as it is beautiful.
The Yamaha SVC110 silent cello is equipped with aux-in, line out and headphone jacks. It also has three reverb presets that accurately simulate practice room, recital hall and cathedral.
SVC210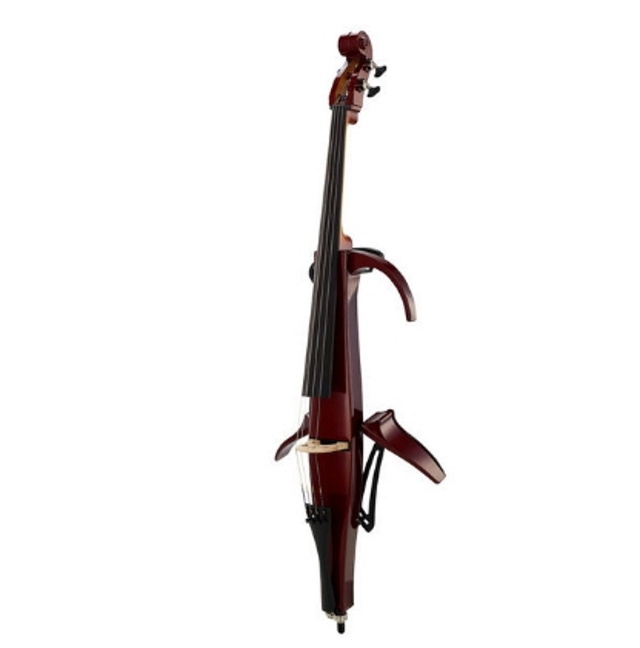 The Yamaha SVC210 electric cello is a slimline instrument with a minimal body. It has the right contact points in the right places and has a slim body that flows smoothly into the neck. A similarly slim pegboard completes the look.
The SVC210 is known for having a rich tone that can be tuned or mixed to create a wide variety of sounds. It's a very flexible instrument that is as at home in a concert hall as it is in a jazz club.
The Yamaha SVC210 uses a very similar resonating chamber as the SVC110 to create a high quality, beautiful sound.
It is constructed from a maple body and ebony fingerboard and pegs complete with worming gear. It has a lovely dark wood finish that demonstrates the quality of the instrument very ably.
The slim design lends itself very well to portability. The stand folds up into the body to create a very portable cello, lighter and much more manageable than its competitors.
The Yamaha SVC210 is equipped with aux-in, line out and headphone jacks. It also has three reverb settings preset to mimic the practice room, recital hall and cathedral.
SVC-50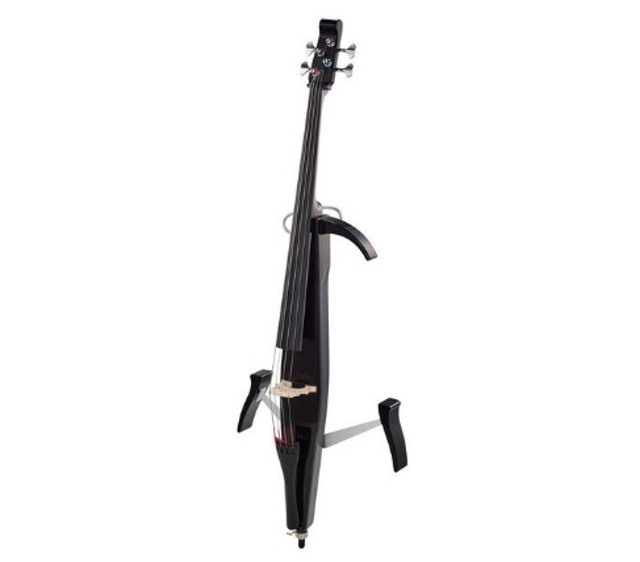 The Yamaha SVC-50 electric cello looks like the SVC210 but is slightly smaller and lighter. It's a stripped down instrument, designed specifically for convenience and ease of use.
It features the same portability and build quality, just on a slightly smaller scale. Ideal for carrying from practice to performance.
The Yamaha SVC-50 electric cello has a solid body made from alder with a maple neck and bridge and ebony fingerboard. It also uses the same Piezo pickups of the rest of the Silent Series cellos and can produce a lovely melodious sound when connected to an amplifier.
The slim body has the right contact points and a stand that folds into the body. It's light and easy to use and has a robust compact construction. Ideal for gigging, practice and performing!
Electric Cello Buyers Guide
Yamaha electric cello may be some of the best instruments around but they are just one brand out of many. If you're in the market for a new cello, what do you look for? What's the difference between a good electric cello and a great one?
We won't be making any decisions for you but we can show you what to look for when you're shopping!
Things to look out for when buying an electric cello include:
Sound
Looks
Size and portability
Onboard electronics
Connections
Price
Sound
Sound is obviously your number one priority. For an electric cello to be worth the money, it has to sound as authentic as possible and offer maximum flexibility in terms of audio reproduction.
Yamaha electric cello have a rich, vibrant sound that is very pleasing to the ear even when not mixed. The SVC110 and SVC210 both use a well-designed resonance chamber to provide a much deeper sound than an instrument that svelte has any right to have!
A key advantage of an electric cello is the ability to mix and amplify it. You can even use the same kinds of pedals that electric guitarists use to manipulate the sound.
Finally, an electric cello can be played without amplification. While not technically silent, the sound produced when not amplified is certainly quiet enough to be sociable when practicing.
Looks
Looks may be secondary to sound but it can still be an important factor in instrument selection. If you're prominent in a particular genre, cultivating a musical persona or simply have very definite tastes, the look of your electric cello matter.
Part of the looks can also come down to its comfort. A slimline cello is lighter and easier to handle but not feel the same as a fuller bodied variant. The touch points might not be as comfortable either depending on your age, shape or size. Yamaha offers a fuller bodied cello and a slimline version so suit every taste.
Size and portability
The Yamaha SVC110 is a full bodied design with the full outline of the traditional instrument. The Yamaha SVC210 is a compact design with just knee bouts, shoulder bout, chest rest and endpin.
The Yamaha SVC-50 is a compact design that also features knee and shoulder bouts, chest rest and endpin.
All three models are lighter and more portable than a traditional cello. All come with a padded gig bag so they are easier to carry around as a result.
Electric cello sizing in general uses a similar range to the violin. They are available as 1/8, 1/4 1/2, 3/4 and 4/4 sizes.
Typically those sizes equate to:
1/8     4-6 years or 4 feet in height
1/4     5-7 years or 4 feet in height
1/2     7-11 years or 4 – 4.5 feet in height
3/4     11-15 years or 4.5-5 feet in height
4/4     15 and above 5 feet in height and above
Onboard electronics
Each Yamaha cello uses a piezo pickup system embedded in the body beneath the bridge. The SVC110 and SVC210 both have a resonance chamber inside the body under the bridge and pickup to help produce body vibration.
This is why the tone of both of these cellos is so vibrant and complex.
Of the two, the SVC110 sounds the most like a traditional cello. A slight difference in tone in the SVC210 delivers a lovely sound that is just as engaging, just slightly different.
The SVC-50 has a less complex sound as it has no resonance chamber but is still beautiful to the ear.
Connections
Connectivity is a key consideration for any electric instrument. All Yamaha electric cello feature aux-in, line out and headphone jacks. These are all you need to amplify, use headphones and add effects.
Price
Price is always a consideration when shopping for instruments as they can be expensive. Like the violin, investing in quality really pays off with a cello. You see an obvious increase in materials quality, build quality and sound quality.
As you're going to be spending a lot of time together, investing in the best that you can buy is an investment well worth making.
Yamaha is at the top end of electric cellos so you will pay a premium for them. However, just like buying a luxury car, the owning experience more than justifies the price!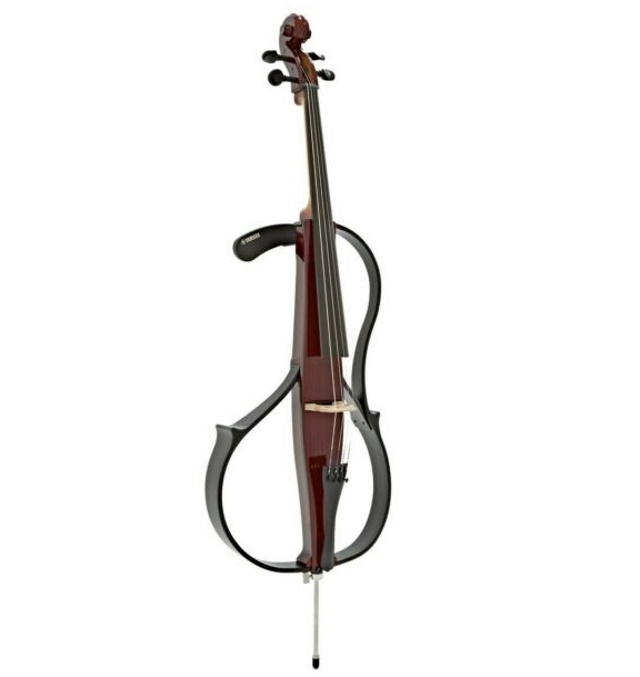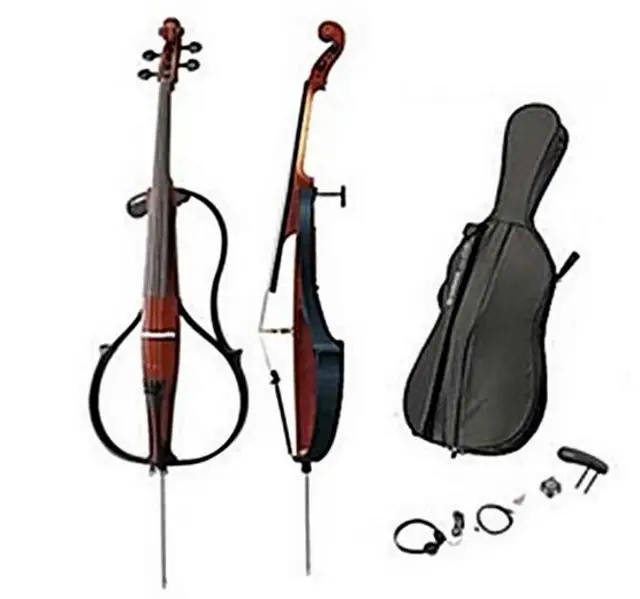 Yamaha electric cello FAQs
We have collected some of the most common questions we have seen on the subject of Yamaha electric cello and have answered them below.
Are electric cellos any good?
Electric cellos are good, depending on what you're looking for. If you're looking for a slightly different sound than the traditional cello, they are very good. If you're looking for a different aesthetic, electric cellos are exceptional. If you're looking for better portability and the ability to transport your cello with ease, electric cellos definitely do that!
Are electric cellos silent?
An electric cello is almost silent until you connect it to an amplifier. You can still hear the notes without amplification but it is far quieter than a traditional cello. This allows you to practice quietly and in situations where the headphones that come with your electric cello aren't suitable.
One of the most significant benefits of an electric cello is this ability to play quietly, especially if you live in an apartment or with other people!
Is electric cello easier to play?
The electric cello is not easier to play but it is easier to live with. Electric cellos are much cheaper to buy. They are lighter and far easier to transport. They are easier to hold because they are lighter and have the same contact points as a classical cello.
Electric cellos are also easier to practice when used silently and they offer a much wider opportunity to play a wider range of music
How do I choose a cello size?
Your cello should be sized for your age, shape and height. Like violins, cellos come in a range of sizes from 1/8 up to 4/4. Typical sizes are, 1/8 for ages 4-6, ¼ for ages 5-7, 1/2 for ages 7-11, 3/4 for ages 11-15 and 4/4 for ages 15 and up.
There is no hard and fast rule here as we are all different shapes and sizes but this is the typical age range of each size of cello.
How does an electric cello work?
An electric cello works in a similar way to the electric guitar. It uses a piezo pickup system mounted in the bridge. The pickup takes the vibration caused by the strings and sends it to a preamp or amplifier. From there, it can be mixed or played as required.
Yamaha electric cello
The range of Yamaha electric cello is modest but of a very high quality. Each has a slightly different look and feel and a unique sound all of its own.
While you can buy cheaper, you will struggle to buy better. You can see where your money goes from the moment you see it. That idea is confirmed the moment you first run the bow across the strings.
Even when not amplified, these cellos sound amazing!
Latest posts by Sakari Oramo
(see all)