7 Best Electric Saxophones – Beginner to Pro
---
Do you play the saxophone or another woodwind? Would you like to play electronic music or practice without disturbing others? You can do both with a good electric saxophone.
However, you should know which model is the best. Then, you won't waste your time and money on something that won't let you play the music you love.
Read on to learn more.
Best Electric Saxophone of 2021
| | |
| --- | --- |
| Product | Overall Rating |
| Best Overall: Akai Professional EWI 5000 Wireless Electronic Wind Controller | 4.9/5 |
| Best for Kids: Nuvo Soprano Saxophone, Black/Blue (N520JBBL) | 4.4/5 |
| Best for a Small Budget: Yamaha YVS-100 Venova Casual Wind Instrument with Case, White | 4.4/5 |
| Best for Saxophone Specialists: Yamaha YDS-150 Digital Saxophone | 4.6/5 |
| Best for Sound Variety: Roland AE-10G Digital Wind Instrument | 4.7/5 |
| Best for Serious Players: Roland AE-05 Aerophone GO Digital Wind Instrument, Graphite | 4.7/5 |
| Best for Travel: Roland AE-01 Aerophone Mini Digital Wind Instrument, Blue | 4.6/5 |
What's the Best Overall Electric Saxophone?
The best overall electric saxophone has to be the Akai Professional EWI 5000. It's the best you can find for the price, and it has more features and sounds than other models. You can get a nice response and use the standard saxophone fingerings.
Where to Order an Electric Saxophone
You can order an electric saxophone or woodwind instrument online. Music retailers, audio stores, and general online stores carry some. However, you may be able to request an electric saxophone from a music store in your area.
There are tons of electric saxophones that you can choose from depending on your needs and budget. Be sure to shop around to find an excellent instrument that you can play at home or on the go.
Top 7 Electric Saxophones
Before you buy the first electric woodwind you find, consider some of the best on the market. Whether you've played a traditional saxophone or want to learn on an electric model, you need a good instrument. That way, you can focus on learning the right notes.
Here are the seven best electric saxophones for beginners through professionals.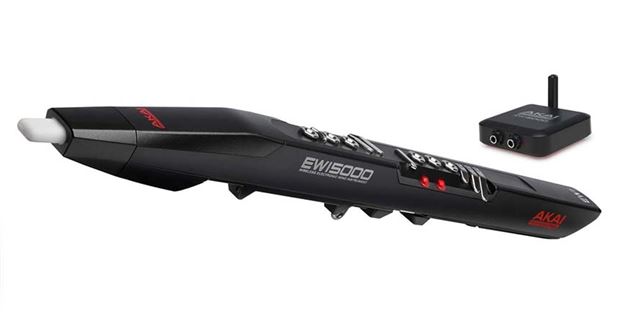 Rating: 4.9/5
If you're looking for one of the best electric saxophones possible, you have to consider the Akai Professional EWI 5000. The electronic wind controller is nice and portable, and it works with different fingering systems to help you play in a way that works for you.
Its mouthpiece responds well to your playing to help you get the sound you want. You can connect wirelessly to a device to help amplify the sound of the EWI. When the battery runs out, plug it into a USB port to charge the device and play into your computer.
This model features plenty of sounds onboard, but you can also use it with a digital audio workstation (DAW) to access more sounds. That way, it can sound like a saxophone or any other instrument you want to play.
Pros
Great for advanced players
Multiple ways to play
Works with different fingering systems
Suitable for travel
Can play with headphones
Cons
Batteries require charging
Not for beginners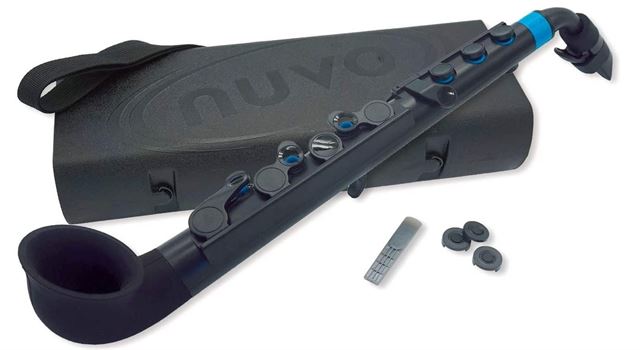 Rating: 4.4/5
The Nuvo Soprano Saxophone is an excellent model for kids and other beginners. While it's not technically electric, it's a different type of saxophone to play. It has a slimmer design, and it's very lightweight and easy to hold.
This model uses the same fingering system as a traditional saxophone, making playing both easier. You can also adjust the thumb rest on the back to make the positioning more comfortable. Plus, it's waterproof, which makes it great for playing outside.
You'll receive a couple of reeds with the saxophone, but you can also use cane reeds for the soprano sax. The instrument is in the key of C, which is different from other saxes. But it's a nice option if you need a break from your regular saxophone family.
Pros
Portable
Great for beginners
Easy to play
No need to learn new fingerings
Waterproof
Cons
Not technically electric
Has a limited range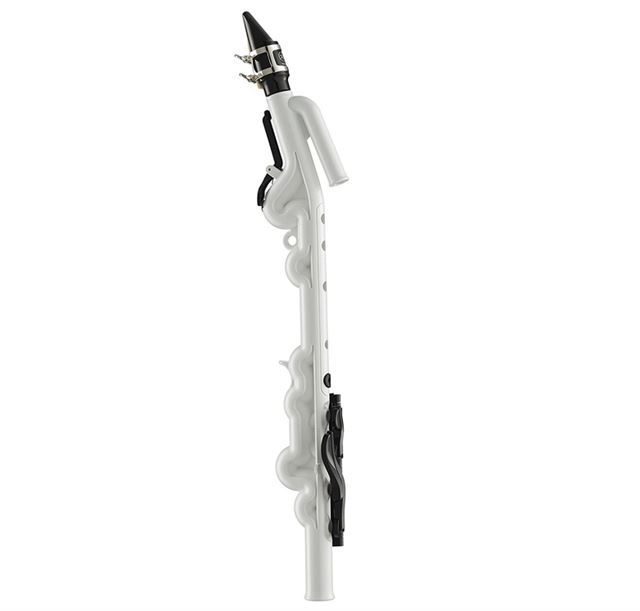 Rating: 4.4/5
Another option you may want to try is the Yamaha YVS-100 Venova. Like the Nuvo sax, this one isn't actually electric, but it makes for a good alternative to traditional instruments. However, you can produce a good, warm tone like you would on a regular or electric saxophone.
It uses ABS resin, so it's durable and lightweight. If you need a good instrument to play outdoors or when traveling, this one is worth testing. You can use the soprano saxophone mouthpiece and reed of your choice to get a sound that you love.
This instrument plays in the key of C, and you can play chromatically for about two octaves. Its fingerings are closer to the recorder fingers than saxophone fingerings. Still, the fingerings are pretty similar, so it shouldn't take you long to learn them.
Pros
Key of C
Durable
Lightweight
Not too expensive
Sounds like a saxophone
Cons
Not electric
Uses recorder fingerings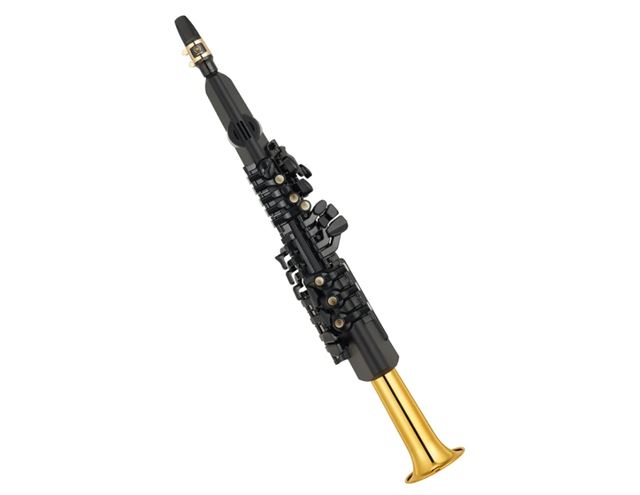 Rating: 4.6/5
The Yamaha YDS-150 is a fantastic electric saxophone for many players. It uses an acoustic saxophone mouthpiece and reed, so the feel is similar to what you know. Meanwhile, the body allows you to play it like any other electric instrument, so you can hook it up to headphones or an amp.
There are 73 preset voices that you can choose from to customize your sound. So while it looks like a soprano sax, you can make it sound like an alto, tenor, or bari. If you connect the saxophone to an app, you can get even more options. As you play, the breath sensor will detect your airstream to help amplify your sound.
You can use the same fingering system as you would on a traditional saxophone. It even has a tuning range, so you can make sure you're in tune with another musician. You'll also be able to use reverb and other digital effects.
Pros
Easy for beginners
Plenty of presets
Uses standard saxophone fingerings
Has an acoustic mouthpiece and reed
Can practice silently
Cons
A bit expensive
Hard to clean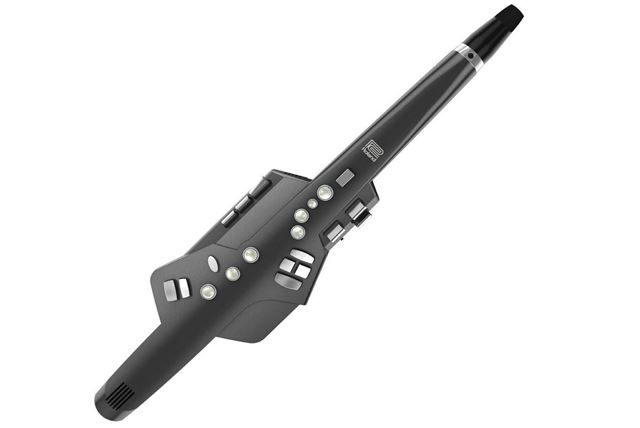 Rating: 4.7/5
Another fantastic electronic saxophone to try is the Roland AE-10G. This digital wind instrument lets you make the sounds of any saxophone, from a soprano to a baritone. You can get a response similar to what you'd get on an acoustic saxophone, and you can get a similar tone.
Along with saxophone sounds, this instrument offers synthesizer, clarinet, flute, violin, and trumpet options. The mouthpiece also includes a breath sensor to help produce the right amount of vibrato. And you can use the standard saxophone fingerings to change notes.
This model uses six AA batteries, which allow you to play for up to seven hours. You can use the built-in speakers or plug in a pair of headphones to avoid disturbing others. It's an excellent choice for players on a budget.
Pros
Can practice silently
Uses saxophone fingerings
Battery power
Has a breath sensor
Easy to play
Cons
Some sounds aren't the best
Hard to control the pitch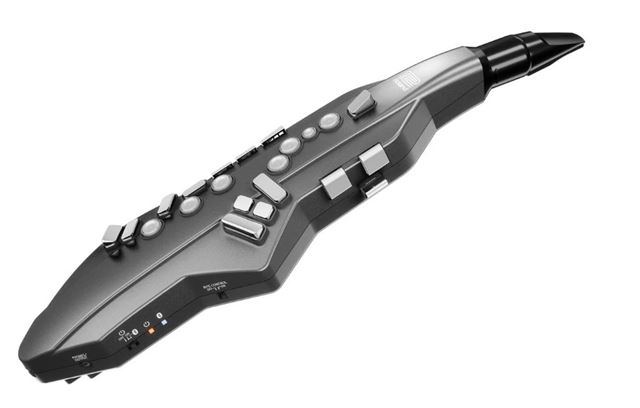 Rating: 4.7/5
The Roland AE-05 is an excellent choice for people looking to learn an electric saxophone. It features 11 sounds onboard the instrument, so you can experiment from anywhere. When you download the Aerophone GO app, you can access 50 more sounds using a Bluetooth connection.
You'll need to use a few AA batteries to power the instrument, but you can play anywhere. And if you have some headphones, you can connect them to practice without annoying people around you. When you're at home, plug it into your computer to play.
This electric saxophone comes with a bag to protect it during storage or transportation. If you know other people with this instrument, you can play together. Another option is to play along with your favorite songs.
Pros
Easy for advanced players
Portable
Protective bag
Uses batteries
Works with other instruments
Cons
Not for beginners
A bit bulky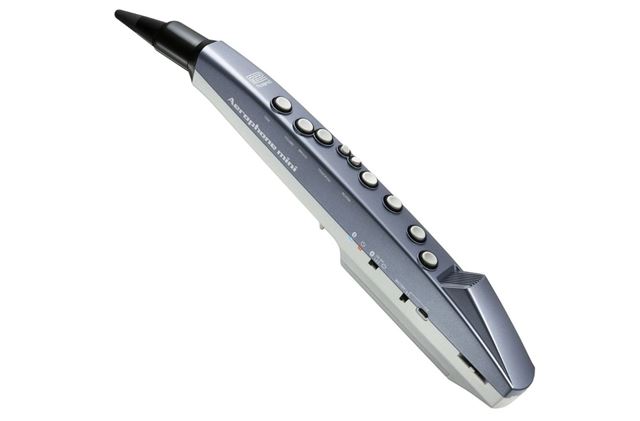 Rating: 4.6/5
One of the most affordable options to try is the Roland AE-01. The model is very compact, so it's great for travel, and it's suitable for people who can't hold a ton of weight. You can choose from six different sounds when you just use the instrument.
Connect it to the Aerophone Mini Plus app to access more sounds. The app also features a few different tutorial songs to help you learn how to play the electric saxophone. You can use batteries and a speaker. Another option is to connect it to headphones or your computer for silence and as a power source.
This instrument is an excellent option if you already know recorder fingerings. You can reference the app for specific fingerings, so you can learn along the way. If you aren't sure you'll play an electric saxophone that much, this is an ideal model choice.
Pros
Compact
Good value for the price
Works with recorder fingerings
Comes with an app
Good for casual players
Cons
Thumb rest is a bit uncomfortable
Can be hard in the beginning
Where to Buy a Used Electric Saxophone
You may be able to buy a used electric saxophone from a few places. Ask your local music store or an online retailer if they have any used options. If not, you can search marketplaces, such as Facebook Market and eBay, to look for a used electric saxophone.
Another option is to contact a saxophone or woodwind teacher in your area. Whether they teach privately or at a college, they may know someone looking to sell a used electronic saxophone.
After a bit of searching, you may come across multiple listings for used electric woodwinds. Then, you can look into those listings to check the price and quality. Before you buy a used instrument, make sure you test it out to see if you like it.
You should also inspect it for damage. That way, you'll be able to play the electric saxophone and not worry about some of the notes not coming out.
Electric Saxophones – The Complete Buyer's Guide
When looking for the best electric saxophone, you have a lot to consider. Like buying a traditional sax, you need to compare a few options.
But you also need to know what to look for in the best model. Then, you'll be able to select a model that suits your playing.
Here are a few factors to consider before purchasing an electric sax.
Design
Some electric saxophones have a simple design, while others are more complex. The design can affect how it feels to play an electric saxophone. The structure is particularly crucial for younger players and anyone with smaller hands.
Some models, such as the Roland AE-10G, are wider. That can affect the instrument's balance, so it may be harder for you to hold. On the other hand, the Akai EWI is slimmer and so may be easier for you to hold as you practice.
A good design can also affect the durability of the instrument. Even if you're careful, you may still drop the electric saxophone at some point. When your instrument has a durable design, you will be able to play it even after a bit of wear and tear.
Fingering System
You should also consider the fingering system of each electric saxophone. Some models use the same fingerings as a traditional saxophone, making the switch easy. Other models have fingerings that are closer to those of a recorder.
If you've played the recorder, the fingering system may not matter. However, it can take a bit of getting used to if you need to learn a whole new set of fingerings. Now, there are some similarities between saxophone and recorder fingerings, such as the notes B, A, G, E, and D.
The differences can make it hard to play, especially if you want to play fast. So you may want to get an electric saxophone that uses the standard sax fingering system. Then, you'll be able to focus on playing rather than learning something new.
Portability
One of the most significant advantages of any electric sax is that it's portable. However, you may want to choose something that's super lightweight and doesn't take up much room. Think about where you plan to play the instrument.
If you plan to play it at home, you may be able to get by with a bigger model. But if you want to take the electric saxophone with you, it helps to have something smaller. That way, it won't take up as much space in a travel bag.
You can then practice the instrument with headphones wherever you are. So if you don't want to miss a day of practice, it helps to choose the most portable option you can afford.
Price
Ideally, you would have the budget to afford the electric saxophone of your dreams. Sadly, most people have to consider the price before choosing an instrument. If that's the case for you, be sure to consider your budget.
Now, most electric saxophones are relatively affordable. You can find plenty of options for $1,000 or less, and some of the best options cost way less than that.
However, you should have a budget of some kind. Then, you'll be able to choose an instrument you like without going into debt.
Electric Saxophone FAQs
If you're still curious about choosing the best electric saxophone, you aren't alone. Here are a few things that you may want to know.
What Is an Electric Saxophone?
An electric saxophone is a type of woodwind instrument that uses electric power to make a sound. Traditional saxes use a mouthpiece and reed, and the air vibrates to create a sound. While you do need to use your air, you don't need a reed to play an electric sax.
What Should You Know About the Fingering System?
Some electric saxophones use the same exact fingerings as on the traditional saxophone. Others, usually with simpler designs, will use recorder fingerings. You may even find some electric saxophones that work with clarinet or flute fingerings.
What Sounds Can Electric Saxophones Produce?
Electric saxophones can produce almost any sound, though it does depend on the model. A lot of them have at least a few sounds that you can play directly on the instrument. If you connect to an app or DAW, you may be able to access dozens or hundreds of sounds.
What Should You Know About Mouthpieces?
You may find that some electric saxophones use a mouthpiece with a reed. Most just use a mouthpiece, but you'll still blow as you would into a saxophone.
What Should You Know About Rollers?
A lot of popular electric saxophones don't use rollers. Instead, you'll need to pick your fingers up and move them side to side to go from key to key.
What Should You Know About Synthesizers?
Electric saxophones can sound similar to keyboard synthesizers, and most electric woodwinds have a synthesizer sound. That way, you can play music that sounds like a synth by blowing into the electric sax.
Wrapping Up
The best electric saxophones can help woodwind players explore new genres and styles. But before you buy the first electric sax you find, consider some options. That way, you'll be able to select the model that works for you.
In most cases, you can't go wrong with the Akai Professional EWI 5000. Still, consider testing some others to find one you love.
Latest posts by Sakari Oramo
(see all)