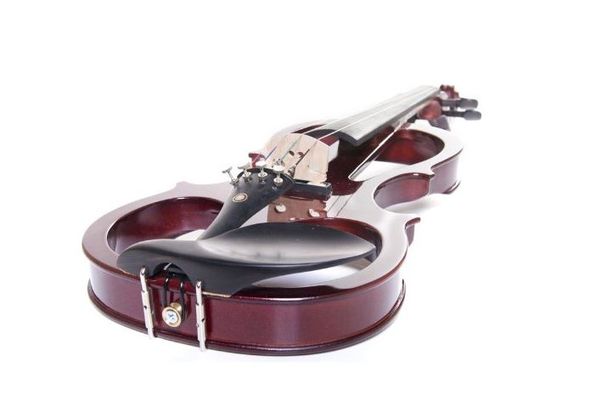 15 Best Electric Violin Options For Any Budget [Buying Guide]
---
Electric violins are quite a unique instrument. They are a modern interpretation of a 16th century creation that is the mainstay of orchestras everywhere. Electric violins are genuinely unique in that they add something new without taking anything away from the original. They also attract a new generation of musicians without alienating those who still love the acoustic violin.
It isn't often that you are able to mix a classic piece of musical tradition cwith modern electronics to deliver something awesome. This is one of those times. The electric violin is one of the few instruments that has been successfully modernised to make it something even more than it was.
This new twist has made it a new instrument while continuing the tradition of the old and without making the original obsolete. That's exactly what the electric violin has done!
Top electric and silent violin brands
There is a range of brands that are known for producing top-quality electric violins. While not the only consideration, a reputable brand does provide reassurance when shopping around for an instrument. Electric violins can cost good money so you want to make sure your buying decision is a good one!
Some top electric violin brands to look out for include:
Yamaha
Bunnel
Cecilio
Knilling
Tower Strings
Barcus Berry
Kinglos
NS Design
Bridge
Stagg
This is not an exhaustive list by any means but each of these brands represents quality, value and performance in usually affordable packages.
15 Best Electric Violins
Stagg EVN 4/4 BK
Bunnel EDGE
Cecilio L4/4CEVN-L1BK
Cecilio 4/4 CEVN-1BK
Yamaha SV-200
Cecilio CVN-300
Fever Acoustic Electric Violin
Yamaha Electric Violin-YEV105NT
Wood Violins Stingray
AW 4/4 Electric Violin
Crescent EV-WT
Cocoarm Maple Wood 4/4 Electric Violin
Kinglos 4/4 White Blue Flowers
Yamaha Model SV-130SBL 'Concert Select'
Barcus Berry 4 string violin BAR-AEBK
Now you know what to look for, some of the best electric violin brands available and what type of electric violin is best for what situation, now is a good time to outline some of the best electric violins available right now. We will offer our opinion for the best instrument for general use, for practice, for performance and for various prices.
There is sure to be one here that's perfect for you!
These generalist best electric violins will work in almost any situation.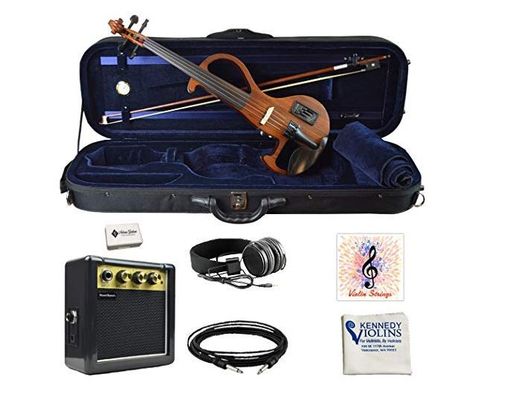 1. Stagg EVN 4/4 BK
The Stagg EVN 4/4 BK is an accessible violin that will play anywhere. With a solid wood construction, unique design, comfortable ergonomics and decent price, it's hard to fault. It comes with four tuners, a two-band equaliser and is pre-strung. You may want to replace those strings for better quality ones if you're planning to perform but they are easily good enough for practice.
The build quality is good, it can hold tune well, the bridge is of a good quality and the overall package is pleasing, especially given the price. The package comes with a bow, case, strap, headphones, battery and rosin. Everything you need to begin playing right away.
2. Bunnel EDGE
The Bunnel EDGE mixes traditional wood construction and finish with the shape and qualities of an electric violin. It's an ideal generalist electric violin that can be used in almost any situation. It has a quality wood body and neck, a tone and volume slider, 9v battery, Piezo ceramic pickup and a headphone jack for silent play.
The Brazilwood bow uses horsehair and is comfortable in the hand. The Bunnel EDGE comes pre-strung with D'Addario Prelude strings which is an excellent addition. The package includes headphones, a case, bow and rosin.
3. Cecilio L4/4CEVN-L1BK
The Cecilio L4/4CEVN-L1BK is a left handed violin that equals Bunnel for delivering quality instruments at accessible prices. It's a full size electric violin with metallic varnish and uses maple and ebony wood in its construction. The design mimics the classical shape with hollow body and provides a comfortable fit for most adult musicians.
The solid body and good quality pickup provides clean, crisp sound. The strings are of a good quality and upgrading is optional which is another good sign. The package comes with Brazilwood bow with horsehair string, case, headphones, 9v battery and a bridge.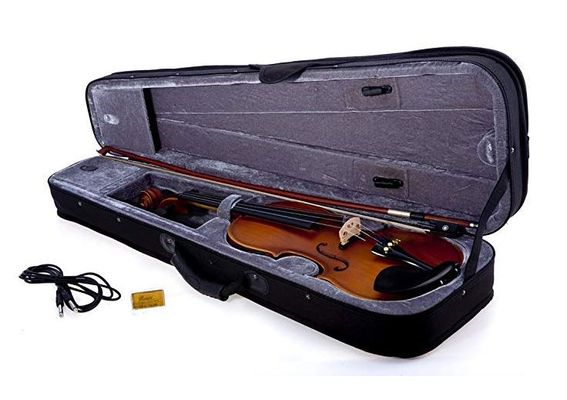 Best silent violins
The best silent violins are good for practicing but can also perform when required.
1. Cecilio 4/4 CEVN-1BK
The Cecilio 4/4 CEVN-1BK is a full size electric violin with a maple body, output jack for amplification and a headphone jack for silent play. The solid body means no feedback and solid feel while being light enough to hold all day long. It uses good quality materials, a decent pickup and pre-amp and provides a very clean sound.
The bow is of equal quality with good horsehair and a comfortable handle. The Cecilio 4/4 CEVN-1BK comes pre-strung but you will want to replace them with higher quality strings. It also comes with a case, 9v battery for the pre-amp, rosin cake, headphones and a bow.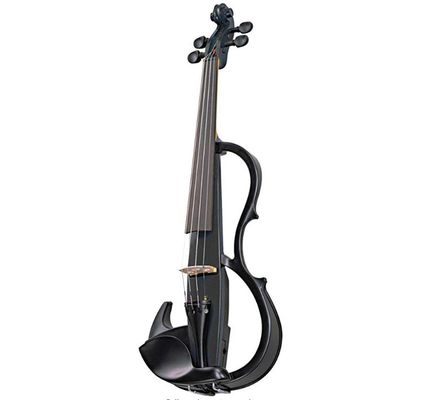 2. Yamaha SV-200
The Yamaha SV-200 offers typical Yamaha electric violin build quality and design. With an oval neck, spruce body and chin rest and maple neck. It uses Yamaha's quality pickups and pre-amp to deliver professional quality sound ideal for practice, performance or anything you like.
The Yamaha SV-200 includes an EQ mode that allows you to balance your own sound, which is a nice touch. It also has a headphone jack, line out and a battery for the pre-amp. It does not come with a case or accessories though.
Best acoustic-electric violins
The best acoustic-electric violins can deliver the best of both worlds.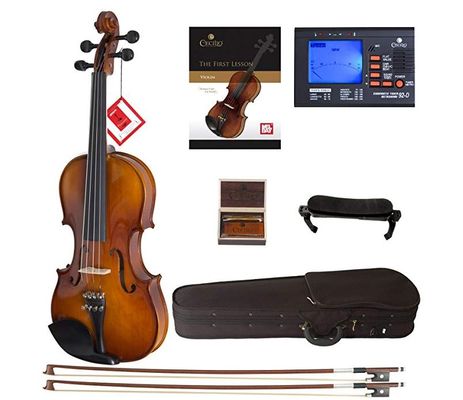 1. Cecilio CVN-300
The Cecilio CVN-300 acoustic-electric violin is an excellent option for beginners or those who want to combine the qualities of a traditional violin with the flexibility of an electric. It has a classical design with maple back and neck, spruce top and ebony fingerboard. It is also strung with D'Addario Prelude strings.
The package comes with a Cecilio chromatic tuner, lesson book, case, two Brazilwood bows with horsehair strings, rosin, an adjustable shoulder rest and a spare bridge. For the price, the package offers superb value and certainly represents one of the best examples of acoustic-electric violins.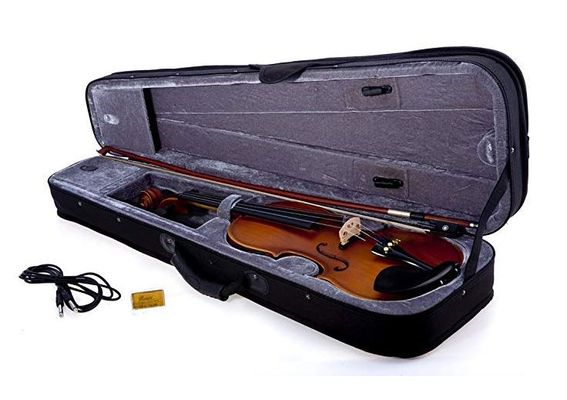 2. Fever Acoustic Electric Violin
The Fever Acoustic Electric Violin looks like a traditional violin with some hidden extras. It's ideal if you want the look and feel of tradition while enjoying the tunable sound of an electric. Build quality is excellent with a wooden body, neck and back and quality pickup. It comes pre-strung with good quality strings.
The Fever is a little heavier than other electric violins but it's not so heavy that it will impact performance. It produces a great quality sound that would work well in a practice room as on stage with a good quality amplifier. The kit comes with a bow, case, cable and rosin.
Best five string electric violins
A five string violin offers more range than a standard instrument but requires experienced hands to get the best out of it.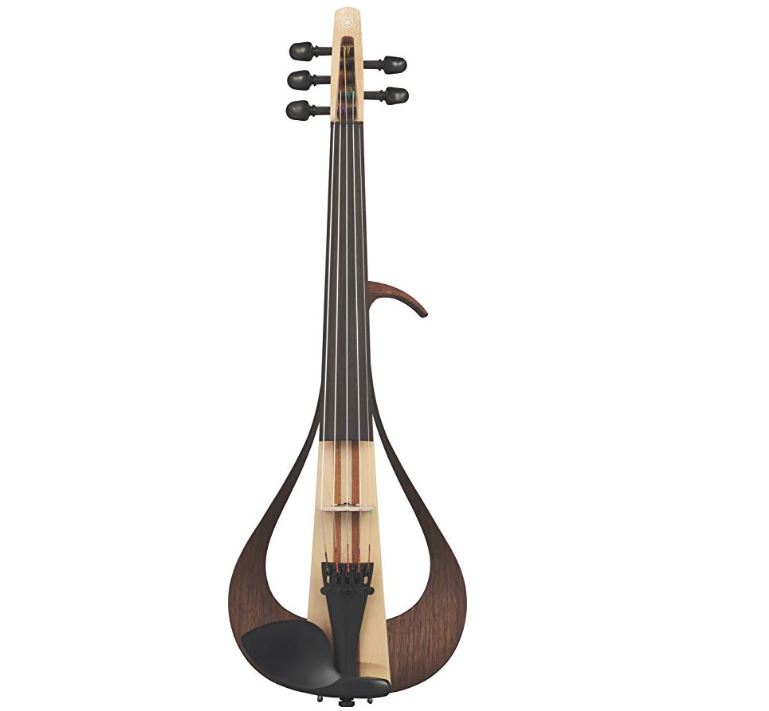 1. Yamaha Electric Violin-YEV105NT
The Yamaha Electric Violin-YEV105NT looks amazing and certainly stands out from the crowd. It uses multiple different woods to provide a unique look suitable for any use. The shape and size means this is a standout among electric violins but it also plays as good as it looks.
Yamaha uses high quality pickups which deliver a clean, crisp sound. Something most new owners remark upon immediately and grow to love more and more as they play. With five strings, this is a violin for practiced hands and it will reward that with amazing sound production.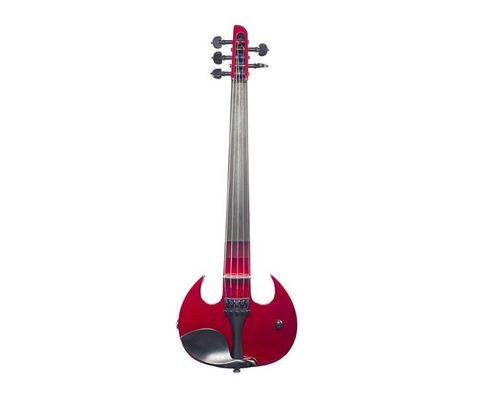 2. Wood Violins Stingray
The Wood Violins Stingray is exactly what we meant when we said an electric violin is ideal for cultivating an alternative persona for your music. This design blends the 'axe' style of electric guitars with the violin to produce a unique-looking instrument that lends itself well to vigorous play.
The construction is of a high quality and the violin comes pre-strung with decent quality strings. It includes a case but no bow. You can buy one separately or use your existing bow to play. It's a unique look that uses composite materials to great effect.
Best electric violins for beginners
The best electric violins for beginners balances low cost with good quality to deliver an accessible instrument that won't compromise the sound you can create.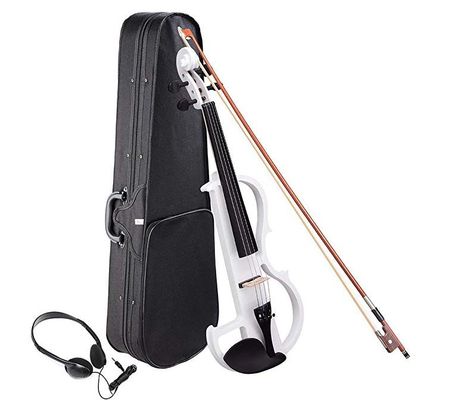 1. AW 4/4 Electric Violin
The AW 4/4 Electric Violin is ideal for beginners as it is cheap yet produces decent  sound. It isn't perfect, but for the money it's the ideal starting point for new violinists wanting to experiment. It's light, comfortable, well-built and comes with a case, bow and headphones.
The AW 4/4 Electric Violin also comes pre-strung but you might want to replace the strings for a better set like you would many of these in this list. Otherwise, sound production is good, build quality is good and it would be difficult to get better for this price.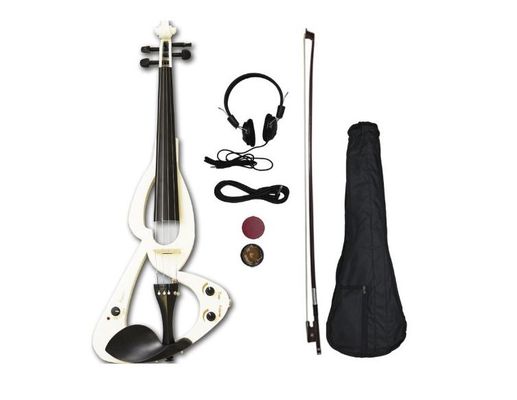 2. Crescent EV-WT
The Crescent EV-WT is another solid electric violin for beginners. You will need to change the strings but that's normal for violins in this price range. Once done, you have a quality violin ideal for those early stages of practice. The instrument is light, comfortable and relatively straightforward to find a comfortable position.
Materials are of a good quality with a wood neck and body, Brazilwood bow with horsehair and a decent pickup. The package also comes with a case, headphones and rosin. There is also an e-tuner included.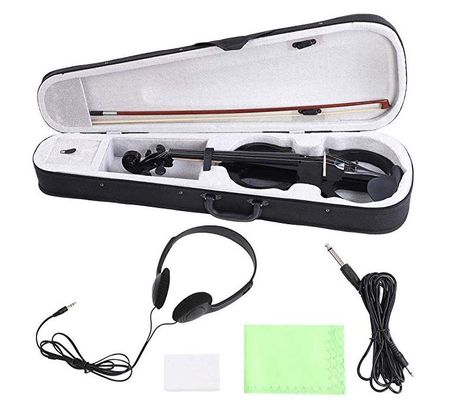 3. Cocoarm Maple Wood 4/4 Electric Violin
The Cocoarm Maple Wood 4/4 Electric Violin is another accessible violin that doesn't cost a lot but delivers quality performance. It's made mainly of maple and is painted and lacquered to a high sheen. With a comfortable fit, light weight and good quality pickups, this violin could easily cost twice as much.
The shape, size and weight are ideal for beginners as it fits right into the middle ground. It's a full size instrument with a reassuring quality, comes pre-strung with decent strings and is ready to go once you tune and play in. The kit comes with a bow, case, headphones, cable and rosin.
Best electric violins for performers
The best electric violin for performers will have good quality pickups and pre-amps to ensure the cleanest possible sound.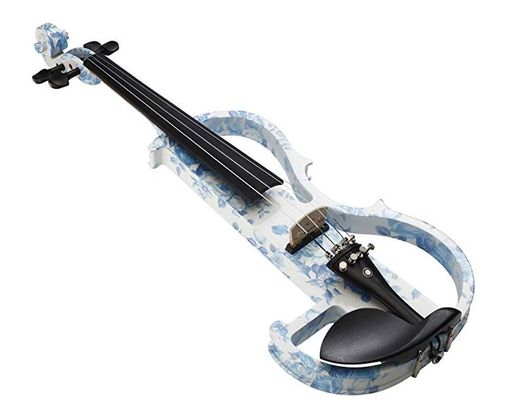 1. Kinglos 4/4 White Blue Flowers
The Kinglos 4/4 White Blue Flowers proves that you don't have to spend a fortune on a concert-ready electric violin. With a distinctive blue flowers design, quality wood construction using spruce and ebony, an excellent carbon fibre tailpiece and a VPU-300 active pickup, this is an excellent option for playing live.
Not only does this electric violin look amazing, it plays well too. Good quality strings, the active pickup does its job well and while not silent during practice, is quiet enough to work at home as well as on stage.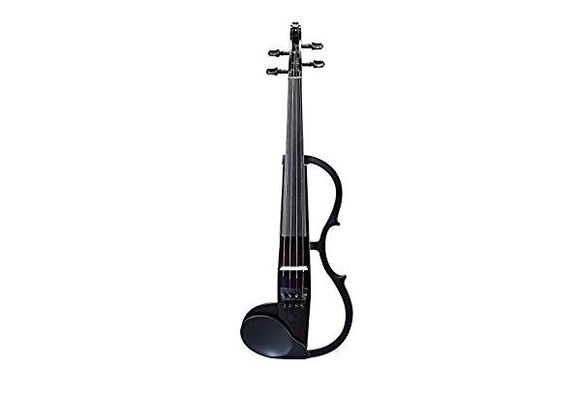 2. Yamaha Model SV-130SBL 'Concert Select'
The Yamaha Model SV-130SBL 'Concert Select' is at the other end of the scale. It's expensive but at the top of its game. Yamaha electric violins are some of the best you can buy and the SV-130SBL proves that beyond doubt. It has a spruce body, maple neck, ebony fingerboard and pets. It's a full size violin that is comfortable and light enough to hold forever.
With a Kun shoulder rest and decent strings, this electric violin is ready to perform. The package comes with batteries, bow, rosin, headphones and cable. All you need is to tune it, play it in and it's good to go.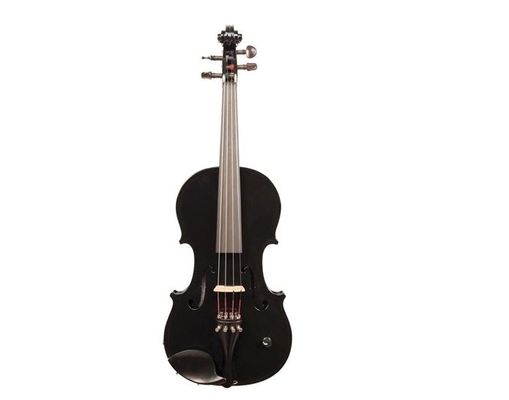 3. Barcus Berry 4 string violin BAR-AEBK
The Barcus Berry, 4-String Violin BAR-AEBK is a classic shape with a modern design. If you like Gibson aesthetics in a violin, this is the one to get. Hand crafted from maple and spruce with a top class Berry 1320 piezo violin pickup and quality strings, this is definitely a violin that wants to perform.
Barcus Berry is known for quality and this model doesn't disappoint. Materials and build quality are top notch, strings are pretty good, the bow is also quality and sound reproduction from the pickup is also worthy of note. Ideal if you're performing at a gig or concert. The kit comes with case, fibreglass bow and rosin.
What is an Electric Violin?
An electric violin is a modern interpretation of an acoustic classic. Rather than use strings that vibrate through a wooden body to create sound, an electric violin uses pickups and an amplifier to create sound. The range and tone can be exactly the same but the instrument design is no longer constrained by the need to create a sound chamber.
This is a reimagining of an instrument made famous for its signature sound, flowing solos and contribution to classical music across the world.
Electric violins also use the strings themselves to act as part of the pickup to generate its unique sound. Those pickups are very similar to those you will find in an electric guitar and work in exactly the same way.
Also like an electric guitar, the electric violin requires an amplifier to generate the sound. In fact, many electric violinists use versions of electric guitar amplifiers when playing.
Typically, electric violins will use harder materials in their construction as they do not influence the tone as much as an acoustic. They will have a solid wooden body or no body at all but retain the neck, chin and shoulder rest. The sound is influenced by the pickups and any sound production you add rather than the actual material. The sound is also much less influenced by the bow pressure, which is another difference between the two.
Different types of electric violin
As the instrument has progressed, different types have evolved.
From the standard electric violin has come the silent violin, acoustic-electric and five string violin. Each is slightly different as they evolved from a single source to specialise in a specific area.
1. Electric violin
The electric violin retains the basic look of an acoustic violin but is no longer constrained by the need to generate its own sound. The neck, bridge and strings retain similar dimensions to an acoustic but the body, pegbox and scroll can be any size, shape or design.
2. Silent violin
The silent violin is perfect for practicing. As a version of an electric violin, it requires an amplifier to generate sound. As violin practice is synonymous with annoying the neighbours or hurting one's ears, the silent violin is ideal. They are essentially electric violins with headphone jacks that you can use to practice without inconveniencing those around you. Played without an amplifier, silent violins are not actually silent but are very quiet.
3. Acoustic-electric violin
The acoustic-electric violin is a hybrid of the acoustic and the electric. The instrument still has pickups but also the traditional hollow body and neck of an acoustic. It can generate its own sound but can also be electronically amplified should the need arise.
4. Five string violin
A five string violin is exactly that. It's an electric violin with an extra string that adds a low C to increase the range. Acoustic violins don't have the ability to generate low C due to their size but there is no such limitation with an electric violin. These are not that common as they require a skilled violinist to play properly.
How to choose a good instrument for you
An electric violin is an excellent choice for both beginners or more experienced violinists. They have advantages over the acoustic violin that make them ideal for the modern world we live in. As long as you're not a dyed-in-the-wool traditionalist, an electric violin could be an integral part of your repertoire.
The main advantages of an electric violin are:
Quiet when not amplified
As we alluded to earlier, one of the main advantages of an electric violin is that it needs to be amplified to generate sound. Acoustic violins need special care when practicing and ideally require a soundproof studio or practice area. Those who practice at home with a traditional violin need very understanding neighbours!
There are no such limitations with an electric violin. Very little noise is generated when not connected to an amplifier. This makes them ideal for home use or practice outside the studio.
You can also connect them to an amplifier but keep the sound level at a minimum level such as not to disturb anybody. You can even use a silent disco kind of concept, where you plug in a pair of headphones, so you'll be the only one listening to your playing.
Easier to amplify
If you have ever played in an orchestra, you will already know how difficult it is for a sound engineer to accurately amplify an acoustic violin. Avoiding feedback and delivering the clean crisp notes of an acoustic violin takes skill and a lot of practice. As an electric violin uses the same technology as an electric guitar, it is much easier to work with.
It can be tuned and amplified in exactly the same way, using the same equipment and many of the same balance settings.
Modern look and feel
The acoustic violin is a lovely looking and sounding instrument. But it is from the 16th century and has all the baggage that comes with a traditional instrument. The electric violin has none of that.
While viewed as an upstart by staunch traditionalists, most musicians and music lovers can appreciate the electric violin adds something different and something new without taking away from tradition.
If you're playing newer music or have a persona like Vanessa-Mae, Ed Alleyne-Johnson, Caitlin De Ville or Jenny Bae, the electric violin is the perfect instrument.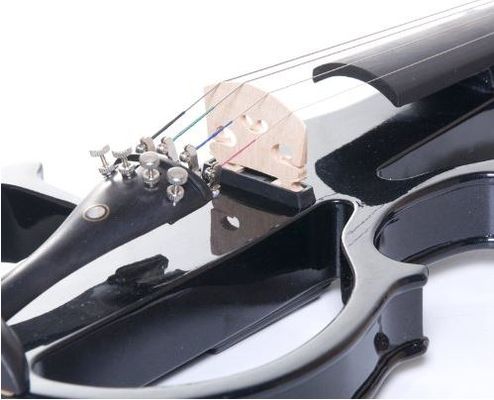 What to look for in an electric violin
If you're serious about taking up the violin, you will need an instrument you're comfortable using and that is pleasing to your eye and ear. To become an accomplished violinist, you're going to be spending a lot of time with it so you need to buy the right one!
There are four main criteria you should look at when buying an electric violin, build quality, ergonomics, electronics and tone. Let's take a look at each of those.
Build quality
Buy cheap, buy twice. It's a popular saying but it's popular for a reason. Because it's true. You are going to be holding and playing your electric violin for hours every day and you want it to be able to withstand many thousands of hours of practice without falling to pieces or becoming difficult to play or tune.
Entry level electric violins are a great way to get into the world of the violin but you need to be prepared to invest in your instrument. The very cheapest electric violins find it difficult to hold tune which will significantly impact your progress in those early years.
If you're a more experienced violinist then your ear will detect when the violin goes out of tune and can adjust. If you're a beginner, that isn't necessarily true and will impact your progress. It sounds like a minor thing but if you have ever heard a violin played out of tune, you will quickly realise that tuning is an essential part of owning and playing one.
Finally, build quality will also reflect how well the violin stands up to constant play. Wear on the chinrest, wear on the neck and wear on the pickup can also impact play. General construction quality will can also impact your enjoyment of the experience as a whole.
Typically, a beginner can get away with buying used or cheap instruments until they find their unicorn. In the case of buying an electric violin, it is much better to invest a little more as you will benefit many times over from that extra investment!
Ergonomics
Given how the electric violin is played, ergonomics is more important here than on many other instruments. The body design can come in all shapes and sizes but the instrument must be light, comfortable to hold, to brace with the chin and to hold position for many hours at a time. Ergonomics is something that must not be overlooked.
Things to look out for with electric violin designs is an adjustable shoulder rest so the instrument can fit comfortably. An adjustable or comfortable chin rest so you can brace the violin ready for play. Some kind of design element that stops the left hand when playing upper positions would be useful too. You would be amazed at how many cheaper electric violins don't have that!
Weight is also an issue with a violin. It is a supported instrument that requires a position that isn't natural to begin with. The lighter the violin in those early days, the more likely you are to be able to hold it for longer during practice.
The electric violin has total design freedom as long as the basics are in proportion, yet some are much lighter than others. As a beginner, it is much better to go lighter until you're accomplished. Your body will get used to the position and you can gradually increase the weight of your electric violin once the position becomes second nature.
Electronics
An electric violin uses pickups to collect the sound and a pre-amp to amplify the signal ready to send to the amplifier. The quality of these two components can drastically impact the quality of the sound generated. The pre-amp will require a battery to run, which adds a little weight. Some electric violins don't include a pre-amp so will be lighter but will require an external pre-amp.
The quality of the pickup influences the quality of the sound generated. The very cheap electric violins will use very cheap pickups. These are fine for practice if you're experienced, but if you begin performing you will want to improve the quality of the pickup. Poor quality pickups will also pick up interference and noise alongside the string note which will be amplified during the performance. When on stage or when amplifying your sound to a high degree, you require the cleanest possible sound. Therefore, you need a higher quality pickup.
The pre-amp also plays a part in sound quality as it takes all the input from the pickup and sends it to the amplifier. If you have a perfectly clean sound coming from a good quality pickup and a cheap pre-amp, the pre-amp can dirty the sound before being sent to the amplifier.
Cheap is fine for practice but more expensive will be required for performance.
Tone
Electric violins can be tuned to produce all kinds of sounds and with the right mixer it can include reverb or special effects. However, the core tone is an essential component of how comfortable you feel when playing it. We all like different tones, clean, dirty, bright, dark, neutral, natural, acoustic sounding and so on. You will find you naturally gravitate between one or more of these tones as you learn the instrument.
Tone is less important as a beginner as you have yet to develop your ear. As you progress and learn more about your instrument, tone becomes increasingly important and will impact your personal style of play.
So far in our buying guide, we have stuck to the violin itself but that is only part of choosing an instrument. We also need to consider price, purpose and feel.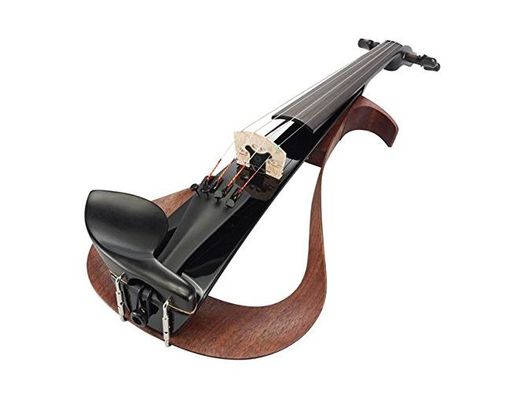 Price
Price is the usual limiting factor when making purchasing decisions. After all, if it wasn't, we would all buy the very best of everything. The usual advice here is to buy the best you can afford. If you're a beginner, buying the cheapest possible electric violin could do your music a disservice. Buy something too expensive and you may lose money if you decide the violin isn't for you.
We would suggest checking out our best electric violins for beginners if you're starting out. We feature some very good, cheap instruments that don't cost all that much but still deliver a quality experience.
If you're further along in your career, you're going to want to invest in the right design and fit and the tone that matches your ear. This is very subjective so there is no price point that will deliver the right violin. It will be a matter of trial and error until you find the perfect fit.
Purpose
As you are learning, not all violins are created equal. Some models are ideal for practice, others can work in practice and on stage while others work best in an orchestra rather than soloing. Much comes down to the tone, quality and intent. That's why we have put together the different categories of violin. The best electric violin for general use, for beginners, best silent violins, best acoustic-electric, best for performance and so on.
This should give you a good idea of what you need or want and what particular types lend themselves to best.
Feel
Feel is another intangible and something nobody can tell you what's best. Each make and model of electric violin will have a different size, weight and feel and you have to buy something you're comfortable with. You will just need to try each model you like the look of to find that perfect fit.
After all, you're going to be spending many hundreds of hours together so your violin must feel comfortable, fit as best it can and sound beautiful, even if only to your own ears!
Frequently Asked Questions
If you're new to the electric violin, you will find a deep and fascinating subject to get to grips with. Here are some common questions we hear around the subject and our typical answers to them:
Can an electric violin be played acoustically?
You cannot play a pure electric violin acoustically. It uses a pickup to generate sound which requires a pre-amp and an amplifier to hear. An acoustic-electric blends the two and can be played acoustically but that's a different type of violin altogether.
Is electric violin easier to learn?
As far as most students and teachers tell us, the electric violin is not harder or easier to learn, it's just different. There may be an initial hurdle to overcome in terms of accurate reproduction but if you buy a good quality electric violin, this should not prove an issue.
The popular belief is that it is better to learn on an acoustic violin as it demands perfect bow technique to generate good sound. The tone from acoustic violins is influenced by bow pressure whereas electric violins are not. Starting with an electric violin means you may not learn perfect bow technique which could leave you working hard to perfect that technique later rather than earlier.
Acoustic also demands you work on tonal quality which is another core skill of a violinist. This is often regarded as the best grounding as you learn perfect technique before moving on to electric. Electric violins are more forgiving than acoustic so you can get away with less refined technique. Depending on where you want to take your performance, that can be regarded as a downside.
How much is an electric violin?
You can buy electric violins very cheap but we wouldn't recommend it. In our list of the best electric violins for beginners, we select a few cheaper instruments out of a sea of many. They stand out because of their build quality and the quality of the pickups and the sound they reproduce. 
Many cheaper violins just don't deliver the sound quality you look for in an instrument. You can pay as little as you like for an electric violin but you really do get what you pay for!
Which is the best electric violin?
There is no 'best' electric violin. We all want different things from our instruments and will require them to perform in different situations. There is currently no violin that outperforms others in every situation. You also have to consider fit and design. The market is full of different shapes, colours and designs and there is not one single model that satisfies everyone.
The best instrument is the one you like best. The one that fits comfortably into position, is light enough to hold for hours on end and that produces the quality of sound you're looking for. That will take some work to identify but the payoff with be enormous.
What else will I need to play my electric violin?
To play an electric violin you will need the violin, a bow, a lead to connect it to the amplifier or headphones for practice. You will also need a case to keep it safe and some rosin to keep the bowstring healthy. You may optionally require a tuner, spare strings and a shoulder rest.
Electric violins will need an amplifier to produce sound. The acoustic-electric violin can product its own sound but the other types will need to be amplified. The violin kits we feature include cases bows, rosin, leads and headphones but none include that amp. If you buy a standalone violin, you may need to buy a bow, case, rosin and those leads and amp.
If you're buying a silent violin for practice, you will only need headphones and not a lead or amp. Those are only necessary for playing without headphones.
Is a silent violin really silent?
Silent violins are ideal for practicing at home or in areas without soundproofing. However, not all of them are truly silent. In fact, few are silent at all. They are called silent because compared to an acoustic violin they are extremely quiet but they do produce a small amount of sound.
Fortunately, that sound is at a frequency that doesn't travel too far. If you're practicing in a room, you could close the door and nobody outside would hear you practicing with a good quality silent violin. The three models we feature in this piece all produce a small amount of sound that becomes inaudible within a couple of metres or behind a closed door.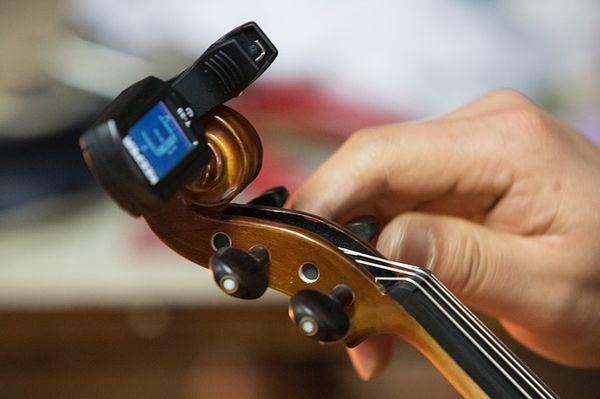 Conclusion
As you can see, the world of the electric violin is as varied as the models you can buy. It can seem daunting at first as there is a lot to learn. Like everything, with some research and a good teacher, you can begin grasping the fundamentals and build your experience from there.
While not aimed at beginners, or recommended for them, there is absolutely nothing stopping you from starting your music career with an electric violin. Hopefully, with this page and the our 15 best electric violins for any budget, you have a good idea of the types of instrument that are out there at each price point and whether they lend themselves, or not, to your style of play.
Latest posts by Sakari Oramo
(see all)