Which Baritone Saxophone to Choose? 9 Best Options
---
Are you looking to learn the lowest of the four popular saxophones? You should learn which baritone saxophone is best for you.
Of course, you may have other questions, like what key is a baritone sax in? Learning about bari saxes can help you narrow your search to the best model for you.
Read on to learn about some great models and to help make your choice.
9 of the Best Baritone Saxophones to Buy New
When you're looking to buy a baritone instrument, a new sax can be an excellent choice. You can get a lot of use out of the sax. Like the rest of the family of saxophones, baritone saxophones come from different brands and various levels.
Consider the following bari saxes to help decide which is the best for you.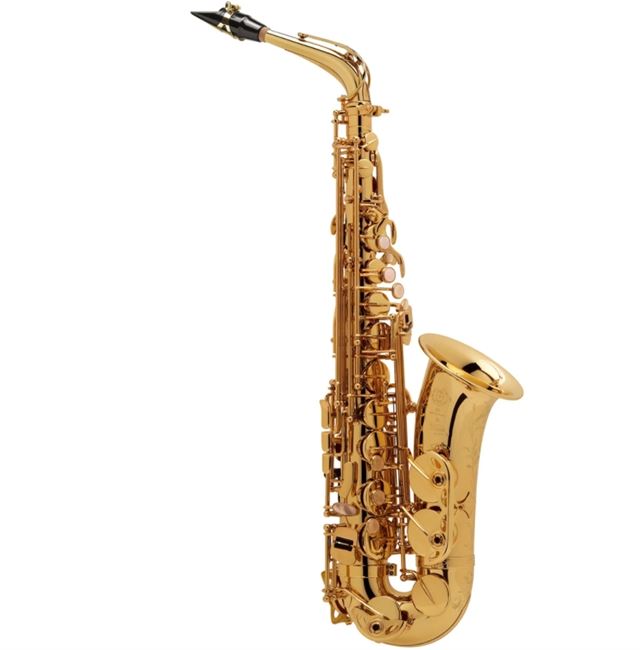 Rating: 4.9/5
The Selmer Paris Super Action 80 Series II baritone sax offers a mellow yet warm sound, which is great on a bari. You can get that sound consistently over the entire baritone saxophone range, so you don't have to work too hard for any particular note. There also isn't a break between low and high notes.
This model offers multiple finish options, including lacquer, black, brushed, and silver-plated. It has a low A key and a high F# key to help you play almost anything. The leather pads seal well, and the blue steel needle springs help the keys open and close.
You'll also receive a mouthpiece, so all you need to play is a good reed. The thumb rest is adjustable, so you can get the most comfortable position for you. Everything comes in a protective case that you can use for storage or travel to protect your instrument.
Pros
Multiple finish options

Broad range

Consistent tone

Easy to play

Adjustable thumb rest
Cons
Can be hard to find to purchase

A bit expensive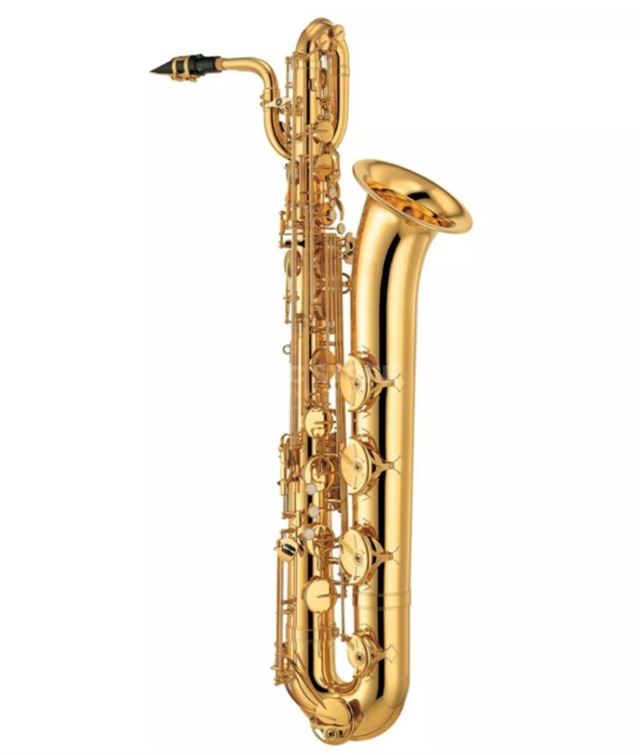 If you want to try a baritone instrument without getting a professional model, the Yamaha YBS-32E may be for you. The model features both a low A and a high F# key, so you can take advantage of the full range of the bari sax. (You can check out here some more Yamaha Saxophone models)
It's an excellent option for intermediate saxophone players who need a baritone. The gold lacquer finish looks great and helps you get the best possible sound. To help you get that sound, you can adjust the thumb hook so that it's comfortable for you.
This model shares a lot of the same design as the professional Yamaha saxophones. However, you don't need to spend as much to get this instrument. One of the best features is the octave key, which has a unique design to make switching between registers smooth and easy.
Pros
Professional design

Wide playing range

Comfortable to play

Easy to switch octaves

Suitable for players new to the bari sax
Cons
Not common in the US

Somewhat costly
3. Best for Intermediate Players:

Yamaha YBS-480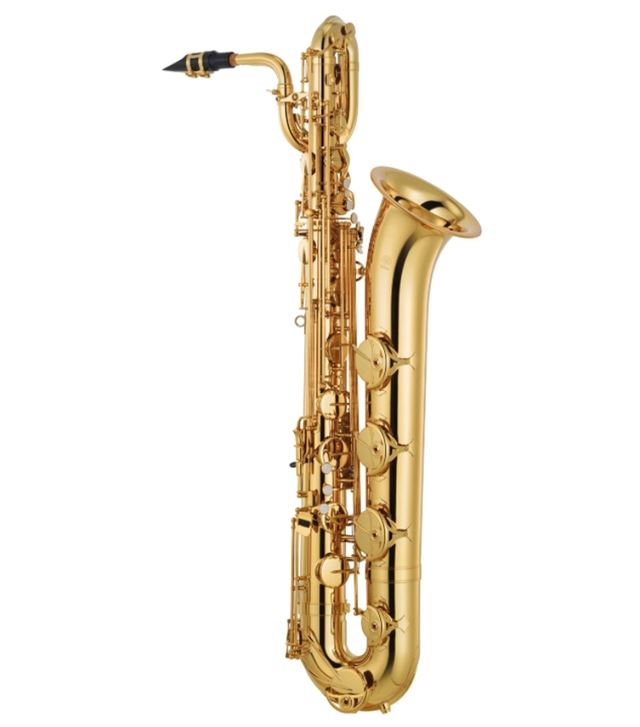 Rating: 4.8/5
The Yamaha YBS-480 is quite similar to the 32 as it's another intermediate model. It features some upgrades to the neck, bore, key layout, and bell to help you get a great sound. Keys on the saxophone are perfect for players who don't have the largest hands. You can play fast without the keys slowing you down.
It has a shorter bell that can help keep you in tune as you play the low register. Meanwhile, the bore and neck make this horn sound like a professional model. That makes this an option for the best baritone saxophone for serious players.
While it's not exactly cheap, it's a good value for what you get. You can get a lot of use out of it, so you may get your money's worth after a few years of playing it. Plus, you get to choose between silver plating or gold lacquer to get the sound and appearance you desire.
Pros
Good intonation

Similar to professional instruments

Fantastic value

Different finishes available

Comfortable key layout
Cons
Not for absolute beginners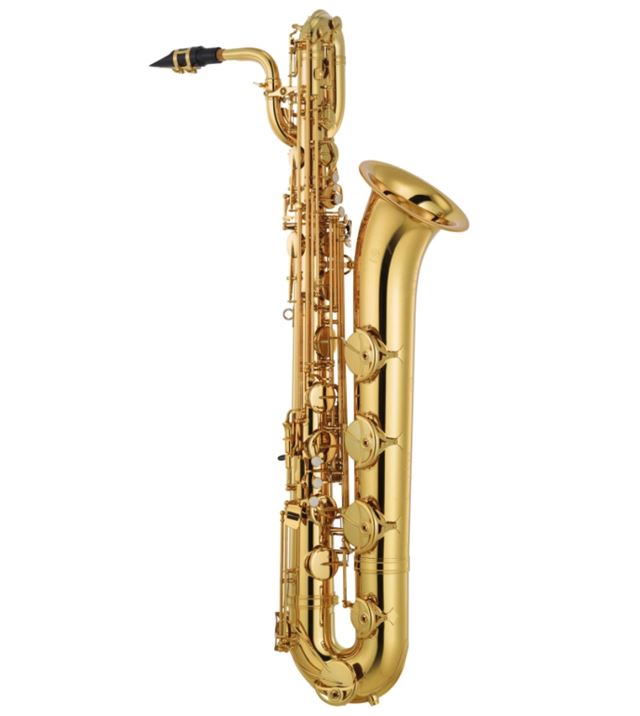 Rating: 4.8/5
If you're ready for a professional model, consider the Yamaha YBS-62II. This saxophone is a baritone option that can round out your Yamaha 62 collection. It's very similar to the 62 models in alto and tenor sizes, so it can be a good option if you like those instruments.
The model is a redesign of the YBS-62, and improvements include better intonation and more ergonomic features. It features a peg receiver, so you can stabilize the baritone sax on the floor or with a harness or neck strap. The finger spread is comfortable, so you don't need large hands to play this instrument.
You can play as low as a low A or as high as the high F#, which covers most baritone saxophone parts. The short bell helps you get good intonation throughout that range. Everything comes in a hard case with wheels, so you can easily transport the instrument.
Pros
Perfect for professionals

Doesn't require a massive reach

Multiple ways to support the sax

Fantastic intonation

Comes in a hard case with wheels
Cons
Expensive

Not for new players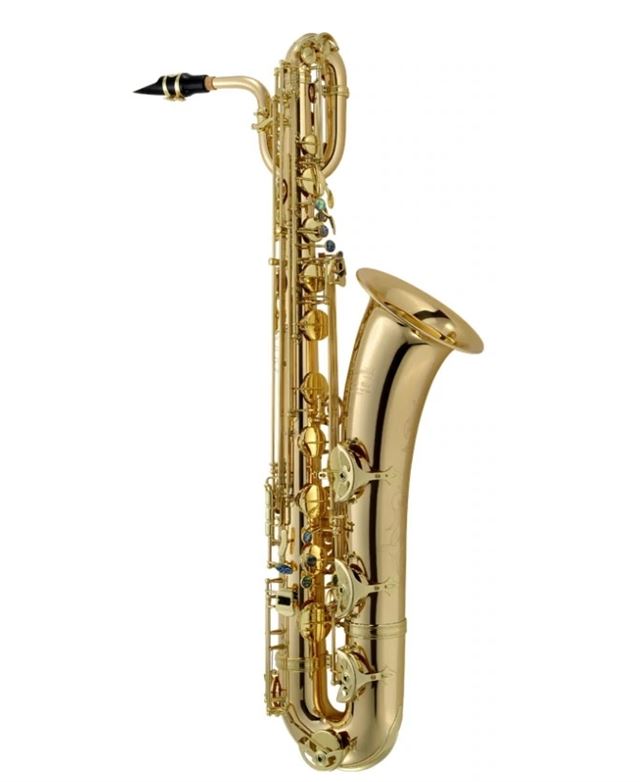 Rating: 4.6/5
Another excellent professional bari sax to try is the P. Mauriat PMB-302. It only goes down to a low Bb, so you can't play music with a low A. However, a lack of that key makes this model less heavy and so better for people with trouble holding a lot of weight.
You can still get a clear sound that's easy to project over a big ensemble. The shorter bell makes it easier to stay in tune throughout the baritone sax range. It also comes with a gold lacquer or no lacquer at all to help you get the sound you want.
Soloists will love the round sound that you can get with this horn. The key touches use abalone, which looks and feels great under your fingers. It works well when playing a variety of genres, from jazz to rock and more.
Pros
Versatile

Warm sound

Perfect for soloists

Lightweight

Unlacquered option
Cons
No low A key

Not great for students
6. Best for a Small Budget:

Elkhart SXB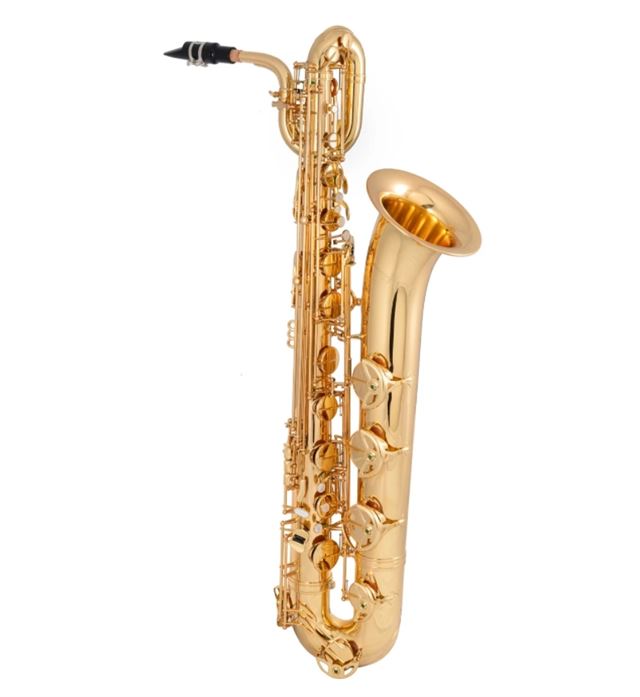 Rating: 4.6/5
The Elkhart SXB is an excellent model for any current or aspiring baritone saxophone player on a tight budget. It's fantastic for students who want to test the baritone. You get just enough features to learn how to manage the larger saxophone, and it even has a low A key.
If you have some experience on the baritone, this model is great to have on hand. It works well as a backup if you need to send your main horn out for service. You can also use this horn when traveling to avoid damage to a more expensive instrument.
Professionals set up the instrument so that it's ready for you to test and play. You'll even receive a mouthpiece, so you just need to get a reed to perform on the sax. As you play, you can get a reliable tone from the lowest to the highest notes.
Pros
Perfect for students

Affordable

Great as a backup

Reliable playing

Decent range
Cons
Not the best for professionals
Rating: 4/8/5
Moving back to the intermediate range, the Jupiter JBS1000 is an amazing baritone saxophone. Its brass body features gold lacquer that looks great and offers a warm tone. The scale is accurate and easy to play throughout the bari sax range.
You can adjust the height of the palm keys to play comfortably. That way, you don't have to strain your hands to press the keys down. It comes with a floor peg to help support the instrument, but you can also use it with a neck strap or harness.
This model is durable and is great for players who need to take it a lot of places. You can use it to improve your playing as a soloist or part of a group. It's still somewhat expensive, but it's not as costly as similar models.
Pros
Adjustable keys

Floor peg support

Great for solo and group playing

Warm sound

Great for intermediate musicians
Cons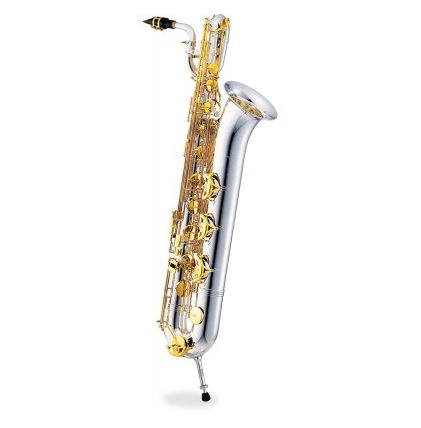 Rating: 4.8/5
The performance level Jupiter JBS1100SG is another fantastic model to try. It features a silver-plated neck and body to help you get a bright, projecting tone. Meanwhile, Jupiter's special annealing process helps keep the tone dark like other baritone saxophones.
There are also metal tone boosters that support the sound and help seal each baritone saxophone key. That way, you don't have to press the keys too hard to get a good sound, and you can keep the tone consistent throughout the range.
This model has a range from low A to high F#, and the left-hand pinky keys are easy to move between to help you in the low register. You can use this saxophone as an intermediate or advanced player, and it can help you get better at the instrument.
Pros
Bright yet dark tones

Easy to use the left-hand pinky keys

Consistent sound

Good for advanced players

Nice seal on the keys
Cons
Somewhat expensive

Not for beginners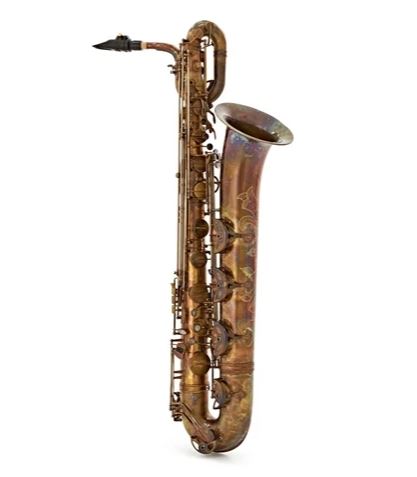 Rating: 4.7/5
The Conn-Selmer Premiere PBS-380V is another fantastic baritone sax. You can get an even sound from the low to high end, and it sounds great around the break. It comes set up by professionals, so you know it will work well.
This model projects well over an ensemble and sounds good on its own. A full tone helps you get that projection without having to work too hard. The key design helps make it easy to play fast passages comfortably, which can help intermediate players improve their skills.
You'll also get a mouthpiece and ligature with this saxophone. All you need to make it playable is to choose a reed, so you can choose the best brand and strength for your needs. The vintage look is amazing, so you may get lots of compliments, but it's a new model.
Pros
Fantastic projection

Good key design

Comes with a mouthpiece and ligature

Nice for intermediate players

Even sound
Cons
Where to Buy Used Baritone Saxophones
While a new instrument can be great, you may want to buy a used baritone saxophone. You can find used baritone saxophones for sale on Craigslist, eBay, and Facebook Market. If you have a sax teacher or school in your area, they may also have instruments for sale.
Another option is to look at a music store that offers consignment. Then, you can get a good instrument without paying the full price.
5 Famous Baritone Saxophone Players
After you select the best baritone saxophone for you, you may want to listen to some players for inspiration. Check out the following bari sax players to help improve your skills.
1. Gerry Mulligan
Gerry Mulligan was a bandleader, composer, arranger, and baritone saxophonist. He worked with Miles Davis, Chet Baker, and others. You can listen to plenty of his recordings from the Library of Congress.
2. Pepper Adams
Another famous bari sax player to listen to is Pepper Adams. He had a massive discography that spanned multiple decades. Adams worked with various other jazz musicians as he made a name for himself as a saxophonist.
3. Cecil Payne
Cecil Payne also recorded and performed a lot during his life. His claim to fame happened in the bebop era, and he played with musicians like Dizzy Gillespie. The saxophonist didn't stop playing until the very end of his life.
4. John Surman
John Surman continues to play the baritone saxophone to this day. After a decades-long career, he shows no signs of stopping. He's an excellent inspiration if you want to learn from a musician currently working.
5. Claire Daly
Another living bari sax player to check out is Claire Daly. She's won multiple awards during her career and has performed with Aretha Franklin, James Brown, and others. Daly is an excellent inspiration for women who want to play the bari sax.
Baritone Saxophone Mouthpieces
While many of the best baritone saxophones come with mouthpieces, some may not. And even if they do, you may want to get something that better suits your needs.
Here are a few mouthpieces to consider.
The Selmer Paris S80 uses hard rubber to produce consistency between mouthpieces. It's an excellent model for jazz and classical music. You can use it with a Selmer Paris sax or any other brand.
If you like jazz music, you should try an SYOS mouthpiece. The company works with artists to design mouthpieces that suit their specific styles. So if you like a specific player, you can buy the right mouthpiece to help emulate their sound.
The Vandoren B7 V16 is another versatile bari sax mouthpiece. You can choose between sub-models to get the best sound for you. This mouthpiece works best with Vandoren reeds.
A lot of baritone saxophone mouthpieces are rubber, but the Otto Link Metal mouthpiece is a good alternative. It can help you get a unique tone, and it's perfect for jazz. You can choose the right size for you and your instrument.
The Jody Jazz HR* mouthpiece is another option for jazz musicians. It uses hard rubber and features a round chamber to help the air vibrate. You can use it in a jazz band or as a soloist to get a great sound.
Playing the Baritone Saxophone
As you shop for the best baritone saxophone, think about playing it. A lot of players will use a harness and sit to help take the weight off of them.
You should also know, what key is the baritone saxophone in? It's in the key of Eb, so it sounds an octave and a major sixth lower than written. Like other saxophones, it uses the treble clef and has the same written range as the alto or tenor sax.
Baritone Saxophone FAQs
If you're looking for a baritone sax, you may still have a few questions. Here are your answers.
How Tall Is a Baritone Saxophone?
The baritone saxophone stands at about four feet tall. However, the tubing is about 7.2 feet long if you spread it out straight. Luckily, the curve makes it easier to play.
How Heavy Is a Baritone Saxophone?
Baritone saxophones can weigh anywhere from 11 to 20 pounds. The specific weight depends on the materials and if the saxophone goes to a low A or Bb.
How Much Does a Baritone Saxophone Cost?
Baritone saxophones can cost as little as $3,000 or even less for a cheap model. On the other end, they can cost more than $16,000, but most players don't need to spend that much.
Wrapping Up
If you've played the alto or tenor sax, you may have thought about learning the baritone saxophone as well. Doing so can give you a lot more opportunities to play music, but you need a good instrument.
Check out some of our recommendations. Then, you can get a baritone sax that fits your needs and is within your budget.
Latest posts by Sakari Oramo
(see all)