Best 9 Roland Electronic Drums Sets
---
Roland is the number-one name in electronic drums, which is why we've rounded up the best Roland electroni drum sets with their pros and cons. Roland have been manufacturing electronic drums for decades, (in fact, did you know that the first electronic drum was created in the early 1970s by Graeme Edge, drummer of The Moody Blues, in collaboration with Sussex University Professor Brian Groves?), and have varieties to meet every experience level, situation, and budget.
With so many options available to you, though, it can be tough to know what the best fit is. Well, don't worry!
We're here to talk you through some Roland drum kits and help you figure out what's best for you. As an orchestra conductor, it is my duty to know the ins and outs of every musical instrument, and I am here to share this knowledge with you, so that you can make a choice of instrument that is right for you.
Read on to learn about different features that make particular electronic drum sets better fits for unique audiences. No matter what, though, there's sure to be a Roland electric drum kit that's perfect for you!
What's the Best Overall Roland Electronic Drum Set?
| | |
| --- | --- |
| Product | Overall Rating |
| Roland TD-50KV2 | Best Overall |
| Roland TD-1DMK | Best for Beginners |
| Roland TD-1K | Best Basic Kit |
| Roland TD-07KV | Best Value |
| Roland TD-1KPX2 | Best Compact Kit |
| Roland TD-17KVX | Best Features |
| Roland TD-27KV | Best Sound |
| Roland TD-50KV | Best for Customization |
| Roland V-Drums Acoustic Design VAD506 | Best Kit for a Real Feel |
As you can see, Roland offers a wide variety of electronic drum sets. Some of these are aimed at beginners and some at experts, so how do you know what's the best Roland build? There are also varieties geared more toward different types of music and various price points. The good news is that all these options are of excellent quality, and there's a perfect fit for you somewhere in there.
Where to Order a Roland Electronic Drum Set
Because it is such a well-known brand, electronic drum sets by Roland are available all over the place. Let's look at just a couple of options at where you might find Roland drums for sale:
Amazon
Many Roland drum sets are available for purchase on Amazon. If you know what you want, it's a great option because their prices are competitive, and their Prime shipping helps you save some cash.
On the other hand, you won't have the chance to test any electronic drum sets out. Amazon also lacks a lot of the service and warranty options that you might find elsewhere.
Guitar Center
Guitar Center is one of the biggest music supply stores around, and fortunately for you, they offer way more than just guitars.
Roland is prominently featured at Guitar Center, so they'll almost definitely have what you need. Guitar Center also has a lot of store locations, so you can even go and test some Roland sets out before you buy. You can even pick up your Roland electronic drum set at the store!
9 Best Roland Electronic Drum Sets
Best Overall: Roland TD-50KV2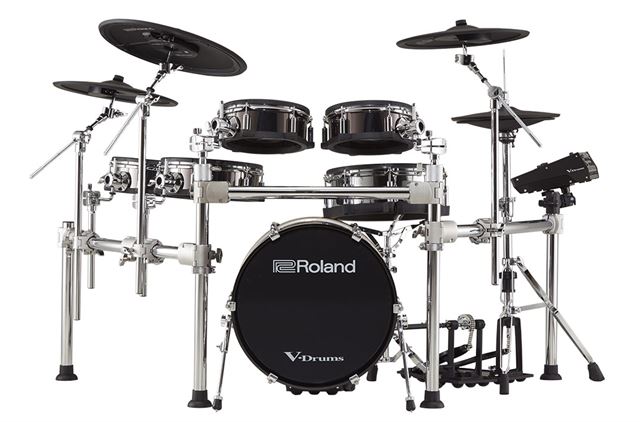 Take all the high points of the TD-50KV and apply them to this newly-released version. Want some more good news? With this release, the best gets even better.
The bass drum, crash pad, and hi-hat pads are all new and improve the original model. In addition, the stand (especially for your tom drums) has been redesigned for ease of use. All this means that you can space your electronic drum set just like an acoustic one. In addition, the Roland V-Drum module was updated with new presets and instruments.
Other than that, you're still getting some of the best-feeling and playing electronic drums money can buy. Your wallet will definitely feel this purchase, but you can rest a little easier knowing that you're purchasing a premium set that will grow with your skills and last for years.
Pros
Best of the best
Real feel and sound
Endlessly customizable
Cons
Best for Beginners: Roland TD-1DMK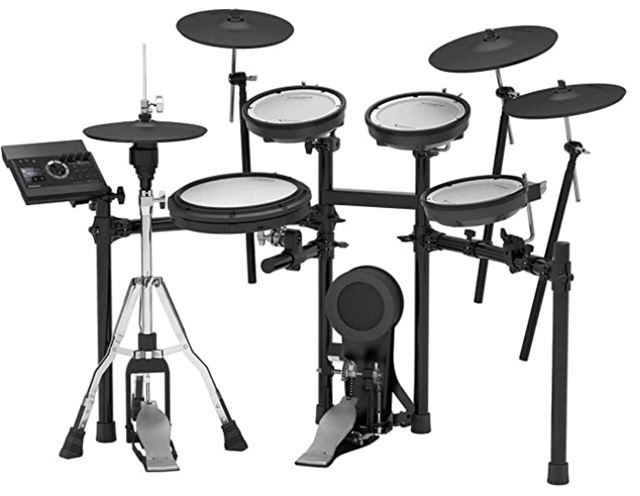 If you're looking for a great starter Roland electronic drum set, look no further than the TD-1DMK. This is a terrific kit for those starting out or those looking to pick drums back up.
The TD-1DMK is compact, so you can put it in a corner and move it around quickly. It's built to take on even the most potent drummer, so don't worry about wearing it out. If you're in an apartment or smaller area, you can put on headphones to dampen out the sound.
The TD-1DMK offers a learning coach to help you get going, and the built-in metronome is excellent for even the most experienced drummer.
The kit does offer programmable options, but not as many as some of its higher-priced cousins. By any measure, though, the TD-1DMK is a fantastic all-around electronic drum set.
Pros
Reasonably priced
Built-in learning coach and metronome
Built to take a beating
Cons
Not as many programmable options as other Roland sets
Best Basic Kit: Roland TD-1K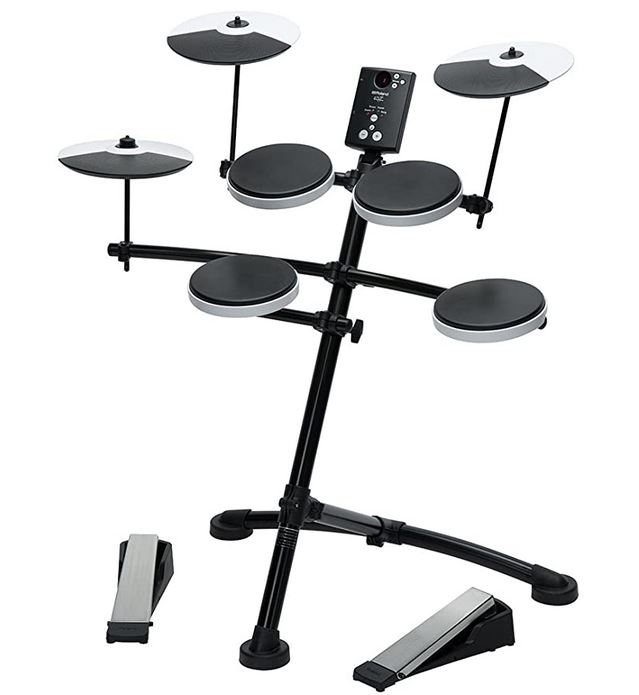 The TD-1K is an excellent offering for the drummer starting out on their musical journey. It's small, lightweight, and doesn't provide anything but the essentials.
Coming with pads for a snare, two toms, a floor tom, two cymbals, a hi-hat, and pedals, the TD-1K is a perfect starter kit. An onboard trainer is included to help you with timing and rhythm, and this kit is small enough to fit into any corner.
However, it lacks some of the more remarkable features of higher-end models. For example, the pads are all rubber, not the more realistic mesh that other kits provide. In addition, you don't have a lot of different ways to reconfigure the pads. The Roland drum module is also pretty basic, although it works well.
Know what you're getting into with the TD-1K, but if you want something functional and straightforward, it's an excellent fit.
Pros
Very affordable
Lightweight
Included trainer
Cons
Rubber pads lack the feel of mesh heads
Limited ability to customize
Best Value: Roland TD-07KV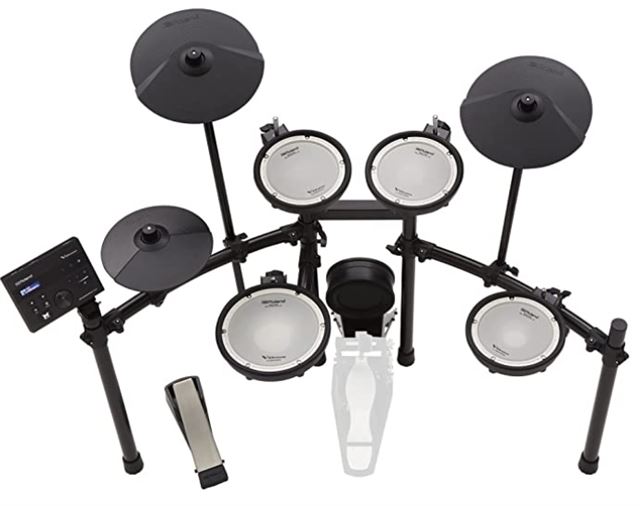 If you have a little more money to spend, the Roland TD-07KV is a great electronic drum kit. It comes with a pretty standard setup, but the mesh heads are a great stand-in for real drum heads. What that means for you is that it's a pretty straightforward transition from moving from the TD-07KV over to a standard drum set.
The TK-07KV also offers dual-zone cymbals, allowing you to play different tones and distinguish between a tap and a hard hit. In addition, the kit is easily programmable for different styles. It even has Bluetooth connectivity, so you can stream songs to play along with from your phone or another mobile device.
If there's one negative to the TK-07KV, it's that the heads are a bit smaller than other kits from Roland and other manufacturers. For new players that aren't used to finding the sweet spot, that may be a bit frustrating to start with.
Pros
Great value for money
Mesh heads feel like real drum heads
Dual-zone cymbals
Bluetooth connectivity
Cons
Pads may feel a little small for some
Best Compact Kit: Roland TD-1KPX2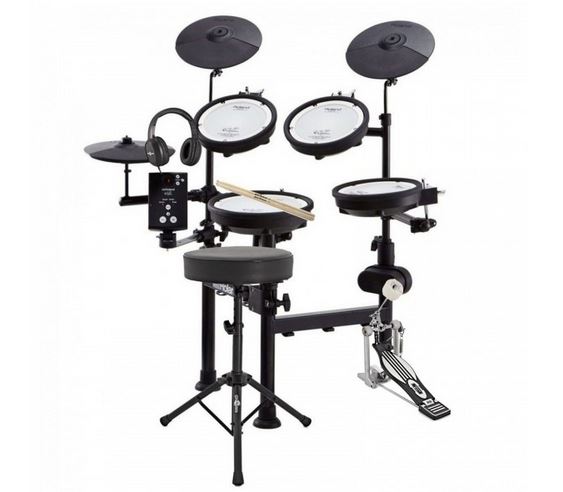 Are you limited on space? Roland has you covered with the TD-1KPX2. One of the most incredible features of this electronic drum set is that it can fold down to about half of its full size. So when you're not practicing, you can fold this up and put it in a closet or a corner and not have to dedicate ample space to your drum kit.
This is a compact kit, meaning it doesn't quite replicate a full drum kit setup, but it has everything you need to practice and play. Fifteen pre-programmed kits are a mix of live, studio, and percussion modes. It's not the most expansive selection you'll find on the market, but it is straightforward to set up.
Because this is a kit aimed early at drummers just starting, this lacks some premium features, but the strong points make the TD-1KPX2 a kit worth checking out if you can.
Pros
Foldable and compact
Coaching features are great for beginners
Simple, intuitive setup
Cons
It doesn't come with all the bells and whistles of higher-end models
Best Features: Roland TD-17KVX
For those with some money to spend on an electronic drum set, Roland's TD-17KVX is an excellent option. It's a kit full of options that any serious drummer is sure to love.
First of all, the TD-17KVX puts out great and super-realistic sound. It's fitted with mesh heads designed to match what you'd see on a conventional kit, meaning these feel great and are incredibly durable.
On the technology end, Roland's made it simple to bring your own samples into the kit. Just load them onto a standard SD card, plug them into the kit, and you're most of the way there. The TD-17KVX also has tons of pre-programmed options to get you going. Of course, the built-in Bluetooth connectivity is just the icing on the cake.
The one downside is that this kit pushes more toward the expensive end of things. It's maybe not your first electronic drum set, but if you're looking for an upgrade? This one's well worth your time.
Pros
Full of features
Realistic mesh heads
Import your own samples
Bluetooth connectivity
Cons
Pricey
Better suited to an intermediate player than a beginner
Best Sound: Roland TD-27KV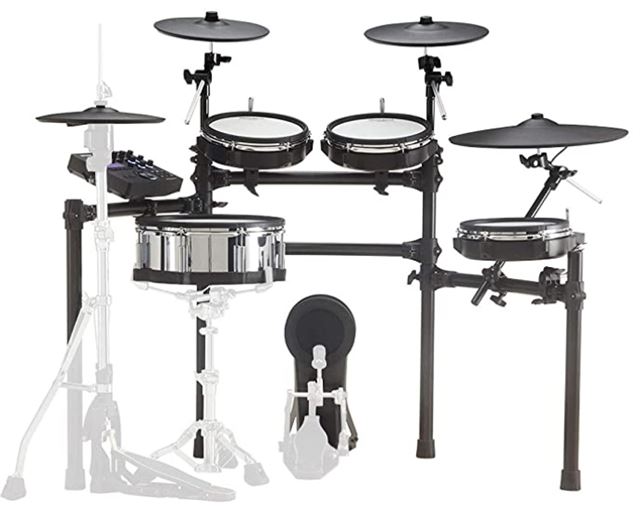 The TD-27KV is in the middle tier of Roland's electronic drum set offerings, but the quality that you get feels anything but middle of the road.
This kit is the first we've talked about to feature two technologies: Prismatic Sound Modelling and PureAcoustic Ambience Technology. Yes, they're fancy marketing terms, but when you break them down, it means you're getting an electronic drum set that feels and plays just like a standard kit.
It's a very sturdy drum set as well, so you don't need to worry about breaking the heads or playing too hard, especially on the cymbal pads.
The one potential negative with the TD-27KV is that it's pricey. If you have the chance to try in person before you commit, that's a great idea. If you pick this one up, though, you're going to love it.
Pros
More realistic sounds
Very sturdy
Customizability
Cons
Best for Customization: Roland TD-50KV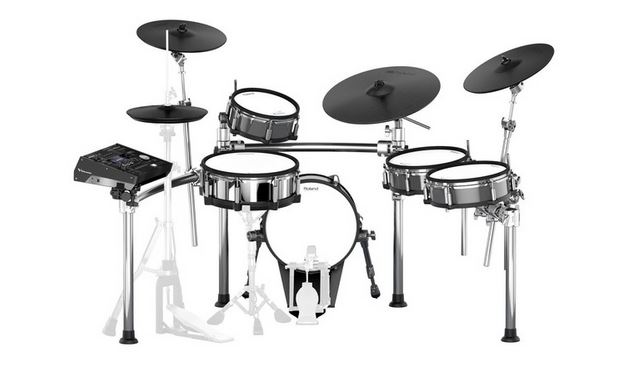 In 2016, the TD-50KV was Roland's flagship electronic drum set on its original release. Even a few years later, it remains one of the best kits you can get.
This set comes fully kitted out with drums and cymbals and includes what many consider to be the best digital snare drum out there. Trust us. This thing plays and sounds terrific. The XLR output is perfect for recording or playing in public if you're a studio player.
Where this kit really shines, though, is in its' customizability. Yes, you can change tones, but you can also play around with microphone positioning and even cymbal thickness. That means you're not just getting one drum set. Instead, you're getting countless ones tuned to the way you want to play.
Yes, the TD-50KV is very expensive, but you might find deals now that there's a newer model. If you can't settle for anything less than the best, this is the one.
Pros
Best digital snare drum on the market
XLR out
Customization
Cons
Best Kit for a Real Feel: Roland V-Drums Acoustic Design VAD506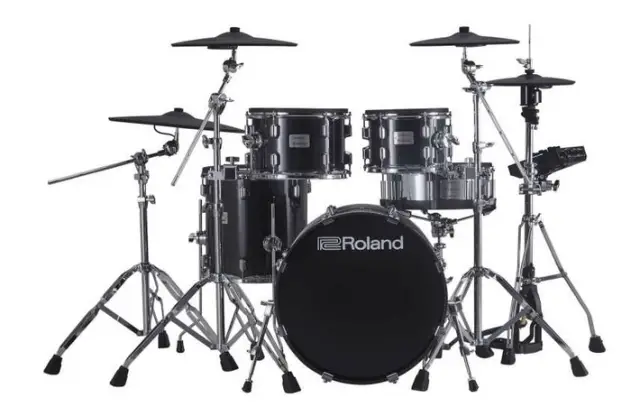 For drummers who can't quite get into the look of an electronic drum set, Roland's got you covered with the VAD506. This fabulous kit brings a lot of the technology that Roland lovers crave with a more traditional look.
Picture a traditional drum kit, and you're more or less picturing the VAD506. The cymbals are undeniably from an electronic drum kit but look absolutely fantastic. Designed with the drummer in mind, these Roland drums are a blast to play and register every hit.
Where the VAD506 falls down a little bit is in functionality. The module for all the Roland electric drum kits is an older model and so lacks some later features. The VAD506 is also expensive compared to a similar acoustic drum set, so be sure that you've worked out what you want your electronic drum set for.
The VAD506 is fun and a beauty, though, so you'll have a blast playing these if you decide to pick them up.
Pros
Amazing-looking drum kit
Feel and play just like an acoustic kit
Cons
Expensive
It lacks some functionality compared to some newer models
You can buy a really nice acoustic kit and dampers for a similar price.
What Are the Features You Need?
The features you're going to need from your Roland electronic drum set will depend on your experience and skill levels.
A standard kit will include all the pads and features you need if you're just starting. More advanced players will appreciate upgraded modules that hold more drum kit options.
One feature to think about is customization. How important is it to reprogram your pads or move the cymbals and different drums around? Of course, different Roland sets offer other options, so be sure you know what you're going for before buying.
Electronic Drum Kits Parts
Each electronic drum kit will have different parts. Some are designed to have separate parts and look and feel like an acoustic kit, but, more commonly, electronic drum kits come all together in a single unit.
Commonly, electronic drum kits will include a snare pad, at least three tom pads, a kick pad, 2-3 cymbal pads, and a hi-hat pad. That mimics a very common acoustic kit setup and will provide drummers with a ton of playability.
Sets will include a module containing all the pre-programmed sounds and, if applicable, samples that the drummer is providing themselves.
Drummers can often upgrade kits with different kinds of drum and cymbal pads to expand their set.
Electronic Drum Head Types
Roland electronics will have drum heads made of two materials. Let's look at them both and some pros and cons.
Rubber
Many earlier-made kits are going to have all rubber heads. They're definitely more cost-effective and can be a little more compact than their mesh counterparts.
They definitely don't feel as much like acoustic drums, though. Also, because the heads are rubber, they tend to rebound. This can lead to extra fatigue when playing, similar to a practice pad.
It's worth noting, though, that even the most high-quality electronic drum kits will feature rubber cymbals. The rebound and feel that might be a little off on drum heads are perfect for cymbals.
Mesh
Most of Roland's kits are now made with mesh heads. Mesh heads are made to feel more realistic when you hit them. For example, hitting a snare e-drum with a mesh head feels nearly the same as an acoustic drum. This also means that you can get them in more realistic sizes. Plus, because mesh is newer, there's more engineering behind them, meaning more accuracy.
The big challenge with mesh, though, is price. As the technology matures, that might change a bit, but you're looking at a premium for now.
Electronic Drum Accessories
Any drummer will tell you that one of the most extraordinary things about drums is upgrading your kit, and that absolutely applies to your Roland electronic drum set! There are tons of options, but here are just a few.
Stands
Your set will come with a stand by default, but you can upgrade to find one that's more your shape.
Pedals
Roland offers pedals that are higher-quality and quieter, and that's a must if you're in a smaller space. You can also consider getting a double kick pedal for tons of bass drum sound if you're a metal drummer.
Noise Eaters
These are Roland's proprietary sound dampeners, primarily for pedals and some cymbals.
Thrones
You can't drum without a proper seat! Roland offers many different options designed to match their electronic drums, but your local music store will also provide many options. Try before you buy!
Storage/Transportation
One of the critical features of any electronic drum kit is portability. Roland offers several types of cases and bags designed to make storage and transportation a breeze.
What Are Your Roland E-Drums Needs?
Making an electronic drums purchase is a big decision. Even starter kits come in around $1,000, so you want to make sure you've thought about everything you need.
If you're a beginning drummer, you probably don't need all the bells and whistles of a higher-end kit (although they are incredibly cool). So instead, go for a more straightforward kit and ensure e-drumming is for you before upgrading.
Expert drummers or drummers who want an experience that mimics an acoustic set will want at least a mid-tier electronic drum set with mesh heads. Everyone's needs are different.
Where to Buy a Used Electronic Drum Kit
There are a ton of spots where you can pick up Roland V-Drums used, but some are definitely better than others!
We recommend a name-brand online music store like Reverb, Sweetwater, or Guitar Center. Guitar Center checks all used equipment before it sells, so you know that the quality is there. Likewise, on Reverb, Sweetwater, or other merchant sites, ensure that the seller is reputable before you buy!
eBay is another spot but not one that we necessarily recommend. Returning a drum set can be a big hassle if something goes wrong.
Craigslist is another option but make sure to test anything ahead of purchase.
FAQs
Here are a few questions that often come up from prospective buyers.
I've never drummed before. Are electronic drums a good option?
They certainly can be. Depending on your situation, they can be quieter and take up less space than acoustic drums. That said, before buying any drums, try to find a set that you can practice on before you commit.
Are Roland drums the best brand?
Musicians are very loyal, and what brand is the best can be subjective. That said, Roland electronic drums are consistently the best-selling on the market, and they're committed to continually improving the look, feel, and technology of what they offer. That sounds like the best to us.
I have acoustic drums. Do I need electronic drums?
It all depends on what you're trying to do. For example, if you're interested in drumming with samples, you'd need an electronic set. On the other hand, if you're traveling and lugging around a complete acoustic kit is too much for you, an electronic set might be up your alley.
Wrapping Up
So there you have it! Roland offers amazing electronic drums for anyone from a beginner to a professional. Any kit that you pick is sure to last you a long time and help you play some awesome music. So check this list out, think about what best suits you, and get out there and have fun!
Latest posts by Sakari Oramo
(see all)