7 Best Double Bass Pedal (Beginner to Pro)
---
Ever since William Ludwig created the first bass drum pedal in 1909, drummers have tried to achieve more with less. Ludwig took the mallet from the drummer's hand and put it at their feet, and this revelation preceded several others. It was simply a matter of time before drummers began to wonder what they could achieve with two bass drum pedals instead of one. Today, there are so many different double bass pedal options on the market; they will make your head spin.
Wading through the sea of different brands, models, and features is a challenge whether you're a seasoned drummer or you're just starting. 
Read on as we help you take the guesswork out of selecting the best double bass pedal on the market today. We'll also share some crucial tips to help you evaluate all the top models so you can be confident you're choosing the ideal double bass pedal for you. 
Best Double Bass Pedal Brands
The brand doesn't always make or break the quality of a double bass pedal, but several brands have made a name for themselves for a reason.

With years of experience, guaranteed quality, and long time durability, the following double bass pedal brands can be considered some of the best in the industry:
Best Double Bass Pedals
7 Best Double Bass Pedal
Before we get into what you should look for or how to select the best double bass pedal, let's check out the top seven models on the market today. 
1.

Mapex 500

: Best Bang for Your Buck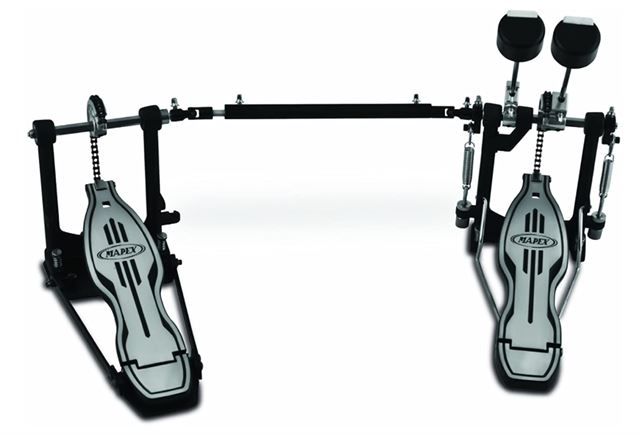 Rating: 4.7/5
The Mapex 500 is one of the most popular double bass pedals among beginners, drummers on a budget, and anyone searching for the most inexpensive double pedal possible. 
This pedal offers two single-chain drives with adjustable springs so you can set the pedal tension precisely how you like it. The universal linkage is independent and fully adjustable, and all of the components of the pedal are made from solid steel to provide you with a stable platform that will stand up to years of use. 
This kick drum pedal is made of solid steel components and was engineered to be reliable, durable, and, most important, playable. The adjustments happen quickly and easily, keeping you going during gigs night after night.
These pedals replace full-length platforms for lightweight stabilizing rods, which offer adequate stability while keeping the pedals as light and affordable as possible. Still, if you're a heavy-footed drummer, the stability this pedal lacks could be a major concern, and you'd do better with a heavy-duty model. 
Without a platform beneath the pedal, the Mapex 500 isn't as slip-resistant, and it doesn't offer as stable a feel as the more expensive and feature-rich pedals on our list. But, the price is undoubtedly right, which makes this pedal a compelling choice for any drummer looking to add a second bass drum pedal as inexpensively as possible. 
Pros
Most inexpensive double pedal on the market

Surprisingly smooth operation

All steel construction

Lightweight and easy to transport
Cons
Not as stable or slip-resistant as more expensive pedals

Doesn't include case
Rating: 4.7/5
The DW 9000 has been one of the industry-standard double bass pedals for well over two decades, and it continues to be one of the best pedals on the market. 
The 9000 pedal is a dream for those who like to tinker with their setup. The Infinitely Adjustable Cam Technology and floating rotor design allow drummers to adjust virtually every aspect of the pedal and how it responds to their movements. 
Other adjustment improvements include the EZ Adjust Cam, so players can switch from Accelerator to Turbo sprockets in seconds. The Tri-Pivot toe clamp system is exceptionally secure and provides a stable platform for the drummer, and the non-slip base plate provides a solid connection between the bass drum hoop and the drummer. 
Many drummers took issue in the past with DW's comparatively short footboards, with their bulky and unnecessary hinge. In response, this 9000 pedal has 1″ longer footboards, allowing drummers to practice advanced techniques like heel-toe more easily. 
From a playability standpoint, the DW9000 is difficult to beat. It offers exceptionally smooth operation, it's highly adjustable, and it can take a beating without compromising reliability.
There are a few minor drawbacks to this pedal. It's heavier than hell, so transporting it is a bit more of a pain than lighter pedals. Since it's heavier, it is also a bit more taxing for a drummer to use over a long practice section or a set with the band. Until you get used to the heavier pedal, fatigue may be an issue for you.
Pros
Bulletproof construction for durability and reliability

Exceptionally adjustable 

6-year warranty

Extended footboard makes it easier to execute complex techniques
Cons
Heavy 

Might lead to fatigue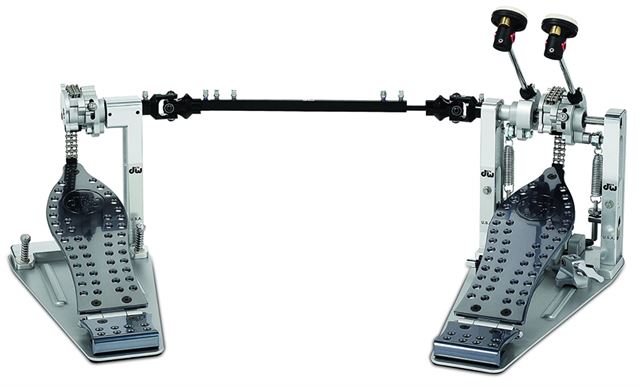 Rating: 4.8/5
While the DW 9000 series is one of the most popular and well-loved double bass pedals of all time, its design is more than 20 years old. Manufacturers have been introducing new pedals consistently since then, and with each new pedal, a bit of that 9000 series shine seems to dim. 
Refusing to be outdone, DW recently released high-end new pedals in direct and chain drive versions. The chain drive version, in particular, is an engineering marvel that leverages DW's decades of experience building top-of-the-line kick pedals with the most modern materials and construction. 
The linkage features DW's Optimized Fulcrum Geometry, which feels incredibly smooth and almost effortless when you're playing. The cam of the MCD pedal forgoes a sprocket in favor of a lever. The lever functions almost like a gear shifting paddle in a high-end sports car. The lever allows drummers to cycle between cam settings so you can make changes on the fly. 
The footboard and heel plate offer a contoured design, and holes are machined into both pieces to reduce weight without sacrificing stability or feel. 
This pedal is significantly more expensive than the 9000 series or many of the other high-end double pedals on the market. But, if you're looking for the best chain drive pedal on the market, look no further. 
Pros
All aluminum construction for lighter weight

Premium linkage allows for almost effortless pedal control

6-year warranty

Lever system for faster sprocket setting changes
Cons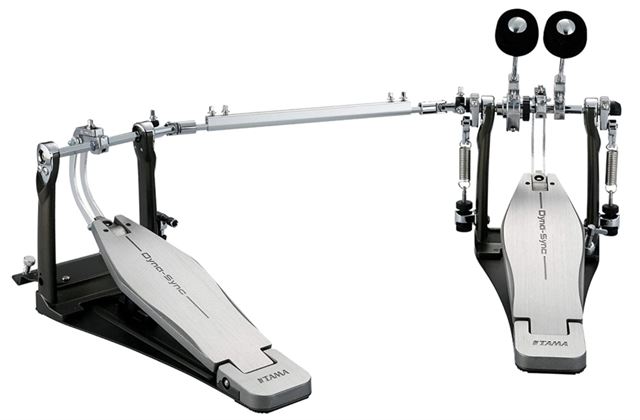 Rating: 4.7/5
Drummers looking for a direct drive double bass pedal that allows them to customize the pedal's feel to their heart's content are sure to appreciate the Tama Dyna-Sync. 
This pedal leverages all the best aspects of a direct drive pedal, like better energy transfer and faster beater movement. Plus, it improves the pedal's feel, making it easier to put power behind every kick. 
When developing the Dyna-Sync, Tama's engineers sought to create synergy between the cam, linkage, and footboard. Their logic was that if they could balance these three components, they could make a pedal with exceptional feel that could deliver outstanding power without too much effort. 
The cam slides in either direction to adjust the turning radius, and it can adjust in seconds to provide drummers with the feel they're looking for with much less effort. The footboard can also be adjusted to give the exact feel you're after, and the Sync-Coil below the footboard returns the pedal to its "zero" position to provide the fastest response possible. 
The Dyna-Sync isn't much to look at from a design perspective, and it feels as if Tama could've taken this pedal a little further by refining its design. But, it offers unparalleled customization, and it's more affordable than most high-end direct drive pedals. 
Pros
Fully adjustable cam and footboard angle for unparalleled feel

Rapid motion transfer improves footspeed

Five-year warranty
Cons
Fairly heavy 

Mediocre beaters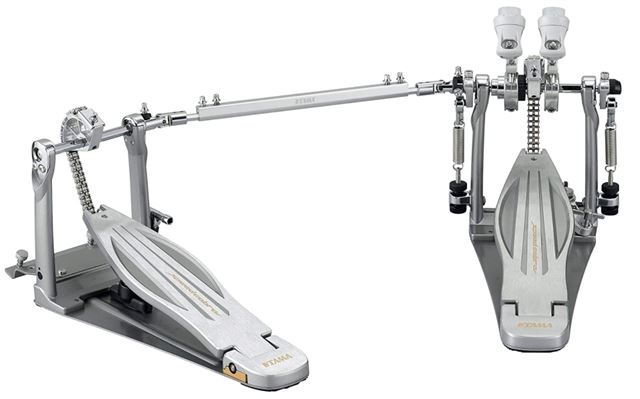 Rating: 4.7/5
Pedals have always represented a compromise between power, design, and speed for double bass drummers. Most pedals offer one or two of these qualities, but never all three. But, the Tama Speed Cobra 910 gets awful close to balancing all three, all at an attractive price that most serious drummers can afford. 
The first thing you notice with this pedal is the distance of the footboards from the cams. This design element offers a more natural motion for the drummer than conventional designs, which allows for more power and speed in every stroke. 
Longer footboards allow drummers to efficiently execute different techniques, and the long footboards coupled with twin drive chains allow for a more powerful impact each time the pedal is engaged. 
Other features like the Speedo-Ring rocker cam, Quick-Hook spring attachment, and adjustable Cobra Coil return spring all further contribute to the ludicrous speeds you can execute with the Speed Cobra 910. 
This pedal also features a smartly designed clamp that grips the bass drum hoop tightly without marring the finish, and it includes a deluxe hardshell case to keep the pedal protected during transport. 
Pros
Fastest chain drive pedal on the market

Smooth, long footboards offer an excellent feel

Excellent value for the money
Cons
Build quality could be better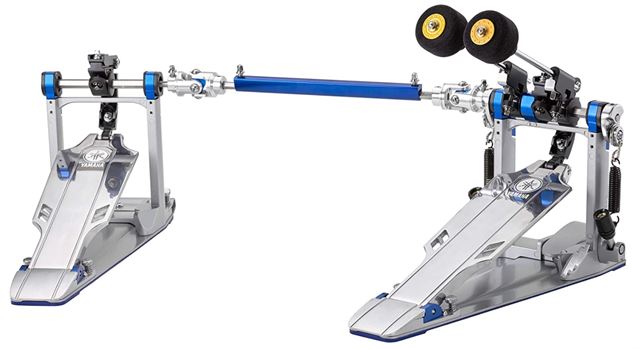 Rating: 4.8/5
The DFP-9D from Yamaha is an engineering marvel that takes cues from Yamaha's storied racing history. One look, and you immediately know that this pedal is built for speed and precision. 
Yamaha made the frame from aircraft aluminum, so it's very lightweight despite its heavy-duty build. For as heavy as the pedal looks, it performs like a sports car. The motion of both pedals is incredibly smooth. The slave pedal linkage has a ball bearing on either side, which dramatically reduces the inconsistency that's so common with slave pedals. 
The direct drive system also utilizes ball bearings, eliminating wasted energy and allowing the drummer to put more power behind each stroke. The frame is also reinforced to eliminate flex, further reducing wasted energy and allowing for more force behind each kick. 
Other intuitive features include anti-skid spikes toward the pedal's heel, which improves leverage and reduces the amount of play towards the rear of the pedal. Throughout a long set, this repetitive motion can cause your pedal to work its way free from the bass drum hoop.
The beaters come with adjustable weights that clamp onto the beater just below the head, which allow you to customize the pedal feel while also providing resistance to improve your strength and speed. 
Pros
Excellent price for a direct drive pedal

The racing-inspired look is different than other pedals on the market

Heavy-duty construction without the added weight

Heel spikes reduce movement and virtually eliminate pedal slippage
Cons
Mediocre beaters

Cams will rub bass drum skin in the forward-most position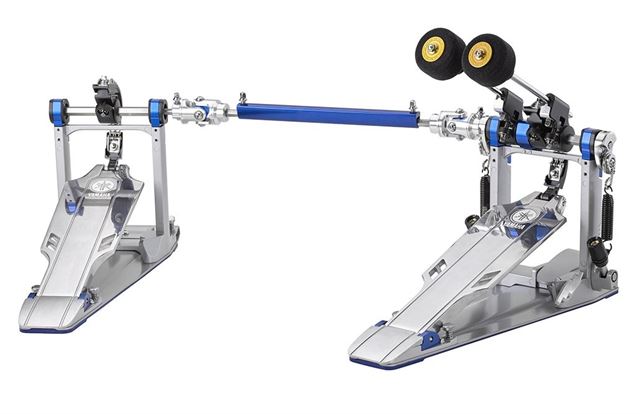 Rating: 4.9/5
Yamaha shattered the mold with their DFP line of pedals, including the direct drive model we just discussed and the DFP-9C, a chain drive version of the same pedal. 
The DFP-9C is virtually identical in every way to the DFP-9D. This pedal features the same heavy-duty aircraft aluminum construction, ball-bearing pedal linkage, and all of the design and performance features that have us so crazy about the DFP-9D. 
The critical difference between these two pedals is the drive mechanism. This model utilizes a chain drive instead of a direct drive. This pedal uses a double chain drive, allowing drummers to put even more power and strength behind every stroke. 
As with all chain drive pedals, this model isn't quite as sensitive or fast as the direct-drive version, but it offers a superior feel and power. The ideal DFP pedal for you is entirely a matter of personal preference. 
Pros
Racing inspired looks

Heavy-duty but lightweight construction 

Three adjustable cam positions to customize the pedal feel

Includes case
Cons
Mediocre beaters

Cams will rub bass drum skin in the forward-most position
Buyer's Guide
When you're evaluating different bass drum pedals, it helps to be familiar with some of the critical characteristics and features that will make it easier for you to find the best double bass pedal for you. Here's what you'll want to look for. 
Pedal Drive 
A pedal's drive mechanism plays the most significant role in pedal performance. Different pedal drives offer a different feel, and their performance characteristics vary. Here's how the other pedal drive mechanisms affect a double bass pedal. 
Chain Drive
Chain drive bass drum pedals are the industry standard, and they're still the most popular option on the market. These pedals are exceptionally adjustable and allow the drummer to control many aspects of how the pedal responds. 
These pedals come in single and double chain configurations. Double chains are standard on professional-quality pedals, and they're more durable while providing extra stability. The dual chains also eliminate side-to-side flexion, which reduces friction, contributing to a longer pedal life.
Single chain models are usually found on more inexpensive pedals because they aren't as durable as double chains. Still, some drummers prefer a single chain as it's a bit more responsive. 
While chain drive pedals are fairly responsive and durable, there are a few negatives, too. There is a slight lag to the pedals with a chain drive, so they aren't quite as fast as other styles. These pedals also require fairly regular cleaning and maintenance, and they make a bit of noise that can present issues on recordings.
Belt Drive 
To combat the minor issues inherent with chain drive pedals, manufacturers began producing belt drive pedals that forgo the chain mechanism in favor of a belt that connects to the cam and beater to the footboard. 
Belt drive pedals are highly responsive and provide a lighter feel that allows players to improve their foot speed. In the past, these pedals experience numerous durability issues. The belts were only rubber or leather, and over time, they'd stretch or tear and require replacement. 
Modern belt drive pedals are far more durable than the older models, but they're still somewhat of a boutique item that you rarely see. Most drummers opt for a direct or chain-drive pedal. 
If you're looking for a pedal that offers the responsiveness of a direct drive pedal but still offers some of the feel of a chain, a belt drive pedal might be best for you. 
Direct Drive
Direct drives are the newest style of pedal, and they're popular with metal drummers who prioritize speed over everything else. 
These pedals use a bridge between the footboard and cam, which eliminates any of the excess movement inherent with chain or belt drives. This feature leads to more responsiveness and control than other pedals offer. The trade-off with these pedals is they don't provide the same feel as a chain or belt drive pedal, and they feel very mechanical. 
Unless you're a metal drummer or a technique-driven drummer, you'll probably feel more comfortable with a chain or belt drive pedal. 
Footboards
Footboards are another critical component of a pedal. While each manufacturer has its own designs, they're all fairly similar. The major distinction between footboards is whether they're standard or long. 
Standard footboards have a flat hinged piece that connects to the pedal's frame, and the flat piece is stationary and has no effect on playing. Long footboards forgo the hinged section, and the pedal is fully articulated. Plus, the entirety of the footboard is a playing surface. 
Players with especially large feet and drummers who utilize heel-toe or rocking techniques to generate rapid beater movements for high-speed passages gravitate toward longboard pedals. Drummers who play heel up and are less concerned with speed tend to prefer a standard footboard. 
Adjustability
The final component of a pedal you'll want to consider is how adjustable it is. It's rare to sit down behind a kit and find that the bass drum pedal is precisely to your liking. Most pedals offer at least some level of adjustability to change characteristics like footboard angle, cam location, beater location, tension, and more. 
Chain drive pedals offer the most opportunity to make adjustments, but direct and belt drive pedals have become more adjustable in recent years, as well. Find a pedal you like, and then make sure it offers room to make the small adjustments that you need to play at your best. 
Double Bass Pedal FAQs
These are some of the most common questions other drummers have when selecting a double bass pedal. 
What makes a good double bass pedal? 
The best double bass pedals are lightweight, built from quality components like steel or aircraft aluminum, and highly adjustable. Virtually all of the pro-quality pedals on the market allow the player to make tons of different fine adjustments to customize the feel and response of their pedal. 
What is the fastest double bass pedal? 
So much of a drummer's speed boils down to their ability, but there are certainly some pedals on the market that make it easier for drummers to play at their fastest. Direct drive and belt drive pedals make it easier for drummers to play their fastest, primarily if they utilize a rocking or heel-toe technique. 
What brand makes the best double bass pedals? 
Several high-end manufacturers make excellent double bass pedals. Since so much of selecting a pedal is a matter of personal preference, there's no consensus when it comes to the best pedal brand. 
Brands like DW, Tama, and Pearl all produce some of the most popular pedals around. Smaller boutique manufacturers like Axis or Trick produce excellent pedals that are exceptionally popular with heavy metal drummers. 
Wrapping Up
Bass drum pedals are among the most critical aspects of any drummer's kit, especially for metal and progressive drummers who rely on a double bass pedal. For any drummer, the key to selecting the best double bass pedal is to play as many different models as you can in person and ensure that the model you choose allows you to adjust the pedal to your liking. 
Of course, it's also helpful to narrow the field down before you start shopping. The seven pedals on our list above represent the best double bass pedals on the market, with the Yamaha DFP-9C Chain Drive taking the award for best overall. 
Consider the DFP-9C or give any of these pedals a shot, and you should be well on your way to finding the perfect double bass pedal for the way you play. 
Latest posts by Sakari Oramo
(see all)