Best 10 Alto Saxophone for Beginners
---
The saxophone is a notoriously snazzy instrument, capable of handling solemn concert pieces and fun jazz numbers alike. This versatility makes it easy to play, but it's also a top choice for music students who prefer solo pieces with intriguing melodies. 
When you're learning how to play, the best beginner saxophone is the alto sax. An alto saxophone is lighter than the tenor saxophone and more manageable for a new player. It's also less strenuous than a soprano saxophone, as you can get a lovely full sound on an alto saxophone without straining your throat.
10 Best Saxophones for Beginners
What's the Best Overall Alto Saxophone?
The best alto saxophone will have fabulous craftsmanship, high-quality materials, durability, and be easy to play. Although half the fun of learning a new instrument is in the challenge, if it's too difficult for you to find the proper notes, or if you're having trouble even making a sound, you're not going to stick with it very long.
The best kinds of beginner saxophones will have keys that are easy to reach, so you don't have to struggle to form a chord. They should also have an appropriate mouthpiece and full body so you can get a full, warm sound without effort. Fluid keys and well-crafted pads will also help you form proper notes so you can learn your craft faster without battling your instrument every step of the way.
The Yamaha YAS-280 is the overall best saxophone for beginners. This declaration is not only because Yamaha saxophones are high-quality and well-sought after, but also because this particular model has numerous features that cater specifically to new players. 
Where to Find an Alto Saxophone
Often, looking at saxophone manufacturers can give you a leg up towards finding the perfect alto saxophone for you. Each manufacturer will have something to add to the instrument, giving you plenty of choices for which to pick. 
When you consider the materials used, the overall quality, the sound, and the price, you'll have a better idea of which saxophone maker feels most worthwhile to you. After examining the various companies, you can expand your search to find potentially worthy saxophones. 
As the alto saxophone is a popular instrument, you will likely have no problem finding a potential match simply by googling "saxophone for sale near me." However, to give you an idea of what to look for in your instrument, here are nine other choices for alto saxophones for beginners.
List of Top 10 Alto Saxophones
Each of these beginner saxophones will serve the purpose of helping you learn to play. As some might be more your style than others, checking their pros, cons, and features can help you decide which you prefer.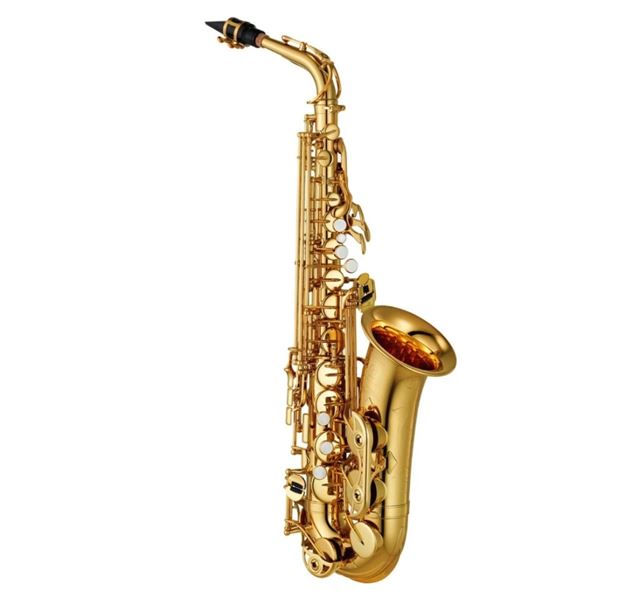 Rating: 4.9/5
If you buy a Yamaha alto saxophone, you get a well-crafted instrument that will last for years. Some musicians find that their beginner Yamaha YAS-280 continues to perform adequately even as its owners advance to a higher musical level. So, if you become an intermediate player, the YAS-280 will continue to give you a high quality of sound, even as your musical range expands. 
 The YAS-280 is also a lightweight instrument, making it easy to practice for a long time without getting tired. The keys have ergonomic shapes to help new players find the notes. These keys are also better for smaller hands, as they are easy to both reach and press.
The mouthpiece used is a 4c, which has a narrower opening than other models. This narrow opening will give the instrument clarity and also reduce the amount of air needed to make a noise. So if you're a new musician with smaller lungs, you don't need to pass out every breath trying to make a full, clear note.  
Yamaha also provides these instruments with a protective carrying case, so you can look after your alto sax at all times. 
A Yamaha alto saxophone for sale will be one of the more expensive options, so if you have a smaller budget, you might want to find a different model or a second-hand instrument. The high cost of a Yamaha is due to the saxophone's better quality and that it will still support intermediate and expert saxophone players.
Pros
Accommodates beginners and intermediate

High-quality craftsmanship

Full, rich tone

Easy-to-find keys and ease of sound
Cons
One of the most expensive options available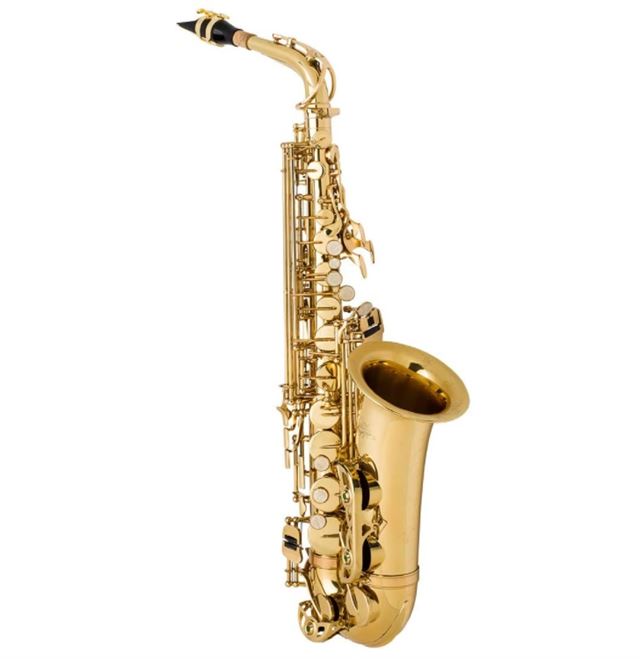 Rating: 4.8/5
This alto saxophone has silver plating instead of the traditional brass or gold. The silver provides a warmer tone, so your notes won't sound squeaky or frail even as a beginner.
The AS-400SP also has fluid keys and excellent intonation, which help a beginner improve quickly. 
The fluidity of the keys makes them easy to press, so you don't have to struggle to get that specific note. Intonation refers to whether your instrument is in tune. 
For the AS-400SP, no matter how you play, the saxophone will keep its tune longer and better than a lesser instrument, so you can learn the right notes quicker and sound great at the same time.
Pros
Affordable

Beautiful look

Great beginner quality

Comes with a carrying case
Cons
Not as high quality as a Yamaha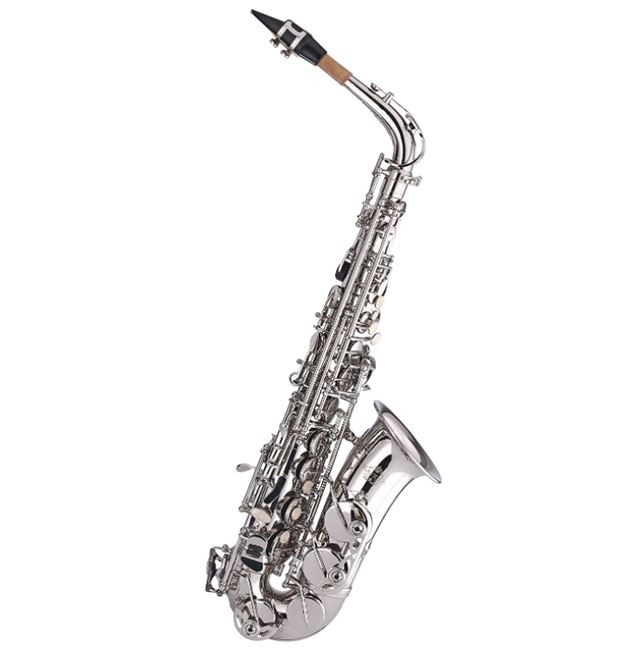 Rating: 4.7/5
This beginner saxophone from Kaizer provides a cheaper alternative for saxophone students. The company also offers a 45-day free trial for their saxophones, so if you don't love it, you can return it within this time. 
Professional-style leatherette pads perfectly seal openings for better control over your pitch, so your notes come out clearer. The keys use premium steel springs in their mechanisms for more durability and strength, making it easier to move them. The Kaizer also comes with a carrying case, as well as cleaning supplies to help keep your instrument working its best. 
Pros
Cheap

45-day free trial

Comes with a carrying case
Cons
Company has some quality assurance issues
4.

Jupiter JAS710GN

– Best for Advancing Students
Rating: 4.8/5
A Jupiter student saxophone has almost as much promise as a Yamaha and is a very popular choice. Like the Yamaha, the JAS710GN performs well for beginners or intermediate players, so you can keep your instrument as your skill grows. This versatility comes from the high quality of the saxophone, from materials to design and make.
The JAS710GN's strategic design makes it one of the easiest E flat alto sax to play. The keys have specific placements to help a new musician reach awkward fingering and feel more comfortable with each transition between notes. The keys are also nickel-plated for increased durability and comfort. 
This Jupiter saxophone also has contoured left-hand table keys with a tilting B flat rocker arm to help you become more agile in your playing. This agility will help you become a more confident musician and increase your skill faster.
Pros
Great for beginner or intermediate

Comes with a wooden frame case

Agile design
Cons
Not as common as other models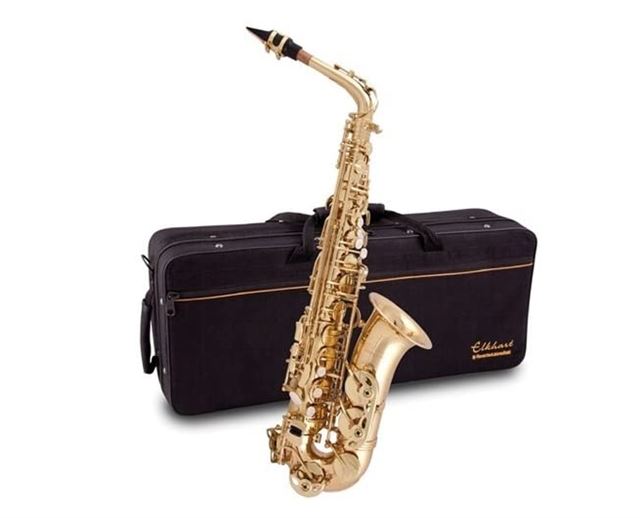 Rating: 4.7/5
This quality saxophone has the best value for beginners considering its low price. The Elkhart has a range of up to high F sharp, unlike other beginner altos. 
The Elkhart has rib-mounted keys instead of soldered ones, giving the instrument a clearer sound and more durability. Alto saxophones for beginners generally use soldered keys as they provide a lower cost to the buyer. However, the Elkhart delivers both higher quality keys and a lower price. 
Rib-mounted keys are less likely to break over time, so this saxophone is a more reliable choice for beginners than another model with soldered keys. 
Pros
Inexpensive

Rib-mounted keys

High F#
Cons
Not the best for an advanced musician
Rating: 4.6/5
As a mid-priced beginner saxophone, the Buffet 100 Series gives a quality sound every time. The intonation is consistent and steady, offering clear, bright notes for any level of musician. The warm tone sounds fabulous solo or amid a concert band. The Buffet also has a range up to F sharp, so you can create a more vibrant sound without getting reedy or weak. 
This alto saxophone uses blue steel springs for a reliable mechanism. It also has leather pads with metal resonators to help you get a clearer sound with each note. The mother of pearl buttons are comfortable on your fingers and look great too.
Pros
High range of notes

Mother of pearl keys

Blue steel springs
Cons
More of a beginner saxophone than intermediate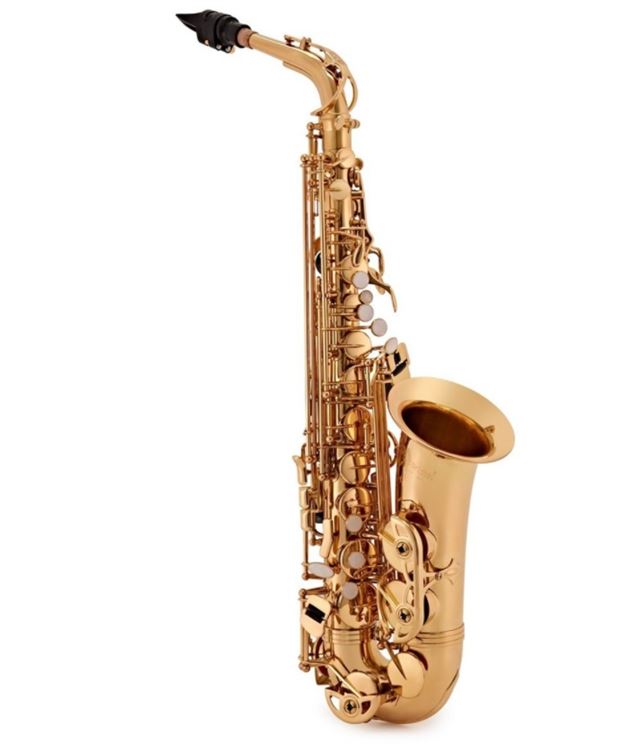 Rating: 4.6/5
This instrument's material is entirely high-quality brass instead of being plated in brass, like most beginner alto saxophones. Such manufacturing results in a warmer and clearer sound, so you don't have to try as hard to produce quality notes. 
Though a more expensive saxophone, the DAS180 Avant is one of the classier ones. The mouthpiece is a Rousseau ebonite, which is of professional grade. Unlike cheaper, plastic mouthpieces, this one helps create a more natural and less tinny sound. As a result, the music produced is a higher standard and more professional-sounding than a cheaper saxophone. 
Pros
Made from high-quality brass

Rousseau ebonite mouthpiece

High-quality sound
Cons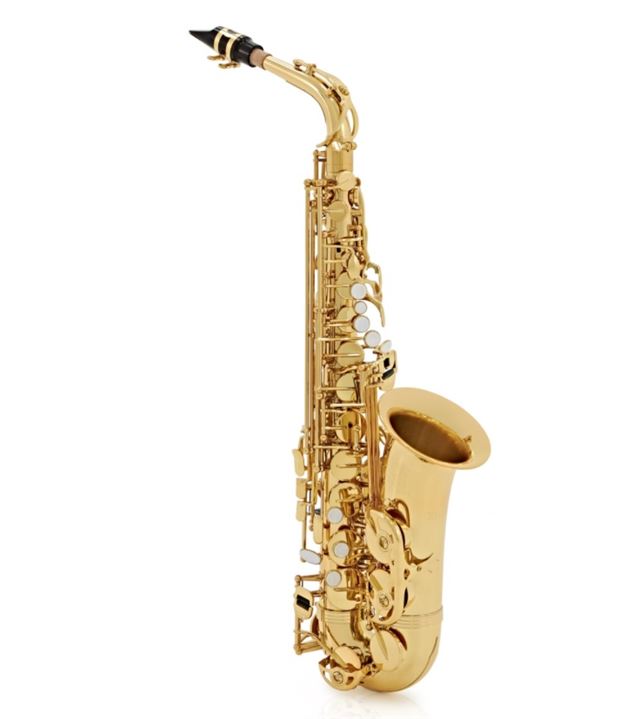 Rating: 4.7/5
As a long-standing competitor of the best beginner alto saxophones, the Trevor James Classic II has many great features to keep it in the running. It's not as expensive as a Yamaha or other high-end beginner instruments, yet it can still compete in terms of quality. 
The saxophone's design gives ease of sound, so you don't have to struggle to make noise. The brass body and white plastic buttons are easy to handle without getting fatigued. The button keys are also easy to reach and respond well to gentle touches. 
This saxophone also comes with one free year of professional checkups and tune-ups in case your instrument needs any extra care. The additional carrying case also has shoulder straps to make transport even easier.
Pros
Free one-year check over

High quality make 

Award-winning instrument
Cons
Tone at lower levels is not as full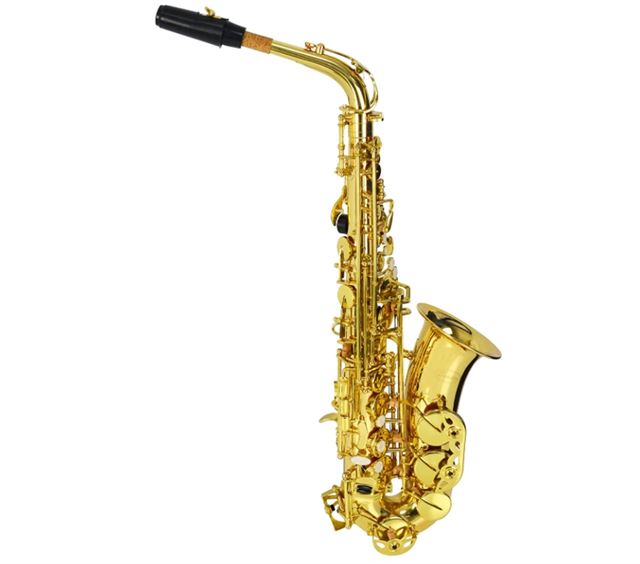 Rating: 4.6/5
As one of the favored educational alto saxophones, the Sonata Student provides everything you need to get your start. With its strategic design, the saxophone is easy for younger musicians to play. Its keys are in easy reach of smaller hands, and its mouthpiece accommodates for shallower breaths. 
The manufacturers of the Sonata use their skills to provide a saxophone with excellent tone projection, so you can get the proper notes with less effort. The saxophone's sound will also carry more than another model, leaving you with a warmer, stronger-sounding instrument. 
The Sonata also comes with more odds and ends than any other beginner saxophone. While most come with a standard carrying case, the Sonata also has plenty of cleaning supplies and a neck strap to help make your playing easier. 
Pros
Durable construction

High range

Comes with a variety of extra cleaning supplies, etc
Cons
Not reliable for advancing your musical career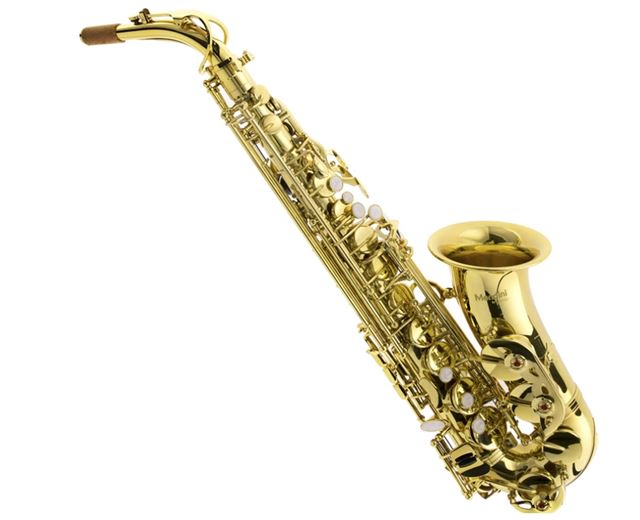 Rating: 4.5/5
As another incredibly affordable beginner saxophone, the alto Mendini offers countless features to boost a new musician's confidence and playing ability. 
Designed to be easy to play, the saxophone has a large bore and metal tone booster, both of which help project sound and give a fuller tone to each note. A fuller note will help you learn the correct sound, unlike a reedier-sounding saxophone that can limit your musical experience. 
The contoured faux mother of pearl keys will help you find your correct fingering so you can learn chords faster. The Sonata student also uses leather pads to help round out notes as you play. Unlike other beginner saxophones, this alto also has tilted low B flat spatula keys. The tilt makes it easier to switch between notes, so you can get increased mobility and agile playing.
Pros
Build for comfort

Fast-action keys

Comes with a chromatic tuner
Cons
Some models have sticky key buttons
Where to Buy a Used Alto Saxophone
Alto saxophones are the most common saxophones you can find. They are available in any music store and common in second-hand shops as well. You can also find them in schools, online, or, if you are part of a musical community, you might be able to find one through other, more experienced saxophone players.  
When you're looking into buying your own saxophone, understanding various alto saxophone prices can help your hunt. So, how much is a saxophone, typically? Like any high-quality instrument, they can get costly. 
A beginner saxophone cost is within the range of $500 to $2000. However, you might be able to find a lower saxophone price by searching for "used saxophone near me." Used and second-hand saxophones can cost anywhere from $300 to $1000 if in good condition. If you know someone with an alto sax for sale, they might also lower the price, but a good quality beginner saxophone is still worth quite a bit of money.
Some music stores will allow you to test a saxophone to see if it's right for you. You might find a particular model that sounds tinnier to you or doesn't project sound. If you can find an instrument that doesn't take a ton of effort to play and also sounds great, it just might be the perfect beginner sax for you. 
Alto Saxophone 

FAQs
Do you still have a few questions about getting started with the alto saxophone? We have the answers you need below!
How to play alto saxophone?
To play the alto saxophone, you must blow through the mouthpiece and shift the key buttons for different notes. You can learn saxophone through online courses, through music charts and books, or in-class scenario. 
How much is an alto saxophone?
Most alto saxophones cost in the range of $500 and $2000. However, an alto saxophone price will depend on the quality and whether it's second-hand.
How to clean an alto saxophone?
To clean an alto saxophone, you must run a cleaning brush through the instrument's body and the mouthpiece to remove moisture. You should also grease the cork connection between the neck and the mouthpiece so it doesn't dry out.
How to play d sharp on alto saxophone?
Play a low D sharp by placing your left three middle fingers on the three primary keys on your saxophone. Add in your right three fingers on their respective keys, and then put your right pinky finger on the top key.
For a middle D sharp, start with the same fingering as a low D sharp. Then, also add the Register/Octave key with your left thumb. 
For a high D sharp, start with the Register or Octave key only, then add the top two keys with the side of your left index finger.
Wrapping Up
When you're a new musician, a saxophone alto might not seem very much different from a tenor, a bari, or a soprano. And looking at specific beginner alto sax instruments might make you even more confused and overwhelmed. 
However, when you know what to look for and where to look, you'll have an easier time deciding the right alto saxaphone for you.
The Yamaha YAS-280 is easily the best beginner alto saxophone out there, but the high price might make you think twice. Even so, with this list of nine other fantastic saxophones to choose from, you can find a cheaper instrument that doesn't scrimp on quality. 
Become part of your musical scene to find the perfect beginner alto sax for you!
Latest posts by Sakari Oramo
(see all)