7 Best Electric Upright Double Bass Options
---
Are you tired of carrying your big double bass everywhere? You may want to look into an electric upright bass model. Then, you can cut down on the weight and size, but you'll still be able to play in rehearsals and for concerts.
Before you choose the first model you find, you should know about the best models on the market. Then, you can compare your options and make sure they meet your needs. If they don't, you can keep shopping until you find one you love.
Keep reading to learn more.
| | | |
| --- | --- | --- |
| Product | Rating | Best of |
| Stagg EDB-3/4 BK Electric 3/4 Size Double Bass with Gig Bag Included – Black | 4.8/5 | Best Overall |
| Yamaha SLB300SK Silent Electric Upright Bass | 4.7/5 | Best for Practicing |
| NS Design NXTa Active Series 5-String Upright Electric Double Bass | 4..8/5 | Best 5-String Model |
| NS Design WAV4c Series 4-String Upright Electric Double Bass | 4.7/5 | Best for Beginners |
| NS Design NXTa Active Series 4-String Upright Electric Double Bass in Sunburst Sunburst | 4.7.5 | Best for Versatility |
| BSX Bass Allegro Acoustic-Electric Upright Bass Nutmeg | 4.6/5 | Best Acoustic-Electric Model |
| Cecilio CEDB-1DW 3/4 Size Electric Silent Mahogany Metallic Upright Double Bass | 4.4/5 | Best for a Small Budget |

Electric Upright Basses: How Do I Choose?
Choosing the best electric upright bass involves some consideration. You need to think about your budget, interests, and where you plan to use the electric double bass.
Here are a few things you should think about to help select the best electric upright bass for you.
Size
One of the most important factors to know when buying the best electric upright bass is its size. You can find some 3/4 electric upright basses, so they aren't too big. The 3/4 size is helpful for many players since they can reach the entire length of the fingerboard.
A 3/4 upright bass is the most common size because of the large nature of the instrument. Most 3/4 basses are about six feet long, and the body is just over three and a half feet long. However, an electric upright bass isn't as wide as an acoustic since it doesn't need a chamber for the sound to resonate.
Unless you're very tall and have long arms, you don't need a 4/4 bass. If you're a bit shorter, you may want to look for a 1/2 size, though that can be hard to find. When possible, look for a 3/4 model to give yourself more options.
Features
You should also consider how many features you want your electric double bass to have. If you want something simple, you may just need a bass that looks good and sounds fantastic. A simple bass like that will come with a tripod or a floor peg, so you can play it like any other bass.
More advanced models may have solid bodies and better electronics, such as a rechargeable preamp circuit. Having more features may help you have more control over your sound, so you can manipulate the tone based on the music you play.
The overall design may also help you choose between two electric upright basses. One might be slightly slimmer than another. Or you might find that one is a bit too heavy, while the other is the perfect weight.
Color
While it's not a huge deal, you may want to consider the instrument's color. Many electric upright basses have a nutmeg or sunburst color that makes the instrument look like wood. That can be nice if you want to play the instrument with others who have wood-like finishes.
But you can also get a black model if you want to showcase a different look. Now, the other factors should take priority because the color doesn't affect your playing. Still, it can be worth considering if you can't decide between two or three models.
Think about where you want to play the bass and if a specific color may look better. Then, you can coordinate with any bandmates you have to develop a coherent look.
Strings
Of course, you can't play any type of bass without a good set of strings. The string material, such as steel, can be worth investigating. You may want to change the strings if you don't quite like how an instrument sounds.
Another string-related element to consider is how many strings there are. Most electric upright basses have four strings, like the standard upright bass. However, you may find a few options with a fifth string.
You'll tune the fifth string to a B below the low E string. Having that string is helpful if you need to play extremely low notes, but it's unnecessary to play the electric double bass.
Storage
Another important consideration is where you'll store the electric upright bass when you aren't playing it. The instrument won't take up quite as much room as an acoustic model. But you still need to have space to store the length of the instrument.
If you don't have a super safe place for it, you may want to get an electric model that comes with a case or gig bag. That way, you don't have to worry about dust accumulating on the bass if you leave it somewhere in your home.
Price
As much as you may want to buy the best, most expensive electric string bass, you might not be able to. Most musicians don't make a ton of money, so you have to budget well. You can research electric upright basses and consider the factors to help you decide.
At this stage, that information can help you develop a realistic price range. Then, you'll know how much you have to pay to get the features you need. You can also figure out how much you should save to afford the best bass when you want to buy it.
Best Electric Upright Basses
Even when you know what to look for, it can be hard to select the best electric upright bass. You have a lot of options on the market, and some may be better for you than others.
What's more, recommendations from a teacher or friend may not always help. You may have unique preferences and a different playing style, so what works for someone may not work for you.
So consider seven of the best electric double basses to help make your choice.

The Stagg EDB-3/4 BK uses solid maple to make up the body. It also features electronics that are just for the double bass, so you can plug in the instrument and play. This model is a 3/4 size, but it's smaller than an acoustic at only 58 inches long.
You get fantastic controls that allow you to sustain the notes or get a nice thump. As you use the tailpiece, the tape can wear off, which can expose some wires inside. However, you can protect the interior by replacing the tape.
The strings can be a bit hard on your fingers at first, so you may want to practice on an acoustic bass or switch out the strings to make them easier to play. However, the instrument sounds great and can last a long time, assuming that you take good care of it.
Pros
Easy maneuverability
Not too big
Nice controls
Good design
Long-lasting
Cons
Strings aren't the best
Tape can expose the wiring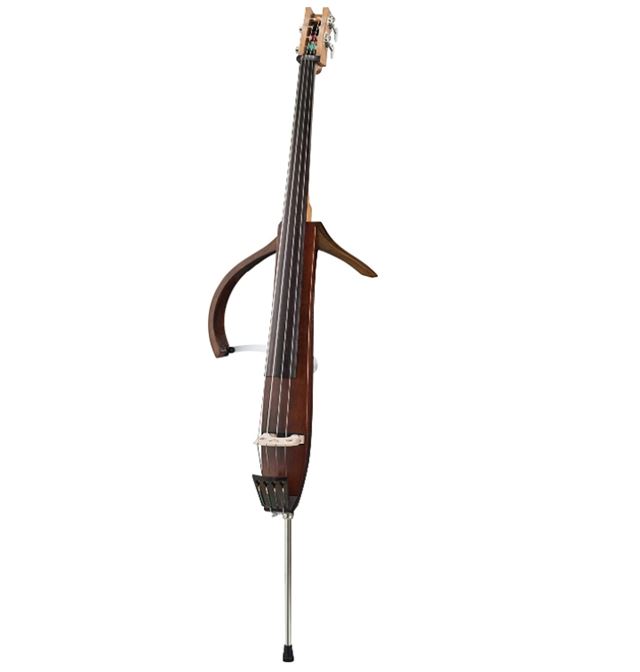 Yamaha has a stellar reputation, and the Yamaha SLB300SK lives up to expectations. It features a slim body that you can collapse to store in the gig bag. That also makes transportation easy, so you don't need a massive car.
You can play silently with headphones or hook up the bass to an amp. This model provides a full sound that's similar to an acoustic upright bass. A hollow chamber inside helps give you some resonance, and you can sound good in a jazz or pop group.
The bass features piezo electronics, which are some of the best out there. It's also a 3/4 model, so most people can play it easily. If you travel frequently, you may want to choose this model to use when you're on the go.
Pros
Easy to play
Good size for most players
Nice electronics
Works with headphones
Collapsable
Cons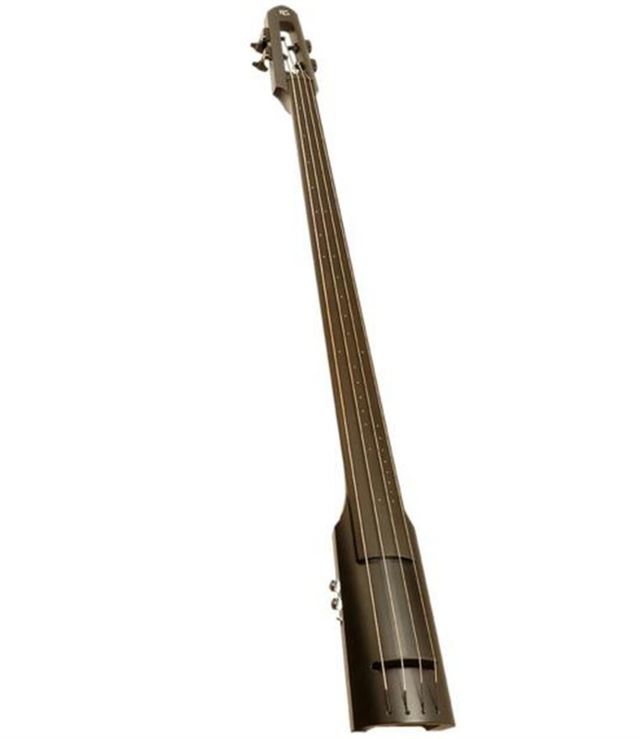 If you want a bass with active and passive electronics, you can't go wrong with the NS Design NXTa electric upright bass. This model features five strings, so you can play lower than most electric and acoustic bass models.
The solid maple body works with the Polar Pickup System to help you get a fantastic tone. Plus, it only weighs 10.5 pounds, so it's excellent for playing almost anywhere. You can use a bow or your fingers to bow or pluck the instrument and get the sound you want.
After charging the bass for a minute, you will get up to 16 hours of playtime. That makes it great for long rehearsals and performance days. The scale length is pretty standard, at 41.73 inches, so you don't need to adjust your playing style too much.
Pros
No external battery
Fantastic tone
Lightweight
Charges fast
Five strings
Cons
Can't collapse down
No mention of a case or gig bag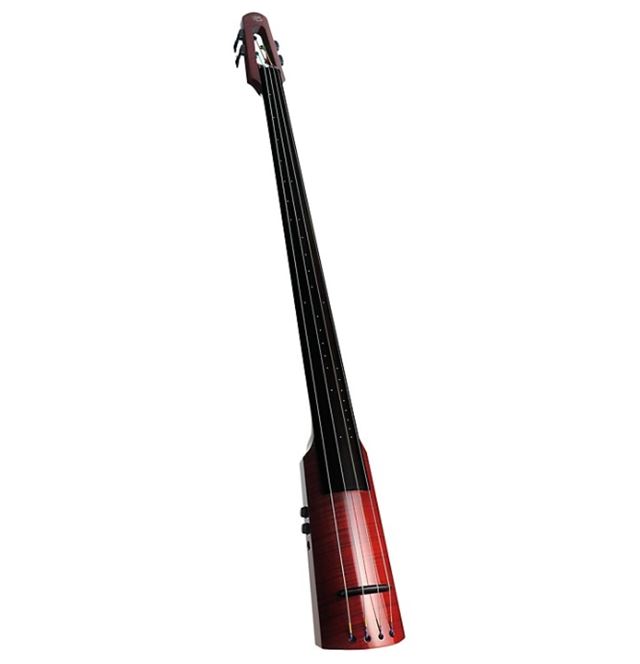 The NS Design WAV4c series bass is perfect for new players and anyone who wants to try playing an electric instrument. It features asymmetrical fingerboard relief to make playing more comfortable, so you can play for longer.
You get to use the same pickup system as on the other NS Design model. The pickup system works well with a bow or when you pluck the strings. That way, you can get an authentic bass sound, but you don't have to deal with wolf tones and other issues.
It comes with a tripod, and you can adjust the height and angle to play comfortably. This model is also very similar in size to other electric upright basses. Plus, it only weighs eight pounds, so it's great if you want to travel with some sort of instrument.
Pros
Dual-pickup system
Works with a bow and plucking
Comfortable
Lighter than most models
Good for beginners
Cons
Not as many features as some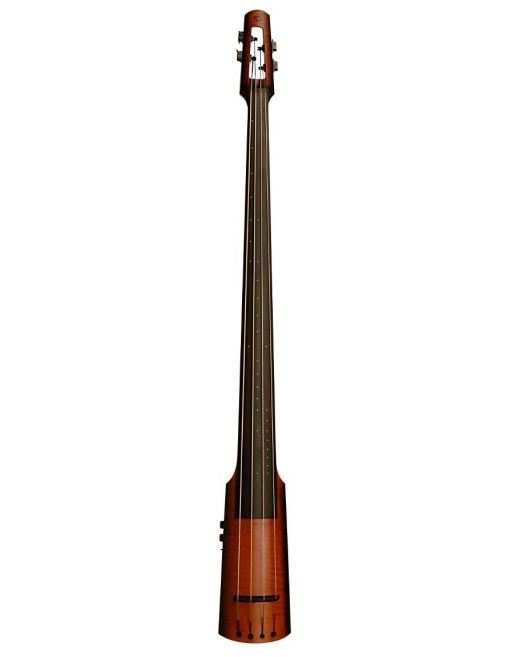 If you want a four-string bass but like the features of the NXT5a, you'll love the NS Design NXTa electric double bass. This model features the same dual-pickup system as the other models from NS Design, so you can play with or without a bow.
It also has a graduated fingerboard that makes playing fun and comfortable. You can buy different support systems separately to further customize your playing experience. All you need is a minute to charge the bass so that it can last all day.
The scale is 41.73 inches, which is pretty standard among electric upright basses. This model is very compact, so it's perfect for taking to rehearsals outside of your home. You don't need to have a car or truck to fit your full acoustic model.
Pros
Portable
Versatile
Nice scale
Authentic tone
Works with different support systems
Cons
Not as light as some models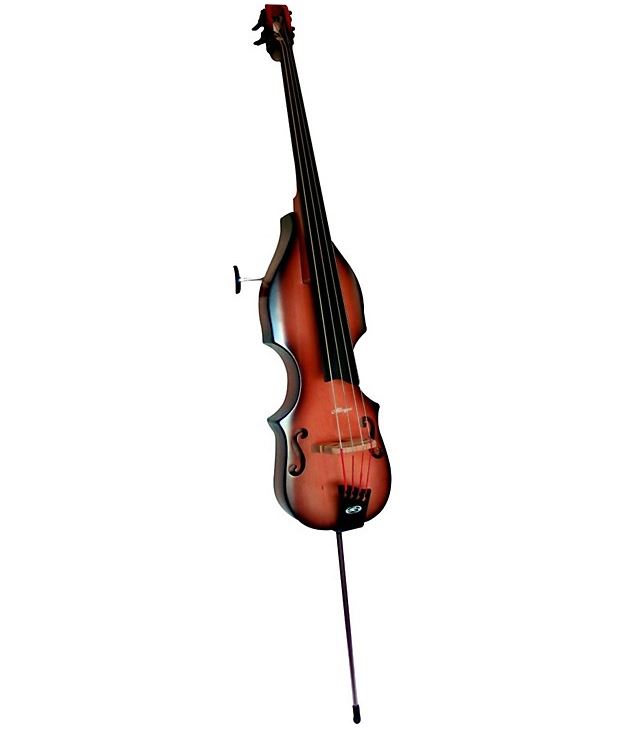 The BSX Bass Allegro model is fantastic if you want one instrument to play acoustic and electric music. Spruce and pine make up the top, while the back uses birch. Maple and ebony make up the sides and fingerboard, respectively. All of those woods help you get a rich sound.
Each string has individual volume controls, so you can adjust the sound levels. There's also a preamp onboard the instrument, so you don't need a ton of accessories. However, it weighs about 15 pounds, which is quite a bit more than some other basses.
Still, it offers solid electronics and is fun to play. It's a nice compromise if you can't afford to have an acoustic and an electric upright bass. Sadly, it's a bit more expensive than some competitors, so it may not be the best for beginners.
Pros
Individual volume on strings
Resonant sound
Ability to play acoustic
Solid electronics
Suitable for people who just want one instrument
Cons
Somewhat heavy
Not for beginners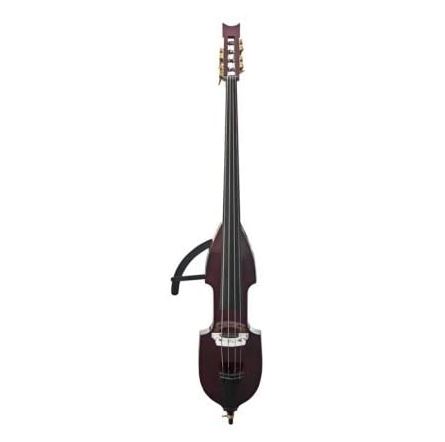 The Cecilio CEDB-1DW electric upright bass is another fantastic choice. Its body is mahogany with a beautiful finish, so you can sound and look good. Meanwhile, the oak fingerboard is easy to play, so you can move up and down the range of the bass.
You can adjust the endpin and back support to make the instrument more comfortable. Plus, you don't need to worry about charging the bass, though you will need to buy a 9V battery. Sadly, this bass isn't of the best quality, so it may have some dents and other issues.
It may be okay for casual players, so you can test out the electric upright bass. However, you may want to prepare to upgrade if you decide to continue with electric instruments. That way, you can get something that will sound better and last longer.
Pros
Good for beginners
No need to charge the bass
Great appearance
Relatively affordable
Cons
Quality control issues
Only for casual use
Electric Upright Double Bass FAQs
You may still have questions about buying the best electric double bass. Here are some popular inquiries and their answers to help you shop around.
What is the tuning for an electric upright bass?
The tuning for an electric upright bass is the same as an acoustic model. You'll tune the lowest string to a low E. The other three strings tune to A, D, and G, respectively. If you buy a five-string model, you'll tune the lowest string to a B below the low E. Keep in mind that all of these strings will sound an octave lower than written.
Can you bow an electric upright bass?
You can usually use a bow with an electric upright bass, though most models don't come with a bow. If you already have a bow, you can try that, or you may need to buy one specifically for the electric model. Then, you can play any bass part you may come across.
Where would you play an electric upright bass?
You may play an electric bass in a jazz band or a pop or rock group. While you can play it in an orchestra, the sound may stand out a bit too much. However, it may be worth using in any group for rehearsals if you can't transport your acoustic upright bass.
How does it differ from an electric bass?
The electric double bass does use a pickup like an electric bass guitar. However, you still play the double bass in an upright position, like an acoustic double bass. You can also use your fingers to pluck like on a bass guitar, but you also get to use a bow.
Wrapping Up
When shopping for the best electric upright bass, you have a lot to consider. You need to think about the size, weight, and number of strings. It also helps to have a budget and know when you plan to use the instrument.
That way, you'll be able to narrow your search to instruments that will meet your needs. It may take some trial and error, but you can find your perfect electric double bass. Soon enough, you may be able to use it on gigs in place of your massive acoustic bass.
Latest posts by Sakari Oramo
(see all)