10 Best Violin Bows For Sale (But Which Has The Most Value?)
---
Violin bows are as unique and diverse as the people that shop for them. No two bows feel the same, and the right bow for one person might be the worst option for another person. But did you know that the modern violin bow owes its origin to Francois Tourte, who started working on crafting better bows around the year 1785. That means the "modern" bow is more than two centuries old!
Even though violin players all make a sound in relatively similar ways, the subtleties of a player's arm, hand, and playing style all affect which bow is ideal for them. On top of the player's body type, different instruments themselves respond in unique ways, meaning the right combination of violin and bow is also important.
So in this article, you will learn just about everything you need to know about violin bows to help make your buying process as easy as possible!
Read more: How to hold a violin bow
What Is the Violin Bow Made Of?
If you are in the market for a new violin bow, then it is worth spending some time to educate yourself on the basic design guidelines. Knowing this information will help you to understand a violin bow price as well as what differentiates cheap bows from expensive ones.
And as a starting place, you might be wondering what the violin bow is made of. The short answer is that violin bow material can be either wood or carbon fiber.
Carbon Fiber Bows
Carbon fiber is a more recent invention when it comes to violin bows. They became a popular alternative to wood bows at the end of the 19th century due to the replacement of gut strings with steel strings, the transition from playing in small nobility halls to larger performance halls, and the decrease in quality of wooden bows.
Because metal wound strings can take about 3 Newton as opposed to the 2 Newton (200 grams) of gut strings, carbon fiber bows had the ability to produce a more powerful sound with increased durability.
Carbon fiber bows are made for beginners and pros alike, and can be found in a range of qualities and prices. For under $100 you can get a decent carbon fiber bow, making it a more affordable option than wood.
Wood Bows
Aside from synthetic materials, violin bows can also be made of wood with bow hair consisting of between 160 and 180 individual horse hairs. Wood bows are categorized in two main varieties though they both stem from the same tree: the 'Pau Brasil' (Caesalpinia Echinata).
The first type of wood, created from the outer layer of the Pau Brasil, is called brazilwood. Brazilwood bows are more inexpensive and best suited for beginner or intermediate players.
The other and more expensive type of wood for violin bows is Pernambuco, created from the inner layer of wood from the Pau Brasil. Pernambuco has a higher density and weight, and its balance between strength and flexibility makes it an ideal wood for high-level violin playing.
Because the Brazilian rainforest is now a fraction of its original size, the depletion of Pau Brasil trees has created an increase in the cost of these traditional wood bows. Societies such as the IPCI are working to conserve and restore this species for the continuation of production of wood bows.
Best Bow Brands
When it comes to making an investment in anything new, going with a popular and reputable brand name is usually a good bet. Brands that sell a lot of products and have stood the test of time have the best chance of getting you a reliable product that will keep you happy for years.
Having said that, some of the best violin bow brands to look out for include:
CodaBow
D Z Strad
Fiddlerman
Glasser
Crescent
Kmise
VingoBow
To be clear, this list is by no means showing every single brand of violin bows for sale out there, but rather is a general listing of the most popular and highest quality bows you will find.
Best Violin Bows
| | |
| --- | --- |
| Products | Overall Ratings |
| 1. CodaBow Diamond GX Carbon Fibre 4/4 Violin Bow | Best Overall |
| 2. D Z Strad Violin Bow Pernambuco Wood 4/4 Full Size Model 600 | Best First-Upgrade Bow |
| 3. CodaBow Prodigy Carbon Fiber 4/4 Violin Bow | Best Aesthetics |
| 4. Fiddlerman Carbon Fiber Violin Bow 4/4 | Best Budget |
| 5. Glasser X-Series Carbon Graphite X-Bow with Horsehair (4/4 Violin) | Best Lightweight |
| 6. Crescent Well Balanced Carbon Fiber Violin Bow 4/4 | Best Durability |
| 7. Fiddlerman Wood and Carbon Fiber Hybrid Violin Bow | Best Bounce and Action |
| 8. Kmise Carbon Fiber Violin Bow | Best Beginner Bow |
| 9. VINGOBOW Antique D. Peccatte Model Master Pernambuco Violin Bow | Best Professional-Level Bow |
| 10. VINGOBOW Carbon Fiber Violin Bow (Art No.106VB) | Best Balance |
List of Violin Bows
Now that you have an overview of the best violin bows and brands to look out for let's get into more details about the pros and cons of each bow, along with an exploration of which one has the most value.
1. CodaBow Diamond GX Carbon Fibre 4/4 Violin Bow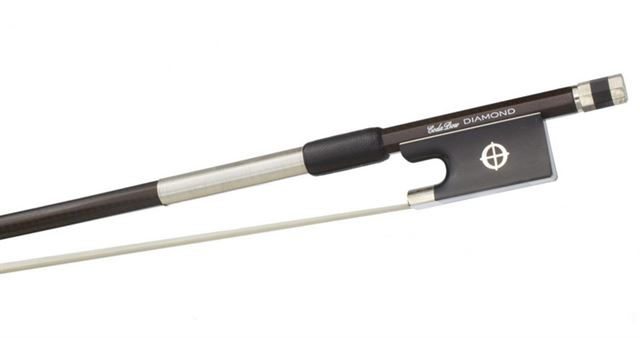 Wood bows that are good enough for professionals, unfortunately start in the thousands of dollars. But luckily, carbon fiber is a way to get almost the same quality while paying significantly less.
CodaBow carbon fiber bow is a durable bow with great balance and response. It is handcrafted and comes with an ebony frog and a diamond weave finish.
Pros:
Strong carbon fiber
Kevlar acoustic core
Handcrafted
Diamond weave finish
Great balance and response
Cons:
There's not much bad to say about this bow, but one con is that the price might be a hard sell for an intermediate player who's not ready to commit to a bow this expensive.
2. D Z Strad Violin Bow Pernambuco Wood 4/4 Full Size Model 600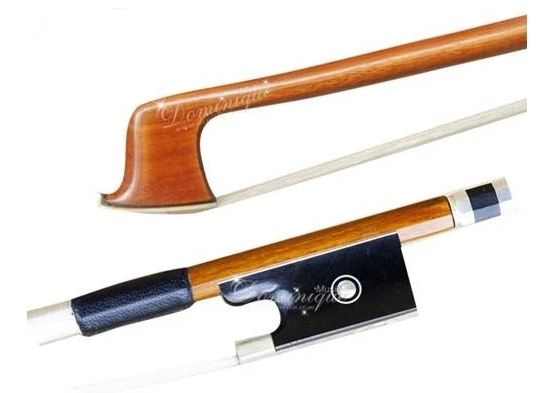 This handcrafted D Z Strad violin bow is made from high-quality pernambuco wood that is known for its great sound. It has a round shaft and comes with unbleached Mongolian horsehair.
As you would expect from pernambuco wood, the bow is balanced and produces a responsive and projecting sound.
Pros:
Pernambuco heartwood
Handcrafted
Great balance and response
Cons:
Less durability than carbon fiber
Lower quality pernambuco
To be clear, Pernambuco is the high-quality wood type, but the price point of this bow is somewhat low because not all pernambuco wood is of the same quality. But for a student looking to upgrade, this bow could be a perfect choice.
3. CodaBow Prodigy Carbon Fiber 4/4 Violin Bow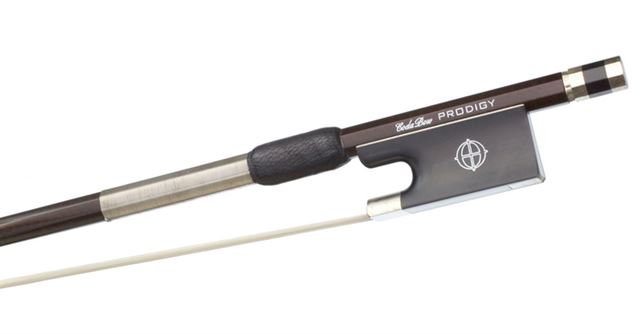 The Codabow prodigy is a few steps down in price from the Diamond GX bow, but it retains many benefits. It is made from high-grade graphite and has handmade workmanship that makes the bow look beautiful.
Pros:
Handcrafted
Looks beautiful with mountings of silver and nickel
Durable
Cons:
Stiffer than the more expensive Diamond GX
Difficult for beginners to use
4. Fiddlerman Carbon Fiber Violin Bow 4/4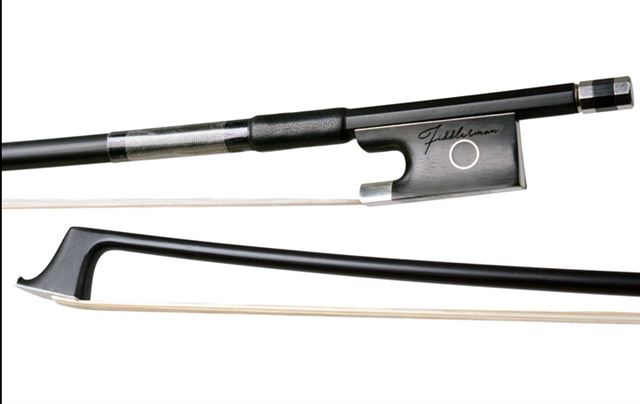 This Fiddlerman bow is another example of how carbon fiber can be better than medium or low-quality Pernambuco bows. For its price, you won't get the balance and response of the already mentioned CodaBow products, but you will get a durable bow that still sounds good.
Pros:
Durable
Great price point
Handles humidity well
Cons:
Overly stiff bow
Lightweight (aka more difficult response)
5. Glasser X-Series Carbon Graphite X-Bow with Horsehair (4/4 Violin)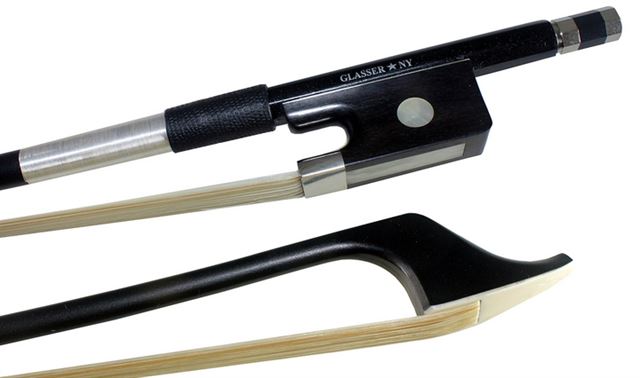 This is not an expensive or professional quality bow, but the carbon graphite material is strong without being too heavy. For a student who might beat up their bow, this strength-to-weight ratio might be ideal.
It has a matte finish, and for a bow of its quality, it still comes with real horse hair instead of synthetic fibers that you often find on student bows.
Pros:
Lightweight
Real horsehair
Easily makes a bright sound
Cons:
Stiff
Difficult to make darker/lyrical tone quality
6. Crescent Well Balanced Carbon Fiber Violin Bow 4/4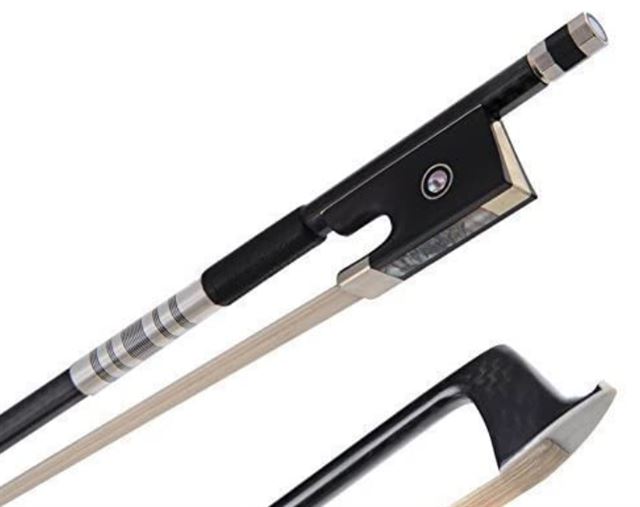 Violin bows can get quite expensive, and the cheaper ones can appear to be a turnoff. But with carbon fiber, you have to adjust how you evaluate the price point.
This Crescent bow is strong and durable, making it great for powerful lasting use. This isn't the bow to play professional classical music with, but playing outdoor gigs and bar gigs will work just fine.
Pros:
Solid carbon fiber
Stand up to humidity
Can take a beating
Cons:
Stiff bow
Lacking subtlety to sound response
This is not a professional or even intermediate bow, but it is a great backup to have around. It is also great for kids who might be clumsy with their bows.
7. Fiddlerman Wood and Carbon Fiber Hybrid Violin Bow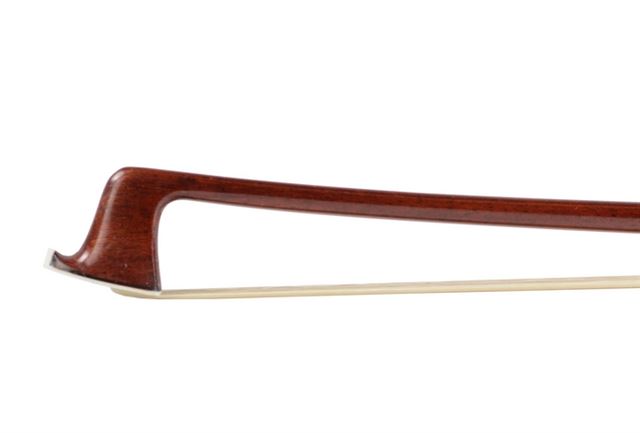 For advanced younger students or even intermediate students, this Fiddlerman hybrid bow is a great option. It uses both wood and carbon fiber, and it outperforms many of the lower-quality Pernambuco bows.
Its hybrid material gives it a good curve and bounce, and it has a great weight distribution.
Pros:
Handmade
Great balance, bounce, and action
Decorated with copper mounted ebony frog
Cons:
Too bouncy for beginners
Harder to control
Overall, the wood covering the carbon fiber gives a great bounce and flexibility, but it can be harder for beginners to control.
8. Kmise Carbon Fiber Violin Bow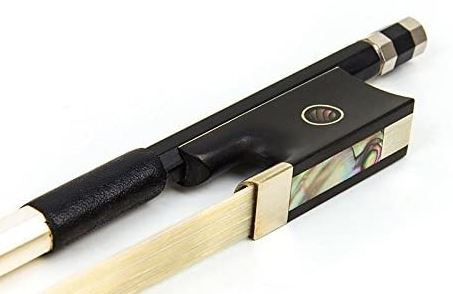 This Kmise bow is super affordable and great for absolute beginners. The carbon fiber body can handle wear and tear, and it has a surprisingly decent response for being a cheaper bow.
But older beginners and intermediate players will probably do better with one of the more expensive carbon fiber bows.
Pros:
Durable
Sleek look
Decent response
Cons:
Generally cheap/lower quality
Might be too heavy for young beginners
9. VINGOBOW Antique D. Peccatte Model Master Pernambuco Violin Bow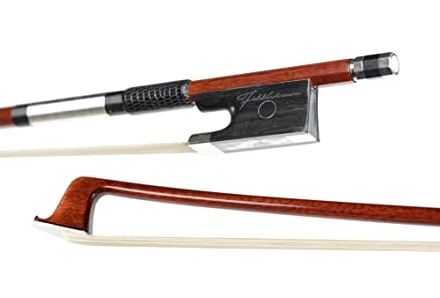 This VINGOBOW model is one of the highest quality wooden bows on this list. Unlike the super cheap bows, it is handmade by a master-level bow maker and it is made of higher quality Pernambuco.
Pros:
Handmade by a master level maker
Great balance
Higher-quality pernambuco
Cons:
10. VINGOBOW Carbon Fiber Violin Bow (Art No.106VB)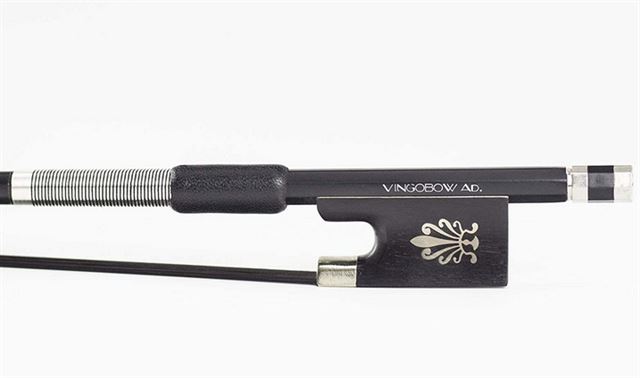 Compared with the previous Antique model, this carbon fiber VINGOBOW is more durable and lighter weight. It might miss some of the subtleties and flexibility of the previous wood model, but it manages to still have some decent bounce to it.
Pros:
High-quality carbon fiber
Good bounce and response
Great balance point
Cons:
More cheaply made
Craftsmanship not as detailed
Violin Bow Buying Guide
Besides knowing the specific details of those top violin bows, it is also helpful to know about the data points you can notice in each bow to help you decide on which one fits you the best. Having these categories in mind will make the process of testing out a bow as smooth as possible.
Size
The standard adult size is 4/4, and this full size works for middle school students and older. Younger students should use a smaller bow that is light enough to handle.
Weight
In general, you are looking for a bow that weighs around sixty grams. Anything too much heavier than this will be hard to control, and anything too light will produce a weak sound and have a bad response.
Balance Point
The balance point is where the weight of the bow is perfectly stable. There is flexibility here, but a good balance point is generally a bit below the halfway mark.
Stick Quality
The most crucial factor for stick quality is the material. Look out for the cheaper bows and make sure the wood feels okay. Just because a bow uses Pernambuco wood, it does not mean that it was a high-quality version of that wood.
Bow Testing Tips
For testing out new bows, keep some of these tips in mind. These are not strictly necessary, but they will help make faster and more accurate decisions.
The first tip is to make sure you are testing out the bows on your instrument. After all, you are searching for a bow that will work well with your specific violin.
Additionally, play the same passage of music with each bow. As in a scientific experiment, this consistency helps you to get an accurate comparison between each bow since you are only changing the bow and nothing else.
Lastly, try out only around five or six bows at a time and choose your favorite from each group. Having more than five options will overwhelm your mind and make accurate comparisons too hard. In addition to how the bow feels, you should also consider bringing a musician friend along to help you decide on the bow with the best sound quality.
This process works best with blind testing—your friend can only hear the sound and not see which bow you are using.
What Determines Bow Quality
In short, you determine the quality of a bow by how well it feels and sounds. The style of music you play is also a factor. For example, a high-quality fiddle bow might be perfect for gigs with a rock band but awful for sitting in the symphony orchestra and playing in a classical style.
So that caveat aside, bow quality mainly comes down to the material, the balance, the stiffness-to-flexibility ratio, and the response. The right balance will depend on personal preference. But in general, the balance point should be closer to the frog of the bow, just below the center. It should feel easy and stable to play with a properly balanced bow.
A bow's material and stiffness/flexibility are related because it is the material that determines how it will behave. Generally, the highest quality bows use Pernambuco wood. Pernambuco wood tends to have the perfect balance of strength and flexibility—it is strong enough to be stable and grab the string while being elastic enough to perform well with a more bouncy and spiccato type of bowing.
Lastly, the response of the bow is how well it grabs the string to create a vibration. With most musical instruments, the response is the most crucial factor. A good bow will leave the control of sound production in your hands, and you should be able to play various dynamics and articulation styles without struggling.
Wood vs. Carbon Fiber
Choosing between wood bows and carbon fiber bows is one of the main decisions you will have to make when buying a new violin bow. There are high-quality bows made from both materials, but knowing the differences between them will help make your buying process smoother.
Carbon fiber as a material is more durable, and it will generally give you more stability as you bow violin strings, especially on double or triple stops. On top of the stability, carbon fiber does not warp over time. So carbon fiber bow will generally not succumb to the same aging problems as wood.
Wood bows are among the most expensive—specifically Pernambuco wood. And the best bow brands will be those that offer high-quality cuts of this wood. High-quality wood is both durable and balanced, and it has just the right amount of flexibility. But no matter how good the wood is, wood will naturally change over time, even if just slightly.
Temperature and humidity can affect the density and shape of the wood. For example, if you forget to loosen the tension of your bow hair after playing, that tightness can cause a wooden bow to warp, something that would likely not happen to a carbon fiber bow.
Round vs. Octagonal
While you might hear some hype in the violin world about round bows versus octagonal bows—with loyal advocates on both sides of the debate—the truth is that the shape does not make too much of a difference.
If one shape sounds and feels better, go with your instinct. But considering how many other important factors go into choosing a bow, worrying too much about the shape is unnecessary.
Bow Hair
Bow hair is the material that attaches to both ends of the stick, and it is how you make a sound. The hair is horsehair, and approximately 160-180 pieces of hair are attached to each end.
Like bow making, re-hairing a bow is a detailed process best left to the professionals. Violinists will usually rehair their bows every six months.
Home Trials
Trying out a bunch of new bows in the music shop is better than nothing, but it can be a stressful experience. It can be hard at the moment to know for sure whether you like something, and a store worker might be subtly trying to push you in one direction or another.
So if you can manage to arrange it, the best option is to take a few of your favorite bows back home to try for a more extended period. Having the bow at home gives you more time to get to know it, and you will more easily be able to make honest comparisons between your options.
Additionally, new bows will naturally feel a bit weird when you first try them. But an awkward feel at first often turns into a balance and response that you love. Having the time to get used to a bow with a home trial will give you the most accurate sense of whether it is right for you. Especially for an expensive investment, it is well worth trying to arrange a home trial!
Violin Bow FAQs
This article threw a lot of information at you, so let's work through some of the most frequently asked questions to ensure that any remaining questions find answers.
What Are Violin Bows Made Of?
The material for violin bows can be either wood or carbon fiber. Carbon fiber is more durable, and it succumbs to aging and warping less. But the highest quality bows are made from a rare type of wood called Pernambuco.
Pernambuco wood tends to have the best balance between stiffness and elasticity, leading to an optimal response.
How Are Violin Bows Made?
A violin bow is essentially a stick, but the magic is in the subtleties of how a bow maker turns the raw materials into the finished bow.
The first step is to carve out the rough dimensions of the stick from the plank of raw wood. Afterward, special woodworking tools give the stick either a round or octagonal shape. Once in the proper shape, the bow maker will heat the wood to bend into the desired curve.
And finally, after making the frog (the heavier piece on the bottom of the bow), the maker will attach the frog onto the stick. Once the frog is attached, all that remains is finishing touches like polishing and hairing the bow.
Why Are Violin Bows So Expensive?
The high cost of violin bows comes down to two main factors. The first is the material, and the second is the intricate skill required by a bow maker.
In terms of material, pernambuco wood is rare and expensive. This wood only grows in tropical regions, and even if you find Pernambuco, it does not mean it will be great for a bow. So most samples of Pernambuco do not become a bow—only the rarest cuts with the perfect weight, strength, and balance are good enough.
Other than material, the time and skill required by a good bow maker is the other factor that makes bows expensive. Making a bow is a slow process that can take up to a week to make, using skills learned over a lifetime.
Conclusion
Hopefully, you now have a greater appreciation of what goes into making bows and what distinguishes different types. While choosing a bow ultimately comes down to the right sound and feel, knowing about bow materials, quality, and brands will help make the process of finding the perfect bow that much easier!
Latest posts by Sakari Oramo
(see all)