Online Violin Lessons – Top 10 Courses, Applications & Software
---
Violins are sensitive instruments with one of the most beautiful and powerful sounds. Since bowed instruments are tough to grasp, learning to play the violin can be difficult, particularly if you're a newbie with no previous musical experience. Fortunately, online violin lessons are available for anyone who does not wish to attend a regular music school or hire a private tutor. We'll show you how effective and useful they can be.
There are excellent online classes available for both beginning and intermediate violinists. They are taught by some of the top instructors available, which is a benefit that traditional lessons do not provide.
So, whether you're motivated by Paganini or Sherlock Holmes, you can learn to play the violin on your own.
Please continue reading to learn about the top online violin lessons and select a course that will ignite your passion for music even further.
Best Violin Lessons Online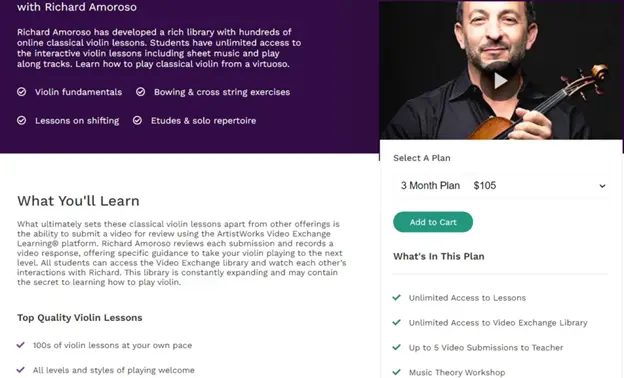 ArtistWorks is just another excellent online violin learning platform.
Richard Amoroso's violin course is available for purchase, among many other music classes.
These online violin classes are engaging and well-structured and are taught by the wonderful Richard Amoroso, a longstanding member of the Philadelphia Orchestra.
There are three packages available, each designed for a particular degree of experience. You'll get continuous access to video lessons, a music theory course, and access to the video exchange library with each bundle.
The video exchange library is a fantastic feature that will allow you to benefit from the experiences of other students. You can also upload your own video for evaluation from your instructor.
Another significant advantage is the ability to loop or alter the speed of the video. This allows you to learn at your own speed and complete each course correctly.
ArtistWorks is an incredible guide for players of all skill levels.
The website provides beginning, intermediate, and advanced classes, as well as a violin basics course, so everyone can find something that suits them.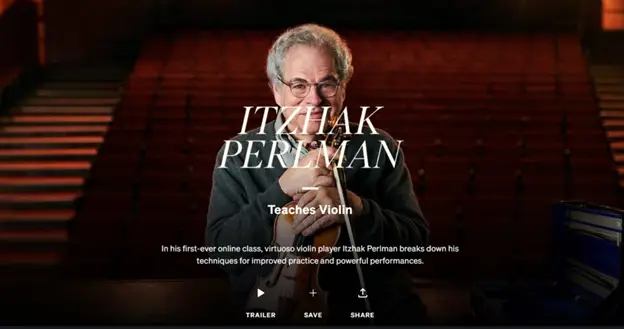 Learn how to play the violin with great violinist Itzhak Perlman.
MasterClass is a streaming service that offers a variety of courses taught by the greatest teachers in the world, including online violin instruction.
Itzhak Perlman is a Juilliard professor and Grammy Award winner. In fact, if you Google "greatest violinists of all time," he will come up. As a result, the opportunity to learn from him is precious.
You will, however, have to pick between purchasing Perlman's lesson and purchasing an annual subscription that includes access to other masterclasses.
Perlman's class consists of 19 video lessons (4h13m). They can be seen on any mobile phone or computer.
Lessons are designed to be watched sequentially and are appropriate for beginners. Perlman begins with fundamentals and progresses to skills such as double-stops and higher positions.
He also discusses a music career, the performance mindset, and overcoming obstacles. Virtual music courses frequently do not include such themes, yet they can be quite valuable to people of all experience levels.
MasterClass is a fantastic online violin lesson for absolute beginners. Lessons are sequential, understandable, and motivating.
Violinists with some experience will find it interesting as well, because Mr. Perlman, in addition to technical suggestions, gives his valuable knowledge and guidance.
Furthermore, MasterClass courses are ideal for anyone who wishes to learn how to play an instrument through step-by-step lectures and clear instructions.
3. Udemy Online Violin Courses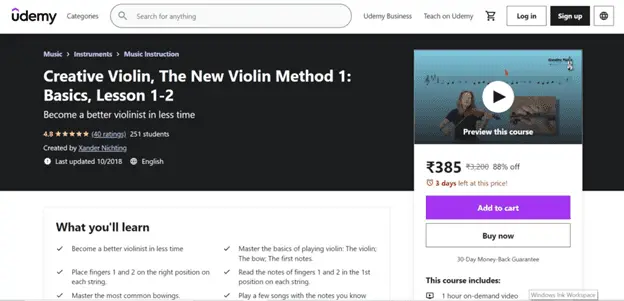 You've certainly heard of Udemy, a popular e-learning platform that offers a wide range of general and highly specialized music courses.
There are also many violin classes available; you just need to do some research to discover one that meets your needs.
The fact that you can get free violin lessons on Udemy is amazing. However, the majority of them are comparatively cheap.
Each course includes a varying amount of learning material — the number of video lessons varies between 13 and 135. Most courses provide downloadable resources and materials.
Beginner Violin Lessons, for example, is a famous Udemy violin course that provides in-depth lessons to help you learn violin from the initial concept.
Vibrato Master Course, Intonation Guide for Violinists, Music Theory, and several more specialized courses are available.
Udemy is an excellent violin learning platform for people of all ages and skill levels because it offers a large choice of courses for different levels of experience.
You'll discover everything you need, from violin tuition for youngsters and comprehensive starting courses to specialized lessons on advanced techniques. All you have to do is know what you're searching for.
4. Fiverr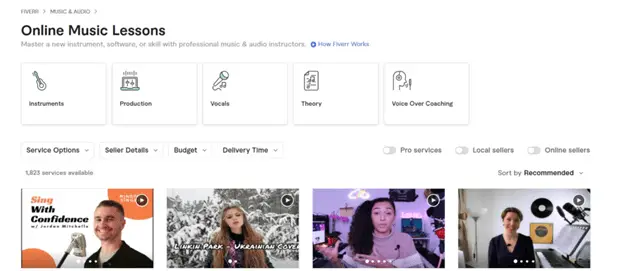 Have you thought of using a freelancing platform to teach online music lessons?
Fiverr is a well-known marketplace that links freelancers with prospective consumers. So, if you want to learn to play the violin online, you can find freelance tutors who can assist you.
On Fiverr, you can find a number of different lessons and teachers, so it's a perfect method to learn the basics while also enhancing your violin talents.
Freelance violinists typically promote themselves and describe what they offer through videos. You can even speak with them before opting to join the course.
The most important advantage of these courses is communication – your teacher will be able to hear you, evaluate your flaws, and advise you on how to improve them. It's a vital aspect of learning music, yet many online programmes don't provide it.
Most teachers will also give you sheet music, exercises, and additional materials.
If you select the proper teacher, you can be confident that you will have a positive learning experience.
Fiverr is ideal for all violinists. Newcomers will benefit from straightforward, engaging instruction, while experienced players will have the opportunity to ask questions and master specific methods.
Furthermore, because there are many reasonably priced classes available on the websites, this is an excellent alternative for anyone on a tight budget.
5. Violin Lab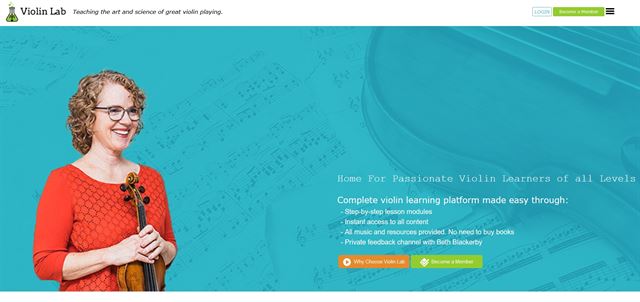 Violin Lab offers extensive and effective training to help you take your violin talents to the next level.
This online violin education features video lessons, visual elements, and private video exchange classes with an instructor.
Beth Blackerby, a violin educator, is the creator and master teacher of The Violin Lab. She is passionate about passing on her knowledge and inspiring her students to form a relationship with the violin.
Violin Lab, her project, features a well-structured curriculum including courses for beginners, intermediate players, and experienced violinists.
There are excellent violin lessons available for beginners. If you're a more advanced learner, you'll benefit as well since you'll learn about breaking bad habits, perfecting methods, and adding richness to your playing.
A subscription allows you to download sheet music and songs from a large library.
You'll also get access to a page where you can upload your videos and get instant comments. You can also take part in conversations about music, violin playing, or the Violin Lab technique.
Violin Lab is appropriate for adult beginners as well as intermediate violinists.
Basically, it's for anyone who wants to dive into the world of violin through in-depth practical and theoretical lessons.
6. Fiddlerman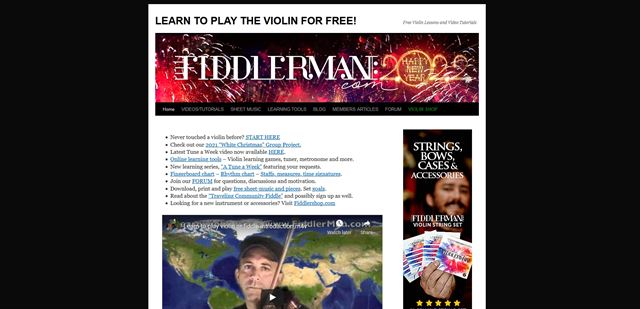 Fiddlerman is a website that provides free online violin instruction.
The website also has a variety of online learning tools and activities that will make your learning experience enjoyable and simple.
Fiddlerman is primarily handled by a one-man team — Pierre Holstein, who has spent over 40 years as a professional violinist in orchestras across the world, develops interesting content for diverse learners.
On his website, you may discover video courses for both beginners and advanced users. They are led by Pierre and usually show him performing as well as sheet music in the corner.
These song tutorials are an ideal way to broaden your musical repertoire. However, if you're a newbie, you should start with theory classes.
A metronome, a violin fingerboard chart, and a violin tuner are all available from Fiddlerman.
Furthermore, it offers a series of sheet music, which is a genuine treasure if you know how to read notes. You'll hear everything from classical etudes to mainstream music.
Although some of the videos aren't of the highest quality, Fiddlerman compensates with a wealth of materials and great violin instruction, making it one of the best free violin schools online.
Fiddlerman's lessons will be beneficial to players of all levels.
7. Violin Lounge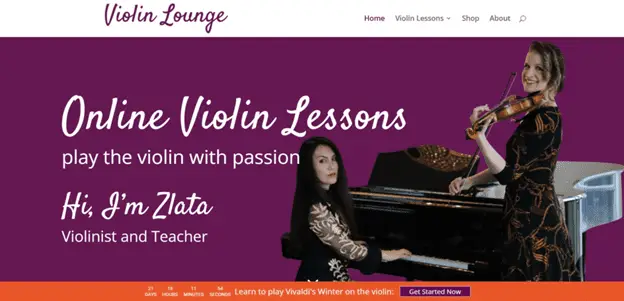 Violin Lounge is another website worth visiting if you want to learn how to play the violin for free online.
This online course, which includes over 250 courses, mixes modern techniques with classical tones.
Zlata Brouwer, a classically educated violinist and instructor, founded the website. She teaches in a very personable and effective manner.
You can learn the fundamentals, but there are more advanced courses on bowing methods available.
Zlata's violin product reviews might also assist you in purchasing a violin. She also publishes writings on a variety of themes, both technical and inspirational.
Violin Lounge classes will teach you not only theory and technique, but also how to express yourself musically. So, if you're interested in this part of music, this course is for you.
Paid packages are also available, which include, in addition to video classes, practise routines, a sheet music library, and the ability to send in videos for review. Bow like a Pro, for example, contains six courses that cover technique, tone creation, and emotion.
Despite the fact that there are many free courses available, these added features can be extremely beneficial when learning the violin. Whatever you pick, if you take lessons thoroughly, you will gain a well-rounded musical knowledge.
Violin Lounge is for anyone interested in improving their violin skills and adding emotion and elegance to their tone.
It's an excellent resource for learning basic violin abilities while also improving your overall musicality.
8. Violinspiration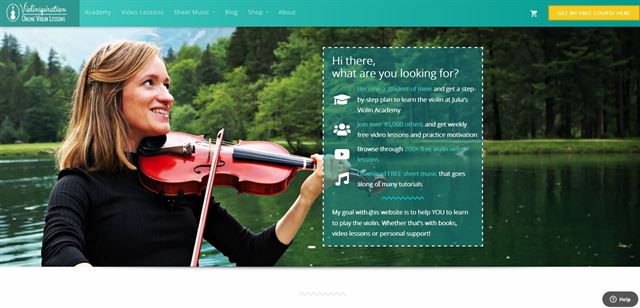 Violinspiration provides free online violin instruction.
The website is clean and well-organized. There is a wide range of video courses, sheet music, and blog posts available.
The website was established by Julia's Violin Academy, a professional violin teacher (as a part of Violinspiration).
If you pay for Academy membership, you will receive a practise plan, the opportunity to receive feedback, and a chance to connect with other students. You'll also be able to take part in online live lessons.
Violinspiration, on the other hand, presents a variety of free courses in which you may learn to play a variety of music ranging from movie soundtracks to pop favourites.
If you are unfamiliar with sheet music, there are also introductory classes available. You'll learn how to tune your violin and recognise notes.
You can search videos using the search bar to find specific songs or approaches.
Violinspiration is a fantastic learning tool for anyone who wishes to improve their technique, with a huge library of video tutorials and various learning tools.
Although there are lessons for beginners, the website is generally best suited to players who are already comfortable with sight-reading.
9. Violin School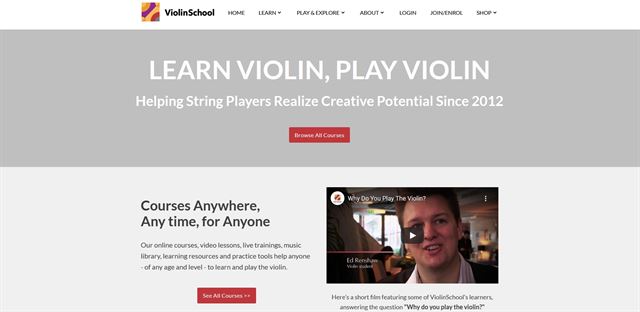 Violin School provides both free and paid online violin classes that are creative and social in nature.
Music, technique, performance, and practise are the platform's four key ideals for teaching violin.
Sessions at the Violin School range from initial beginner lessons to teacher training. They are guided by a number of accomplished violinists.
There are violin classes for younger pupils and youngsters, as well as adult-oriented violin classes.
The premium Violin Fundamentals curriculum will help you quickly master the fundamentals of violin playing. You'll also get personalised feedback and the opportunity to participate in live group classes.
Because the Fundamentals curriculum is purely taught by ear, you do not need to read notes just yet. The basic Violin School method is built on assisting you in learning spontaneously.
There are also videos dedicated to song tutorials, which will be very useful if you wish to learn new songs.
The list of scales and arpeggios, as well as a music dictionary, can be found under the Resources page. There's also a Learning Centre area with articles about violins.
Because the website is often content-dense, you'll have to spend some time searching for what you're searching for.
Violin School provides violin instruction to anyone who want to study the instrument. There are classes for children, adults, first-time players, and ambitious experts.
The paid programme is ideal for people who are serious about learning to play the violin and wish to engage in group courses, coaching calls, and other activities.
10. Violin Online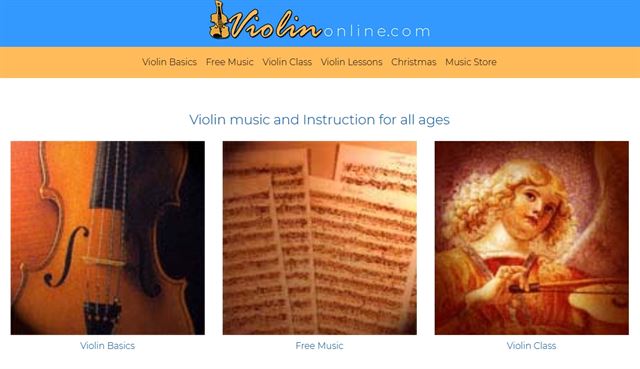 Violin Online is a free violin study website with a vast written material library.
It's incredibly simple to understand and utilise.
Violin Online offers a unique approach to learning how to play the violin. It will be an extremely useful tool for you if you want to learn through reading.
It will teach you the fundamentals of violin fingering, reading music, dynamics, and tempo using a combination of text and visual assistance. You can also learn how to properly care for and set up a violin.
You can also explore the music library, select a song, and download sheet music, sound files, and a brief description of the song/artist.
You won't be able to study from guided videos as you would in many other online courses if you take Violin Online. However, the study resources and content provided by this website are a wonderful supplement to your education.
Violin Online is a convenient additional learning resource that may be used in addition with video classes or other sorts of e-learning.
It's ideal for children, beginners, and anyone looking to brush up on their musical expertise.
How to Choose the Best Violin Lessons Online?
There are lots of high violin courses available online, all of which appear to offer the best outcomes.
The violin, on the other hand, is a difficult instrument to learn, let alone master. Holding the bow with one hand, pressing strings with the other, reading notes, and maintaining time all necessitates a lot of multitasking.
So, while it is possible to learn to play the violin on your own, you will need to find a decent online curriculum and a reliable teacher.
Fortunately, there are many experienced violinists who are eager to share their knowledge and create e-learning platforms. You simply need to see if you like their approach and teaching style — some instructors just don't click with you, and it's essential to find someone who can inspire you.
Moreover, high-quality videos, or at the very least extra visual aids, should be recorded. It's simple to view videos of piano lessons, but it might be difficult to see what's going on with the violin.
If you're a newbie, you should also consider whether the website provides high-quality theory lectures. You can learn to play the violin by ear to a certain extent. And after you've mastered notation, playing music will be a pleasure.
What Are the Advantages of Online Violin Lessons?
Online violin websites can provide you quality lessons that will teach you how to play this lovely instrument or help you improve your skills. All of this will take place at your own speed in the privacy of your own home.
These classes are frequently taught by experts and well-known musicians, and some courses even allow students to interact with them.
You can create your own practise regimen (just remember to stick to it!) and select specialised classes that will teach you exactly what you need to know. You will also be able to select songs – if you don't want to study classical pieces, you may simply play some of your favourite songs.
Furthermore, it is well acknowledged that music offers physical, mental, and social advantages.
Last Words on Online Violin Lessons
Fortunately, there are numerous violin learning platforms that provide high-quality courses given by qualified experts. And it's a fantastic tool to use if you want to master the fundamentals or develop your skills.
Many e-learning courses, on the other hand, promise amazing outcomes in the blink of an eye. However, rapid growth does not occur only if you take the course and practise; it also occurs if you follow the instructions and practise appropriately.
There is no doubt that if you devote yourself to this procedure, you will achieve your aspirations. And playing the violin will no longer be difficult. If you've never played music before, it will give you a unique sense you haven't had before.
Online Violin Lesson FAQs
Is it possible to learn to play the violin online?
Yes, it is possible to learn the violin online. The greatest online violin lessons are efficient, and they frequently integrate cutting-edge learning tools to help you learn faster. You can study fundamental music knowledge or improve your violin talents with a well-guided, well-structured curriculum.
Are Online Violin Lessons Beneficial?
Online violin lessons are unquestionably worthwhile. There are numerous advantages to taking online classes, and you have nothing to lose by giving it a shot. You won't have to worry about wasting money because some of them are free. Furthermore, learning music is never a waste of time.
Is It Difficult to Learn the Violin?
Yes, bowed instruments such as the violin are difficult to learn. The violin is an extremely delicate instrument that necessitates a great deal of multitasking. To generate a suitable sound, you also need some abilities, which can be difficult for novices.
Latest posts by Sakari Oramo
(see all)