10 Websites to Learn Cello Lessons Online (Free and Paid Courses)
---
Music has been an important part of culture throughout every part of the world for centuries. Whereas the musical instruments used to enjoy music have evolved over time. The passion to know how to play them has increased. Most people who want to learn how to play the cello realise that they'll need to begin early in life.
Luckily, there is a simple way for anyone, irrespective of age, to pick up the cello and master this incredible musical instrument without any prior musical training. This is known as online learning, and it is becoming more popular among the elderly. Cello lessons on the Internet appear to be as natural as any other type of internet learning.
Online courses are a self-paced format in which students are taught through a series of printable or streaming videos from an online library. Each lesson is designed to be taught in the same way that an instructor would teach the same lesson to a classroom full of students. The main difference is that because it is a video, you can stop, pause, and restart it if there is a section where you need a little more time to get the hold of it.
Here are 16 Websites to Learn Cello Lesson Online:
1) Artistworks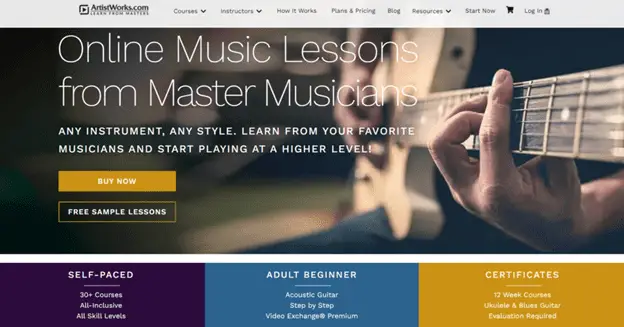 ArtistWorks.com is a website aimed at teaching cello players how to play. Mike Block, a classically trained cellist with a master's degree from the Julliard School of Music, is been featured on the website.
In addition to playing the cello, he is a skilled composer. His distinct style of standing while playing the cello has garnered him a great deal of attention and accolades.
Mike's program consists of a well-stocked video library with hundreds of lessons. Each lesson is divided into specific topics, and the video is ideal for learning how to play cello at your own speed.
Because of the way it is set up, you don't need any experience to get started, and irrespective of your training level, you'll easily find some useful information that would help you get the most from each lecture.
Mike Block's Cello Lessons Online provide a great opportunity in which he allows his learners to create their own videos of their playing and then provides to critique the video and offer them tips and suggestions based on what he observes on the video. A person can sign up for three different membership schemes on the website: three-month, six-month, and twelve-month memberships.
2) Cello Academy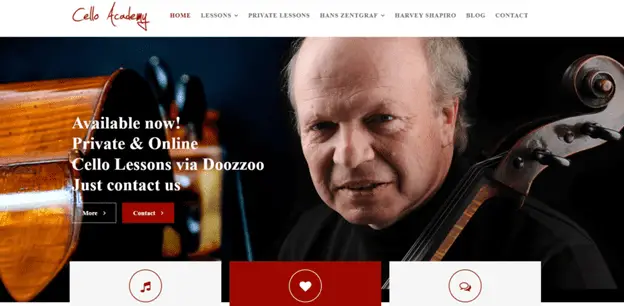 The Cello Academy with Hans Zentgraf is a completely online concept that was created to allow people to learn to play the cello without ever leaving their living room. The cello is a one-of-a-kind string instrument that can be found in a variety of music genres other than classical orchestras. One of the most appealing aspects of the cello is its distinct sound, which is why so many people have chosen to study it later in life.
The Cello Academy is a membership-only website, and all premium subscribers have unlimited access to all instructional videos, which are available 24 hours a day, 365 days a year. Each video is up to 15 minutes in length. The system is intended to be a good fit regardless of your skill level, whether beginner, intermediate, or advanced.
The Cello Academy is ideal for anyone who wants to learn to play the cello and does not have the funds to pay for costly lessons from a qualified teacher. Everything on the Cello Academy website is completely free, and all members can download and use it without paying a penny.
3) Olga Redkina Online Cello Lessons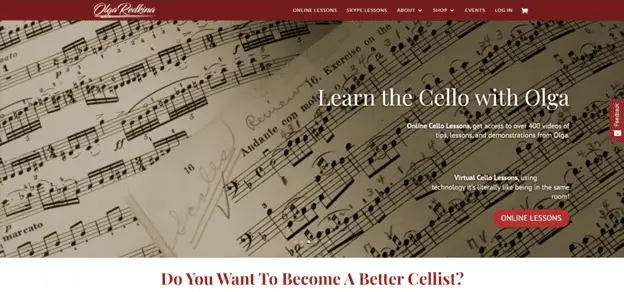 The Olga Redkina Online Cello Lessons website teaches people how to play the cello. Whatever your skill level, the online service established by Olga Redkina was planned to have something to provide you. It was created to assist people who want to learn to play the cello and do not have the time to locate a professional instructor to teach them in their studio or at their home.
The Olga Redkina Online Cello Lessons system is intended to be a self-paced membership site with video lessons. An online tutoring system differs from traditional teaching because each lesson is pre-recorded on video, allowing you to watch the video rather than being lectured to for hours at a time. To make learning easier, the online training course is divided into four sections.
All premium subscribers have complete access to every lecture in the extensive training program. All of the classes are prepared by the world-renowned Olga Redkina, and you can undoubtedly sense her devotion to her craft and to those who want to learn how to play the cello.
4) String Lessons Online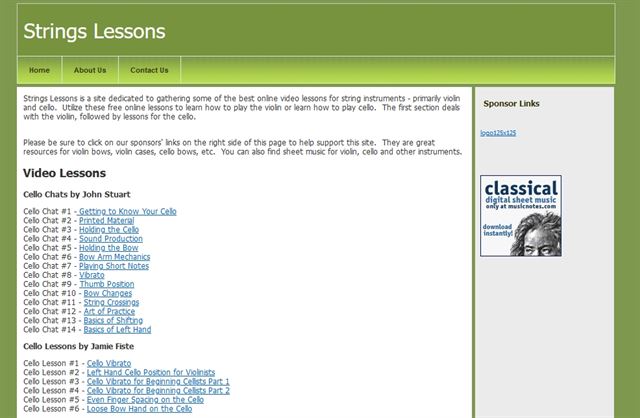 The cello is a member of the string family of instruments, and more and more people are finding it as a new experience as well as a rapidly growing instrument of choice.
Whereas most people love to find a traditional, local musician who is willing to teach them how to get started. Even so, for people leading a very busy life, an online course resource is ideal.
String Lessons Online is a great site with a large number of video classes. Each clip is a pre-recorded lesson that covers a broad variety of topics and relevant information.
Everything on the site is completely free, and it provides visitors with a variety of different pre-recorded videos that can be viewed at any time.
5) Cello Online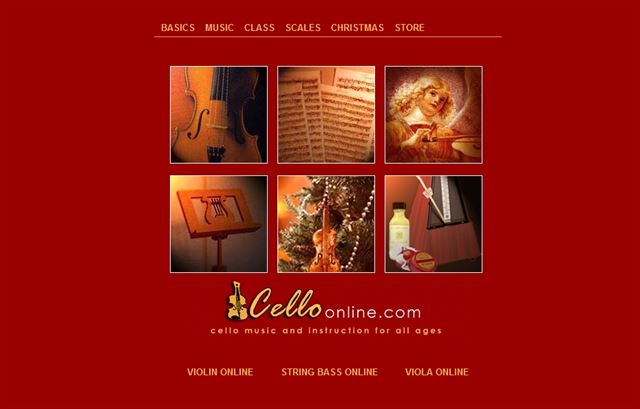 Celloonline.com is a website that was made to provide visitors with free cello information. It has dozens of "How to" links to pages that are packed with valuable information that anyone can use to understand everything there is to learn about the cello. All pages are simple to read, with clear, clear and precise step-by-step instructions and illustrations as needed.
The website is divided into six distinct categories, making it extremely simple to locate all of the information that you seek. Each of the six categories has a number of topics that are relevant to the category and are listed under the corresponding category. Each category contains several links to individual pages containing content for the various topics.
The categories cover topics such as how to position the cello to finger the string, which is ideal for beginning cellists. It also covers topics such as how to use the bow properly, how to rosin, and how to tune your cello. If you prefer to learn from a live teacher, there is a page dedicated to finding one. There is a section dedicated to learning musicology. This covers topics such as learning to read sheet music, measures, and rhythm as they apply to the cello.
6) Natasha Jaffe – Private Lessons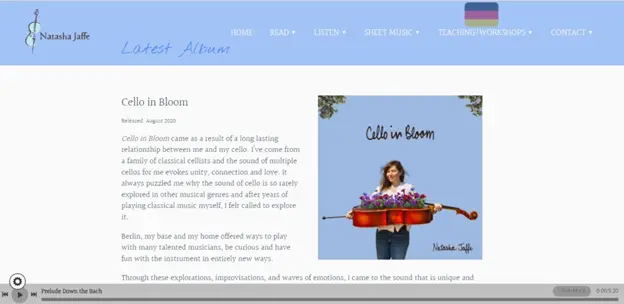 Natashajaffe.com is a website that provides visitors with private online cello lessons. The instructor is based in Berlin, Germany, and she provides classical cello lectures to her online students via Skype. She primarily teaches in German and English, but she also offers lessons in French, Spanish, and Portuguese.
Because all lessons are held via Skype, they are accessible to anyone with a webcam, headphones with microphone, and reliable Internet access. Natasha Jaffe provides three different packages that can be bought from her website: the Trial (which can only be ordered once), the Single Online Lesson, and the Online Lesson 4 Pack. Depending on which package you select, each of the three is available for a small fee.
Natasha Jaffe teaches classical cello during the online sessions because she believes it works to help the student get a sense of the cello's rich history. Having followed mastery of the cello in the classical style, any child should be able to shift to the specific genre of music they wish to eventually play on the cello. She can assist students of all skill levels, from beginners to intermediate and advanced.
7) Cello Dreaming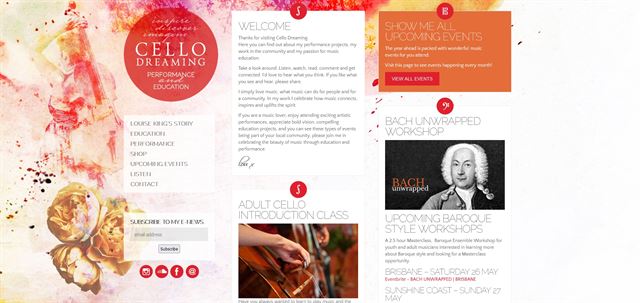 Cellodreaming.com.au is a website created by cellist Louise King that provides a variety of online classes and workshops for students of all skill levels and ages. To be able to participate in any of the online classes, you must have a webcam, a headset with a microphone, and access to a reliable Internet connection.
Louise King is an internationally educated cellist who, despite being based in Australia, has a global reputation for her abilities as a cellist. She shares her passion for music and, in particular, the cello, through her many classes. While one-on-one instruction is always preferred, it is not always possible; however, due to the Internet, Louise is able to share her knowledge with the rest of the world.
For a small fee, she offers three different Skype sessions ranging in length from 30 to 60 minutes. Time spent with Louise King will allow you to gain useful skills regardless of your skill level, whether you are a newbie or an advanced cellist. She even provides professional development programs for educators who are looking for new ways to teach their own students.
8) Cellobello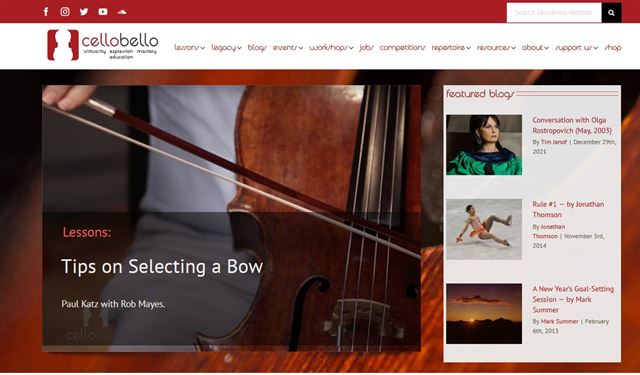 Cellobello.com is a one-of-a-kind website that tends to bring together a group of cellists with the singular goal of assisting anyone looking to learn how to play the cello or enhance their playing skills. It is a completely free source of information that anyone with a computer and Internet connection can use to access everything the website has to provide. There are no restrictions on how you can use the resources, and everything is completely free.
Each lesson is taught through embedded videos on each page, and the teachers on the videos are all expert cellists who give of themselves to help everyone to get the enjoyment they get from playing the cello. Whatever your skill level, you will most likely be able to find lessons that will assist you with whatever you believe you are missing.
Paul Katz founded Cellobello.com, and he has created a one-of-a-kind concept in which everyone has full access to such an useful collection of cello lessons without having to pay a thing. You don't need any special computer skills because all of the videos are available on the website and don't require you to download any of it.
9) Master the Cello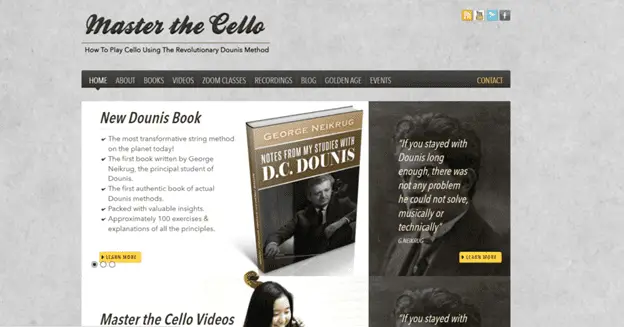 Masterthecello.com is a website aimed at teaching the cello to the general public. The website was created by Byron Duckwall, an expert cellist with far more than 30 years of experience. His teachings are centred on the Dounis method, which was formed many years ago by D.C. Dounis.
The website contains over 50 video services that require you to sign up for a separate Vimeo account in order to access the video stream player. This is not included in your website subscription, and you must first create a Vimeo account. On the website, you also can sign up for one-on-one Skype classes with Byron Duckwall. Each online lesson will be 60 minutes long and will be free of charge.
The one-on-one classes are divided into three levels: New Students, Professional Cellists or Teachers, and Masterclass. Each level has a distinct offering and cost structure. When it comes to learning to play the cello, Masterthecello.com is likely to have everything you need.
10) LessonFace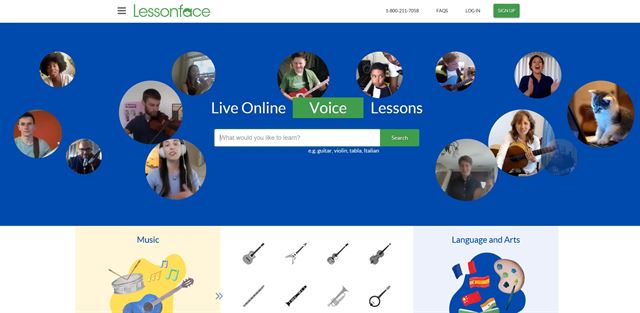 Lessonface.com is a website where anyone can find an online teacher to teach them how to play the cello. Before being added to the directory, each of the teachers listed on the site has been thoroughly vetted and background checked. The website displays the cost of each session and allows you to book your online sessions straight from the website.
Each of the mentioned cello teachers has created an user profile so that you can get to know them a little better before making your decision. There are a few teacher feedback left by previous students who happen to use themselves. Depending on how students rate their teachers, a teacher may receive a special button such as "Student Favorite" or "Popular."
The price of each online lesson will be determined by how much each teacher prefers to charge for their time. When you visit the website, you will see a picture and a profile for each of the teachers, and you will have the option of trying any of them.
Frequently Asked Questions
Is it possible to learn to play the cello on your own?
You can teach yourself cello, but it will take a lot of practise and dedication. If you take cello lessons online, you'll get much better results, much faster.
Is it difficult to learn to play the cello?
Learning to play the cello is difficult, and it can be difficult to produce sounds during the first few months of practise. This is why we recommend a guided course where you will have access to a tutor who can see what mistakes your are making and shorten your learning curve.
How much time does it take to learn to play the cello?
A dedicated student with some prior music experience may be able to learn to be quite good in 2-4 years. Getting a good tutor to help will make all the difference.
Latest posts by Sakari Oramo
(see all)