6 Best Double Bass Drum Sets (Beginners to Pros)
---
Few things are more iconic than a double bass drum set. These massive kits command the stage and allow drummers to showcase their entire arsenal of technical prowess and creativity, so it's no wonder so many drummers gravitate towards them. 
Today, we're going to take a closer look at the best double bass drum sets on the market and learn a bit more about the iconic kit configuration that's cemented in musical history. 
Best Double Bass Drum sets 2023
Let's dive right in and take a look at the six best double bass drum sets on the market today.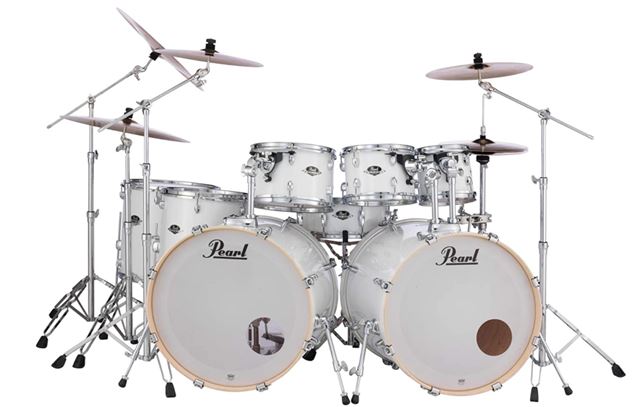 The Pearl Export is a legendary kit that many drummers got their start with. The latest in the series, the EXX model, is an absolute powerhouse with upgrades throughout the whole kit. What was once the flagship kit for beginners is now a viable option for seasoned drummers.
This kit feature's Pearl's Superior Shell Technology, which optimizes shell construction to emphasize specific frequencies to provide a more pleasing tone. It's immediately noticeable, making these shells sound substantially more expensive than they are. SST also makes for more durable shells, which carry an impressive lifetime warranty.
The redesigned lugs optimize shell resonance, and the Opti-Loc mounting system provides infinite room for adjustment. Rounding out this impressive kit is a set of Pearl 830-Series hardware and P-930 bass drum pedals. All you'll need to add is cymbals. 
Pros 
SST Technology dramatically improves the tone and resonance of each drum

Includes hardware

Lifetime warranty on shells

Opti-Loc mounting system allows for precise adjustments 
Cons 
Mediocre bass drum pedals
Pearl is one of the most legendary drum manufacturers globally, and their Music City Custom Masters line represents the cream of the crop when it comes to drum shells. This set is loaded with premium features, and their natural acoustic sound rivals most drum sounds mixed in a state-of-the-art recording studio. 
This unique kit is made from 4-ply maple, which is especially thin. An additional 4-ply reinforcement system is strategically placed throughout the drum to provide all the durability and rigidity you'd expect from six or eight-ply drums, with plenty of extra resonance and tone. 
These shells employ an OptiMount suspension system, so your drums stay locked in place, even during the most demanding sets. Low-contact CL lugs and FatTone hoops further lend to these drums' excellent resonance and tone. 
The company makes these drums to order in Pearl's Nashville custom shop, so you can rest assured you're receiving the same quality and attention to detail as the most prominent drummers on earth. 
Pros
Incredibly resonant and punchy 

Made to order in the Pearl Custom Shop

Lifetime warranty

Large shell sizes provide huge sound
Cons
Expensive

Limited finish options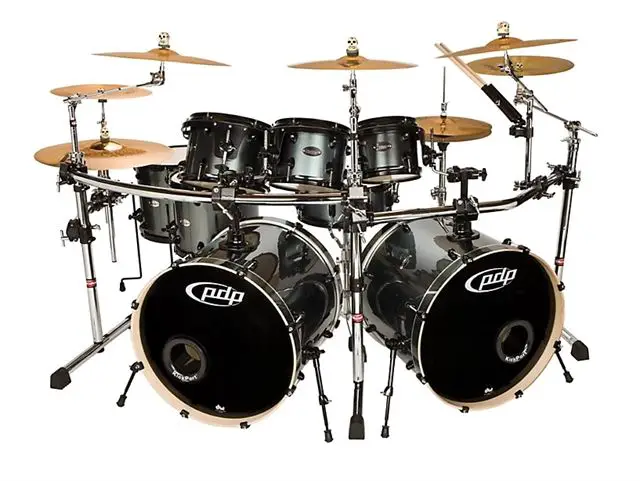 Drummers looking for an affordable double bass kit with studio-ready sound have long been left out in the cold. It was virtually impossible to find a budget-friendly double kit until DW launched their Pacific Drums and Percussion line. Today, PDP produces some of the best budget kits on the market, including this incredible-sounding double bass kit. 
This kit includes two 22″ bass drums for bold, punchy kick tones, three mounted toms, two floor toms, and a 5.5×14 snare drum. All the shells are poplar which offers a unique punchiness with tons of sustain. 
Adding to the pro look of this kit are all black lugs and hardware and Remo drum heads, so the kit is ready for the stage. All you'll need to do is add hardware and cymbals. 
Pros
Unbeatable sound from a kit this affordable

Kickports built into bass drum heads for extra punch and clarity

Comes stock with Remo drum heads
Cons
Doesn't include pedals or any hardware

Mediocre 3-year warranty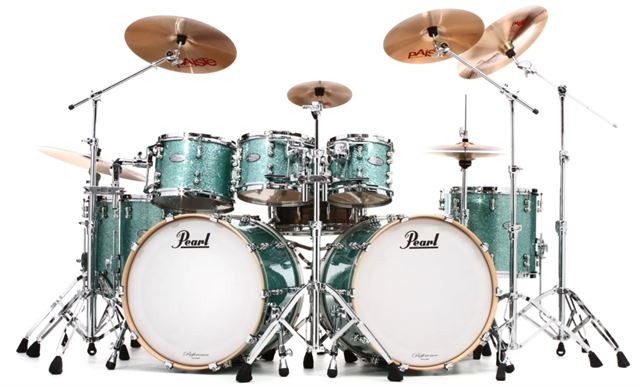 If you're looking to take a serious step up with your next drum set, you'll be hard-pressed to find a kit that looks or sounds half as good as this custom set from Pearl. The Music City Custom Reference kit leverages Pearl's latest technologies to deliver a set of shells that's genuinely in a league of their own. 
This kit includes matching 22″ bass drums, three rack toms, and three floor toms. Unlike most drums, which utilize the same construction throughout, the Music City Custom Reference drums are custom designed to provide the ultimate tone. Each drum has a different configuration of tonewoods to optimize its tonal properties. 
So, the smallest tom utilizes maple and birch, while the 12″ tom employs all-maple construction. The remaining drums have strategically placed plies of mahogany to deliver a bottom-heavy "thump" that anyone who appreciates the sound of an excellent drumset is sure to enjoy. 
Beyond all the unique technology inside the hoops, Pearl also uses low-mass Fatone hoops with hemmed and welded edges and lugs that allow maximum resonance and tone. 
Pros
Truly incredible tone offers a "mixed" drum sound for the stage

Unique shell compositions for each drum provide the best sound possible

Premium lugs, hoops, and hardware
Cons
Very expensive

Doesn't include snare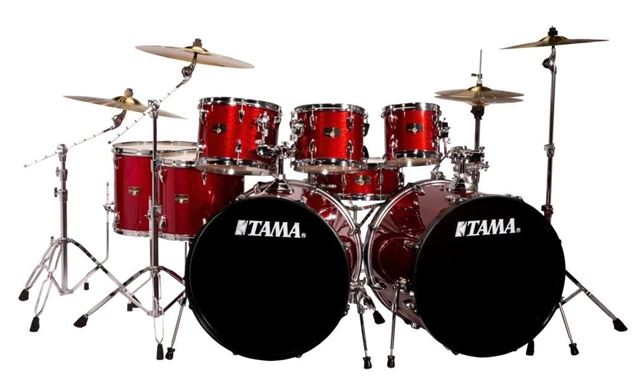 Tama is a brand that needs no introduction, especially when it comes to double bass. The Imperialstar is one of Tama's more budget-friendly double bass sets, and it includes everything you'll need to hit the stage in style. 
This kit includes twin 22″ bass drums, three rack-mounted toms, two floor toms, and a matching snare. The snare is a 5″, which offers some additional snap and pop compared to the 5.5″ or thicker snares that usually come with most kits.
For the Imperialstar, Tama uses a 6-ply 8mm poplar configuration that delivers brightness, punch, and plenty of depth. 
Beyond the shells, this kit includes everything you need to start rocking right out of the box. This set contains premium Tama hardware. Plus, kick pedals are included, along with a drum throne. 
Most impressively, this kit includes a Meinl HCS cymbal set, with 14″ hi-hats, 16″ and 18″ crashes, and a 20″ ride, so you're ready to deliver a sonic assault as soon as you have your new kit set up. 
Pros
Includes everything you need in one package

Quality hardware and pedals

Excellent price
Cons
Has some nasty overtones that are difficult to tune out

Floor toms are a bit small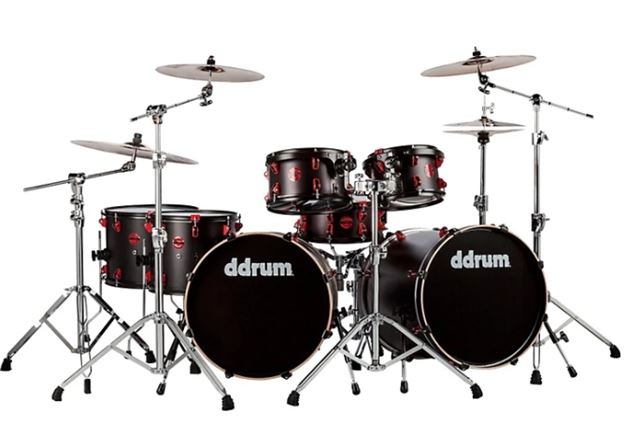 Ddrum is a legend in the drum world for its electronic triggers, a staple of metal drummer's setups for decades. Recently, they've been producing exceptional acoustic drums that deliver reference kit sound quality at a price that's hardly more than the budget kits at the bottom of the price spectrum. 
This kit includes twin 20″ bass drums, two rack toms, two floor toms, and a matching snare. The snare and bass drums offer 8-ply construction, while the toms are 6-ply. Each drum uses birch, which provides substantial punchiness.  
Unlike most drums in this price range, these drums have a matte lacquer finish with bold powder-coated lugs. If you didn't know better, you'd assume these drums cost triple what they actually do. 
Ddrum didn't stop there. Ddrum is best known as "the trigger company," and they live up to that moniker with this kit. Each drum includes a shock-mounted Ddrum Acoustic Pro trigger. These triggers offer an extensive dynamic range and can withstand a lifetime of playing. You can easily replace the transducers if they become damaged, so this is truly the last set of triggers you'll ever need. 
Rounding out this impressive offering is a set of Mercury Series hardware, which includes a hi-hat stand with clutch, three boom stands, and a rack tom stand with clamps. 
Pros
Incredible sound at a beginner price

Includes shock-mounted triggers

Includes quality hardware

Premium finish with contrast powder-coated lugs looks striking on stage
Cons
Double Bass Drums vs Double Bass Pedals
Whether to employ two bass drums or a single drum with a double pedal is an essential consideration for any drummer. Each configuration has its pros and cons. 
Double bass kits are significantly larger and more expensive than a more compact kit with a double pedal. Traveling with your equipment is more complicated, and if you prefer a small configuration, the extra space of a double bass drum kit will be challenging to get used to. 
But, they offer the best sound, and they eliminate the slave pedal lag, which is inherent to every double bass pedal. Most double bass players argue that you'll never be able to equal the feel or power that a double bass kit can provide. 
On the other hand, double pedals are less expensive than purchasing a second bass drum, and they allow drummers to use a more compact setup that makes it easier to travel, set up, and in most cases, play the drums. If your primary concern is speed, you'll likely notice that you can play faster using a double pedal than two bass drums. 
The downside is there will always be a slight lag between the two pedals. Many drummers also go through batter heads more quickly with a double pedal than a single. 
Pearl P2052C Eliminator Redline Chain Drive Double Bass Drum Pedal
For drummers considering a double pedal over two bass drums, the Eliminator Redline double pedal from Pearl is one of the best options. This pedal provides a solid balance of features, value, and performance that any drummer can get behind.
The reason why this pedal is such a solid option is its versatility. Virtually every part of the pedal is adjustable. The pedal includes four interchangeable cams that provide radically different pedal action. The PowerShifter footboard system allows for three different footboard settings. Plus, the beaters offer two different materials with a unique shape on each surface. 
Beyond all the customization features, the Eliminator Redline is exceptionally smooth, thanks in part to its NINja ball bearings. There aren't many pedals that offer a faster feel or more comfort than these, so you'll want to take a closer look if you're considering a double pedal instead of twin kick drums.
A Short History of Double Bass Legends
It all began in 1909, when the Ludwig brothers, William and Theobald, formed the Ludwig & Ludwig company. The company formed around William's design for the first bass drum pedal, which hit the market in 1910. 
It didn't take long for primitive double pedals to hit the market, which allowed drummers to play bass drum passages with twice the speed and complexity that a single pedal allowed. Unfortunately, the technology was far from viable at the time, and these early double pedals didn't fare well. 
Early Pioneers
It wasn't until the revolutionary drummer Louie Bellson sketched out a double bass drum kit for an art class project in 1939 that the idea of the double bass drum kit truly came to fruition. Although Bellson was only 15 at the time, he was already a gifted drummer and began shopping his design to different drum companies. 
Nearly every company scoffed at Bellson's double bass concept, but Gretsch saw promise in young Bellson's ideas, and they produced the first double bass kit for him in 1946. At the time, Bellson was playing in Benny Goodman's band. Goodman hated the concept and relegated Bellson to a single bass drum. 
When Bellson linked up with legendary bandleader Tommy Dorsey, Dorsey encouraged Bellson's double bass playing. He even had a unique riser built to showcase Bellson during solos.
Many other jazz drummers of the day followed Bellson's lead, including Rufus Jones, Sam Woodyard, and Ed Shaughnessy. Through the 40s and 50s, any double bass flourishes were reserved for solos, as jazz and big band music didn't place much emphasis on the kick drum. It wasn't until the advent of rock music that double bass kits became more prevalent. 
The Impact of Rock
The 60s represented perhaps the most innovative period in American music, and the bands and drummers of the era pushed the envelope relentlessly in new directions. With them came a renewed interest in double bass drum kits. 
Ginger Baker was one of the first rock drummers to incorporate a second bass drum into his setup. He'd alternate between kick drums at times as he played drum patterns. At other times, Baker would hit both kicks simultaneously to give himself the extra power he needed to cut through the mountain of amps employed by Eric Clapton and Jack Bruce. 
It didn't take long for Baker's innovative setup to take hold with other drummers. Mitch Mitchell of the Jimi Hendrix Experience and Keith Moon of The Who quickly followed suit with double bass setups of their own. Moon, known for his wild stage antics – including playing atop his drum set – had his dual bass drum set reinforced to handle the extra abuse. 
Still, many of the drummers of this period employed a second bass drum as much to make a bold statement as for any sonic reason. In the late 60s, East Coast drummer Carmine Appice began to usher in the style of playing that would unlock the true potential of double bass drumming. 
A Decade of Innovation 
Following in the footsteps of Carmine Appice, the drummers of the 70s began to incorporate double bass playing in new and more noticeable ways. 
Rock fusion bands like Rush, Yes, Genesis, and The Mahavishnu Orchestra began incorporating double bass rhythms and speedier passages that audiences had never heard before. Players like Neil Peart, Corky Laing, Billy Cobham, and Bill Ward of Black Sabbath helped to usher in this new era of double bass drumming.
It wasn't long before drummers like Terry Bozzio would take the torch and run with it, showing the possibilities of double bass drumming to a new generation. 
Metal Mania 
As rock music entered the 1980s, heavy metal music was born. Hair metal dominated the airwaves through much of the decade, and while every drummer had a double bass kit, few actually used them. 
Like Alex Van Halen and Tommy Lee, some rock and metal drummers kept the torch burning for double bass. Still to this day, people revere Alex Van Halen's infamous double bass intro on Hot For Teacher as one of the finest examples of double bass drumming. 
While hair metal was dominating the airwaves, speed and thrash metal were taking hold with a new generation of drummers who were eager to push the envelope. Speed was the name of the game, and drummers like Dave Lombardo of Slayer, Lars Ulrich of Metallica, and Charlie Benante of Anthrax were at the forefront of this new style. 
Double bass drumming became less prevalent in the 90s as grunge took hold but quickly resurfaced in the late 90s with the popularity of nu-metal and bands like Korn, Limp Bizkit, and Sevendust. 
The New Era 
Entering the 21st-century, a new generation of drummers was studying the playbook written by the pioneering double bass drummers from Louie Bellson onward. The metal genre began to move in aggressive new directions, much like how the 80s "hair" metal gave way to thrash. 
Drummers like Joey Jordison of Slipknot, Gene Hoglan, Chris Adler, and Marco Minnemann of Necrophagist set new standards for speed, dexterity, endurance, and musicality. We think Louie Bellson would be quite impressed by the heights these drummers have elevated double bass to. 
Double Bass Drum Set FAQs
We've rounded up some of the most common questions aspiring drummers have regarding the double bass drum set.
What is double bass in drumming?
In drumming, double bass can either refer to two separate bass drums, each with a single pedal or a single bass drum that features a double pedal. Regardless of the configuration, a double bass drum allows a drummer to use both feet to play the bass drum. 
This technique effectively doubles a drummer's footspeed and allows them to play faster and more complex passages with their feet. 
Who was the first drummer to use double bass?
Louie Bellson owns the distinction of being the first drummer ever to play a double bass drum set. Bellson used the second bass drum during drum solos and other flourishes while playing with the big band orchestras of the day, including Benny Goodman and Tommy Dorsey. 
Can electronic drum sets use double bass?
Virtually all electronic drum sets are compatible with double bass pedals. Many electronic kits also provide an auxiliary input that allows drummers to add a second bass drum pad to their kit to create a true electronic double bass drum kit.
Wrapping Up
Double bass drumming has been woven into the fabric of drumming since the 1940s. Each generation of drummers since then has continually pushed the envelope of double bass drumming, and for most drummers today, double bass is a practical requirement. 
While many drummers use a single bass drum with a double pedal, there's plenty to be said for the look, feel, and sonic fury of a true double bass drum kit. If you're looking for a double bass kit, take a closer look at the six excellent options on our list above. 
Whether you opt for one of these fantastic kits or choose a different manufacturer, having a double bass kit is a surefire way to unlock your potential as a drummer and open up new sonic territory for you to explore. 
Latest posts by Sakari Oramo
(see all)